10. Oxenfree
Genre: Adventure
Price: £3.89/$4.99
Do you like the 80s, smart-talking teenagers, and mysterious islands where alternate dimensions might be a thing? Then this atmospheric adventure will be right up your misty street as a group of teens uncover a creepy supernatural surprise when they go away for the weekend. Complete with incredible moody synth soundtrack, Oxenfree is full of brilliant dialogue, memorable characters, and plenty of different ways for the action to unfold as you explore. Will everyone get off the island the next day? That's kind of up to you, dude.
9. Rymdkapsel
Genre: Space sim
Price: £2.99/$3.99
Exploring uncharted space is nearly always stressful, as anyone that's watched a Ridley Scott film will attest to. But somehow, Rymdkapsel makes battling alien invaders a zen journey. You manage an ever-growing population as they research imposing monoliths across the galaxy: you'll grow plants, build kitchens for food, manage weaponry and mine resources, all the while bolting colourful Tetris-style shapes onto your space station to create the perfect layout. Once the relaxing electronic soundtrack keeps gets you in the zone, and you'll never want to leave.
8. Minecraft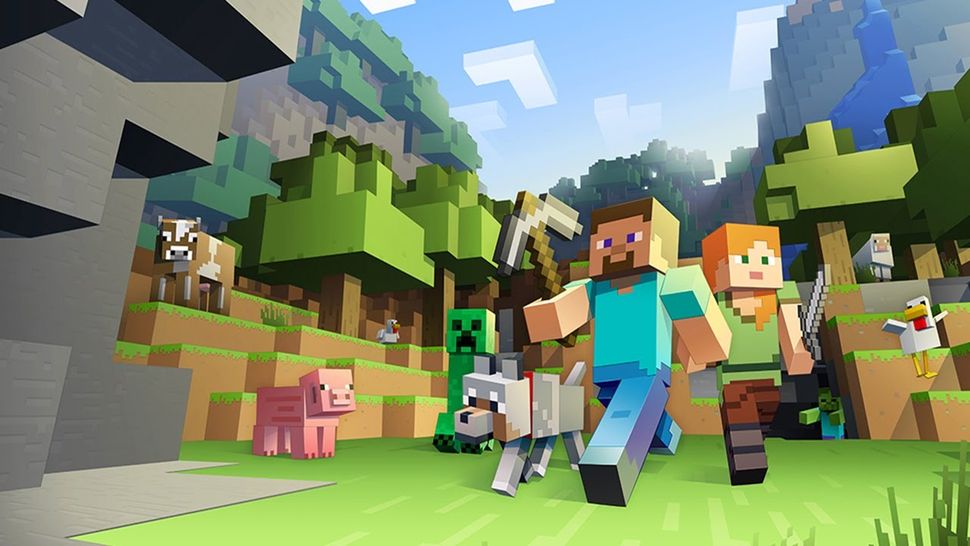 Genre: Building/Survival
Price: £6.99/$6.99
If you played Minecraft's Android version years ago and dismissed it, then it's time to return. It's no longer a shadow of the main game: 2017's Better Together update brought it in line with the Windows 10 version, and it receives all the same updates. You can even play it alongside your friends on PC or iPhone.
Mojang has put a lot of time into making the controls intuitive, which means nothing comes between you and Minecraft's world of infinite possibilities. You can break any block and build any structure without worrying about tapping in the wrong space, and creating gigantic structures – King's Landing from Game of Thrones, say – is now a genuine option.
7. Mini Metro
Genre: Puzzler
Price: £4.29/$4.99
If you've ever thought you could design a better underground system than Transport For London, it's your time to put your money where your overcrowded station is. Mini Metro is a beautifully minimalistic exercise in complete godlike commuter control. Stations pop up and all you have to do is connect them to each other in a way that keeps everyone moving but of course it's not that simple. The real life city recreations have rivers that need bridges and tunnels, trains need new carriages and stations need upgrades to become true transport hubs. Don't worry, there's a zen mode for when the stress gets too much.
6. Stardew Valley
Genre: Sim
Price: £7.99/$7.99
If you've ever been baffled by the London Underground, New York City Subway or the Paris Métro, then this is your chance to prove you can design something less confusing. Mini Metro is a beautifully minimalistic exercise in godlike commuter control. Stations pop up, and all you have to do is connect them to each other in a way that keeps everyone moving. But as transport planners have always found, it's not quite that simple. The real-life city recreations have rivers that need bridges and tunnels. Trains need new carriage, and stations need upgrades to become true transport hubs. You need to manage it all. Don't worry: there's a zen mode for when the stress gets too much.
5. Alto's Odyssey
Genre: Endless runner
Price: Free, with in-app purchases
Alto's Adventure was the best endless runner on Android—until the sequel came along. Odyssey swaps Alto's snowboard for a sandboard and sends you swooping over dunes and into canyons, performing jumps, tricks and grinds as you pick up speed.
The scenery is stunning, and the weather changes from perfect sunshine to flashes of lightning as you zoom past temples and desert city skylines. It's all set to a soothing soundtrack of flutes that keep you relaxed, even when you crash, and the procedurally-generated levels make every run feel fresh. Whether you played the original or not, this is a must-own.
Genre: Hidden object
Price: £2.99/$2.99
A stylish monochrome version of Where's Wally/Waldo crammed with happiness and charm. Each big, dense levels has a long list of cartoon collectibles, and lots of moving parts to poke. You can unfurl tents, slide open doors, flick switches to start conveyor belts, or shake trees to make bananas fall to the ground, and everything is accompanied by a mouth-made sound effect guaranteed to make you smile (the 'Bing' of a correct spot is imprinted on our brain forever). Hidden Folks is a simple delight that will keep you busy for hours.
3. Monument Valley 2
Genre: Puzzle
Price: £4.99/$4.99
A beautiful puzzler about shifting perspectives. As silent protagonist Ro, you move across a world of impossible shapes, prodding and pulling at the environment to make it move, creating new pathways. Each level is an optical illusion to wrap your head around, and it's satisfying to work out how you'll click its staircases, blocks and bridges into exactly the right place.
What sets Monument Valley 2 apart is how well it's presented. The wistful, sometimes haunting soundtrack rises and falls in all the right places, and each on-screen action is accompanied by its own perfect sound effect. Every stage is a work of art, and the curved spires of its other-worldly towers are set against an ever-changing colour palette.
Quite simply, you owe it to yourself to play this game—and if you haven't tried the original yet, make sure you do that too.
Download Monument Valley 2 here
2. The Room Series
Genre: Puzzle
Price: £0.99-£4.99/$0.99-$4.99
If it were just a standalone game, The Room would've made this list: it's a creepy, atmospheric mystery with clever puzzles. But the series has gotten better with every new entry, and now there are four, all of which are worth playing. Every single screen has things to touch and tap—keys to find, levers to pull, eerie shapes to peer at and secrets to uncover, and it all unfolds with a sense of theatre that few other Android games manage.
The level design is exquisite. Nothing feels out of place or wasted, and puzzles are wonderfully tactile, with whirring contraptions that spin, slide and snap into place. No two puzzles feel the same, remarkable given how many are packed into each game, and developer Fireproof consistently hits the difficulty sweet spot: you'll rarely be stuck for too long, but you'll still feel like a genius when you reach the end.
1. 80 Days
Genre: Adventure
Price: £3.99/$4.99
Developer Inkle is renowned for its writing chops—see Sorcery! at number 30—and 80 Days is its magnum opus. You play a valet to explorer Phileas Fogg, and it's your job to plot a route around a wondrous world, which blends reality and sci-fi to create a unique setting. Amphibious trains dive into the English Channel, and bustling markets float in the sky.
You'll have to manage your finances closely and keep an eye on Fogg's fragile health, but this isn't a game where you worry about failing. It's about the journey: the cities you'll see, the memorable people you'll meet, the trouble you'll get into. The interplay between Fogg and Passepartout is endearing, and every line of dialogue has been honed until it's razor sharp.
You could play 80 days hundreds of times and still stumble across new stories. It's available on PC, but the mobile version is still the best fit for its simple interface. If you only play one Android game this year, make it this one.