5. Madden NFL 17
Hail Mary? Hail Tiburon, too. With rival 2K's incredible gridiron series taking an enforced retirement after All-Pro 2K8, 'Madden' became a dirty word, with the Orlando studio facing accusations of laziness and general ignorance as the PS4/Xbox One era got underway. But a new team with new drive has turned those criticisms around, prioritising realism over gimmicks and back-of-box buzzwords for Madden NFL 17 (opens in new tab). Offensive line blocking works, thanks to the influence of actual NFL lineman Clint Oldenburg. Receivers and cornerbacks battle for the ball properly, as a direct result of a panel of real players testing the game early. And presentation is near-faultless, with former Hard Knocks director Brian Murray running the show. A winded NFL heavyweight finally restored to its past glories? Maybe there's hope for the Cleveland Browns yet.
4. Rocket League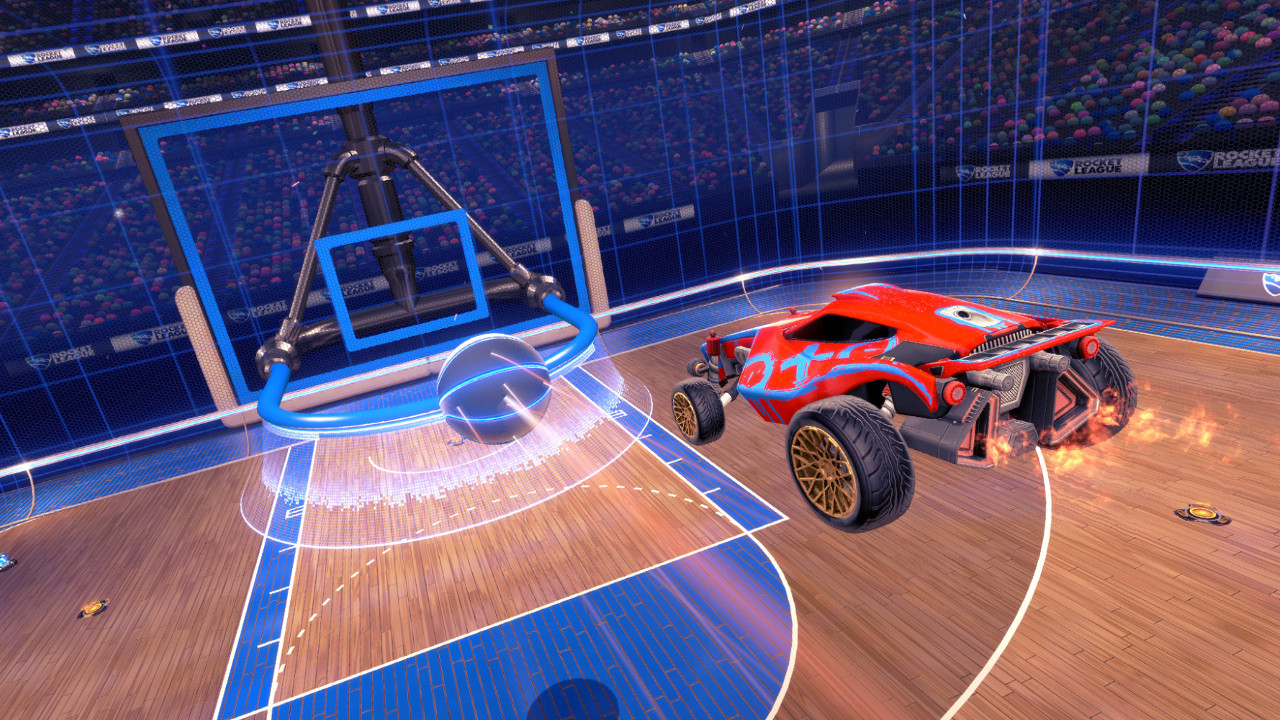 Technically a game released in 2015, but still deserving of a spot on this list given that 1. Rocket League (opens in new tab) finally emerged on Xbox One in February, and 2. with basketball, hockey and a space mode (really! (opens in new tab)) added, it's delivered more new content in 2016 than many full-priced new games. The sequel to criminally ignored PS3 exclusive Supersonic Acrobatic Rocket-Powered Battle Cars, it's a game that's simple at heart: score more goals/hoops then the other team in five minutes using your boost-aided personalised vehicle. But the more you play, the more you unlock deeper layers of strategy and skill – with some of the goals scored online using overhead, deftly timed somersaults more spectacular than anything possible in FIFA or PES.
3. Out Of The Park Baseball 17
The best sports management game on the market, bar none. Where Football Manager takes its time to get you up to speed, OOTP Development's home-run whacker feels totally accessible from the outset – while still boasting the same level of depth as its soccerball counterpart. 162-match seasons breeze by in days, with enjoyable hours lost between matches as you scout draft prospects, move players around feeder clubs and try to trade for the final piece of your playoff-winning puzzle. Menus, news feeds and matchday screens are easily navigable yet completely effective, and the just-one-more-game factor matches that of FM's heyday. A sports sim well worth learning American rounders for.
2. NBA 2K17

Having been so strong for so long, it's easy to take 2K's b-baller for granted. One look at MLB The Show's relative struggles should be enough to end that foolishness – this remains a masterclass in how to blend TV-style presentation with it's-just-like-being there authenticity. Mascots, reactive fans, natural-sounding commentators: NBA 2K17 (opens in new tab) truly does offer the best elements of watching at home and in the arena. And the basketball itself is yet again imperious, with endless tactical options and in-game subtleties keeping games thrilling, right to the final buzzer. Sound overwhelming? Fear not: newcomers can have just have much fun hitting dunks and slinging three-pointers. With immersive, outstanding basketball that caters for players of all experience, it's a no-brainer hall-of-famer.
1. PES 2017
2016. Year of the underdog? Year of the comeback kid, too. Like Madden and WWE, Pro Evolution Soccer put a disappointing decade behind it – but in a manner that made even those two look like also-rans by comparison. For footballing purists, PES 2017 (opens in new tab) isn't just the best sim of the year, but all-time: never before has a videogame felt so much like real the right thing. It nails the fundamentals of the sport perfectly, while also delivering endless variation, with long-ball-heavy contests between two unknown French second-tier sides serving up as many goals, saves, near misses and other standout moments as Barca-Real or United-City. Every player handles uniquely, every AI team feels different to play against, every final whistle pushes you to kick off the next game as soon as possible. Scintillating and exhausting, euphoric and heartbreaking, it just *is* football. And an emphatic choice as GR's best sports game of 2016.

Agree? Disagree? Think we've got one wrong? Tweet us @GamesRadar (opens in new tab) with your glorious/furious feedback and/or alternative nominations.