Peter Parker is headed back to the big screen next year in Spider-Man: Far From Home. That's right: Spider-Man: Homecoming is getting a sequel, which may be something of a surprise to those who've seen Avengers: Infinity War. However, the shocking and heartbreaking events of that film were never likely to leave Stan Lee's most iconic creation eradicated from all future MCU movies, so it's safe to log the Spider-Man: Far From Home release date (July 5, 2019) in your calendar.
Below you'll also find everything else there is to know about the new Spidey showcase, which will follow on from Captain Marvel and Avengers 4, and take us into Phase 4 of the Marvel Cinematic Universe. Tom Holland is back on web-slinging duties in the third appearance of his six-picture Marvel deal (contractually, Captain America: Civil War didn't count), as you'll learn from our Spider-Man: Far From Home cast list. The first Spider-Man: Far From Home poster gets an unveiling, and you'll also see the Spider-Man: Far From Home trailer debut here as soon as it's revealed. Read on for a web of information like no other…
Fast Facts:
Spider-Man: Far From Home release date: July 5, 2019
Spider-Man: Far From Home cast: Tom Holland, Maria Tomei, Zendaya, Michael Keaton (rumoured), Jake Gyllenhaal (rumoured), Samuel L Jackson, Cobie Smulders
Spider-Man: Far From Home director: Jon Watts
Spider-Man: Far From Home writer(s): Chris McKenna, Erik Sommers
When is the Spider-Man: Far From Home release date?
The Spider-Man: Far From Home release date has been set for July 5, 2019, which is just over two months after Avengers 4, which is out in April. That makes it the third MCU film of the year when you add Captain Marvel, which is coming first in March 2019. While sometimes there's a difference between US and UK release dates for Marvel movies—particularly considering the outrageously long wait for Ant-Man and the Wasp in the UK this year—it doesn't look like anything like that is on the cards for Far From Home so far. Fingers crossed.
If you're wondering what the significance of Far From Home being the first Marvel Phase 4 film is, Marvel Studios boss Kevin Feige told Cinemablend that we shouldn't make assumptions about what the stories for post-Avengers 4 movies will be: "We're holding off on specifics on all of it for all the same reasons we hold off on everything. For the most part, it's keep the surprises going. The one thing I'll say is... the mere fact that those films exist, people shouldn't take any indication that they can now guess what will happen. Let's put it that way."
Maybe Spider-Man died, and Far From Home is all set in his dream from the afterlife! Nah. Hopefully we'll learn more about the future of the MCU, though, whether it's in the tone of the film or perhaps through new characters introduced by the movie. Aside from the troubled Guardians of the Galaxy 3, this is the only post-Avengers 4 film that Marvel Studios has confirmed.
Read more: Every new Marvel movie coming in 2019 and beyond
The Spider-Man: Far From Home cast includes Jake Gyllenhaal as a baddie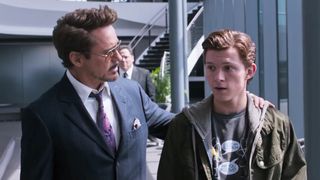 The Spider-Man: Far From Home cast provides the most information we have about the movie so far, and it features a lot of returning faces, plus a new high-profile villain. Tom Holland, of course, returns as Peter Parker, AKA Spider-Man, as does his circle of family and friends. Marisa Tomei is expected to reprise her role as Aunt May, Zendaya will once again play Peter's classmate Michelle 'MJ' Jones, and Jacob Batalon will feature as Peter's pal Ned after memorably popping up for a brief appearance in Infinity War. You can expect the rest of Peter's high school pals to join him, and it's also been reported that Michael Keaton will return to reprise his role as Adrian Toomes/Vulture too, after putting in a great villainous turn with a twist in Homecoming.
Now let's get to the juicy stuff. Back in May, Variety reported that Jake Gyllenhaal was being eyed for the role of Quintin Beck, AKA Mysterio, and Marvel studios confirmed the actor had been officially cast as the villain only a few weeks later. Deadline also revealed that Curb Your Enthusiasm actor JB Smoove had joined the Far From Home cast, though his exact role remains unknown. With two villains in the mix, there's some speculation Marvel is moving towards a Sinister Six storyline, which would theoretically collect a bunch of villains together, but this would probably make more sense when he actually has six foes to contend with.
Read more
Spider-Man: Homecoming ending - 6 questions we need answered
There may be at least one more antagonist in the film, however. Actor Numan Acar joined the cast in July 2018, playing a character known simply as Dimitri, which as many people pointed out is also the first name of Spidey villain Dimitri Smerdyakov, the Chameleon. Actors Oli Hill and Remy Hii also play mystery characters in the film. So who knows, maybe they will get to Sinister Six in Far From Home. Or maybe they're all just playing high school teachers. We'll see. You might remember that Far From Home co-producer Sony Pictures was trying to make a Sinister Six standalone movie once upon a time, so clearly it's something they've wanted to do on-screen for a while.
As for further MCU connections, it's also been confirmed that Samuel L Jackson and Cobie Smulders are reprising their roles as Nick Fury and Maria Hill respectively. Enjoy this post on Jackson's Instagram account, which was taken in Watford, near where the film is being shot:
There's currently no news on whether Peter's mentor, Tony Stark, will appear in Far From Home, and it seems more and more likely that Avengers 4 will draw a line under the character... one way or another.
Curiously, there's also been a surge of fan interest in having Tobey Maguire, who portrayed Spider-Man across three films from 2002 to 2007, make a cameo appearance – although not in a role that requires him to once more pull on the red-and-blue suit. Instead 82,000 (and counting!) have backed a change.org petition for him to appear as a pizza delivery guy. It's a cute nod to Spider-Man 2, in which Peter Parker juggles his superhero role with a part-time job at Joe's Pizza.
The Spider-Man Far From Home poster leaks
The first Spider-Man: Far From Home poster has been leaked at the Brand Licensing Europe 2018 expo in October 2018 by Instagram blogger Dirtees. It features an image of Spidey about to spring from a wall, quite clearly inspired by the webbed wonder's comics of yesteryear. Curiously, however, it's a design we've seen before, with the artwork originally used to promote Spider-Man: Homecoming in Japan last December.
Spider-Man: Far From Home set photos show a new, noir-inspired suit and more
Spider-Man: Far from Home: Mysterio in Liberec, Czech Republic pic.twitter.com/wpWaWe0oRESeptember 30, 2018
Spider-Man: Far From Home is currently wrapping up principal filming on location in the city of Liberac, Czech Republic, and - as is always the case with movies with this level of attention - leaked footage and images showing both Gyllenhaal and Holland in their costumes on set have recently surfaced across the internet.
Final scenes from Spider-Man: Far from Home in Liberec, now the end of filming pic.twitter.com/D9SNaHSBJkSeptember 30, 2018
The footage above, most pertinently, is of the former doing his thing as Mysterio, and boy, does he look the part. While the character's iconic fish bowl helmet is nowhere to be seen, the colouration and flair of Mysterio's costume has not been diluted down from the comic books. He's even got the cape, though it's unclear whether this version of Mysterio has any actual superpowers or not.
Meanwhile, Holland has been spotted wearing a jet black version of his traditional Spider-Man suit, which suggests Peter Parker is getting involved in some serious Spidey stealth action on his globetrotting pursuits. You can see him perched atop a ferris wheel in the leaked snap below.
very stealthy... #SpiderManFarFromHome pic.twitter.com/OLbEy0rntFSeptember 23, 2018
That suit, while not an exact replica, brings to mind the Spider-Man Noir series from the comic books, where an alternate version of the character fights crime during the Great Depression of 1930s New York, adopting a more clandestine approach to combat and even using bootleg era guns to take out his enemies.
I doubt Holland's cinematic iteration will be killing anyone anytime soon, but it's interesting to see where director Jon Watts is getting his inspiration from, source material wise.
ok here's a pic of tom holland since a lot of y'all have asked :) pic.twitter.com/6ZMzm1NaAbOctober 6, 2018
Final photography apparently took place in New York in October 2018, with one eagle-eyed Twitter user spotting Holland flying en route from Atlanta to NYC in order to film reshoots.
When to expect the Spider-Man: Far From Home trailer
You might have a long wait to get your hands on the Spider-Man: Far From Home trailer. Given that the film has to navigate the tricky problem of Peter Parker being alive when he's meant to be, you know, dead, there are two possibilities with this one. Either we'll get a regular trailer by early next year, or they'll attach one to Avengers 4, when we know what's happening in the overall MCU story.
After all, even though it's pretty obvious that most of the damage Thanos did in Infinity War will be undone by the end of Avengers 4 and that Peter will be alive and well, any marketing for the film will only undermine the shocking ending of the last Avengers film. No doubt Marvel is being careful. But hey, these movies won't sell themselves, so it's possible we'll see something before then. The spoiler-phobic probably won't mind waiting, I'm sure.
The Spider-Man: Far From Home story - what does the name mean?
There's no official synopsis for Spider-Man: Far From Home yet, but Feige was asked about the name by ComicBook.com back in June. "Well, I mean, sure, let the speculation begin. That's always fun," he commented. "We like [the title] of course because it ties into Homecoming, not just keeping that word going, which we like and we liked it more than Homecoming 2, but that notion of 'home' is a word that has dual meanings we'd like to continue with this [Marvel Cinematic Universe] version of Spider-Man. So, Far From Home has multiple meanings."
Well, that's a whole lot of nothing. Better was his discussion with io9, where he said that the film takes place during the summer, and that Peter is going on vacation to Europe with his friends. That would certainly explain the 'Far From Home' title, and it tallies with recent reports that the film is shooting for a few days in Prague, following a shoot in London. A major set piece is apparently being filmed there, so expect a fair amount of the story to take place outside of New York. I guess audiences have seen a lot of Manhattan in these movies, so hey, a change of scenery sounds nice.
Don't expect Peter to keep his Iron Spider suit from Infinity War though. This shiny outfit turned to dust when he did, after all. Plus, Holland was pictured wearing the downgraded original suit on his Instagram page:
The Spider-Man: Far From Home director is a returning Jon Watts
After Homecoming made a significant $880 million at the box office, why mess with a winning team? That's why Jon Watts returns as director for Far From Home, while writers Chris McKenna and and Erik Sommers are working on the screenplay. Watts was previously an indie director, working on the Kevin Bacon film Cop Car, before he was chosen for the Spider-Man: Homecoming gig. Since the first film got a better reception than The Amazing Spider-Man films, having him back seems like a sensible choice.
McKenna and Sommers, meanwhile, were both writers on the excellent TV sitcom Community in another life, and both also worked on the screenplay for Ant-Man and the Wasp. They were two of the multiple screenwriters on Homecoming, too, and clearly they're a good fit for the funnier end of the superhero movie spectrum.
Spider-Man Far From Home soundtrack to be scored by Michael Giacchino
Spider-Man: Homecoming composer Michael Giacchino is set to reprise his role for Far From Home, according to a report from Film Music Reporter. Giacchino has already had a busy 12 months after overseeing the scores for Incredibles 2, Jurassic World: Fallen Kingdom and Bad Times At The El Royale, though this is his first movie confirmed for 2019. For those unfamiliar with his work, Giacchino is a three-time Grammy winner for film soundtracks who also provided the often haunting, usually incredible music on Lost, Alias and Fringe.