Unlike elsewhere in the world, the Nintendo Switch OLED model hasn't been hit with many supply shortages in Australia. Throughout most of 2022, if you want the fancy older sibling of the Nintendo Switch, you've been able to walk into a store, or click onto a website, and purchase one. Lately, we've seen prices on the OLED model drop regularly and substantially, but now it's hit a record AU$435.71—the cheapest we've seen yet.
The deal comes via eBay Australia, specifically, via eBay's The Gamesmen store. If you're an eBay Plus member—or sign up for a free trial—you can get the Nintendo Switch OLED model for AU$435.71, so long as you use the code PMAY17 at checkout.
If you don't want to sign up for an eBay Plus trial for some reason, or have just run out of email addresses to enjoy a free trial, you can use the code PMAY15 to buy the Nintendo Switch OLED model for AU$446.21. That's still a great price, and is a couple of dollars cheaper than the RRP for the older Nintendo Switch.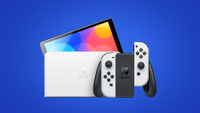 Nintendo Switch OLED | AU$539 AU$435.71 or AU$446.21 at eBay
This is the lowest price on the OLED model we've seen in Australia, obtainable via The Gamesmen's eBay store. If you want the lower of those two prices, you'll need an eBay Plus membership; you can sign up for a free eBay Plus trial here. With a subscription (or the trial) use the checkout code PMAY17 to get the AU$435.71 price. Alternatively, if don't want to sign up for a Plus trial, use the code PMAY15 to get the AU$446.21 price.
While the Nintendo Switch OLED model doesn't offer a huge spec upgrade over the original—aside from that gorgeous screen—it is definitely the best Nintendo Switch model to buy in 2022. "For anyone who hasn't invested in a Switch yet, the OLED display does enough to make it the best example of everything the Switch has to offer to date," reads our Nintendo Switch OLED review.
Nintendo is still very quiet concerning what might come after the OLED. Perhaps a new model with a substantial spec upgrade? That seems sensible, but Nintendo's moves are always a little hard to predict. Whatever the case, Nintendo games are going on sale more regularly than ever before (check out our list of the best gaming deals in Australia for proof), so it's still a good time to jump into the eco-system, if you haven't already.
Looking for the best prices on Nintendo Switch, Nintendo Switch Lite and the Nintendo Switch OLED model? Check out our frequently updated list of the best cheap Nintendo Switch deals in Australia.