Hogwarts Legacy wants to give you the freedom to be your best wizard or witch self, even if that means embracing the darkness. After spending about an hour or so with Hogwarts Legacy at a recent preview session, the sense of choice – but also scale – is almost terrifyingly palpable. From dialogue choices, to how to approach specific moments, or even just which spells to learn, it seems navigating your way through the famed school of witchcraft and wizardry – and the alluring narrative that surrounds it – is going to be full of micro-decisions that may, or may not, impact other elements of magical life.
It all starts with character creation. Before you even think about donning house robes, you'll need to decide what your budding fifth-year student is going to look and sound like in Hogwarts Legacy. You have choices based on what face shape and hairstyle you want to go for, rather than body types or gender. You can choose facial features like freckles or scars, and whether to wear glasses (yes, including round Harry Potter-esque specs). There are two voice options – one masculine and one feminine – and then you can choose what pitch your character will speak at. In fact, the only gendered decision you'll have to make is whether you want to live in the witch or wizard dorm when you eventually do walk the halls of Hogwarts. Hogwarts Legacy doesn't have the deepest character creation tool out there, but it's refreshingly inclusive.
Yer a wizard, Sammy
As you'd hope from an RPG with such scope and subject material, it seems that choice will remain a key thread throughout the entirety of Hogwarts Legacy. Even after just a few hours with the game, there were glimpses of some of what's to come at launch. I played through a mission with one of the game's many companions – Hufflepuff and magical creature enthusiast, Poppy Sweeting. Throughout the mission, I encountered various dialogue options which indicate my relationship with Poppy may be impacted, such as whether or not I'd mention the little trip we were taking to her grandmother. The game isn't going so far as to flash up a "Poppy will remember that" prompt for those dialogue trees, but it does appear that your actions and demeanor will have the potential to change the course of your Hogwarts Legacy experience.
"The main storyline is complicated and engaging, and involves a variety of different characters and viewpoints, but by giving the player choice moments throughout the game, we allow them to tell their own version of that epic story," explains Moira Squier, narrative director and advanced game writer on Hogwarts Legacy. "Even the side quests, of which there are over 100, allow the player to manipulate the main campaign by virtue of the experiences they've had. Interacting with someone in a side quest will impact how you interact with them in the main storyline – and vice versa. The order in which the player chooses to complete these quests will impact their story and game. Everything is interconnected."
In this particular mission, involving poachers and dragons, I was given suggestions as to how to tackle my first encounter. I could go in stealthily, opting to use a cloaking spell to hide from onlookers, or take a more offensive approach. Despite my attempts to sneak in, I accidentally pull an explosive barrel from the sidelines and launch it into the poacher's camp, taking out several of them and a wooden bridge in the process. It turns out that if you want to go lethal in Hogwarts Legacy you can absolutely walk that path.
"It was important for us to give players who sought out to be a Dark Witch or Wizard an opportunity to do so," says lead designer, Kelly Murphy. "This is the ultimate embodiment of role-playing; allowing the player to be evil. Additionally, this was important because it comes from a place of non-judgement by the game creators. If you want to be evil, be evil."
As someone who has always feared getting told off at school, the idea of willingly wielding Unforgivable Curses gives me serious anxiety. I'm the Hermione who's never had detention, so I doubt I'll be the kind of witch to sign up to seriously breaking the rules. But, it's an option and an interesting one at that when you look at it in the context of the lore. "The [Unforgivable Curses] are not learned in school, and the player very specifically chooses whether or not to learn them. Even if the player learns them, they don't have to use them," adds Squier, "And the world does react to their use."
"Characters will react visually and audibly to seeing the player cast an Unforgivable, but we don't have a morality system that punishes them for doing so – this would be too judgemental on the game maker's part. But, should the player continue these actions, the world will reflect back knowledge of them," adds Murphy.
I solemnly swear I am up to no good
While Unforgivable Curses are taught outside of school, the rest of your magical repertoire will need to be learned under the tutelage of Hogwarts' esteemed professors – attending lessons is a great way to incentivize us to roleplay as a student. You can wield spells to both aid in exploration and combat, with each mapped to a specific color group. You'll need to think carefully about which spells you're equipping, particularly when it comes to battling foes; enemies can have colored shields that will need breaking through by using a spell of a corresponding color, and you can use your own protection shield to avoid (and even repel) incoming attacks if you time your defensive maneuver well enough. Spells can be chained together to create impressive finishing moves, and you can also dodge out of the way of the melee attacks of foes like the goblins.
Taken all together, this creates a combat system that's constantly moving. Understanding what each of your spells do and how to use them is key, and tailoring which spells work with your preferred playstyle will no doubt be a fun experiment. Even being thrown into combat for this preview, it wasn't long before I was feeling pretty awesome – flicking basic spells one way, using Levioso held one attacker in the air, and then Accio pulled a long-range lurker close enough to me to make use of Incendio. It's chaotic, but is undoubtedly the best representation of magic I've ever experienced in a game.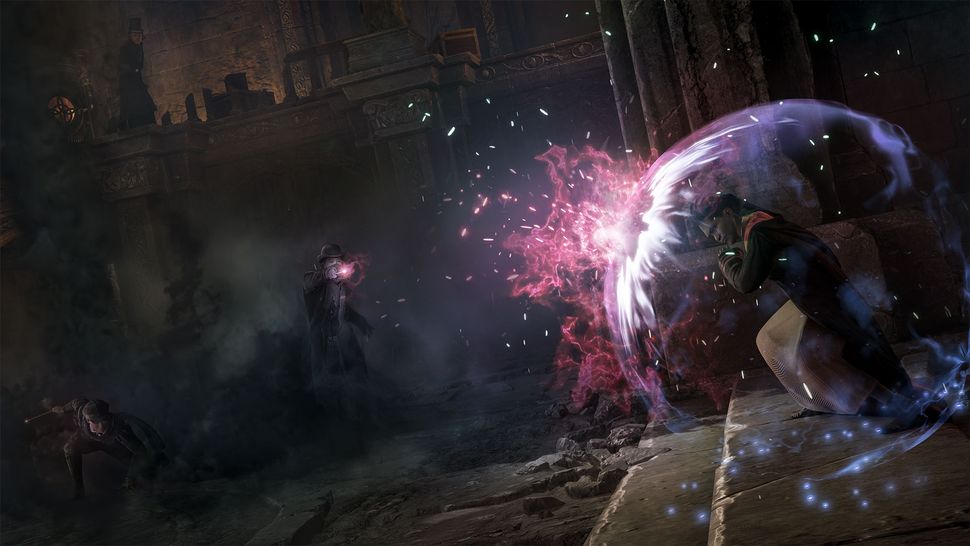 Spells are also key for exploration too. Being able to light up dark passages, reveal secret doors, or simply guide an enchanted moth back to a picture frame will all be part of your experiences in Hogwarts Legacy. I got a small look at a section of the open-world Hogwarts and its surrounding grounds – including the Quidditch pitch, although the sport itself isn't playable in the game. The sense of scale was immense, flying up on your broom and taking in the turrets and spires of the iconic school is exactly as impressive as you'd hope it would be. Although I only got to experience a tiny segment of the halls and classrooms, Hogwarts is imbued with little touches of magic and mystery. The sound of Peeves' voice echoes through the halls, some pictures are alive with activity while others lay empty, a fountain comes to life with stone mermaids with a touch, and a living dragon topiary flaps and lunges from the flowerbeds outside the walls. I've only seen a small slice of it, but I get the sense that Hogwarts Legacy will have a world worth exploring.
Don't let the muggles get you down
Going into my first Hogwarts Legacy hands-on, I did wonder how the absence of any familiar Harry Potter characters would impact the magic of the experience. It looks as if setting the game in the 1800s, far from the adventures seen in the franchise's books and films, will be a wise decision – allowing developer Avalanche Software more creative license, and freedom to craft a unique narrative that casts our custom witch or wizard as the star. As Squier explains, this allows "the player to be the true, sole hero" of the adventure.
Hogwarts Legacy is a genuine delight to explore, and I can't wait to be truly let loose to discover all of its secrets come February 10 (where the game launches for PC, PS5, and Xbox Series X – with PS4 and Xbox One versions scheduled to release on April 4, and July 25 for Switch). While there's still unanswered questions about the direction the narrative will take – with its teases of ancient magic and goblin rebellions – this has been a promising first look at an ambitious action-RPG. Honestly, only being allowed an hour of so with Hogwarts Legacy seems like an almost Unforgivable Curse-level offense.
Although she is not involved in the development of Hogwarts Legacy, GamesRadar+ acknowledges the role of J.K. Rowling in the creation of the Wizarding World, as well as her publicly-stated, harmful views regarding the rights of transgender people. If you'd like to offer your support to the communities affected by Rowling's rhetoric, consider donating to the National Center for Transgender Equality in the US, or Mermaids in the UK.