GTA Online (opens in new tab) is doing more than saber rattling to celebrate the debut of its Declasse Sabre Turbo Custom on Tuesday. The multiplayer counterpart to GTA 5 (opens in new tab) is in the midst of a weeklong celebration for the new customizable ride, with bonuses and discounts applied liberally across Southern San Andreas through Thursday.
Once you pick up a Sabre Turbo Custom you'll be able to kit it out with the usual selection of performance and cosmetic modifications from Benny's Original Motor Works. Then you can take it out for a spin in the Lowriders Street Racing playlist for double Reputation points on Monday and Tuesday, or see how it fares in the Mixed Road Racing playlist on Wednesday and Thursday (also offering double RP).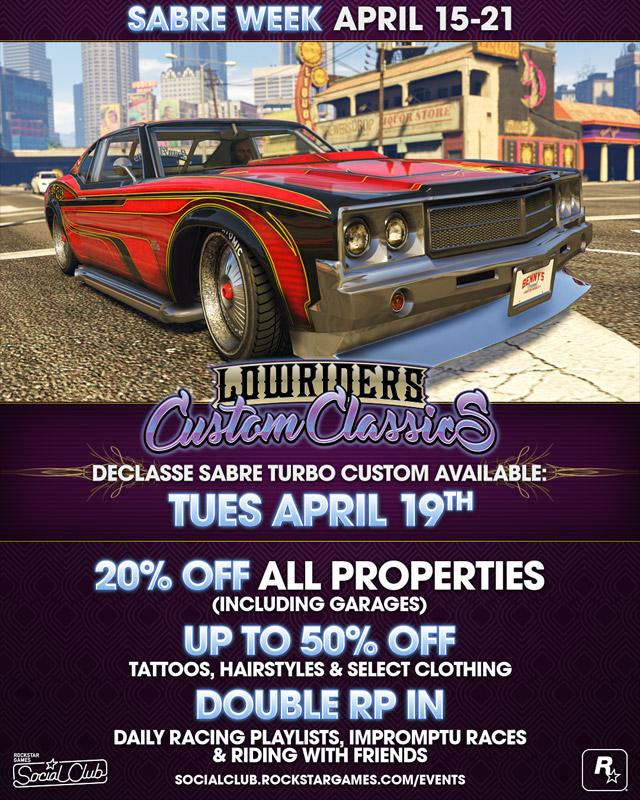 Impromptu races will also have double RP rewards. If you're not feeling the need for speed, you'll even get double RP for my personal favorite activity: simply cruising around Freemode as a passenger or with other players in your car. Don't worry about scratching the finish; personal mechanic fees are free through the end of the event.
In more of a spending mood? You'll get 50 percent off all new tattoos and hairstyles throughout the event, and 25 percent off select Lowrider-approved clothing. Rockstar's even offering bonus "rebates" for buying real-money GTA$ shark cards, with the extra in-game currency to be distributed in a lump sum on Friday.
Seen something newsworthy? Tell us!