We finally have all the Fallout 76 info we could possibly hope for including a Fallout 76 release date, details on the Fallout 75 beta and a collector's edition that features a wearable power armour helmet. It is online but don't freak out just yet as the promise is that you can play the whole thing - story and all - solo if you want. However, take a look at what Bethesda has revealed and see what you think.
Fallout 76 release date is November 14, 2018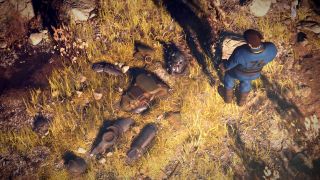 We finally have a Fallout 76 release date: November 14, 2018. That's no doubt earlier then a lot of us were expecting, and there's a beta between now and then too. That means we're only six months out from a full release and likely 4-5 until the beta.
Get access to the Fallout 76 beta by preordering
There's no date for the Fallout 76 beta yet, just that you can get access to it by pre-ordering the game (with some sort of early access on Xbox One). Given that the game has a November release date for this year, the Fallout 76 beta can't be that far off. Let's say around September/October time for now.
The first Fallout 76 trailer shows an online world to rebuild
The new Fallout 76 trailer looks every part the Fallout game, just now with added friends to play alongside. The new Virginia location seems to be bringing with a range of new enemies and places to visit. Because it's set as a prequel some areas look a lot less ruined than previous games set hundreds of year after this time frame.
The Fallout 76 gameplay lets you play with friends, build anywhere and shows a new and improved game engine
The thing that's hard to miss from the Fallout 76 gameplay we've seen is the new and improved engine. Bethesda is promising "all-new graphics, lighting and landscape technology" and it's clear from the gameplay that things have improved a lot visually.
In terms of gameplay the promise is that you'll be online with "dozens" of other players with the game using 100% dedicated servers "for years to come". Much of it looks familiar with mutant creatures to fight and a scorched wasteland to explore - this time in West Virginia, which has six different regions, each of which offering its "its own risks and rewards".
There's also a new building system called the Construction and Assembly Mobile Platform, or CAMP for short. That will let you build and customise your own settlement anywhere in the game, creating a home as well as placing turrets for defence and so on.
We don't know too much about end game content or the larger arc but one key thing is the ability to control and fire nukes art the map. This will apparently create "a high-level zone with rare and valuable resources."
What is Fallout 76? Is it a new Fallout game or an online/multiplayer spin off?
By Bethesda's own words Fallout 76 is an "online prequel where every surviving human is a *real person*". At its E3 showcase Bethesda's Todd Howard was clear with the messaging that you can play it single player stating, "of course you can play this solo, you'll be who want, exploring a huge world, doing quests, experiencing a story and level ing up." However he also made it clear that the game is "entirely online" and that playing with other people is the main point of the whole thing.
Fallout 76 collectors edition comes with a power armor helmet YOU CAN WEAR
The Fallout 76 collectors edition copes with an actual Brotherhood of Steel power armor helmet you can wear, as well as a few other things. Here's the full breakdown of what's in the Fallout 76 collector's edition:
Full-Scale Wearable T-51 Power Armor Helmet with West Tek Canvas Carrying Bag: This wearable helmet faithfully replicates the in-game model and comes complete with voice modulator speaker, functioning LED head lamp, and custom V.A.T.S. sound feature.
Glow-in-the Dark World Terrain Map: This physical, fully-colorized 21"x 21" glow in the dark vintage map showcases the six distinct regions of West Virginia complete with irradiated landmarks, towns, and wildlife.
24 Collectible Fallout Figurines: Crafted from in-game 3D models, these detailed miniatures bring Fallout 76's Vault Dwellers, Power Armored Soldiers, Creatures, and more to life.
Tricentennial Edition Steelbook. Exclusive to the Power Armor Edition, this decorated metal case is the ultimate collectible celebrating America's 300 years of freedom.
Fallout 76 Tricentennial Edition Bonus In-Game Items: Celebrate 300 years of freedom with the all-new Fallout 76 Tricentennial Edition, commemorating the opening of Vault 76. Be the talk of the town when you emerge from Vault 76 fully prepared and patriotically styled in the new American frontier!
What was Vault 76 and why was it special?
Fallout's Vault 76 has been mentioned several times in previous games but has never been seen before. Importantly, it was one of the 'control vaults', that is not one that used for weird experiments, that was actually meant to keep it's 500 inhabitants alive and sane to repopulate the world.
In Fallout 3 it was listed on a Vault-Tec terminal in the Brotherhood of Steel's Citadel. It was also mentioned on an audio log you can find on the alien ship in the Mothership Zeta DLC, where Giles Wolstencroft, the then assistant CEO of Vault-Tec explains he was inspecting the construction of Vault 76 when he was abducted. It's also mentioned in Fallout 4 during the beginning scenes where the news says it's making it's debut in honor of America's tercentenary.
What is Reclamation Day in Fallout 76?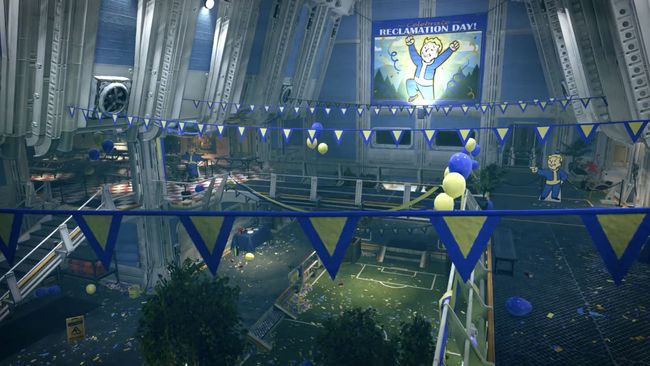 While Reclamation Day is obviously when the inhabitants of Fallout 76 leave the Vault to reclaim the Earth above, it's not a thing we've seen or heard of before. Basing a game around it is significant because of that, but also give free reign to make it almost anything.

What's interesting is that the Great War stared in 2077, and Vault 76 was meant to open after 20 years, which should be 2097. The 2102 date seen in the game is five years after that, so either their Reclamation Day is delayed for some reason, or something else is going on.
Whatever the reason for the late opening it places the game in a very interesting point in the franchise timeline. 2102 is the year that Richard Grey (formerly Richard Moreau, before his exile from Vault 8 for murder) became the Master, a mutant blob that went on to create and rule the Super Mutants a year later. However, this all takes place at the Mariposa Military Base in California which is both a very small and specific location, as well as totally at odds with the rumoured Virginia location.
If you want to learn more about Fallout 76 then check our E3 2018 schedule for Bethesda's show, as well as Sony, Xbox and all the other conferences and livestreams.