Update: Bethesda overlord Pete Hines has - while congratulating team PlayStation on the decision to allow Fortnite crossplay - has revealed that Fallout 76 will definitely not be as accommodating.
"Fallout 76 does not support crossplay, for a number of reasons," he said on Twitter. "I have no idea if it ever will. But I assure you it is not on our radar right now as we focus on B.E.T.A. and Launch."
The Fallout 76 beta will be the full game and your progress will carry over when it's out. So... surprise! That Fallout 76 release date will be October and it'll happen first on Xbox One, with access on PS4 and PC following after. Interestingly, the PC version of the Fallout 76 beta and game will only be on Bethesda's own launcher, not Steam this year.
As for the actual Fallout 76 release date, when all that beta progress carries over? That'll be November, which is when Twitter will be full of people wearing the Power Armour edition helmet.
QuakeCon 2018 has yielded a ton of new information about Fallout 76, way too much to fit all in here - make sure you check out our deep looks at how Fallout 76 character creation and customization works and how Fallout 76 PvP starts "like slapping somebody in a bar." Here's all the full details for the Fallout 76 beta, release date, Power Armor Edition, and everything else.
Fallout 76 release date is November 14, 2018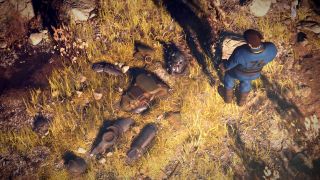 The current Fallout 76 release date is November 14, barring any delays (God forbid). That's no doubt earlier then a lot of us were expecting, and there's a beta between now and then too. That means we're only six months out from the full Fallout 76 release date and likely 4-5 until the beta.
Fallout 76's map is called Appalachia
In a single tweet we finally got a name for the degraded world we'll be exploring in Fallout 76, and it's Appalachia. The Appalachian Regional Commission defines this as "a 205,000-square-mile region that follows the spine of the Appalachian Mountains from southern New York to northern Mississippi" and it includes parts of 12 different states, but given the song they've chosen for the trailer we can bet West Virginia will be a big chunk of it.
How does Appalachia differ from the Commonwealth or Capital Wasteland? It starts with a Guitar Sword. #Fallout76 pic.twitter.com/6PKTyHwREySeptember 20, 2018
The Fallout 76 beta date is October with sign up available via pre ordering
Fallout 76 beta sign ups are currently only available by pre-ordering the game, and the actual Fallout 76 beta will be happening in October.
We're blown away by the response to the B.E.T.A. Still sorting out the details but we'll start letting you break-it in October. First on XB1, then PS4 and PC. #PleaseStandBy https://t.co/3XIR7grard pic.twitter.com/YQISJvis0PJuly 23, 2018
As you can see from the tweet the Fallout 76 beta will start on Xbox One, and then follow on PS4 and PC after. Two new things to note: the beta will actually be the full game, and your progress will carry over. The PC version will also only be available through Bethesda's own launcher rather than Steam.
Fallout 76 Power Armor edition comes with a working Brotherhood of Steel helmet YOU CAN WEAR
The Fallout 76 Power Armor edition comes with an actual Brotherhood of Steel power armor helmet you can wear, as well as a few other things. It's a collector's edition with a lot to offer - here's the full breakdown of what's in the Fallout 76 Power Armor edition:
Full-Scale Wearable T-51 Power Armor Helmet with West Tek Canvas Carrying Bag: This wearable helmet faithfully replicates the in-game model and comes complete with voice modulator speaker, functioning LED head lamp, and custom V.A.T.S. sound feature.
Glow-in-the Dark World Terrain Map: This physical, fully-colorized 21"x 21" glow in the dark vintage map showcases the six distinct regions of West Virginia complete with irradiated landmarks, towns, and wildlife.
24 Collectible Fallout Figurines: Crafted from in-game 3D models, these detailed miniatures bring Fallout 76's Vault Dwellers, Power Armored Soldiers, Creatures, and more to life.
Tricentennial Edition Steelbook. Exclusive to the Power Armor Edition, this decorated metal case is the ultimate collectible celebrating America's 300 years of freedom.
Fallout 76 Tricentennial Edition Bonus In-Game Items: Celebrate 300 years of freedom with the all-new Fallout 76 Tricentennial Edition, commemorating the opening of Vault 76. Be the talk of the town when you emerge from Vault 76 fully prepared and patriotically styled in the new American frontier!
The first Fallout 76 trailer shows an online world to rebuild
The new Fallout 76 trailer looks every part the Fallout game, just with added friends to play alongside. fallout 76's new West Virginia map seems to be brimming with a range of new enemies and places to visit. Because it's set as a prequel, some areas look a lot less ruined than previous games set hundreds of years later.
The Fallout 76 gameplay lets you play with friends, build anywhere and shows a new and improved game engine
The thing that's hard to miss from the Fallout 76 gameplay we've seen is the new and improved engine. Bethesda is promising "all-new graphics, lighting and landscape technology" and it's clear from the Fallout 76 gameplay that things have improved a lot visually.
In terms of gameplay the promise is that you'll be online with "dozens" of other players with the game using 100% dedicated servers "for years to come". Much of it looks familiar with mutant creatures to fight and a scorched wasteland to explore - this time in West Virginia, which has six different regions, each of which offering its "its own risks and rewards."
Bethesda are keen to point out that, despite being a multiplayer game. Fallout 76 isn't just a full on PvP game. You can play alone, with other players appearing more as a challenge than a constant threat, assuming you want to attack them - you could just work together.
However, nine times out of ten free roaming multiplayer ends in chaos and Bethesda are keen to make sure you have a choice on whether to get involved. For example, if you do get killed you can choose to respawn miles away to avoid getting stuck in a loop of dying. And, more importantly, you won't lose any gear or progress. But if you do want to really go for it then there's a revenge mechanic that lets you go head to head to settle the score.
There's also a new building system called the Construction and Assembly Mobile Platform, or CAMP for short. That will let you build and customise your own settlement anywhere in the game, creating a home as well as placing turrets for defence and so on.
We don't know too much about end game content or the larger arc but one key thing is the ability to control and fire nukes art the map. This will apparently create "a high-level zone with rare and valuable resources" for players to fight over.
How do Fallout 76's nukes work?
One of new things are the Fallout 76 nukes - a series of missiles scattered around the map you can use to destroy parts of it, temporarily creating irradiated high risk/high reward areas to loot.
Launching a Fallout 76 nuke isn't an easy process. You first have to find multiple parts of a launch code, which might mean working with other people. Once you have the codes you can then fight your way to a launch facility to fire the missile at certain areas on the map. Anyone in that areas gets a warning and can escape before the missile hits. When it does, that area becomes a temporary high level zone full of dangerous enemies and threats, but also high rewards.
The Fallout 76 map is big and might have been worked out already
Update 6 for the #Fallout76 map. Now with more confirmation and extra speculation. Lots of new offical locations added in and more likely locations with help from a lot of different people. pic.twitter.com/n3FdB6wbzpJune 18, 2018
What you're looking at here is the Fallout 76 map, as pieced together by a bunch of fans. The information comes from trailers, gameplay, developer interviews, images of the map in the Fallout 76 Power Armor Edition, as well as the excellent Noclip documentary about the game.
The multiplayer nature means the Fallout 76 map is four times the size of the last game. That's to give several players space to roam, as well the ability to launch Fallout 76 nukes all over the place and make temporary, highly radioactive changes to the map.
Where is Vault 76 and why was it special?
While we don't have an exact location for where Vault 76 is in Fallout 76 yet, the map building sleuths above currently have it in the North West part of the West Virginia map, near Morgantown.
Fallout's Vault 76 has been mentioned several times in previous games but has never been seen before. Importantly, it was one of the 'control vaults', that is not one that used for weird experiments, that was actually meant to keep it's 500 inhabitants alive and sane to repopulate the world.
In Fallout 3 it was listed on a Vault-Tec terminal in the Brotherhood of Steel's Citadel. It was also mentioned on an audio log you can find on the alien ship in the Mothership Zeta DLC, where Giles Wolstencroft, the then assistant CEO of Vault-Tec explains he was inspecting the construction of Vault 76 when he was abducted. It's also mentioned in Fallout 4 during the beginning scenes where the news says it's making it's debut in honor of America's tercentenary.
What is Fallout 76? Is it a new Fallout game or an online/multiplayer spin off?
By Bethesda's own words Fallout 76 is an "online prequel where every surviving human is a real person". At its E3 showcase Bethesda's Todd Howard was clear with the messaging that you can play it single player stating, "of course you can play this solo, you'll be who want, exploring a huge world, doing quests, experiencing a story and level ing up." However he also made it clear that the game is "entirely online" and that playing with other people is the main point of the whole thing.
What is Reclamation Day in Fallout 76?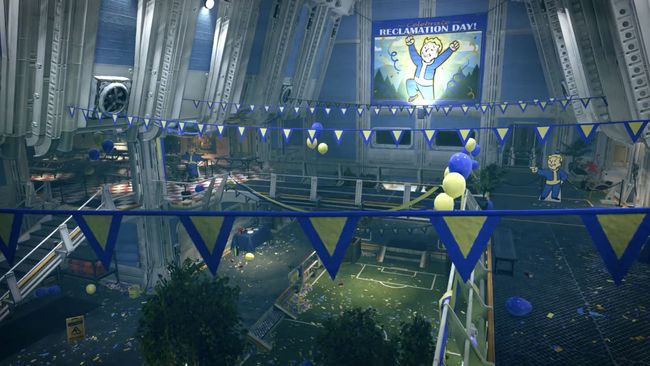 While Reclamation Day is obviously when the inhabitants of Fallout 76 leave the Vault to reclaim the Earth above, it's not a thing we've seen or heard of before. Basing a game around it is significant because of that, but also give free reign to make it almost anything.

What's interesting is that the Great War stared in 2077, and Vault 76 was meant to open after 20 years, which should be 2097. The 2102 date seen in the game is five years after that, so either their Reclamation Day is delayed for some reason, or something else is going on.
Whatever the reason for the late opening it places the game in a very interesting point in the franchise timeline. 2102 is the year that Richard Grey (formerly Richard Moreau, before his exile from Vault 8 for murder) became the Master, a mutant blob that went on to create and rule the Super Mutants a year later. However, this all takes place at the Mariposa Military Base in California which is both a very small and specific location, as well as totally at odds with the rumoured Virginia location.