The board game adaptation of Dorfromantik has been crowned as game of the year in the Spiel des Jahres 2023, the tabletop industry's most prestigious awards. It beat numerous others (including roll-and-write game Next Station London) on July 16 to claim the sought-after honor.
It wasn't the only Spiel des Jahres 2023 winner, though. As you may have seen when this year's Spiel des Jahres nominations were announced, a gong for best kids board game and best hobby board game are up for grabs as well. Much like the Spiel des Jahres 2022 winners, it's an eclectic bunch; Mysterium Kids won the former with its unusual mechanics revolving around a tamborine, while mash-up game Challengers walked away with the latter.
In other words, lists of the best board games everywhere will need to make space for three new additions...
You can find out more about each winner (along with who the runners up were) in 2023's Spiel des Jahres below, including where you can get them.
Spiel des Jahres 2023 winner (game of the year)
Dorfromantik
This laid-back placement game for 1 to 6 players (by Michael Palm and Lukas Zach) adapts the video game of the same name to great effect. The official Spiel des Jahres announcement page said that it claimed the title because it's able to take "the pressure out of everyday life."

In terms of where to get it, Dorfromantik is unfortunately very hard to come by. We've not been able to track it down via many retailers (apart from Zatu, where you can ask to be notified when it's back in stock), and is out of stock at the likes of Amazon UK. Indeed, it's not even listed on Amazon US. With any luck, its win here will encourage a reprint. It's also worth bearing in mind that the Spiel des Jahres is a European award, so a Stateside printing of the game may be on the way soon.

Runners-up: Fast Facts | Next Stop London
Kinderspiel des Jahres 2023 winner (kids game of the year)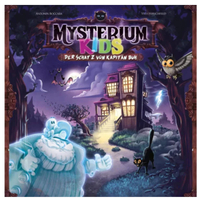 Mysterium Kids
This more accessible, child-friendly version of co-op hit Mysterium (by Antonin Boccara and Yves Hirschfeld, made for 2 to 6 players) managed to defeat Carla Caramel and Gigamon for the crown in this year's awards. Apparently, its "tambourine fascinates the children immediately. Combined with the challenge of creating suitable sounds and listening carefully, a unique atmosphere is created."

You can currently pick it up from Amazon US for $34.99 or via Wayland Games in the UK for £23.20 instead of almost £29.

Runners-up: Carla Caramel | Gigamon
Kennerspiel des Jahres 2023 winner (hobby game of the year)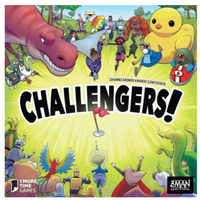 Challengers
This unusual capture-the-flag game (which mashes up everything from dinosaurs to superheroes) saw off stiff competition to win this year's hobby board game award. Designed by Johannes Krenner and Markus Slawitschek for 1 to 8 players, the judging body said that "large groups in particular enjoy the charged tournament atmosphere that is created by the individual feuds that are constantly being put together in new ways. The variety of possible combinations make the challenge a pleasure with a high level of replay appeal."

As for where you can get it, it's $34 at both Amazon and Walmart right now. Based in the UK, on the other hand? You can grab it for a reduced £23.99 at Zatu instead of £40.

Runners-up: Iki | Planet Unknown
For tabletop recommendations, don't miss the top board games for adults or these essential board games for 2 players. The best cooperative board games are well worth investigating too.