When Comedians Get Serious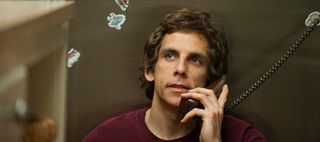 Ben Stiller
Greenberg (2010)
Why So Serious? Ben Stiller returns to multiplexes this Friday in Greenberg . The funnyman is under the watchful eye of Noah Baumbach ( The Squid and the Whale , Margot at the Wedding ), so it's no surprise that this one isn't a broad comedy.

Expect a quieter, slow-burn character piece, with Stiller as Roger Greenberg, a neurotic forty-something who decides to spent some time "trying to do nothing for a while". The only thing looking likely to free him from his stagnant life is the relationship slowly developing with his brother's assistant (Greta Gerwig).

Stiller said of the character: "I really felt an empathy for the guy and I've actually never had that experience before on a movie, where I ended up feeling connected to a character as a real person".

If they played it for laughs... Greenberg would have a permanent pout, talk in a funny voice, sport a dodgy wig and go around complaining that "I'm pretty sure there's a lot more to life than being really, really, ridiculously depressed".

See also : The Royal Tenenbaums (kinda...)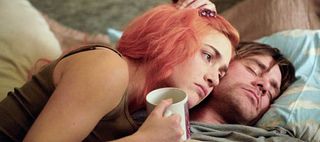 Jim Carrey
Eternal Sunshine of the Spotless Mind (2004)
Why So Serious? Jim Carrey probably takes the crown for being the most dichotomous of all the comedy legends who take on serious roles, balancing out the darker stuff with rubber-faced, high-concept laughs.

Perhaps this jester's finest dramatic moment came playing Joel Barish in Michel Gondry's Eternal Sunshine , which combined indie cool, brain-frying smarts and some genuinely poignant touches in one genre-defying package. Carrey's never been more convincing, and the screenplay is one of Charlie Kaufman's finest.

If they played it for laughs... Jim Carrey has to mug for all he's worth in order to win back his memory-discarding ex, Clementine, as he tries to jog her brain by re-enacting their entire relationship. The movie culminates in a last-minute snowmobile chase through her memory bank.

See also : The Truman Show , Man on the Moon , The Majestic , The Number 23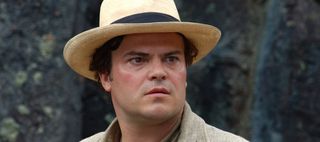 Jack Black
King Kong (2005)
Why So Serious? Off the back of the success of The Lord of the Rings , Peter Jackson must've been able to handpick the cast for his monkey mash-up. Alongside regular award-magnets Naomi Watts and Adrien Brody, he cast jokester Jack Black as filmmaker Carl Denham.

Black does surprisingly well against the more seasoned cast, not once dropping the dramatic ball. His resemblance to Orson Welles must have been a plus point for Jackson, who never allows the fame-hungry director to become totally unsympathetic.

If they played it for laughs... Black would have had a slacker beard, wielded a guitar rather than a vintage camera, and some misadventure would see him moving out of his parents' place and ending up at Skull Island, where he'd have to survive to prove his societal worth. Or simply scrap that idea and he could just play the big ape himself.

See also : Margot at the Wedding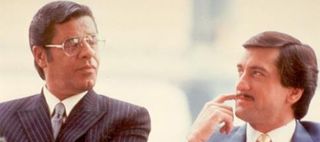 Jerry Lewis
The King of Comedy (1982)


Why So Serious? Martin Scorsese cast legendary comic Jerry Lewis, best known for his slapstick gags and Rat Pack connections, as talk-show host Jerry Langford. He wasn't top of the list mind, with Johnny Carson, Frank Sinatra and Dean Martin all previously considered.

It seems Scorsese made the right choice though, as Lewis is sensational in this underrated gem. It was a no-brainer that Lewis would nail the confident TV comedian when he's in his element, but the performance becomes A-list when he's hounded by De Niro's delusional wannabe stand-up ever more aggressively, and the tension gradually mounts.
The King of Comedy is an effective example of the diversity that Scorsese and De Niro are capable of, and Marty has claimed that he didn't feel Lewis got the credit he deserved for this movie.

If they played it for laughs... Langford would have ended up giving Pupkin his slapstick secrets in the form of a comedy-inducing serum, before the pair go on to outshine even Morecambe and Wise in the TV double act lark.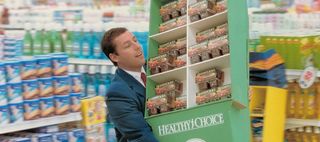 Adam Sandler
Punch-Drunk Love (2002)


Why So Serious? This film brought Adam Sandler to the attention of a lot of people who had been trying to ignore him throughout his stratospheric rise. Director PT Anderson followed his epic run of Boogie Nights and Magnolia with this smaller (but no less ambitious) tale of love, chocolate pudding and sex hotlines.

Strangely, Sandler doesn't play this too far away from the roles that made him famous in Billy Madison and Happy Gilmore , with his socially awkward demeanour and frequent explosive outbursts. But the established Sandler persona reveals hitherto unknown depths when plonked directly into the context of an PTA movie.

If they played it for laughs... Well this is already a hell of a lot like Billy Madison Grows Up , so to make this into a typical Sandler comedy you'd have to apply his other established formula and pair him up with Drew Barrymore to cutesy up the rom-com side of things.

See also : Reign Over Me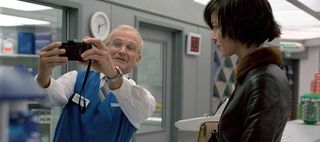 Robin Williams
One Hour Photo (2002)


Why So Serious? The first film to truly mine the underlying shuddersome creepiness that Robin Williams could tap into (well, maybe the second following Mrs Doubtfire ).

Undergoing a convincing physical transformation (man-beast Williams apparently had to de-fuzz a lot of his notoriously hairy bod for the role), Williams is all dead-eyed stared, albino blond hair, and Generic-Mart garb.

His Sy Parrish becomes slowly obsessed with the Yorkin family, whose photographs he develops. He's tipped over the edge when he is sacked from his job (prohibiting the theft of any more family snaps) and he discovers that the idyllic family life he has been fantasising over could well be disrupted by the father's infidelity.

It was Williams' performance that gave this movie its unique selling point, and deservedly so.

If they played it for laughs... How could the Yorkins not fall for perennial family favourite Williams? After charming his photo customers with his repertoire of funny voices, he seals the deal by continually slipping in prints of himself in humorous poses into their albums until they relent and adopt him.

See also : Good Will Hunting , Insomnia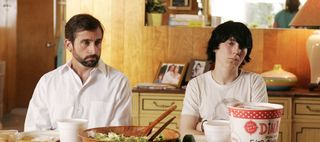 Steve Carell
Little Miss Sunshine (2006)
Why So Serious? We know and love Carell from Anchorman and Bruce Almighty , and we've put up with him in middle-of-the-road filler like Date Night , but the US Office actor has also convincingly honed a sombre side.

Take Little Miss Sunshine for example. Carell throws off the comedy shackles and tests his character work to the full in a role that requires him to play it gay, depressed, bearded and scholarly, in the midst of a family of indie royalty.

The role was originally offered to fellow funnymen-going-straight Bill Murray and Robin Williams, but Carell made it into one of his early career highlights.

If they played it for laughs... Carell's at his funniest when playing it zany (Brick Tamland in Anchorman is surely his comedic zenith) so his character's dysfunction would have to be verbal diarrhoea . He'd have the tightly-wound family in stitches before they even got in the campervan.

See also : Dan in Real Life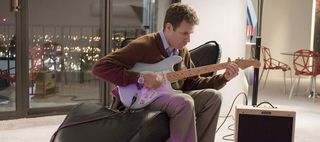 Will Ferrell
Stranger Than Fiction (2006)


Why So Serious? Will Ferrell dipped his toe ever-so-cautiously into the world of drama with this surreal caper, playing an IRS agent who hears a voice in his head that happens to be narrating his life.

He soon realises that he's a character in the narrator's (Emma Thompson) latest novel, and he's about to be killed off. Cue racing against time as Ferrell tries to identify the mystery author orchestrating his demise.

While there's room for an awkward romance with Maggie Gyllenhaal, some carpe diem pleasantries, and the always amenable Dustin Hoffmann, the subject of the inevitability of death becomes depressingly prominent towards the end of the movie. So not exactly Anchorman 2 then.

If they played it for laughs... Emma Thompson would be writing the biography of Ron Burgundy, who is disappointed by the way his omniscient narrator is portraying him, so he goes all-out to ensure that his life story becomes the legendary tale he feels he deserves.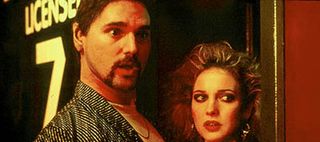 Eric Bana
Chopper (2000)
Why So Serious? Such is the wealth of dramatic roles that Bana now has under his belt, it's hard to believe that the granite-jawed Aussie was best known as a comedian before he starred in Chopper .

As real life convict-turned-author Mark 'Chopper' Read, Bana showed commitment by piling on the pounds for the physical transformation, and also bringing the performance to match. This role got Bana worldwide attention, and he wasted no time making good on the 'next big thing' hype.

If they played it for laughs... Bana's comedy was primarily sketch-based, so Chopper would have consisted of a random selection of incidents from the infamous crim's life, with Bana playing every role in every scene with the help of prosthetic fat suits and detachable ears .

See also: Virtually every film on his CV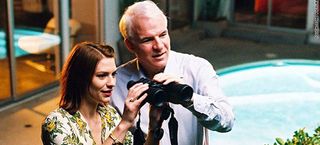 Steve Martin
Shopgirl (2005)
Why So Serious? A real change of pace for mirth-merchant Martin, this lightweight drama sees him as one of two potential suitors for Claire Danes eponymous department store gal.

Martin plays the suave silver fox, in contrast to Jason Schwartzman's immature roadie. Not just a fluffy romance, this serves a side order of depression with the relationship issues.

If they played it for laughs... Hopefully they'd go with vintage Martin wisecracking rather than more Cheaper by the Dozen -style saccharine.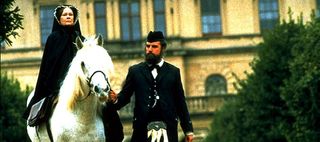 Billy Connolly
Mrs Brown (1997)


Why So Serious? The towering Glaswegian is still best-known as a peerless stand-up comic, but he's been dabbling in movies for some time now, and it's not all funny business.

Connolly first started to be taken seriously as an actor was when he romanced Judi Dench's Queen Victoria. This historic tale could have easily felt very 'TV drama' if it wasn't for the impressive old school charisma of Dench and Connolly, showing the youngsters how it's done.

If they played it for laughs... We can't imagine Billy's coarse brand of humour going down too well at Buckingham Palace...

See also: The Last Samurai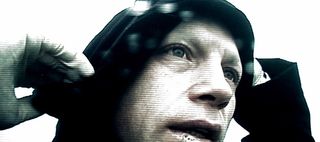 Lee Evans
Freeze Frame (2004)
Why So Serious? Perpetually-sweaty, arena-dominating stand-up Lee Evans shaved off his hair (and eyebrows) to star in this ambitious CCTV thriller.
The funnyman is dead serious as Sean Veil, a headcase who has been repeatedly filming himself to create a constant alibi, after being wrongly accused in the past. However, he soon finds himself under suspicion, and a crucial bit of footage has gone missing.

The end result doesn't quite live up to the intriguing premise, though none of that is down to Evans and his dedicated performance.

If they played it for laughs... Evans would be an indefatigable comedian taping every moment of his life lest he should forget a quality zinger that he comes up with.

See also : Funny Bones (1995)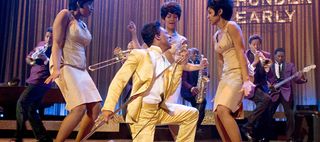 Eddie Murphy
Dreamgirls (2006)
Why So Serious? Eddie Murphy's 'comedy' career was fast becoming a succession of duds ( The Adventures of Pluto Nash , Daddy Day Care , T he Haunted Mansion ) and this musical drama gave him a blast of much-needed credibility.

In fact, Murphy got an Oscar nod for his turn as singer James Early, who gets involved in drugs and adultery as his career goes down the pan.

If they played it for laughs... Eddie Murphy's wise-cracking, authority-defying soul star would have been forced to reinvigorate his career by forming duet with a stuffy, rule-abiding soprano.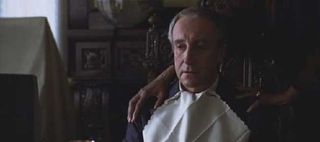 Peter Sellers
Being There (1979)


Why So Serious? Peter Sellers cranked up the seriousness dial for his penultimate movie, reining in the silly voices and dodgy prosthetics for this quietly moving satire.

Chance (Sellers) is a simple gardener, whose unpretentious utterings are misinterpreted with profundity, and after an accidental encounter with wealthy businessman Ben Rand (Melvyn Douglas) he soon finds himself offering advice in the White House.

If they played it for laughs... Sellers would have been cast as Chance, Ben Rand, and the President, and portrayed them using cunning disguises and his knack for voice work (racial sensitivity not guarateed).