The Evolution Of Kevin Spacey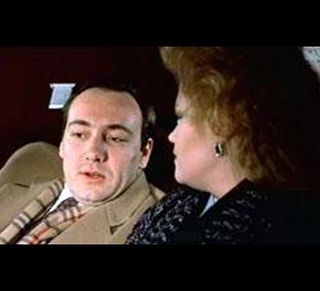 Working Girl (1988)
Having made his cinematic debut playing a subway thief in Heartburn , and starring opposite the legendary Jack Lemmon in Eugene O'Neill's Long Day's Journey Into Night , Spacey landed in this '80s comedy.
He barely fits onto the screen what with all the giant hair 'dos – most notably star Melanie Griffith and Joan Cusack's out-of-control barnets.
Spacey plays the funny-named Bob Speck, whom Griffith's Tess is set up with.
Slick Spacey? Pretty darn slick. This is the beginning of something beautiful.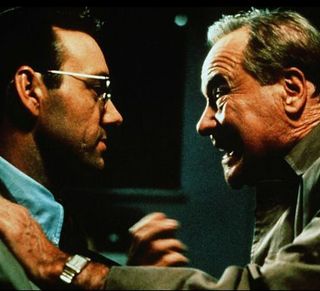 Glengarry Glen Ross (1992)
Spacey gets his name on the poster and co-stars with the likes of Al Pacino, Jack Lemmon (again) and Ed Harris.
Spacey played John Williamson, a boring office manager who is ridiculed behind his back. According to Wikipedia, Spacey saw his character as "the catalyst for events, since people are either struggling for or against him".
It was a commercial flop, taking just over $10m in the States.
Slick Spacey? He's wearing shirts, but the glasses are geek all over.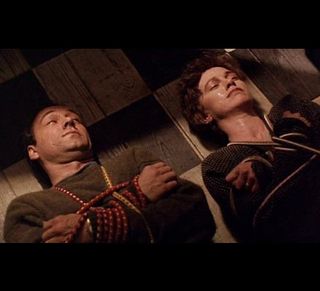 The Ref (1994)
It's black comedy time, as Spacey has a pop at that terminal turkey of a movie genre: the Christmas film. It involves an argumentative couple, a nightmare mother-in-law, a blackmailing son, and a retired cat burglar.
"You know what I'm going to get you next Christmas, Mom?" Spacey's Lloyd says sweetly. "A big wooden cross, so that every time you feel unappreciated for your sacrifices, you can climb on up and nail yourself to it." Nice.
Slick Spacey? Not really, it's all about wrapping up warm for winter.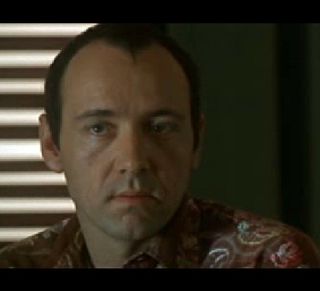 The Usual Suspects (1995)
Spacey's profile soared after his defining turn in this headfuck from director Bryan Singer. He got an Oscar for his efforts. Spacey loved working with Singer: "I think I'm a better actor when I'm directed than when I'm not."
Adds he: "Chris McQuarrie's script was complex and admirable, but it was confusing. I know it was confusing because there were actors who actually thought the movie was going to end differently. Gabriel Byrne thought he was Keyser Soze!"
Slick Spacey? Some dreadful shirts and a dodgy 'do work against him.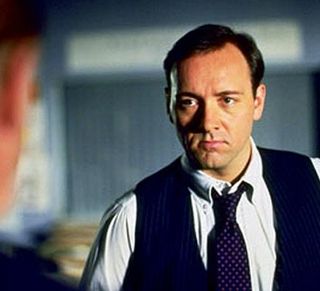 Swimming With Sharks (1995)
"Ignore all that second-hand journalism about who I based my character on," Spacey told us, flapping away suggestions that he based meanie Buddy Ackerman on Don Simpson. "I didn't even meet those people until after the movie was done."
Spacey gives another fine performance as a power producer whose young apprentice turns the tables on him. "I'm very proud because we shot the movie in 18 days - Bam! Bam! Bam!" Spacey enthuses. "It's become a classic for people who want to be in the movies."
Slick Spacey? The tie and cardy's a bit dated.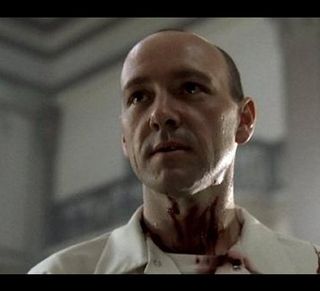 Se7en (1996)
Spacey famously refused to sign on to David Fincher's tense, dark thriller if his name was going to be splashed all over the posters. He argued that if people were waiting for him to appear on-screen, they would figure out that he was the one behind the murders.
It turned out to be a deal breaker. After much umm-ing and aah-ing, the studio finally relented and agreed not to use him in any of the film's marketing. And… it worked - Spacey gives a terrifying performance as killer John Doe.
Slick Spacey? Um, have you seen the state of his apartment?!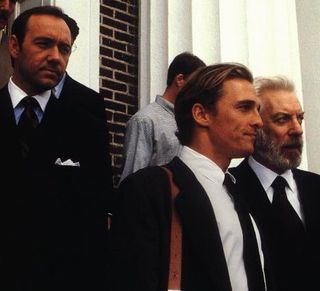 A Time To Kill (1997)
John Grisham's courtroom drama is turned into a movie directed by Joel Schumacher. Spacey plays a ruthless prosecutor, while the rest of the accomplished cast included Charles S Dutton as a sheriff, Donald Sutherland as an attorney and Sandra Bullock as an ambitious young law student.
The story involves Matthew McConaughey's lawyer defending two youths who are accused of raping a 10-year-old and instigating the resurgence of the KKK.
Slick Spacey? Dapper as anything – no rulings against this ensemble.
L.A. Confidential (1997)
"Spacey is so deft," says Confidential author James Ellroy. "He is so controlled, is so subtle, is so good at suggesting a character's inner life with a minimal of outward action.
He glides. There is something amorphous about the guy. I met him a couple of times. There's a mask that's up when you meet him personally, and I imagine that this helps him when he immerses himself in a character."
Ellroy clearly approved of Spacey's casting in this neo noir classic.
Slick Spacey? Fifties fabulousness.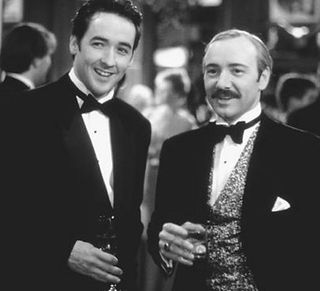 Midnight In The Garden Of Good And Evil (1997)
Spacey delivers a stunning performance in Clint Eastwood's adaptation of John Berendt's novel. Spacey plays Jim Williams, a part-closeted homosexual antique's dealer who is on trial for the murder of the young man who was his lover.
Powerhouse performances abound here, not least from Spacey and John Cusack.
Slick Spacey? He's blonde! And sports a moustache! Still, pretty classy fella.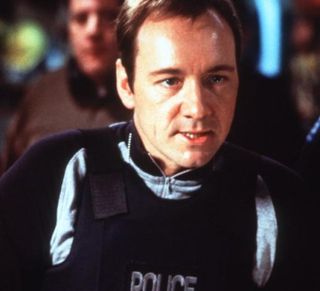 The Negotiator (1998)
Spacey pulled a switcheroo with the roles on this nerve-jangler. Originally set to star opposite Sly Stallone, when Stallone ditched the part Spacey decided he wanted it instead. His original part went to Samuel L. Jackson instead.
The pair play Chicago Police negotiators. When one of them is accused of corruption and murder, he takes hostages in a government office in order to buy himself time to uncover the truth behind the accusations.
Slick Spacey? It's pretty hard to tell under that police outfit…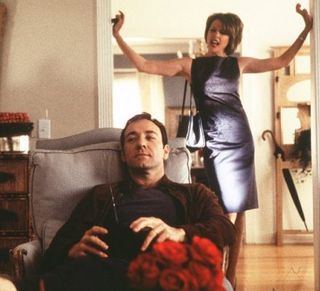 American Beauty (1999)
"I think it's pure emotional terrain for everyone," says Spacey of the film that got him his second Oscar.
On working with Sam Mendes he admits: "At first I was anxious. As an actor you're always nervous as to what a director will do.
"But we saw eye to eye immediately and he was never afraid to go for broke. He wanted the tone of the movie absolutely consistent in style, content and approach and that's what theatre teaches."
Slick Spacey? He's pretty much a mess emotionally and physically throughout. Awesome.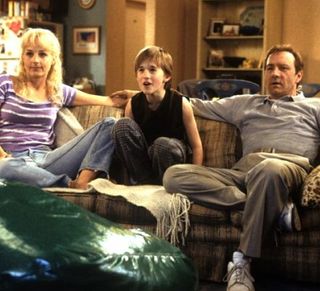 Pay It Forward (2000)
Says Spacey: "I wanted to bring a teacher to life who is similar to the teachers I had, who had a kind of wry sense of humor, who were self-deprecating, who prodded and nudged you in gentle ways, rather than force you to stand at the back of the room or go to detention."
He played opposite rising star Haley Joel Osment and Helen Hunt in this gentle dramedy about a young boy who tries to improve the world after his teacher helps him out.
Slick Spacey? Not sure you'd call chinos and a polo slick…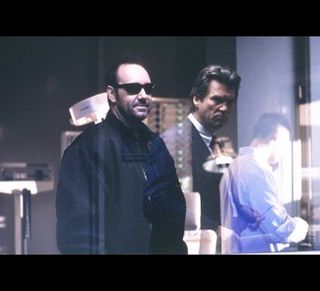 K-PAX (2001)
Is he an alien? Is he a nutjob? Spacey goes all… spacey as Prot, who claims to be originally from another planet. He's also a patient at a mental hospital. Enter doctor Mark Powell (Jeff Bridges), who attempts to help Prot see the truth – only to question the truth himself.
Another role switcheroo for Spacey, who was originally signed to play the psychiatrist to Will Smith's Prot. When Smith departed, Spacey jumped into the role.
Slick Spacey? Shades are the slickest thing around, especially when they're being worn by Mr Kevin Spacey.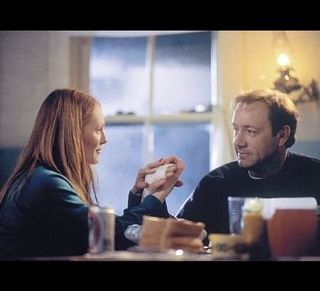 The Shipping News (2001)
"Movies are strange experiences," Spacey muses. "You never ever, ever, ever, ever get to play the whole part — you play little bits, little snippets, but you never get to play the whole thing like you do in the theatre."
A subdued, haunting drama, this effort from Lasse Hallström casts Spacey as a journalist who returns to his family's fishing town home in order to rebuild his life.
Slick Spacey? Just slickers here.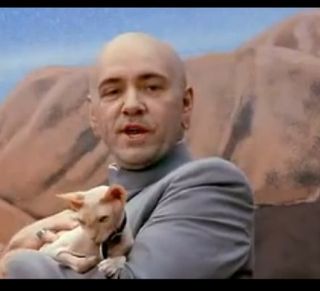 Austin Powers In Goldmember (2002)
A canny cameo in Mike Myers' megabucks threequel proved Spacey could poke fun at himself and showed off his comedy capabilities.
He pitches up over the flick's opening credits as Dr. Evil, clutching a hairless cat and gurning for all his worth. Annoyingly, Danny DeVito nearly steals the entire show with his genius, foul-mouthed Mini Me. Still pretty amazing stuff.
Slick Spacey? Just about, after a quick go over with the turtle wax.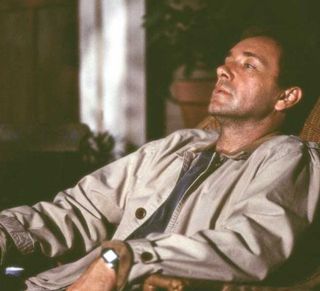 The Life Of David Gale (2003)
From the ridiculous to the sublime, Spacey plays the titular David, on death row accused of killing an activist.
"I just thought it was a pretty amazing story," Spacey says. "I thought that within it explored and improved a lot of ideas that were interesting and provocative and difficult to grapple with. It gave me an opportunity to sort of explore the things I haven't really had a whole lot of a chance to explore in film on certain levels."
Slick Spacey? He's on death row; threads probably aren't exactly a priority.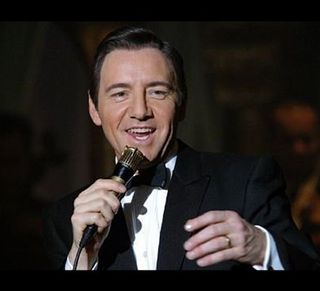 Beyond The Sea (2004)
"I did some of the stuff live," Spacey says of his turn as crooner Bobby Darin. "The first 'Mack' is live. It's not hard for me at all. I've always been very good at looping. I won't leave a looping stage until it's exact, until I know that that's going to look at least like I actually said that."
He also directed this, his sophomore directing gig and his first time behind the camera in almost a decade.
Slick Spacey? Any slicker and he'd slide right off the stage.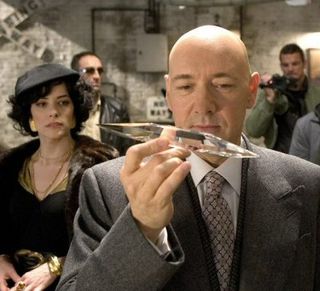 Superman Returns (2006)
Spacey re-teams with Bryan Singer to bring Lex Luthor smarming into the new millennium. It's a role that had been a long time coming – Spacey met with Tim Burton a whole 11 years previously when Burton was on board as director.
"I can't say that Superman had a great influence on me as an artist," Spacey purrs, "but it was great fun. I knew going into this project with Bryan that he and the writers really have an enormous respect for the genre and for the fan base for the Donner films."
Slick Spacey? More baldness, but DANG look at that boat!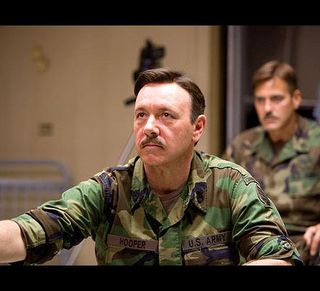 The Men Who Stare At Goats (2009)
Spacey steals the show as a mean-spirited, credit-poaching super-soldier who may or may not have psychic abilities.
Just don't call Larry Hooper a villain. "In my experience in film where I have played characters on the darker side or have been characterized as villainous or evil," says Spacey, "I always just go, 'Well, it's lazy because people aren't that way. People do good things and they do bad things.'"
Slick Spacey? We're digging the goatee. Not sure about the army threads, though.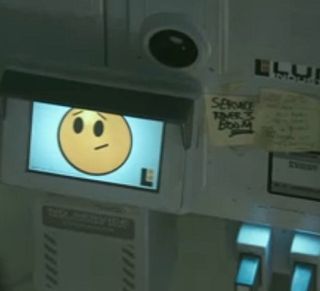 Moon (2009)
"I needed Kevin Spacey," says director Duncan Jones. "And I needed him because of HAL. Everyone is going to think of HAL when they see Gerty. And you think we're going to tell the same story, [but] we take you somewhere else and that's what his voice did for us."
Spacey plays the computerised voice of a flicky, expressive emoticon, lending his larynx to Sam Rockwell's spaceship. It's dry, creepy and marvellous.
Slick Spacey? He's a disembodied voice. But that spaceship's pretty natty.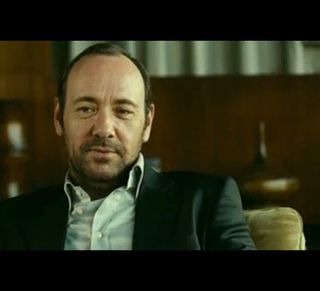 Shrink (2010)
Spacey plays top LA psychologist Henry Carter, who turns to pot after a personal tragedy. Soon he starts to question his ability to look after his patients.
So was it tough being in a film that pivots mostly on two characters talking? "As compared to? Explosions, and cars flying through the air?" laughs Spacey. "I think it's an actor's dream, and I also think it's an audience's dream; there's nothing quite like being able to go to a play or the cinema and watch people exchange as human beings, I think."
Slick Spacey? Pretty shabby if we're being honest. Shabby chic?