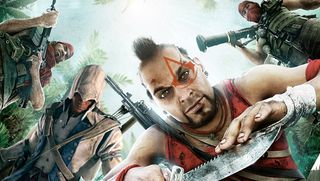 Great artists steal
At the tail end of 2012, Ubisoft Montreal rolled out two of the year's biggest games: Assassin's Creed III, and Far Cry 3. One was a beautiful free-roaming adventure filled with climbing, stabbing, hunting and exploration, with an engaging main character who leads a downtrodden people in revolt against red-clad oppressors. The other was Assassin's Creed III.
We kid, of course. Created by a different team at the same studio, Far Cry 3 cribs so many gameplay ideas from Assassin's Creed's playbook that it almost feels like a legit entry in that franchise. Sometimes, it even executes those ideas better than ACIII did. How could The Adventures of Gun-Happy Rich Kid and His Magic Tattoo ever surpass the game with Connor and the American Revolution? Read on, and we'll show you. Also, be warned: The final two entries contain spoilers. So don't, like, read this backwards or anything?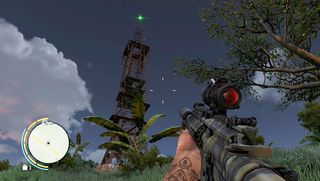 Far Cry's radio towers are essentially AC's Viewpoints
Climbing Viewpoints--specially marked towers that reveal new chunks of the game world on our map--has always been one of the highlights of Assassin's Creed. At their best, Viewpoints feel like unique puzzles, challenging us to find a path up to their impossible heights through historically important architecture.
Far Cry 3 doesn't just steal the concept of Viewpoints--it goes for a "less is more" approach, giving us just 18 climbable radio towers that reveal strips of the map once summited. These are twisted, dizzyingly rickety frameworks that--considering you don't have any real climbing abilities--take a bit of thought and experimentation to get up. And where ACIII dropped the ball when it rubber-stamped a few too many identical trees and churches into the world after running out of landmarks, the radio towers are all unique--making their eventual panoramic looks at the surrounding landscape just a bit more rewarding.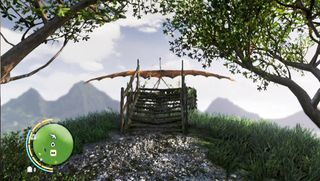 It brings back gliders and parachutes
We didn't particularly miss Da Vinci's aeronautical inventions while we were playing Assassin's Creed III, but they were still a fun way to get around in Venice, Rome, and Constantinople as Ezio. Where ACIII decided to cut them out entirely (except for one brief, mildly hilarious cameo by the Da Vinci glider), Far Cry 3 goes a step further and expands their role as tools for open-world exploration.
Now hang gliders are just something people leave lying around in convenient locations, and grabbing one lets us take in the scenery in ways Connor could only dream of. That's to say nothing of the wingsuit we get late in the game, which--along with its attendant parachute--makes us want to do nothing but find the highest spots on the island and leap off them, all the time.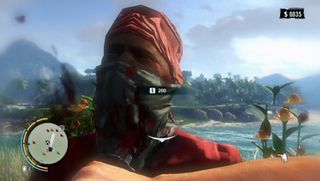 First-person assassinations are satisfyingly nasty
Killing enemies at close range, particularly with the awesome Hidden Blade, has always been one of Assassin's Creed's big draws. And while we can't find any fault with ACIIIs badass combat, there's definitely something to be said for getting the drop on a guy in first-person, and getting to stare into his terrified, wide-eyed face as you jam a machete into his neck before knifing the dude standing next to him, then yanking his knife out of its sheath and throwing it into the face of a third guy standing 20 feet away.
Not only is that brief look into your enemys startled face more immediately affecting than a prolonged dying speech about how misguided you are, but the ensuing carnage that can erupt from that moment is a lot more fun. And its even better if you can get above your foes for an air takedown; somehow, their faces seem even more shocked when theyre on the business end of a flying down-thrust to the heart.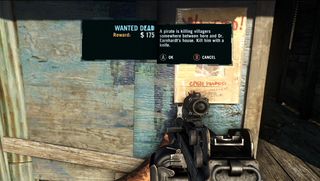 Its assassinations are actually fun
Assassin's Creed III is packed with some really fun side missions (its naval missions, its treasure hunts, and so on), but its actual titular assassinations are weirdly flat. Go to an icon on the map, talk to a guy, and a bunch of other icons show up on your map. Travel to them and kill marked thugs (which can be done with a single pistol shot), and the mission's complete.
Far Cry 3, meanwhile, injects a little more variety into its targeted killings, sending us off to find an enemy leader surrounded by deadly underlings. We can deal with the underlings in any way we see fit--going loud with machine-gun fire, picking them off one by one with a sniper rifle, or just ignoring them entirely--but their leader has to be killed with a knife, up close, the way God intended. It couldn't be any more Assassin-y if we dipped a feather in their blood afterward.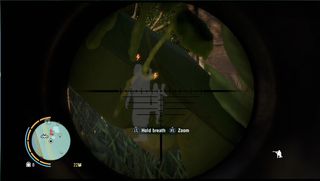 Stealth and preparation can make a big difference
Sneaking has always been an oddity in Assassin's Creed games; in theory, it defines the characters and their tactics. In practice, said characters are all indomitable ninja badasses, so there's no real reason to bother with stealth unless a mission specifically demands it. Sure, you can mess with guards and pick them off one by one, but then you're just toying with them; it's far more efficient to just wade into your enemies and slash them all to death.
You can do that in Far Cry 3, but sometimes it's more fun--and more effective--to sneak. Charging into a base full of enemies will make them call in more enemies for a longer, tougher fight, but crouching in some nearby tall grass, using your camera to "mark" each hostile, and then carefully picking them off with a silenced sniper rifle is often a much surer path to success. It's truer to the spirit of Assassin's Creed, if not its reality.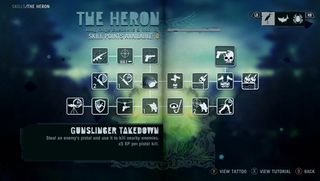 Upgrades make you feel like an incredibly adept fighter
Assassin's Creed games have always had some kind of leveling system in place, whether it's Altair earning new abilities or Ezio buying better equipment. Where ACIII mostly confined this idea to weapon upgrades (which weren't always clearly useful), Far Cry 3 gives us a literal level-up system, letting us unlock 54 upgrades and perks while also buying mods for our ever-growing arsenal of firearms. Where Connor is always a badass, Jason Brody becomes a badass through our investment and effort--and in some ways, that's much more meaningful.
Given enough time, Brody goes from a weakling who can barely shoot straight to a nigh-invincible murder machine that moves almost invisibly through cover with the speed of a tiger, soaks up immense amounts of damage, and can chain together multiple rapid kills if he can catch just one enemy unawares. These tweaks give us something to work toward, and they keep us much more invested than wed be if Far Cry 3 had stopped at weapon upgrades.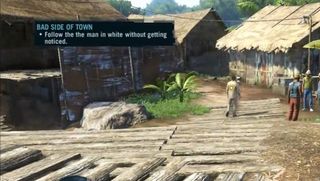 It has the fewest tailing missions
Nobody really likes tailing missions. Which is to say, nobody likes them at all. Ever. They're slow, tedious, and demanding, and yet they've remained a staple of open-world games since about Grand Theft Auto III. So we tolerate them, because enduring occasional tedium is just part of the price we pay for enjoying huge, open worlds. ACIII seems to mistake "tolerate" for "enjoy," however, with slow on-foot shadowing sequences that force you to stay within eavesdropping range or risk botching an optional mission objective (and then have to replay the mission later if you want all the achievements).
Far Cry 3, meanwhile, throws maybe one or two tailing missions at us. Three? It's hard to remember, because they're so short and forgiving. In lieu of never playing another tailing mission ever again, we'll happily settle for that.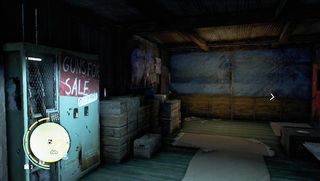 Liberating bases lets you use them
Going around to Assassin's Creed III's handful of British forts--many of which were hidden and had to be discovered on foot--was enjoyably repetitive, just like igniting Borgia Towers or taking back Assassin Dens in Ezio's games. Where Ezio could actually hang out in ACR's Assassin Dens, however, there wasn't a whole lot to do in ACIII's forts. Liberating them just filled them with guys who were indifferent to you, gave you a new fast-travel point, and let you check another box off your list.
Liberating bases in Far Cry 3, meanwhile, is not only less repetitive--each is staffed by different configurations of guards, all of whom need to die--but once they're yours, you can duck inside, refill your ammo, maybe find a collectible, and take a breather. They're safe havens. They unlock new side missions. And the blue-clad guys who now guard them actually react to you as a comrade, instead of as some weird-looking tourist. Speaking of which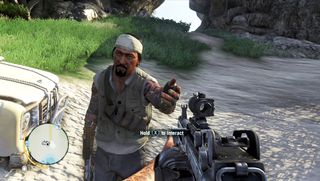 Your allies don't turn on you the second you put them in power
There's something just a little off about the Rakyat, Far Cry 3's tattooed guerrilla freedom fighters, but unlike ACIII's more familiar Patriots, they at least remember who you are. As the tide of war turned in ACIII's version of America, the sight of red coats gradually gave way to blue ones--but the differences ended there. In spite of Connor's pivotal role in the Revolution, the Patriots didn't cut him any more slack than the British did, and were just as quick to give chase and open fire if they saw him doing anything suspicious.
The Rakyat don't care if you run around or shoot guns. Hell, they don't care if you loot their dead friends' corpses right in front of them, or if you're creepy enough to shoot and skin a dog. They're just happy you're there to help. And that's enough to make you feel good about winning a war for them.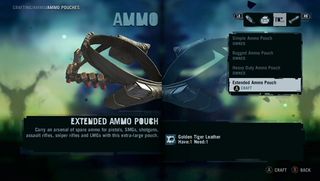 Crafting is meaningful (or at least easier to understand)
Introduced with Assassin's Creed Revelations' bomb-crafting system, this is a relatively new trope for AC--but it's one that ACIII shares with Far Cry 3. In ACIII, crafting is accomplished by collecting craftspeople (who share a group story arc that unlocks crafting items) and recipes, eventually giving you a huge stock of items you can harvest and create. Some of these, like ammo pouches and weapons, have a clear gameplay use. The rest have no clear purpose other than to make money in the game's byzantine economy system, and making and selling them is complicated enough to befuddle all but the most patient players.
In Far Cry 3, meanwhile, skinning certain animals lets you make bigger ammo bags. That's pretty much it. We're not suggesting AC has to be so utilitarian and simple, but clearer item values, fun resource collection and more tangible rewards certainly wouldn't hurt.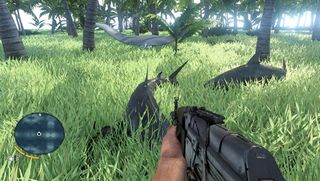 For a tropical island, there aren't many bugs
It's funny how we as an audience have kind of just accepted that bugs are a necessary trade-off if we want to explore big, expansive open worlds filled with pretty things and cool stuff to do. And why not? When some of the biggest names in gaming roll out with glitches all up in everywhere, who are we to say they shouldn't? Never mind that the Assassins Creed series has generally been pretty clean; when ACIII rolled out with numerous bugs in tow (many of which have since been cleared up with a number of massive post-release patches), a lot of us shrugged and chalked it up to the pitfalls of open worlds and new tech.
Imagine our surprise, then, when we finished Far Cry 3 and realized that we'd barely seen any bugs at all. No sudden drops through seemingly solid terrain. No disappearing mission-critical enemies, no driverless jeeps, no sharks spawning on land--well, actually, some sharks spawning on land, but noticeable glitches were few and far between. Far Cry 3 was shockingly clean, raising the bar for what we should expect to see from free-roaming epics--and reminding us that Ubi Montreal has in fact cleared that bar many times before.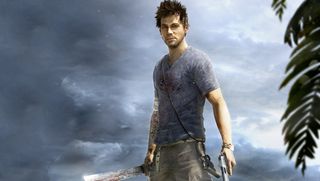 Its hero is fun and grows as a person
We get that, in creating Connor, the goal was to make a character wholly unlike Assassin's Creed's charismatic Ezio Auditore. But Connor may be an overcompensation. As a kid, he's earnest, good-natured and smart, showing the beginnings of a hugely likeable character. By the time he hits adulthood, however, he's become monotone, petulant and--dare we say it?--kinda boring.
Compare that to FC3's Jason Brody, who comes off as a spoiled, douchey rich kid at first, but nevertheless exhibits a strong moral center and a growing fearlessness. He's nave and earnest to a fault, but where Connor has the temperament of a warrior-monk, Brody is a blundering goof--and his flaws actually make him more interesting. He's not as suave or as competent as Ezio, but he's an entertaining guy to be around, and his attachment to his friends gives us something to cling to. He's a reminder that, in Connor's case, a little more personality could have done wonders.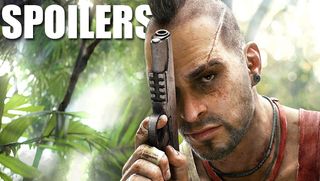 WARNING--SPOILERS AHEAD
The final two entries deal with story, and contain some big spoilers for both Assassin's Creed III and Far Cry 3. If you've finished both games (or don't care about having them spoiled), read on--otherwise, you may want to stop here and come back later. You've been warned.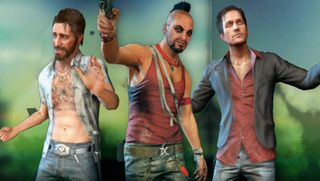 We can feel good about offing its villains
Compelling villains are a concept the AC series has wrestled with since ACII; with each successive game, its Templar baddies have grown less diabolical and more complex. In ACIII, we loved Haytham Kenway--but that's precisely the problem. He never really did anything terrible, making his inevitable defeat feel more tragic than triumphant. (Which was doubtless intentional, but still.)
FC3's villains, meanwhile, are fascinating to spend time with--but as riveting as they are, each is also an unambiguous psycho who regularly does despicable things. Vaas gives compelling monologues, but repeatedly tries to murder you. Buck is funny, but every conversation is tainted by the knowledge that he's almost certainly sexually assaulting one of Jason's friends off-camera. And Hoyt may be a fun guy to play cards against, but he's a terrifying slaver sociopath. We're a little sorry to see each one go, but--and this is important--we're never reluctant to stick the knife in.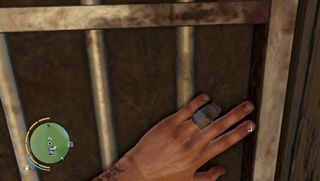 You actually lose a finger
No Assassin's Creed protagonist has had to sacrifice one of their fingers since Altair, so this one wouldn't be significant at all if it weren't for one important detail: the finger that Jason Brody loses. The ring finger of the left hand is the Assassin finger, the one that Assassins traditionally cut off so as not to impede the Hidden Blade--until Leonardo Da Vinci improved the design. And even after Ezio skipped the step where he had to mutilate himself, the Assassins used the missing finger as an identifier--just like Lucy did, when she hid hers to send a signal to Desmond.
The fact that Jason loses that finger specifically near the end of the game makes us wonder: are Far Cry 3's designers just paying tribute to their co-workers at Ubisoft Montreal? Is it a nod to how many AC concepts they've incorporated into the game? Is it just a coincidence? Or does it hint at some eventual, gradual merging of the two franchises? Yeah, we're not holding our breath on that last one, either, but it's fun to consider.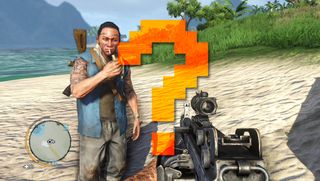 Where to draw the line?
For all their similarities, there are plenty of hallmarks of Assassin's Creed that make the series unique, and Far Cry 3 hasn't even attempted to touch them. The free-running, the climbing, the historical recreations, the emphasis on close-quarters fighting, the Hidden Blades and hoods--all of these are vital, and for some, they're all the franchise really needs. Is lifting ideas from AC a step in the right direction for Far Cry? Is it something more games should do? Fewer? Let us know your thoughts in the comments below.
And if you're looking for more, check out our Far Cry 3 review and our Assassin's Creed III.