Insane genius
When most people think of Hideo Kojima's Metal Gear Solid saga, they picture serious, philosophical, beard-stroking experiences which blend tight methodical gameplay with a great deal of heavy existential pondering.
That's only one half of the MGS equation though. The other half is barking mad. From toilet humour to boob jokes to action scenes so ludicrously badass they become borderline camp, MGS is a series never less than content to balance out its brains with a big fat slab of gibbering lunacy. So in tribute, here are some of our favourite selections.
The Hind D battle - MGS: The Twin Snakes
So Snake is exposed on a rooftop. Liquid is hovering overhead in a heavily armed combat helicopter. Snake is basically screwed? No. He just performs a slow-motion side-flip through the hail of incoming gunfire (deftly dodging each bullet by mere inches for extra style points), then leaps over the edge of the building and falls several stories to a completely safe, non-leg-shattered landing.
A little while later and the bell rings for round two. Snakes solution to certain death at the hands of two incoming rockets? The obvious. Use the splash damage from the first rocket to launch into the air, blissfully unsinged, before kicking off the shell of the second one, performing a back-flip and nailing the chopper with a missile of his own before even landing. Seriously, if Snake is capable of that sort of thing, why the hell is he even bothering to sneak?
Hideo Kojima laughing in your face - MGS: The Twin Snakes
The legendary Psycho Mantis fight in the updated GameCube version of Metal Gear Solid has a few changes. For obvious reason, PMs psychic mind-reading of the players memory card now focuses on save files for Nintendo games. But in addition to that, the portraits on the back wall have changed. In tribute to The Twin Snakes status as an East-West co-production between Nintendo, Kojima Productions, and Silicon Knights, you now get the framed faces of Hideo Kojima, Denis Dyack, and cutscene director Ryuhei Kitamura.
Additionally, in reference to the famed insanity effects in Silicon Knights earlier GameCube game Eternal Darkness, the battle makes good use of new hallucinatory visuals and skewed camera angles. Chief amongst those effects is the moment when said portraits start a shrill, demonic cackling right in your cowering face. Suddenly Kojima no longer seems the benevolent eccentric we all like to imagine he is, and much more like some kind of witch made out of helium. Dont worry too much about Denis Dyack though. Its doubtful hes laughing much at anything since Too Human.
Meryl's codec frequency - MGS/MGS: The Twin Snakes
Now, breaking the fourth wall is one thing. Hideo Kojima is notorious for it. But breaking the fourth wall before youve even started the game? Thats madness. Ludicrous, nonsensical, marvellous, pioneering madness.
You have to re-contact Meryl relatively early in the game. You have to find her codec frequency in order to do so. Youre told only that its on the package. You inevitably trek back through the entire available game area thus far, poking, prodding, and investigating every item, room, and cardboard box you come across. Then you realise that the package is actually the real, physical, sitting-right-next-to-you-on-the-sofa game box, and the codec frequency is printed in a screenshot on the back. That screenshot shows a codec conversation youll later have with Meryl. A conversation which cannot happen unless you have the frequency. Which you cannot get unless you find evidence that will not exist until that conversation happens.
*brain capsize* *existential stress vomit*
Snake's fap-face - MGS2
So its the tanker prologue chapter. Youre still playing as Solid Snake. All business as usual and no disturbing surprises as of yet. Until that is, you find a certain locker with a certain image of a certain bikini-clad female type posted on the inside of the door.
Switch to first-person view, zoom it, ogle for a while, and then call Octagon. Youll find that Snakes codec portrait possesses a somewhat more strained countenance than usual. Otacon is not impressed.
Johnny's trouser traumas - MGS1, 2, and 4
Metal Gear stalwart Johnny Sasaki has never had much luck with his pants. Knocked unconscious and stripped near-naked in Metal Gear Solid, his later appearances in the series bring even worse luck, characterising him as a chronic diarrhoea sufferer perpetually in search of the next safe dumping ground, whether appearing as enemy guard or ally.
It all starts as a big brown easter egg in Metal Gear Solid 2. Using the remote microphone device its possible to hear Johnnys toilet trauma through a cubicle door, culminating in his being marooned without toilet paper. Later on, an unseen conversation with Emma Emmerich reveals his compassionate side, as Johnny allows her to go free before the inconvenient freeness of his own bowels causes a rather pressing distraction from the rest of his guard duties.
Naked Raiden doing cartwheels - MGS2
Fission mailed - MGS2
So its been revealed that the mission is not what it seems. In fact the whole thing is really a simulation intended to re-create circumstances similar to the Shadow Moses incident in order to develop Raiden into another Solid Snake. Memory manipulation and nanomachines are involved. So are Machiavellian AIs and naked cartwheels. Everything is going nuts. But then, during Raidens epic stand-off alongside Snake against a raft of enemy troops, it all ends with his sudden death and an unexpected game over screen.
Or rather it doesnt. Because the usual mission failed message now says fission mailed. And the continue and exit options are replaced with continent and emit. And the window that usually shows Raidens death actually shows him continuing to fight, provided that the player hasnt fallen for the trick and succumbed to a real death after putting the pad down. This isnt the last occasion of Metal Gear Solid playing around with the mechanics of the game over screen, and rather brilliantly it isnt even the weirdest. Youll see.
Guy Savage - MGS3
Snake has been captured, tortured (seriously, what is it with Kojima and torture scenes? Freud would have a field day) and is now in a Russian jail cell. Understandably, his dreams are unlikely to be of the fudge mountains and unicorns variety.
Instead, theyre of the slashing up hordes of zombies carrying meathooks genus. Hidden minigame Guy Savage--probably a light parody of Devil May Cry--becomes playable as an interactive nightmare sequence if the player saves and reloads their game in the cell. The nightmare was originally going to include classic Konami shooter Gradius, but given that said game debuted more than two decades after the year Metal Gear Solid 3 is set in, doing so would have gifted 60s Snake psychic powers to rival that of his descendants weirdest boss encounter.
The Sorrow's river of the dead - MGS3
That other fake game over we were talking about? Mad as a box of Dahmers. Following a Fugitive-style swan-dive from a dam outlet pipe, Snake is knocked unconscious (or is he?) and finds himself wading along a river running through the land of the dead. Led by the ghost of The Sorrow, along the way he meets the spirit of every enemy he has killed in the game thus far (which obviously makes for a pretty uneventful journey if the player has been taking a non-lethal approach). Eventually Snake comes across The Sorrows mortal remains, and upon making contact dies himself. Cue a standard looking game over screen.
Snake vs. Monkey - MGS3
Hey guys, Ive got a great idea.

Whats that, Koj?

You know what our deep, profound, powerfully emotional tale of war, inevitability, and individual choice needs?

No, Koj, what does it need?

It needs a mode where you can hunt down the cartoon monkeys from Ape Escape!

Riiiiiiight, Koj...

I love those monkeys.
Snake goes retro gaming - MGS4
The return to MGS1s setting of Shadow Moses was only ever going to be one giant piece of fan service. The tone is set before Snake even lands, by way of another playable dream sequence. This time though, the playable game is far more familiar, being a flawless recreation of the original PS1 version of MGS.
The best bit? The brief flash of 32-bit texturing on Old Snakes face as he wakes up in confusion, having briefly resampled the life he once lived.
Raiden stops a battleship (literally) single-handed - MGS4
Shadow Moses Island seems to be the series hotbed for ludicrous man vs. vehicle throwdowns. Following Snakes nonsensically balletic victory over a helicopter in The Twin Snakes, Raiden goes one better in Metal Gear Solid 4 by halting an entire warship in its dock-destroying tracks. By basically just standing in front of it.


And by this point he only has one arm, having torn the other one off himself after it got trapped under a pile of rubble. And he manages to dent the bow of the ship with his spine.
Raiden is far from (h)armless - MGS4
Forget the fact that Raiden is still alive after being crushed beneath the weight of the ship in the previous entry. Forget the fact that hes lost his other arm in the process and does not really seem to care. Forget the fact that he manages to intimidate and even take down a bunch of FROG troopers in this partially dismantled state.
No, the really ludicrous thing about Raidens reappearance during Metal Gear Solid 4s climactic scenes is the fact hes now wearing a long overcoat despite not having the arms required to put the thing on, let alone maintain its position on his (non-existent) shoulders. In fact no, it's not even that. No the really ludicrous thing is that said coat is fastened with a goddamn belt. Fastened belt. No arms. Whut?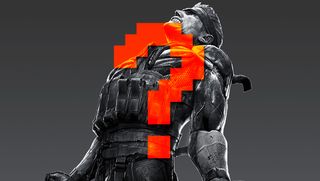 Stop the madness?
That's a great big pile of auteur insanity for you right there. But have we missed anything? Are there any Metal Gear moments of madness missing? Tell us of your favourite Kojima craziness in the comments.
And while you're here, why not check out some of our other top Metal Gear content?
The deadliest cyborg ninjas in gaming history is a good bet, as is
How to be a video game guard: A professional guide.