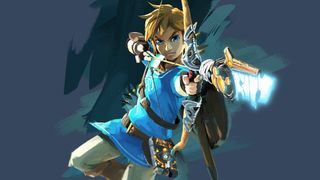 The waiting is the hardest part...
If you were hoping to sword-zap rock-spitting Octoroks and ride your trusty steed Epona across a massive open-world Hyrule sometime this year, sorry to tell you, you're going to have to wait. Nintendo's upcoming Zelda title has been quite mysterious. We've only seen a few clips of the game in action and the details on the story, the layout of the overworld, and even information on the new Link are scarce.
But even amidst the extended delays and ambiguity, the next Zelda seems to be making some significant changes to the series. Hyrule's overworld harkens back to the freely explorable world of the original Legend of Zelda, there's a significant emphasis on Link's bow and transforming arrows, and Link doesn't wear green (yet). Zelda Wii U/NX looks to be taking the series in a new direction. We still have a lot to learn about Link's next adventure, but here's everything we know about it so far.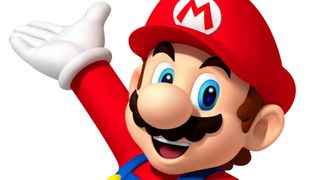 It's coming to Nintendo's next console
It looks like the next Zelda is pulling a Twilight Princess, dropping its Wii U exclusivity and moving to a dual console release. Nintendo will be pulling back the curtain on its new console (code named Nintendo NX) later this year and the next Zelda is going to be one of the first games to be on the company's mystery machine. Also, with that announcement comes another pushed back release date, bringing Zelda's launch window to sometime in March 2017 (alongside the NX). The upcoming Zelda title has had several major delays, but with the Wii U's lifecycle coming to an end, it makes sense that Nintendo would want one of its most popular series on a shiny new system.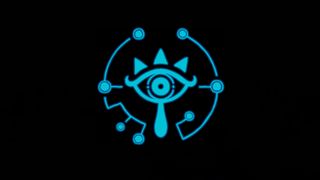 Nintendo will be showing off a full day of gameplay at E3 2016
The new Zelda will be the only game on Nintendo's show floor. The Nintendo Treehouse live presentation will be taking the timeslot of the company's usual E3 stage presentation starting at 9am and continuing for the rest of the day. If the livestream really is what it's promising, that's going to be a whole lot of gameplay. But the announcement also brings up an interesting question: Will we get a glimpse of the game being played on the new console, or will Nintendo exclusively play the Wii U version? It seems like a tricky situation, especially because the NX would probably boast more impressive visuals with its improved hardware.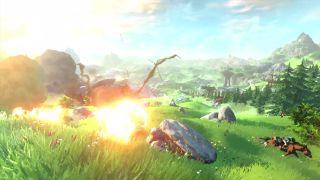 The new Legend of Zelda takes place in an open world
One thing Aonuma was very clear on was the direction the development team took in terms of the game's layout. The new Zelda is going to be completely open-world (think Skyrim, only with much more vibrant colors). That means there will no longer be sectioned-off areas of the world. There won't be any loading screens when you walk from Hyrule Field to Death Mountain, and there won't be predetermined entrances to outdoor locations. You can enter any area from any direction.
This open approach to the world design came from the roots of the Zelda series. Aonuma explained that the original Legend of Zelda allowed players to feel like they were exploring a vast world; now, the new Zelda will be bringing that feeling back with the open-world environments. Also, the world appears to be bursting with life. In the trailer, you can see a sheep herder and his animals grazing in the field, a ship's mast in the distance, and chimney smoke rising from a nearby house.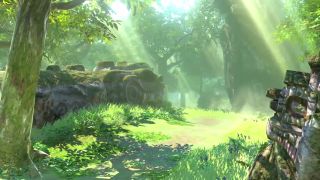 The art style is a mix between Wind Waker and Skyward Sword
Once again, a 3D Zelda is adopting the cel-shaded art style that Wind Waker utilized to incredible effect. Only this time, the character models don't look as ludicrously cartoony, ditching Wind Waker's big heads and disproportionate bodies for a more realistic character design.
The new Zelda's art style falls more in line with Skyward Sword's look. The trailer shows the world in lush colors, complete with those swirly smoke effects and some impressive lighting. You can see the shadows of clouds as they pass overhead, while explosions (and bright lasers) light up the environment's many surfaces. This is definitely one of the most eye-catching Zelda worlds we've ever seen.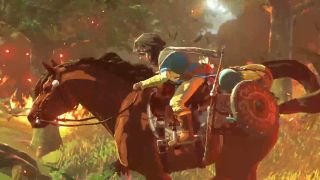 Link rides a horse, and you can probably name it Epona
Link has used many modes of transportation throughout the series, but none are more iconic than his trusty steed. As of now, we don't know if Link's new ride will take on the name of the Hero of Time's horse Epona - unless you can name the old mare (if it's even a girl), like in Twilight Princess.
Whatever the case, Link's new companion is sure to make the journey across the wide-open world a much speedier and safer one. Aonuma did say that players would be able to reach those mountains in the distance if they took the time to walk there. One thing to note: In the short reveal clip, the horse can be seen carrying items like Link's bow and a shield (not Hylian) on its saddle. What does that mean? Will Link be able to store items on his horse? Maybe he doesn't have magical pockets that contain all of his items anymore. Who knows? It's all speculation at this point.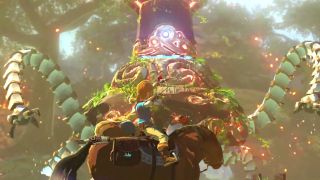 The enemies are fierce
Enemies in 3D Zelda games have typically been pushovers. Most usually only have a few predictable attacks and are easily downed with a few swings from Link's iconic sword. However, in the new Zelda, the giant crab with Doctor Octopus' arms seemed like an enemy you don't want to mess around with. Not only does it shoot lasers that incinerate anything it touches--the monster can run faster than Link's horse.
In his reveal, Aonuma mentioned that even the brightly colored, peaceful environment on display could be interrupted by powerful enemies that might appear at any time. That statement begs the question: Was that battle just a random encounter? Can we expect to wander the countryside never knowing what could be around the next bend? If that's the case... that sounds awesome.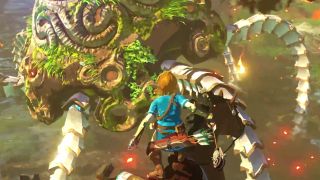 Combat might have gone through some major changes
The Zelda reveal didn't show very much in terms of combat, but what we did witness seems to point to a more free-flowing and agile combat system. Seeing Link shoot a few arrows from horseback is nothing new, but watching the hero get launched from the back of his horse while letting fly a magic arrow is something we haven't seen before. Is a spring-loaded horse saddle something you can use in the new open-world?
We also didn't see Link use his signature weapon loadout: the single-handed sword and shield. Instead, we saw two different arrow types get fired at the giant octopus/rock spider, with both types being used in quick succession (you can even see Link double-cocking two bomb arrows in one hand, if you look closely). This new Link could be walking into his adventure already knowing how to fight - unlike his farm-raising, sleepy head predecessors/successors.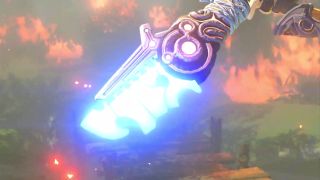 Combining items and arrows might have something to do with the game's central theme
Link uses bomb arrows to stun the tentacled enemy he faces in the announcement video. Bomb arrows take two of Link's classic (and usually separate) items and combines their abilities to create a new gadget for solving puzzles and battling enemies. The ability to mix and match your items to various effect hasn't been used in every Zelda game, so it's interesting to see that feature implemented at such an early stage of development. Perhaps combining items in Link's inventory will be a major theme in the game.
The other interesting item of note was Link's Hawkeye-esque, transforming magic arrow revealed at the end of the video. The light emitted out of the arrowhead looks to form some sort of Hylian symbols (which I sadly was unable to decipher). This magic arrow's uniqueness might suggest that these will hold some special use in game. Perhaps you need them to take down specific enemies, hit certain switches, or do any manner of unlocking of secrets.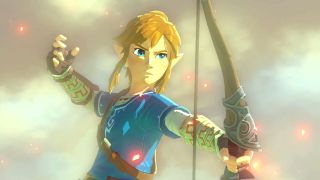 Link isn't wearing his traditional green tunic
The first glimpse of Link makes the hero almost unrecognizable. He's wearing a hooded cape instead of his iconic pointed green hat, and he has not yet earned his traditional green garb. Instead, his tunic is blue. But don't start thinking that this clothing swap is going to be Link's permanent new look. The hero has often started the game wearing his everyday clothes before he either gets the classic green from the gods or his grandma.
The fact that Link already seems to be a hardened hero and skilled warrior before dawning the green garb is definitely interesting. In Twilight Princess, Link wore a cowboy outfit and had the skills to wrangle large beasts (like goats and Gorons). So what do the skills of the newest Link suggest about his background? He could be a hunter. Hunters are good at shooting bows, right?