Fast Facts:
Justice League release date: November 17, 2017
Director: Zack Snyder
Cast: Ben Affleck, Henry Cavill, Gal Gadot, Jason Momoa, J.K. Simmons, Amber Heard, Ezra Miller, Ray Fisher
Writer: Chris Terrio
UPDATE: We've known for some time the villain of Justice League would be Steppenwolf, and now we know who's playing him: Ciaran Hinds, who you may know better as Wildling Leader Mance Rayder from Game of Thrones. You likely won't realize it's him in the film, though, as his role is entirely motion-captured.
Justice League movie unites a DC Comics super squad
You've sat through Batman v Superman. Whatever you thought of it – okay, stop swearing at the screen now – the good news is it made enough money to justify a slew of extra DC Comics movies. Following August 2016's Suicide Squad and June 2017's Wonder Woman, the Justice League release date is set for November 17, 2017. Zack Snyder will direct, with Chris Terrio on writing duties, and many familiar faces reprising roles from films which share its canon – such as Ben Affleck (Batman) and Henry Cavill (Superman). Below are all the other key details. Note: Spoilers for Batman v Superman follow.

Justice League director knows Wayne's world well
Zack Snyder returns to direct both Justice League movies (though their format has now changed from the initial 'Parts One and Two' plan - more on that below), and is one of the chief architects of DC's extended live-action universe along with producer Deborah Snyder, DC Comics' multimedia overseer Geoff Johns, and producer Charles Roven. Screenwriter Chris Terrio, who worked on Ben Affleck's Argo, has penned Justice League, but may not return for the second movie, which is scheduled to be released on June 14, 2019.
Additionally, Ben Affleck has given the film some late rewrites, ostensibly to create better ties to the 'detective story'-style, standalone Batman film he's planning to direct himself.
Justice League trailer goes for full-on comedy
After all those gratingly stern Batman v Superman previews, it's refreshing to see Justice League's first trailer shoot for laughs. Ben Affleck's super dry Wayne and Ezra Miller's upstart nerd The Flash mesh most hilariously, demonstrating more chemistry in 45 seconds than Affleck's Wayne and Cavill's Supes managed across two-and-a-half hours.
Definitely give it a watch. Cute, gaming-related aside: some clever sort has already made a version of the trailer in Fallout 4.
For some additional looks at the Justice League doing their thing, check out this behind-the-scenes video that Snyder posted from London in October to celebrate the end of filming, including exciting footage of Ben Affleck on cables and The Flash being thrown around in-costume.
Justice League cast sees Khal Drogo get wet
Henry Cavill returns as Superman despite, er, events at the end of Batman vs Superman. Likewise Ben Affleck as Batman, and Gal Gadot as Diana Prince (or Wonder Woman). Jason Momoa cameoed as Aquaman in Batman v Superman, along with Ezra Miller's version of The Flash and Ray Fisher's Cyborg, and all three are back for Justice League. The rest of Batman v Superman's ensemble cast is up in the air, but it's probably safe to assume Jeremy Irons' Alfred will reappear, likewise Amy Adams' Lois Lane.
The Hollywood Reporter revealed that JK Simmons, also known as J Jonah Jameson from Sam Raimi's Spider-Man films, will be playing Commissioner Gordon in Justice League. Joining Momoa in Atlantis will be Amber Heard, playing Aquaman's wife Mera, while Willem Dafoe is as playing loyal Atlantean Vulko.
As well as those names, Game of Thrones' Kristofer Hivju - who plays wonderful bearded monstrosity Tormund Giantsbane - was rumoured to be in line for the role of Atlantean king Orin, but that link has been kiboshed. Sadly.
Justice League story teases no place for Superman (i.e. lies)
Here's the official synopsis, direct from Warner Bros:
"Fueled by his restored faith in humanity and inspired by Superman's selfless act, Bruce Wayne enlists the help of his newfound ally, Diana Prince, to face an even greater enemy. Together, Batman and Wonder Woman work quickly to find and recruit a team of metahumans to stand against this newly awakened threat. But despite the formation of this unprecedented league of heroes—Batman, Wonder Woman, Aquaman, Cyborg and The Flash—it may already be too late to save the planet from an assault of catastrophic proportions".
What, Superman isn't mentioned at all? OMG HE'S REALLY DEAD THERE'S NO WAY HE'LL BE BACK NOW. Well, no. A set photo of Henry Cavill was snapped earlier this year featuring his classic appearance, along with Clark Kent's iconic spit curl, but has since been taken down.
On another convincing note that Superman won't be staying dead for long, Henry Cavill put a teaser of his black costume on Instagram in August. This costume is closely associated with the (pretty bad, actually) Death of Superman arc from the comics, as Clark wore the black suit as he returned to life in a weakened condition, having been killed by Doomsday.
A photo posted by @henrycavill on Aug 15, 2016 at 11:58am PDT
So where does Aquaman fit into all of this? If you think Aquaman is the joke of the DC Universe, think again because director James Wan - who'll be tackling his solo movie - has compared him to Hugh Jackman's Wolverine. "I look at him, he's kind of the Wolverine in some respect." James told . "He's the outsider who gets pulled into this world and he kind of doesn't want to belong and he was doing his own thing. And he prided freedom above everything else. That kind of plays nicely into who his character is. He's like a reluctant superhero, right?"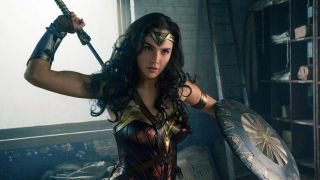 As the Justice League trailer suggests, those worn down by the relentlessly grim tone of Snyder's previous DC films should find relief in Justice League. It might not be as dark as Batman v Superman, as Chris Terrio . "I expect Justice League will be tonally not quite as dark as Batman v Superman. From that point of view, I felt compelled to go back and try to lift us and myself into a different tonal place because I think when you write a darker film, sometimes you want to redeem it all a bit."
In terms of other storyline tidbits, we know that the main bad guy is going to be Steppenwolf, not Darkseid as previously mooted (Batman solo movie villain Deathstroke may also be part of the equation). Though the choice of primary antagonist doesn't mean that Darkseid won't be an important element. Steppenwolf is his uncle, and the head of the Apokaliptian military, so his appearance is likely to take the form of an advanced force before Darkseid himself (probably) turns up in the sequel.
Wait, sequel? Isn't Justice League a massive, two-part film? Well, seeing as you asked…
Justice League sequel is already a thing
Forget Justice League Part One and Two. Now there is just Justice League, and whatever the sequel ends up being called. Because a second film is planned. It's just that it's no longer as close a continuation of this year's as originally envisioned.
The reason for the change? Currently unknown, but it's entirely possible that the script's later rewrites might have been partly to tighten up the story after Batman v Superman's bloated sprawl incited so much ire. On a related note, that movie took in a couple of fairly incoherent JL teases over the course of its running time, added at the last minute - Batman's nightmare sequence, for instance, was thrown in during filming - so maybe it's been felt that some of the expositional groundwork has already been done.
Either way, a tight hold on the film's coherence is going to be very important given that it has to properly introduce Aquaman, The Flash, Cyborg and Atlantis at the same time as actually telling a story.
Justice League poster doesn't exist yet – but look at these goodies
There's no official movie poster, but the trailer does feature the Justice League logo. It has a small star and comes in .
Additionally, it transpires that the Batman v Superman Ultimate Edition was good for something other than inspiring new curse words. Specifically, concept art for Justice League's lead characters – this piece forms part of the package:
And here's the first shot of the actual cast, in their updated threads:
In September, too, Zack Snyder revealed a first look at Batman's tactical batsuit, worn by Ben Affleck. Tons of people pointed out how much the suit looks like Nite Owl's from Snyder's own Watchmen movie. You decide! Check out the full story here.
Amber Heard's Mera, queen of Atlantis and Arthur Curry's wife, was revealed for the first time recently against a moody oceanic backdrop. Check out some concept art of the character and more details here.
In October, Zack Snyder released a new image of Gal Gadot's Wonder Woman from the film on social media to mark the character's 75th anniversary.
And for some bonus imagery from the Justice League set, here's Jason Momoa playing guitar while dressed as Aquaman, just for the hell of it. Fingers crossed this makes it into the inevitable four-hour Ultimate Edition cut.
Every day on set is an amazing adventure with this guy. #JusticeLeague #Aquaman @PrideofGypsies pic.twitter.com/sSiyDx36TcAugust 12, 2016
Related Justice League movie news
Justice League casts Dumbledore's brother as the villain Steppenwolf
The Justice League trailer recreated in Fallout 4 is, of course, brilliant
First Justice League trailer sees Batman stalk Aquaman, The Flash, and Cyborg
Justice League concept art shows off The Flash and Cyborg's costumes
Justice League will be one standalone movie, not a two-parter
First Justice League movie image assembles DC's superheroes
Justice League will have a more "badass" version of Commissioner Gordon says J.K. Simmons