Fast Facts:
Justice League release date: November 17, 2017
Director: Zack Snyder, Joss Whedon
Cast: Ben Affleck, Henry Cavill, Gal Gadot, Jason Momoa, J.K. Simmons, Amber Heard, Ezra Miller, Ray Fisher, Willem Defoe, Ciaran Hinds, Amy Adams
Writer: Chris Terrio, Joss Whedon
Update: September 18, 2017 - A new photo gives us a whole stack of Flash Easter eggs
Warner Bros. has released a new still, featuring Ezra Miller's new Flash. While the image features him in low-key, 'Oh hi, I didn't see you there' mode as day-to-day alter ago Barry Allen, it also contains a whole bunch of interesting background details which build out his character and backstory.
There's the desktop photo of electrical pioneer Nikola Tesla. The equations stuck to the board behind him. The bird sketch, presumably done while procrastinating over said equations. The pile of books, some with visible covers and/or spines. The multiple analyses of the Flash suit running on various screens, and the episode of Rick and Morty playing among them. There's also a theory going around that Barry's jacket is a tribute to the first Christopher Reeve Superman movie, but come on guys. There's a point where you have to stop picking over these things.
Regardless, you can pick over it to your heart's content via the much bigger version of the image on Imgur.
Update: September 18, 2017 - The Green Lantern rumours just won't go away
Seriously, they really won't. First there was suspicion of a seventh Justice League member, as a result of an early Aquaman image tagline. Then there was a supposed leak of the Justice League soundtrack, featuring a song title referencing seven heroes. And now, Heroic Hollywood Editor-on-Chief - and The Wrap reporter - Umberto Gonzalez has claimed that two members of the Green Lantern Corps. will appear in the movie.
Gonzalez goes on to drop the caveat that either character (or both) could be cut before Justice League releases, which the cynical might read as a pre-emptive get-out clause for a dubious report, but either way, the smoke on this one won't go away. It'll be really interesting in Warner Bros. does keep a Green Lantern appearance secret until release day though. Going off the pre-release strategy for Batman v Superman, I'd have expected the studio to have announced a Lantern by now, blowing his reveal over the course of three trailers, and then spoiling all of his scenes in a 20 minute featurette.
Original feature continues below.
Warning: Spoilers for Batman v Superman follow throughout the rest of this article.
The Justice League movie unites a DC Comics super squad
You've sat through Batman v Superman. Whatever you thought of it – okay, stop swearing at the screen now – the good news is it made enough money to justify a slew of extra DC Comics movies. Following June 2017's Wonder Woman, the Justice League release date is set for November 17, 2017. Zack Snyder has directed the majority of the film, with Avengers (and soon, Batgirl) director Joss Whedon stepping in to finish off after Snyder suffered a family tragedy. Chris Terrio is on main writing duties, though Whedon has now also been given an official writing credit due to the script work he did while finishing the movie. Elsewhere, many familiar faces are reprising roles from throughout the DC Extended Universe films which share its canon. Below are all the other key details, of which there are a steadily growing number.
The Justice League director has plenty of superhero experience
Zack Snyder returns to direct both Justice League movies (though their format has now changed from the initial 'Parts One and Two' plan - more on that below) with late-production help from Joss Whedon, and is one of the chief architects of DC's extended live-action universe along with producer Deborah Snyder, DC Comics' multimedia overseer Geoff Johns, and producer Charles Roven. Main screenwriter Chris Terrio, who worked on Ben Affleck's Argo, has penned the majority of Justice League, but may not return for the second movie, which is scheduled to be released on June 14, 2019.
Additionally, Ben Affleck has given the film some late rewrites, ostensibly to create better ties to the 'detective story'-style, standalone Batman film he was planning to direct himself, though whether they'll remain following the drastic rework of that movie remains to be seen.
Read more: Every upcoming DC Extended Universe movie until 2020 and beyond
The Justice League release date is in mid-November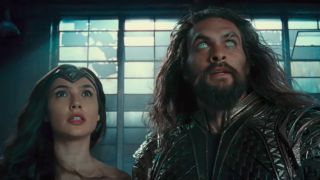 Arriving on November 17, 2017, Justice League originally underwent a seven-month shoot, between April and October 2016. Since then though, a massive two months of reshoots have been going on, under the authority of step-in director Joss Whedon.
Inside word is that Whedon is punching up the dialogue, and providing more narrative connective tissue to hold together Zack Snyder's set-pieces, the re-shoot having dragged on longer than usual (and cost a massive $25 million) due to scheduling problems with the main cast.
Justice League trailer from Comic Con is still rather grey
Though there is also now a lot of red, specifically in the sky, presumably the result of Steppenwolf's apocalyptic tinkering. So there will at least be one colour this time around, even if it does appear in a rather doom-laden capacity.
Still, Justice League's tone looks to continue in the 'funnier, more vibrant' vein we've been promised since Batman v Superman's three-hour ode to impotent rage. We get an early sequence of Wonder Woman smacking down bank robbers – in stylish slo-mo, naturally – before quipping her way into a cheeky cover story while back at work. Alfred is pleasingly pithy throughout, and seems disarmingly indifferent to the superheroic scale of the events around him. Jason Momoa's Aquaman increasingly looks like the grounded, comic relief in the team, equal parts flippant cynic (during the bad times) and giddy, trident-wielding child (when enjoying a merry old beatdown).
The action – of which there is a lot in the new trailer – is still very much in the slick, Zack Snyder mould of 'big, kinetic, CG things happening while the camera swirls with wild abandon', but this time around it all feels a lot more focused on fun and spectacle than destruction and violence for their own sake. Aquaman sky-surfing a Parademon into the ground, people. That's some glorious, air-punching, borderline Batman and Robin nonsense right there.
Read more: Here's what happens in the "wildly ambitious" SDCC Aquaman footage you won't see online
And here's the earlier trailer for the film, showcasing the entire League strutting their stuff (minus Superman, of course, who is still dead). You get to see Batman driving the Batmobile up a wall, a brief shot of JK Simmons' Commissioner Gordon, a glimpse of Amber Heard's underwater queen, Mera, and tons of League vs alien action. You also see Barry Allen's imprisoned dad, Henry, and a fun shot of Jason Momoa's Aquaman riding the Batmobile.
The trailer emphasises a funny tone and playful nature, another obvious attempt to step away from the dour impression left by Batman v Superman. What we get a glimpse of is a chunky-feeling action movie with wisecracks and a celebratory feel . Whether the finished movie will follow through though, is still to be seen.
For some additional looks at the Justice League doing their thing, check out this behind-the-scenes video that Snyder posted from London in October 2016 to celebrate the end of filming, including exciting footage of Ben Affleck on cables and The Flash being thrown around in-costume.
Read more: 8 questions I have after watching Wonder Woman
And while not massively revelatory, if you scroll through to the second slide of , you can see a nice bit of concept art showing off the full scale of Batman's Flying Fox plane, the hulking great jet that becomes the Justice League's adopted form of transport in the movie.
And above, there's a GIF of Cyborg in two distinct modes. Firstly, dramatic scowling. Second, rocketing purposefully up through the sky, no doubt to smash the crap out of whatever he was just scowling at.
The Justice League cast sees Khal Drogo get wet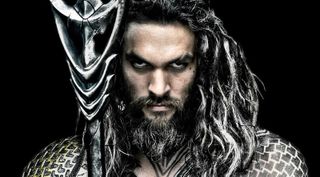 Henry Cavill returns as Clark Kent/Superman despite dying at the end of Batman v Superman. Likewise, Ben Affleck is back as Bruce Wayne/Batman, and Gal Gadot returns as Diana Prince/Wonder Woman. Jason Momoa cameoed as Arthur Curry/Aquaman in BvS, along with Ezra Miller's version of Barry Allen/The Flash and Ray Fisher's Victor Stone/Cyborg, and all three return for Justice League. Other key members of Batman v Superman's ensemble cast are also back - Jeremy Irons' Alfred will reappear, likewise Amy Adams' Lois Lane.
JK Simmons, also known as J Jonah Jameson from Sam Raimi's Spider-Man films and Schillinger from groundbreaking HBO drama Oz, will play Commissioner Gordon. Joining Momoa in Atlantis will be Amber Heard, playing Aquaman's wife Queen Mera, while Willem Dafoe as playing loyal Atlantean Vulko. Barry Allen's dad, Henry, will be played by Billy Crudup, while his love interest Iris West apparently appears in the film too, played by Kiersey Clemons.
And on the subject of family support characters (sorry, Batman), it turns out that the Amazonian contingent is going to be bigger than we thought. It seems that Diana Prince will be sharing the screen - though perhaps not simultaneously - with mum Queen Hippolyta and aunt General Antiope.
Warning: Major spoilers for the Wonder Woman movie to follow
During an interview with the , all three actresses (Gal Gadot, Connie Nielsen, and Robin Wright) were asked if fans would ever get to see more of the relationship between the Amazonian royal family, to which they replied:
Gadot: Of course; the mother and daughter relationship is always a beautiful but complex relationship. I think that there's a lot more to explore.
Nielsen: And [Wright and I] got to do more in Justice League as well. As sisters as well. Kind of badass as well. We can't say much, but…
Wright: And more of the story, you get some of the history.
So, not only will Justice League star Queen Hippolyta and General Antiope, but they'll also have more to do! Best. News. Ever.
If you're wondering how this is possible given that Robin Wright's character Antiope died towards the beginning of Wonder Woman, our best guess is that the elder Amazons will appear in a flashback, probably during the movie's opening battle. More of that in a moment.
Wonder Woman spoilers end
The Justice League story: Superman returns?
Here's the official synopsis, direct from Warner Bros:
Fueled by his restored faith in humanity and inspired by Superman's selfless act, Bruce Wayne enlists the help of his newfound ally, Diana Prince, to face an even greater enemy. Together, Batman and Wonder Woman work quickly to find and recruit a team of metahumans to stand against this newly awakened threat. But despite the formation of this unprecedented league of heroes—Batman, Wonder Woman, Aquaman, Cyborg and The Flash—it may already be too late to save the planet from an assault of catastrophic proportions.
And our sister-publication Total Film has the details that Justice League will be a direct sequel to Batman v Superman, rather than taking the Marvel approach of picking up several months - or even years - later. According to TF, the movie picks up where BvS left off, with...
"Superman in the grave after sacrificing himself during the battle against Doomsday. Batman and Wonder Woman are gathered in mourning before Steppenwolf makes himself known, leaving the duo to team up with other enhanced heroes."
What, Superman isn't mentioned as a major player at all? OMG HE'S REALLY DEAD THERE'S NO WAY HE'LL BE BACK NOW. Well, no. A set photo of Henry Cavill was snapped earlier this year featuring his classic appearance, along with Clark Kent's iconic spit curl, but has since been taken down.
On another convincing note that Superman won't be staying dead for long, Henry Cavill put a teaser of his black costume on Instagram in August. This costume is closely associated with the (pretty bad, actually) Death of Superman arc from the comics, as Clark wore the black suit as he returned to life in a weakened condition, having been killed by Doomsday.
There's yet more evidence of a returning Superman. For example, when you open the official Justice League movie site, his symbol comes up among a flurry of the League's other insignia. He also appears in the movie's official Lego sets, which leaked recently. It's simply not the Justice League without Superman, and clearly Warner isn't shy about letting people know we'll see him resurrected.
When Superman turns up in the film is a bigger mystery - given that he's not in the trailer alongside Wonder Woman, Batman et al, they could be saving Clark for a last act revival, or he could just as easily turn up half an hour in. We do get a shot of Lois Lane in the first trailer, though. As Flash said in that baffling Batman v Superman dream sequence, she's the 'key', whatever that means.
But let's not fixate on Superman, because we now know that Justice League's opening scene will put the non-Kryptonian races at the very core of the main plot. Setting the scene for the planet Apokolips' invasion of (or rather, return to) Earth, Justice League opens - as revealed by - with a flashback to the last time Darkseid's homeworld had a go, way back in the mythical mists of the distant past. That time around, humans, Amazons, and Atlanteans joined forces to beat back the attack, before splitting up and eventually losing each other to history.
But this isn't just a juxtapositional flashback. It's also important to the plot. This previous visit to Earth is when the Apokoliptian forces left behind the three, techno-magical Mother Boxes – one claimed by each Earth race - that will be integral to Justice League's story. In the modern day narrative, Steppenwolf wants them back. One snag: The human box was used to save Cyborg during his borgification process, and has now essentially bonded with him.
And as for the status of other characters? Well there's very good news for fans of flying rodents. Ben Affleck, in an interview with Entertainment Weekly, in Justice League, and it seems the Dark Knight is going to be rather a reformed character this time around. A very heartening revelation for fans of the traditional, brooding but noble Bat, rather than the angry bellow-merchant we got in Batman v Superman.
"He started out with all this rage directed at Superman, because of his co-workers who had died in the fight Superman had with Zod. He was holding on to a lot of anger, in a little bit of an irrational way, whereas this is a much more traditional Batman. He's heroic. He does things in his own way, but he wants to save people, help people."
Excellent. With a full-scale alien invasion hitting this time around, the last thing we need is the World's Greatest Detective sitting around sulking when he should be out punching.
The Justice League villain brings terror to Earth
The Justice League movie's main villain is Steppenwolf (not the band). He was previously glimpsed in the clip above, which was cut from Batman v Superman, and he's played by Game of Thrones' Ciaran Hinds, who performs the role in a motion capture suit. In the comics, Steppenwolf is a subordinate of iconic DC baddie Darkseid, and his presence in this movie is likely a prelude to that character's appearance - Bruce Wayne's nightmare vision in BvS revealed Darkseid's omega symbol burnished into the landscape, after all.
"He's old, tired, still trying to get out of his own enslavement to Darkseid, [but] he has to keep on this line to try and take over worlds," Hinds said about the character. With Steppenwolf comes an army of Parademons, also witnessed in that same vision in Batman v Superman.
Darkseid is in search of three 'Mother Boxes' - more on those here - all-powerful MacGuffins in the DC Extended Universe. If you're wondering what he looks like in the movie, where he'll almost certainly be fully CG, Lego did its usual thing of accidentally spoiling superhero movies in advance by revealing a closer look at the character in its latest catalogue, as captured by DC World.
Read more: Why Wonder Woman's finale is the best (and worst) thing about the movie
Justice League - Part Two is already a thing
But it's not called that anymore. Forget Justice League Part One and Two. Now there is just Justice League, and whatever the sequel ends up being called. Because a second film is planned. It's just that it's no longer as close a continuation of this year's as originally envisioned. The second Justice League film was originally scheduled for 2019. Now it's been delayed, with the Batman solo movie taking its place.
Read more: Here are all 9 (yes, 9!) DC movies confirmed by Warner Bros. during their SDCC 2017 panel
Justice League poster from Comic Con almost features Superman
Image 1 of 8
Image 2 of 8
Image 3 of 8
Image 4 of 8
Image 5 of 8
Image 6 of 8
Image 7 of 8
Image 8 of 8
Another smart move to lighten the tone here, in this new poster from . Emphasising a lot of bold red and blue (Batman has even had a respray to complete the effect) alongside some focused, big-face personality, it's a much more upbeat, human, attractive look than we've seen in previous art. Though thankfully, it knows how to dial up the fun without hitting levels of day-glow overkill and calculated quirk.
Favourite feature (aside from the fact that it looks like a superheroic still from Queen's Bohemian Rhapsody video)? The way it replaces letters with the League members' individual logos, giving everything a homemade fanboy collage feel. But look! There's a big 'S'! Does that mean that *shock* Superman might actually come back to life and actually be in the film? Yes, Yes it absolutely does. His absences from the trailers is not fooling anyone.
If you want a look at all the previous posters, don't forget to click through the gallery above.
Read more: The secret history of the Batman and Superman movies you never got to see
Related Justice League movie news
Justice League had to digitally remove Henry Cavill's 'stache because another film wouldn't let him shave it off
Here's your first look at the Justice League movie's upgraded Batmobile
Take a closer look at the mystical Mother Boxes from the Justice League movie
Exclusive new Justice League trailer shows the team tooled up
Justice League assemble! New picture shows Zack Snyder's superheroes ready for action
There's new Justice League footage and here's the best reactions: "lots of over-the-top fun"
Justice League casts Dumbledore's brother as the villain Steppenwolf