Fast Facts:
Justice League release date: November 17, 2017
Director: Zack Snyder
Cast: Ben Affleck, Henry Cavill, Gal Gadot, Jason Momoa, J.K. Simmons, Amber Heard, Ezra Miller, Ray Fisher, Willem Defoe, Ciaran Hinds, Amy Adams
Writer: Chris Terrio
Update: June 14, 2017 - Queen Hippolyta and General Antiope confirmed for Justice League
It looks like Wonder Woman won't be the only Amazonian starring in the Justice League movie. If you thought Themyscira and the Amazonians were one of the best bits of Wonder Woman, then you'll be really pleased to hear that Diana Prince will be getting company in the superhero team-up movie from her homeland in the form of mum Queen Hippolyta and aunt General Antiope.
***Major spoilers for the Wonder Woman movie to follow***
During an interview with the L.A. Times all three actresses (Gal Gadot, Connie Nielsen, and Robin Wright) were asked if fans would ever get to see more of the relationship between the Amazonian royal family, and they replied:
Gadot: Of course; the mother and daughter relationship is always a beautiful but complex relationship. I think that there's a lot more to explore.
Nielsen: And [Wright and I] got to do more in Justice League as well. As sisters as well. Kind of badass as well. We can't say much, but…
Wright: And more of the story, you get some of the history.
So, not only will Justice League star Queen Hippolyta and General Antiope, but they'll also have more to do! Best. News. Ever. If you're wondering how this is possible given that Robin Wright's character Antiope died towards the beginning of Wonder Woman, my best guess is that it'll be in flashback form.
Update: May 3, 2017 - First look at villain Steppenwolf
More and more often our first look at a new movie character comes from the merchandise rather than official stills or trailers, and that's exactly what's happened with one of the Justice League's villains, Steppenwolf. Played by Harry Potter's Ciaran Hinds, Steppenwolf did appear in Batman v Superman but the scene was cut so we've had very little information about him so far. Now, thanks to Lego, we have a better idea of what he looks like. Check out the image above for an idea of what to expect, and for more details on what he's up to, let the actor himself explains the villain's conflicted motivations…
***Original article continues below***
The Justice League movie unites a DC Comics super squad
You've sat through Batman v Superman. Whatever you thought of it – okay, stop swearing at the screen now – the good news is it made enough money to justify a slew of extra DC Comics movies. Following June 2017's Wonder Woman, the Justice League release date is set for November 17, 2017. Zack Snyder will direct, with Chris Terrio on writing duties, and many familiar faces reprising roles from films which share its canon – such as Ben Affleck (Batman) and Henry Cavill (Superman). Below are all the other key details. Note: Spoilers for Batman v Superman follow.

The Justice League director has plenty of superhero experience
Zack Snyder returns to direct both Justice League movies (though their format has now changed from the initial 'Parts One and Two' plan - more on that below), and is one of the chief architects of DC's extended live-action universe along with producer Deborah Snyder, DC Comics' multimedia overseer Geoff Johns, and producer Charles Roven. Screenwriter Chris Terrio, who worked on Ben Affleck's Argo, has penned Justice League, but may not return for the second movie, which is scheduled to be released on June 14, 2019.
Additionally, Ben Affleck has given the film some late rewrites, ostensibly to create better ties to the 'detective story'-style, standalone Batman film he's planning to direct himself.
The Justice League trailer 2 is funny, colourful, and shows Aquaman riding the Batmobile
After a brief look at Justice League at last year's San Diego Comic Con, here's the first proper trailer for the film, showcasing the entire League strutting their stuff (minus Superman, who is dead). You get to see Batman driving the Batmobile up a wall, a brief shot of JK Simmons' Commissioner Gordon, a glimpse of Amber Heard's underwater queen, Mera, and tons of League vs alien action. You also see Barry Allen's imprisoned dad, Henry, and a fun shot of Jason Momoa's Aquaman riding the Batmobile.
The trailer emphasises a funny tone and playful nature, another obvious attempt to step away from the dour impression left by Batman Vs Superman. What we get a glimpse of is a chunky-feeling action movie with wisecracks and a celebratory feel - whether the finished movie will actually be like this or not is the big question.
For some additional looks at the Justice League doing their thing, check out this behind-the-scenes video that Snyder posted from London in October 2016 to celebrate the end of filming, including exciting footage of Ben Affleck on cables and The Flash being thrown around in-costume.
The Justice League cast sees Khal Drogo get wet
Henry Cavill returns as Superman despite dying at the end of Batman vs Superman. Likewise Ben Affleck as Batman, and Gal Gadot as Diana Prince (or Wonder Woman). Jason Momoa cameoed as Aquaman in Batman v Superman, along with Ezra Miller's version of The Flash and Ray Fisher's Cyborg, and all three are back for Justice League. The rest of Batman v Superman's ensemble cast is up in the air, but it's probably safe to assume Jeremy Irons' Alfred will reappear, likewise Amy Adams' Lois Lane.
JK Simmons, also known as J Jonah Jameson from Sam Raimi's Spider-Man films, will be playing Commissioner Gordon in Justice League. Joining Momoa in Atlantis will be Amber Heard, playing Aquaman's wife Mera, as mentioned above, while Willem Dafoe is as playing loyal Atlantean Vulko.
Barry Allen's dad, Henry, will be played by Billy Crudup, while his love interest Iris West apparently appears in the film too, played by Kiersey Clemons.
The Justice League story synopsis: Superman returns from the dead?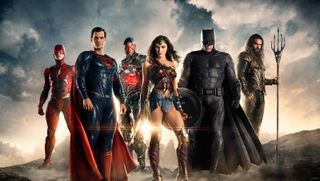 Here's the official synopsis, direct from Warner Bros:
"Fueled by his restored faith in humanity and inspired by Superman's selfless act, Bruce Wayne enlists the help of his newfound ally, Diana Prince, to face an even greater enemy. Together, Batman and Wonder Woman work quickly to find and recruit a team of metahumans to stand against this newly awakened threat. But despite the formation of this unprecedented league of heroes—Batman, Wonder Woman, Aquaman, Cyborg and The Flash—it may already be too late to save the planet from an assault of catastrophic proportions".
What, Superman isn't mentioned at all? OMG HE'S REALLY DEAD THERE'S NO WAY HE'LL BE BACK NOW. Well, no. A set photo of Henry Cavill was snapped earlier this year featuring his classic appearance, along with Clark Kent's iconic spit curl, but has since been taken down.
On another convincing note that Superman won't be staying dead for long, Henry Cavill put a teaser of his black costume on Instagram in August. This costume is closely associated with the (pretty bad, actually) Death of Superman arc from the comics, as Clark wore the black suit as he returned to life in a weakened condition, having been killed by Doomsday.
A photo posted by @henrycavill on Aug 15, 2016 at 11:58am PDT
There's yet more evidence that Superman is coming back from the dead doing the rounds. For example, when you open the official Justice League movie site, his symbol comes up among a flurry of the League's other insignia. He also appears in the movie's official Lego sets, which leaked recently. It's simply not the Justice League without Superman, and clearly Warner isn't shy about letting people know we'll see him resurrected.
When Superman turns up in the film is a bigger mystery - given that he's not in the trailer alongside Wonder Woman, Batman et al, they could be saving Clark for a last act revival. You do get a shot of Lois Lane in the trailer, though - as Flash said in that baffling Batman Vs Superman dream sequence, she's the 'key', whatever that means.
So where does Aquaman fit into all of this? If you think Aquaman is the joke of the DC Universe, think again because director James Wan - who'll be tackling his solo movie - has compared him to Hugh Jackman's Wolverine. "I look at him, he's kind of the Wolverine in some respect." James told . "He's the outsider who gets pulled into this world and he kind of doesn't want to belong and he was doing his own thing. And he prided freedom above everything else. That kind of plays nicely into who his character is. He's like a reluctant superhero, right?"
The Justice League movie villain brings terror to Earth
The Justice League movie's main villain is Steppenwolf (not the band). He was previously glimpsed in the clip above, which was cut from Batman Vs Superman, and he's played by Game of Thrones' Ciaran Hinds who performed the role in a motion capture suit. In the comics, he's a subordinate of iconic DC baddie Darkseid, and his presence in this movie is likely a prelude to that character's appearance - Bruce Wayne's Knightmare vision revealed Darkseid's omega symbol burnished into the landscape, after all.
"He's old, tired, still trying to get out of his own enslavement to Darkseid, [but] he has to keep on this line to try and take over worlds," Hinds said about the character. With Steppenwolf comes an army of Parademons, also witnessed in that same vision in Batman Vs Superman.
Darkseid is in search of three 'Mother Boxes' - all-powerful MacGuffins in the DC Extended Universe. If you're wondering what he looks like in the movie, where he'll almost certainly be fully CG, Lego did its usual thing of accidentally spoiling superhero movies in advance by revealing a closer look at the character in its latest catalogue, as captured by DC World:
The Justice League sequel is already a thing, but it's been delayed
Forget Justice League Part One and Two. Now there is just Justice League, and whatever the sequel ends up being called. Because a second film is planned. It's just that it's no longer as close a continuation of this year's as originally envisioned. The second Justice League film was originally scheduled for 2019 - now it's been delayed, with the Batman solo movie taking its place.
The reason for the change? Currently unknown, but it's entirely possible that the script's later rewrites might have been partly to tighten up the story after Batman v Superman's bloated sprawl incited so much ire. On a related note, that movie took in a couple of fairly incoherent JL teases over the course of its running time, added at the last minute - Batman's Knightmare sequence, for instance, was thrown in during filming - so maybe it's been felt that some of the expositional groundwork has already been done.
Either way, a tight hold on the film's coherence is going to be very important given that it has to properly introduce Aquaman, The Flash, Cyborg and Atlantis at the same time as actually telling a story.
The Justice League poster shows off DC's superheroes (minus Superman)
Here's the official poster for Justice League, which again paints a hopeful picture of Zack Snyder's superheroes. You never normally get to see Batman in the sun, so this is shockingly off-brand for him. You also get to read the movie's slightly awkward tagline, 'Unite the League'.
Finally, as a bonus, Zack Snyder here's a full look at Batman's tactical batsuit, worn by Ben Affleck in the trailer. Tons of people pointed out how much the suit looks like Nite Owl's from Snyder's own Watchmen movie. You decide! Check out the full story here. Bruce will also have his own flying vessel called the Flying Fox in the movie - why it doesn't have 'Bat' in the title is a total mystery, but he uses this ship to carry the Justice League around.
Related Justice League movie news
Exclusive new Justice League trailer shows the team tooled up
Justice League assemble! New picture shows Zack Snyder's superheroes ready for action
There's new Justice League footage and here's the best reactions: "lots of over-the-top fun"
Justice League casts Dumbledore's brother as the villain Steppenwolf
First Justice League trailer sees Batman stalk Aquaman, The Flash, and Cyborg
Justice League concept art shows off The Flash and Cyborg's costumes
Justice League will be one standalone movie, not a two-parter