Fast Facts:
Doctor Strange release date: November 4, 2016 (US)/October 25, 2016 (UK)
Director: Scott Derrickson
Cast: Benedict Cumberbatch, Tilda Swinton, Chiwetel Ejiofor, Mads Mikkelsen, Rachel McAdams
Writers: Scott Derrickson, C. Robert Cargill
Doctor Strange movie brings some magic to Marvel
We're only a month away from Marvel Studios' final superhero flick of the year: Doctor Strange. The marketing machine is starting to pick up for the world's greatest neurosurgeon, bringing a wealth of new trailers, images, and info about how Doctor Strange aims to take fans on a journey that will warp the very fabric of reality itself.
Doctor Strange isn't going to be your typical Marvel superhero action movie, as Marvel Studios head Kevin Feige sees the film as a way for the comic book juggernaut to return to its supernatural roots. "We've always been very interested in this aspect and this is going back to the early days of Strange Tales with Steve Ditko and Stan Lee. I love that stuff. We haven't done anything that mind-trippy yet and for me, Doctor Strange is our doorway into that." With a focus on multiple universes and mind-warping magic powers, Doctor Strange is shaping up to be a great alternative to the standard superhero fare. Here's everything we know about the film so far.
Doctor Strange release date is set for earlier in the UK
Doctor Strange's road to the silver screen has been long and fraught with troubles, with different versions of the film worked on over the past several decades. This current incarnation, however, is right on track and barring any significant problems, should be out in less than a month.
When Marvel first announced the Doctor Strange adaptation, it had pegged the release at July 8, 2016, though this was pushed to a on a UK release date of October 28, 2016, and a US release date of November 4. But it turns out that things must be going better than expected, as the UK release date actually got bumped forward to October 25 - the US release date remains the same, though.
Just wrapped! @MarvelStudios @DrStrange #wong #wecanbeheroes #rememberrememberthefourthofnovember https://t.co/8PPPFuspZmAugust 15, 2016
Principal photography officially wrapped production on April 3, while reshoots wrapped in August, as confirmed by a tweet from co-star Benedict Wong.
Doctor Strange trailer wants you to open your mind
Back in April, Marvel revealed the first real glimpse into the mystical world of its upcoming Doctor Strange film, and it reinforces a lot of the information we've learned since it was announced. The trailer sets up the film as an origin story, explaining that 1) Stephen Strange was a brilliant neurosurgeon, 2) he got into a horrible accident which permanently damaged his ability to practice medicine, 3) he went on a soul-searching journey, and 4) he's discovered way more than he bargained for as a result. Incredible special effects evoke the mind-bending dream world of Inception, as Doctor Strange begins to understand that there are multiple universes out there to discover - many of which contort and bend against the very fabric of reality.
Doctor Strange's second trailer dropped during San Diego Comic Con 2016, and it reiterates a lot of the same beats from the first one - brilliant doctor, horrible accident, mystical awakening. But it also goes into more detail about the overall tone of the film, as well as giving us a glimpse of Kaecilius, the villainous ex-student of the Ancient One played by Mads Mikkelsen, with the trailer implying that Strange could walk down a similar path toward evil if he isn't careful. Of course, even more of its reality-twisting special effects are on display, with a particularly killer one at the end.
More recently, a TV spot specifically calls out the Avengers, implying that the doc and the superhero supergroup actually belong to the same physical universe. "The Avengers protect the world from physical dangers," Benedict Wong explains in the trailer. "We safeguard it against more mystical threats."
Doctor Strange director has made a career out of bizarre horror films
Doctor Strange has been in some form of development hell over the past 30 years, bouncing back and forth between production studios and directors, with each take on the life of Stephen Strange being cancelled before it can begin production. In 1992, Wes Craven (Scream) was attached to write and direct through Savoy Pictures; in 2000, Columbia had been in talks with Chuck Russell (The Mask) and Stephen Norrington (Blade; in 2001, Dimension Films picked up the rights and handed directorial duties to David S. Goyer (Blade: Trinity); and in 2002, Miramax acquired the rights, and Goyer dropped out.
Eventually, the film rights ended up in the hands of Marvel Studios, who had been working on a version of the film as early as 2009. While attempts at locking down a decent filming script took a while, the studio finally locked in Scott Derrickson (Sinister) as the director in June 2014, and production has been relatively smooth sailing since.
Doctor Strange writer has been hard at work
Like Doctor Strange's search for a director, its screenplay woes stretch as far back as 1986, when Bob Gale, the screenwriter for Back to the Future, was tapped to write a script for a film based on the mystic Marvel superhero. Gale's version ended up being scrapped for unknown reasons, and the torch was passed to Repo Man director Alex Cox, who co-wrote a script along with Marvel legend Stan Lee. That version was halted thanks to a merchandising dispute between Warner Bros. and Marvel. And so the film stayed in limbo for years, with treatments by Wes Craven, David S. Goyer, Jeff Welch, and Michael France (Goldeneye) all going nowhere.
When the rights for Doctor Strange ended up back in the hands of Marvel Studios, another treatment for the script was assigned to Thomas Dean Donnelly and Joshua Oppenheimer (Sahara) in 2010. In 2014, Jonathan Aibel and Glenn Berger (Kung Fu Panda were considered for a rewrite, but that task eventually fell into Jon Spaihts' (Prometheus) lap. A final set of rewrites were confirmed by C. Robert Cargill (Sinister) in December 2015 - making this the final version of the script that will make its way into theaters this winter.
Doctor Strange cast is an eclectic blend of Hollywood titans
Marvel had been eyeing a variety of actors to fill Doctor Strange's cape, with Jared Leto (Suicide Squad), Oscar Isaac (The Force Awakens), Ethan Hawke (Gattaca), Jake Gyllenhaal (Nightcrawler), and others approached for the role. In December 2014, Marvel announced that Benedict Cumberbatch (Sherlock) had been selected for the lead role, despite previous reports that he would be unable to take it due to scheduling conflicts. Marvel must have really wanted Cumberbatch, because they shifted the production schedule around his availability.
Chiwetel Ejiofor (12 Years a Slave) will play Karl Mondo, who will be more of an "amalgamation of characters culled from Doctor Strange's mythology rather than a straight-up villain, according to Deadline. Additional cast members include Rachel McAdams (Spotlight) as Christine Palmer, a fellow surgeon and character who first appeared in the 1970s comic book hospital drama Night Nurse; Michael Stuhlbarg (Steve Jobs) as rival scientist Nicodemus West; Tilda Swinton (Snowpiercer) as The Ancient One; Mads Mikkelsen (Hannibal) as Kaecilius , a sorcerer who abandons The Ancient One; and Benedict Wong (The Martian) as Wong, Doctor Strange's valet.
For a full character breakdown check out our Doctor Strange cast guide.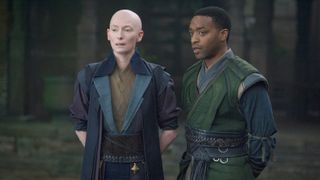 Doctor Strange story will detail the origins of the brilliant physician
With all the sequels flying around Hollywood, it's been a while since we've had a Marvel origins movie, but that's exactly what Doctor Strange is. Stephen Strange is a neurosurgeon - one of the best in the world - until a car accident destroys his hands, forcing him to quit practicing medicine. He goes on a soul-searching journey across the world, eventually stumbling across The Ancient One, who gifts him with otherworldly magical powers.
At San Diego Comic Con 2016, Doctor Strange director Scott Derrickson expanded on how he views the film in the in the overall Marvel Cinematic Universe canon, expressing that this is the point where things go "full weird". In speaking with ComicBook.com, he explains the parallels between where the Marvel Comics found themselves after Doctor Strange's inception, and how the films might find themselves following a similar path:
"What the comics did was, they brought with Doctor Strange an extra dimension into psychadelia, mysticism, and spirituality and all these very 60's things and broke open the Marvel comic book universe into the Marvel multiverse. I think Doctor Strange is going to be the beginning of the Marvel Cinematic Multiverse. It's really serving the same function that the comic did. Even though it was a weird aberration as a comic book, I think it was a real linchpin in the comics. It ended up being decades of new stories and I think this movie will do the same thing".
We saw how the Avengers films tied Marvel's various, but related superheroes under one banner, but Doctor Strange could be the point where many of its distinct franchises - like Guardians of the Galaxy, among others - end up converging. It could make for a wackier, but bigger and better MCU.
Doctor Strange's Marvel Cinematic Universe connections are unique
While individual Marvel movies attempt to be as self-contained as possible, the magic truly happens once characters from individual films collide in surprising ways. Doctor Strange is a bit of an enigma in that regard, in that he doesn't just move from city to city, or even planet to planet but instead is able to flit between universes without much effort.
So why won't he just show up to hang out with Tony Stark or Spider-Man for any old reason? Kevin Feige explains via an interview with Collider that Doctor Strange effectively has more pressing things on his mind: "So although it doesn't necessarily come up we've always assumed that the sorcerers have bigger fish to fry when they hear there's something in a city or there's a bank being robbed. They're not thinking about it. They're thinking if we don't keep vigilant our sense of reality will disappear, and there won't be a bank to rob and there won't be a city to be conquered".
While the more likely explanation is due to Benedict Cumberbatch's contract, it's at least decent canonical for why you probably won't see him show up randomly in other films. And it doesn't exactly rule out Strange's appearance in the larger, more universe-shattering films in the MCU - there are even some rumors swirling that Strange could have a cameo in the upcoming Thor: Ragnarok.
Doctor Strange comic and film will have some key differences
As an origin story, this is Doctor Strange's opportunity to embrace and discard as much of the comic book's lore as it possibly can to set up future installments. One of the smaller changes includes the role of the Ancient One. Originally portrayed as an asian man, the role was reimagined as a more androgynous being, and Tilda Swinton was cast for the part.
One of the biggest changes, however, comes in the form of Karl Mordo. Mordo was one of Doctor Strange's nemeses in the comics, but in the film, he's his buddy, helping him learn the ropes and explaining all the mystical mumbo-jumbo for Strange (and, by extension, the audience). So why the change? Kevin Feige explains:
"You know that was something we wanted to play against in the comics. Because in the comics for as unbelievably creative and full of imagination as they are - we are desperate to recreate in cinematic form - there's some things that are too obvious for modern day audiences. The jealous rival named Baron von Mordo, who turns against him when he shows any signs of talent - we specifically didn't want to do that. It's one of the reasons we cast Chiwe [Ejiofor] because we wanted to have someone who had sort of unbelievable authenticity in delivering a lot of wackadoo lines and exposition."
Of course, all of this could be some deft hand-waving to distract from a potential second act twist, but for now, all we know is that Mordo's a good guy.
Discover a new hero. Benedict Cumberbatch is Doctor Strange. See Marvel's #DoctorStrange in theaters November 4th! pic.twitter.com/kWvIPce6meSeptember 27, 2016
Doctor Strange poster hints at the appearance of the Sanctum Sanctorum
Doctor Strange has also gotten a couple of posters to accompany the handful of film trailers in the wild. Both feature very similar environments - the inside of the Sanctum Sanctorum, which is a mystical focal point as well as Doctor Strange's personal headquarters - but feature the Doctor in different poses. The first, a tease showing Strange gazing away from the viewer and toward the heart of the Sanctum; the second featuring Cumberbatch in full-on regalia and a chin-down-eyes-up stare piercing directly into your soul. Some new posters have even given the spotlight to other cast members, like Benedict Wong and Rachel McAdams.
Image 1 of 8
Image 2 of 8
Image 3 of 8
Image 4 of 8
Image 5 of 8
Image 6 of 8
Image 7 of 8
Image 8 of 8
Doctor Strange toy Disney Infinity figurine looks incredible
Had Disney Infinity not been unceremoniously cancelled, Doctor Strange (among a few other Disney, Marvel, and Star Wars characters) would have gotten his own plastic figurine for the game. It's a shame, because Doctor Strange's figure looks absolutely gorgeous. YouTube channel Infiniteer Adventures provides an in-depth look at some near-final computerized renders of what the figure would have looked like if production hadn't shut down earlier this year. Always wonder what could have been.
Related Doctor Strange news
The Avengers get a name drop in the new Doctor Strange trailer
Here's why Doctor Strange's sorcerers haven't intervened in the MCU until now
Thor: Ragnarok director is being very coy about that potential Doctor Strange cameo
Doctor Strange's enemy is actually his friend - Marvel boss Kevin Feige explains
Doctor Strange's supporting cast get their own mind-bending posters
Doctor Strange "is the movie where Marvel goes full weird," says director Scott Derrickson
New Doctor Strange image gives us a closer look at the Eye of Agamotto in action
Benedict Cumberbatch says Sherlock is "a LOT stranger" than Doctor Strange
Here's what Doctor Strange would have looked like in Disney Infinity (before it was canned)
Benedict Cumberbatch is the Sorcerer Supreme in new Doctor Strange concept art
Doctor Strange will keep the "madness" of the comic books says Mads Mikkelsen