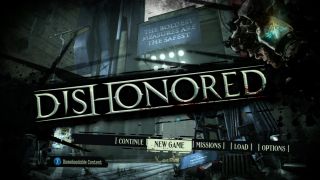 First hour, no power. What can you do for fun?
Dishonored 's main attraction is using your set of supernatural abilities in clever ways. But for the first hour, you don't have any of them. What are you supposed to do for fun? Let our handy kick start guide assist you in your quest for brilliance! Why don't you try...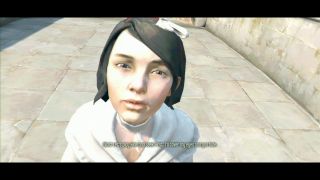 1. Play Hide and Seek with Emily
You don't have to do this first mission, but it's worth it if only to learn the stealth controls and laugh at the sheer idiocy of this little girl, Emily. So go ahead and accept her challenge. Such as it is...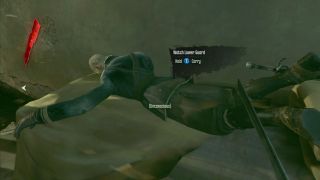 2. Experiment on dead (and sleeping) bodies
Whether dead or unconscious, prison guards' bodies can be discovered by their mates, raising the alarm. You can pile them up on your old cell bed if you like. But be warned! Dropping an unconscious guard down some stairs or into water will kill him. Nasty business, really...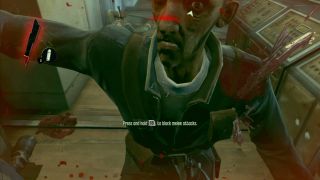 3. Go for insta-kills
You might not want to play nicely, in which case you're in for a lot of fun. Watch out for tutorials on vertical executions (by dropping down from above) and also follow-ups to successfully-timed parries. There's plenty of nastiness to see if you want things to get a bit gory.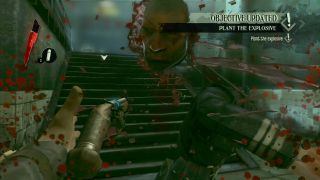 4. Decap Attack!
It really does help to lean how to parry properly. A perfectly-timed parry has all kinds of benefits. Firstly, you don't get hurt by the attack, and secondly, it's possible to decapitate your opponent, like this. Gross? Yes. Morally unacceptable? Yes. Opportunities for more fun? Absobloodylutely! Are you ready for this?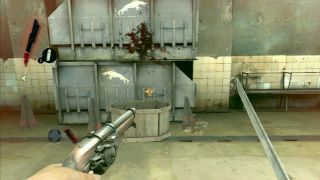 5. Play 'decapitated head basketball'
You can pick up heads and throw them around. Sadly, the blood splats they leave run out after a while (resulting in what looks like a bouncy rubber head), but until then, you can use previous splats as a backboard for some decapitated head basketball. Sadly, it doesn't fall in the basket due to a clipping error, but still. Much fun.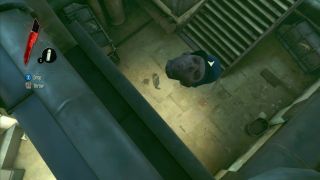 6. Make a cranial bombing raid
You can also climb up the pipes to the right of the control room, carefully taking a head with you. You can then chuck it down onto the poor sap below. Get it right and he stumbles around in a daze. Get it wrong and he draws his sword before deciding it was 'probably the wind'. Oh, stealth game guards...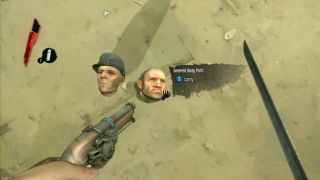 7. Find out if two really is company
You could just be really weird and collect heads.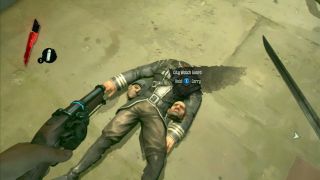 8. Or arrange body bits for your own amusement
But which one was his? NEITHER! Hahahahahahahahahahahahahahahahahahahahahahaha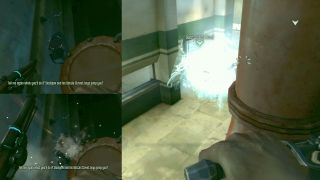 9. Shoot down scenery elements
You can bring this electrical fixing crashing down onto a guard's head (you can just see his 'surprise' icon amidst all that electrical mess). This may lose you your Ghost rating, but there's no denying it's entirely worth it. Besides, you can always reload. Oh, by the way, make sure you save often so you can reload whenever you like.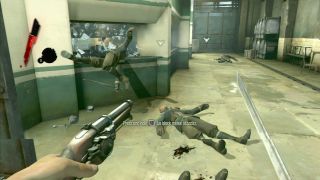 10. Start a proper brawl
Guards with guns aren't much fun to fight as it's usually over pretty quickly one way or another. Guards with swords, though? See if you can break a window with a knock-back.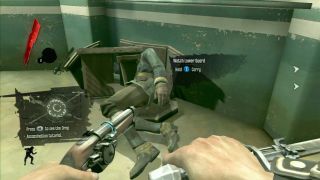 11. Create a homage to Street Fighter II
Crates smash in a very satisfying manner when you knock a guard into them. Yes, we'll call you Guile.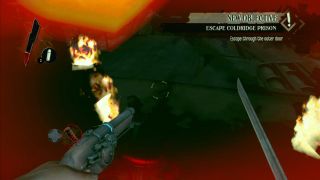 12: French kiss an exploding bomb
At the end of the prison section, you have to plant a bomb to get through some doors. Incredibly, if you have any decent level of health remaining when you do, you can stand with your nose on the device and survive the blast.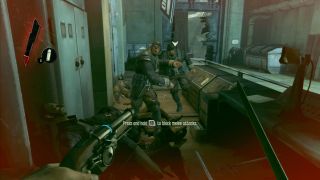 13. Make your last stand
Once you've blown up the door, all the guards will go on alert and start endlessly pouring into the room. You're supposed to leap from the drawbridge and swim to the safety of the sewers, but instead, why not hang around and see how long you can last trying to fight them off? It's like the 5-star wanted level on GTA, just with fewer tanks.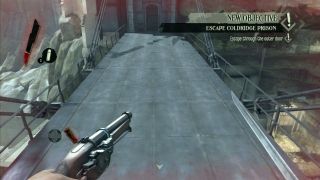 14. Go where you shouldn't
If you do choose to try surviving a bomb at point blank range, sprint immediately forwards as it goes off. The drawbridge should still be coming up as you reach it. Jump once with A, then keep pressing it repeatedly to trigger the 'climb onto' vault command. With a bit of luck, you'll climb onto the rising drawbridge and beyond. There's nothing to do on the far side, but so what? You won!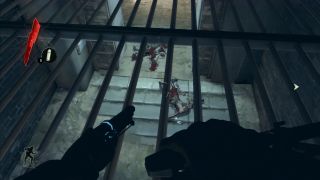 15. Watch two guys get devoured by rats
Make sure you look downwards at this point. The guards are coming after you, but they hadn't banked on meeting a swarm of rats. A swarm? A herd of rats... No, a gaggle... OK, look - a *lot* of rats. They are overwhelmed, get killed, then have the flesh stripped from their bodies, before being devoured completely. Eeew.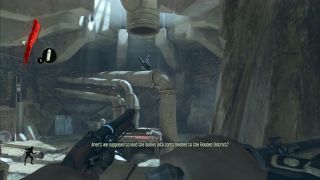 16. Watch the vertical influx of dead people
There's a plague sweeping through the city and the dead are being thrown down into the sewers by the less scrupulous guards. You can watch them falling into this room from the pipe above.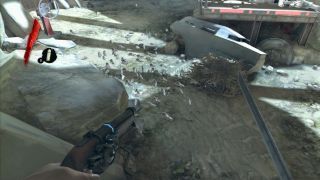 17: Marvel at the rats
Look at 'em all! The trick in this room is to throw the dead bodies down for the rats to feast on so that you can turn the crank handle and move on to the next section. Of course, you can shoot them or cut them up with your sword if you like, but it's a dangerous game.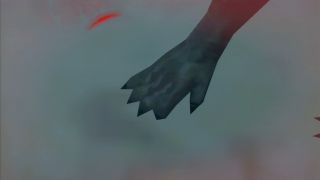 18. Get eaten by the rats
Mess around with a swarm of cute little ratties for too long and you will succumb to them. We caught this freeze-frame on our screenshot grabber. At that angle, he's probably eating your brain. And what do we call rats who eat brains? Brats.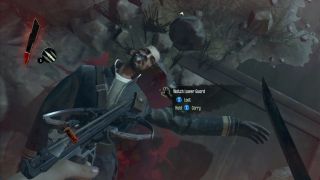 19. Make it look like an accident
No-one will ever fall for it, but you can shoot a dart up a dead guard's nose to make it look like dubious personal hygiene habits caused his untimely demise.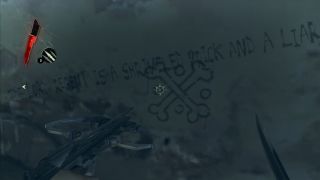 20. Read the graffiti
This makes us think of Blackadder III and the Prince Regent. "Oh, you've met him then?"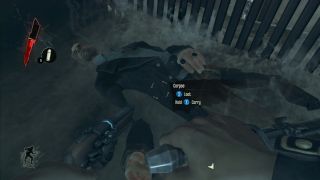 21. Check the grates
You'll notice that bodies travel with the current when in water. So make sure you check out all the gratings at the end of waterways. Some bodies are already floating there, and they've got gold on them if you loot them with X.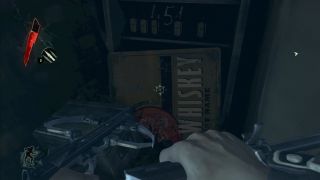 22. Open Jelly's safe
You'll find a note to a guy named Jelly, telling him to remember his Whiskey if he needed to remember. It's slightly cryptic, but refers to the empty bottles of Whiskey above this sign. Behind them is the combination for the safe that's lying on the ground. Open it up and take the loot. Jelly won't miss it now.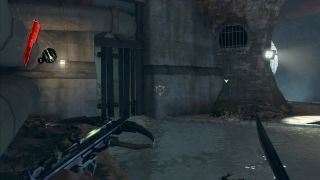 23. Find the Hermit's den
This is right near the end of the sewer section. See those planks? Smash them with your sword and you'll discover the Hermit's home. There's a modest amount of loot inside, but it counts as a special objective in the final summary.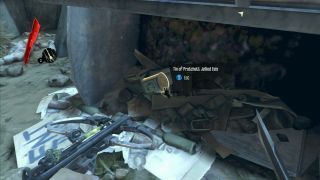 24. Eat from a dumpster
Admit it - we saw you eat the 'mouldy pear' that you found in the sewer a few minutes ago, so tinned food from a dumpster is basically luxury cuisine.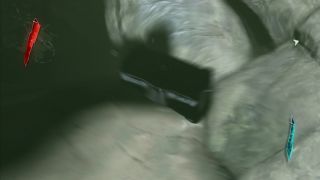 25. Plunder sunken treasure
Ahar, me hearties etc. This is just underwater to the right as you emerge from the sewer. Watch out for the fish, though - they've got very nasty bites.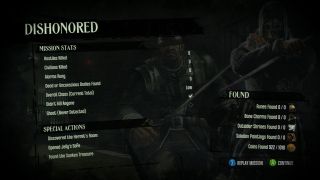 26. Get all the gold
We searched every nook and cranny and still didn't find all the gold, only managing 922 coins out of a possible 1010. Can you? Incredible to think there's so much to do in this small introduction that somehow doesn't even feature the game's biggest features! This is going to be good...
Excited? Of course you are! Be sure to check out our Dishonored review.