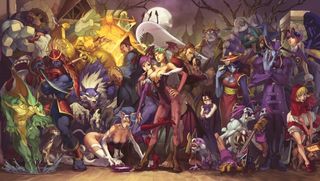 Darkstalkers Resurrection bringing monsters back to life
The newly-announced Darkstalkers Resurrection collection, coming early 2013, marks a return for a series that's been dormant in the West since the 2004 release of Darkstalkers Chronicle. Packaging together Night Warriors: Darkstalkers Revenge--the second game in the series--and Darkstalkers 3, the compilation offers 18 total fighters drawn from the fertile pool of "things that are scary but also cool." Vampires! Sasquatch! Red Riding Hoods! They're all here! Which of the following are you looking forward to playing first?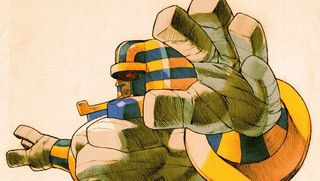 Anakaris
Anakaris is a much needed part of the roster, because what cast of monsters isn't complete without a mummy? While his homeland doubtlessly hosts no end of devious puzzles and quicksand traps, Anakaris' contributions to the lineup are closer with those of a living god who's been cooped in a coffin since prehistory. That is to say, he's slow, can almost fly, and loves using his bandages to damage enemies in increasingly complicated ways.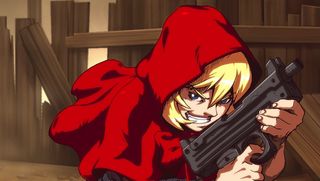 Baby Bonnie Hood
According to a Japanese strategy guide for Darkstalkers, BB Hood is the only character not based on existing myth or folklore; instead, the character's intended to personify everything that is dark and self-obsessed in humanity, from violent sociopathy to a relentless thirst for personal gain at the expense of humility or compassion. In the end that means she looks like Red Riding Hood and packs a comically outsized array of human weaponry.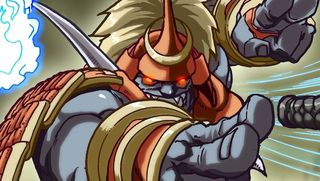 Bishamon
A rudimentary handle on Japanese culture might suggest that a Bishamon would be some combination of a pretty boy and a fighting monster, but in reality he's a demonically-possessed suit of Samurai armor. Equipped with a soul-sucking sword, Bishamon is one of the only Darkstalkers to wield a weapon, which more Darkstalkers should call him out on. Bishamon's alternate form, Oboro Bishamon, is a secret character in Darkstalkers 3.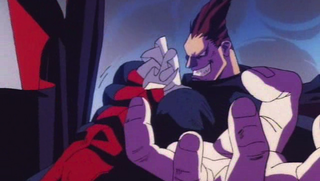 Demitri Maximoff
The nominal protagonist of the series, Demitri is a vampire cast out from the demon-dimension of Makai into an earth filled with hostile and delicious humans. Apparently the first thing he did on arrival was hole up in his castle for a few weeks with a SNES, because Demitri is livin' like Castlevania's Dracula and fightin' like a supercharged evil version of Ken and Ryu (whose name isn't Akuma).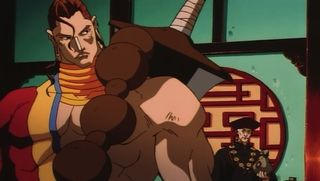 Donovan Baine
Donovan is a dhampir who has chosen, like other half-vampires like Castlevania's Alucard and Vampire Hunter D's protagonist, to devote his life to the pursuit of vampire-killing. Fighting with moves and weapons inspired by Buddhist and Hindu mythology, the character's physical makeup has led fans to speculate on whether the character could be related to Dan Hibiki. However, GR's pathetic history of Dan Hibiki has little to say on the matter.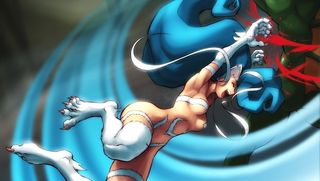 Felicia
Furries are some of the most maligned members of the online community, but Felicia's popularity dates back to an earlier, more innocent time. Back then, few were up in arms about a sexy, barely dressed half-cat girl. It was especially forgivable when her in-game style could be summarized as two parts Blanka and one part Sonic the Hedgehog.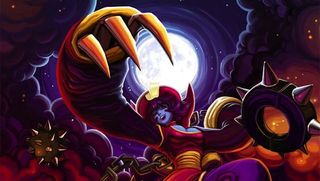 Hsien-Ko
The first Darkstalkers focused almost exclusively on Western monsters, but with later sequels came a more global focus on scary things that hopefully aren't real. Thus Night Warriors: Darkstalkers' Revenge gave us Hsien-Ko, a jingsh (Hopping Vampire) as seen in cult Chinese flicks like Mr. Vampire. Accordingly, Hsien-Ko is scary but also sort of hilarious, a highly tactical fighter backed up by fellow jingsh Mei-Ling.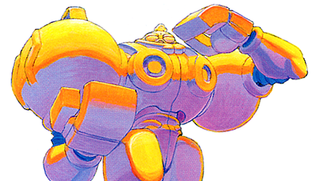 Huitzil
First playable in the home version of Darkstalkers 3, Huitzil is a robot guardian for the series' intergalactic superbeing, Pyron. The Huitzil were first sent to Earth for the purpose of killing the dinosaurs, then went into hiding until they were discovered by the Mayan civilization. If you play the fantasy-themed Darkstalkers to avoid fighting robots with lasers and buzzsaws, sorry, but those things are Huitzil's total stock-in-trade.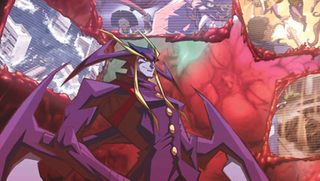 Jedah Dohma
A high noble of Makai (the Makai being the demon-dimension where many Darkstalkers characters come from), Jedah is one of the series' most powerful fighters. Conceived as an amalgam of Death and a Japanese schoolboy (seriously), the character's one of Darkstalkers' more enigmatic castmembers. His blood-magic super-moves make him best suited to offensive play.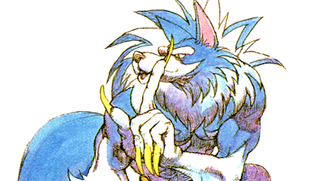 Jon Talbain
Jon is heir to a long line of nobles that are cursed with lycanthropy, a status that forces him to wander the world searching for a cure. That is to say, he's basically a no-lawsuits-please version of Larry Talbot, the tragic antihero of Universal's 1941 classic, The Wolf Man--though the character's named for Larry's father, Sir John Talbain. Speed and precision strikes are the order for this Bruce Lee-esque tactician. It's also worth noting that his dark form shows up as a secret boss in Darkstalkers 3.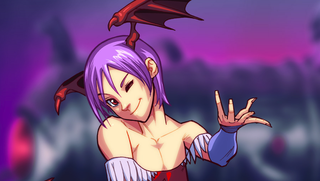 Lilith Aensland
Lilith is a cosmic afterthought, created out of excess energy left over from the creation of fan-favorite succubus Morrigan. This is sort of like her namesake's creation-story according to the Dead Seas Scrolls, but it's also a folklore-ier version of the 1989 movie Twins, so you can choose how deep you want to go there. In any case, Lilith plays much like her longer-running sister, only with light-based moves where the latter uses shadow-power.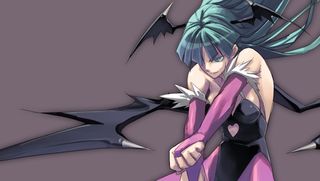 Morrigan Aensland
Demitri's female frenemy and Lilith's sister, Morrigan is an entrancing succubus that's the adopted heir to the same family that exiled Maximoff on Earth. The origin of succubi was as a medieval explanation for phenomenon such as sleep paralysis; the prospect of sitting on sleeping peasants' chests isn't exactly AAA videogame material, so Capcom's extended the character's abilities to include shapeshifting, telekinesis and Dragon Punching.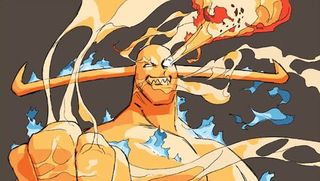 Pyron
The final boss of early Darkstalkers games, Pyron is a cosmic fire-creature from the planet Hellstorm who exists to consume planets and has set his sights on Earth. This gets the Darkstalkers crew's collective dander up, presumably because Earth is where all their food lives. Playable in DS3, Pyron's intergalactic omnipotence is scaled back in-game so the character's just really, really powerful.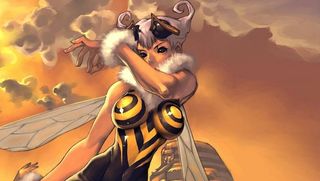 Q-Bee
Q-Bee is a sexy lady in form-fitting clothing, which isn't really much to write home about in the context of fighting-game characters. She stands out from the crowd mostly due to having a huge stinger on her behind, a tool she needs as the leader of a clan of Soul Bees. A Soul Bee, as far as we can ascertain, is like a regular bee, only carnivorous, sexxxy, human-sized and able to sting endlessly without dying. That's actually the scariest notion Darkstalkers has served up thus far.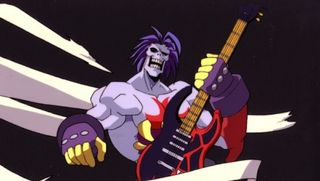 Lord Raptor
Darkstalkers is a horror game, so it needs at least one zombie in it. Yet, as the franchise originated long before the public began its renewed infatuation with the walking dead, don't expect any of the usual shambling 'n' brain-eating. Instead, undead metaller Raptor takes style cues from Eddie the Head, legendary mascot of the even-more-legendary Iron Maiden. If Ed was a fighting-game character, he'd probably use fast, cartoonishly violent attacks, so that's exactly what Raptor does.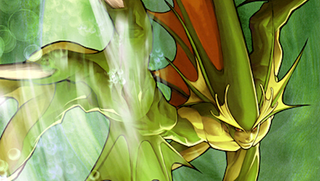 Rikuo
A nod to Universal B-monster the Creature from the Black Lagoon, Rikuo is a merman on a quest to reunite and restore the lost underwater race of graceful fish-people. Fish-men are always a bit of a joke (sorry Aquaman, it's true), but you know Darkstalkers is good for some blustering attacks in unexpected places, and the spiny, dexterous Rikuo is no exception.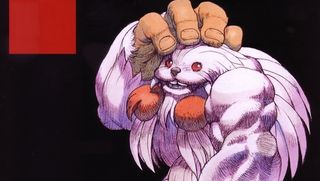 Sasquatch
Ice-powered Sasquatch hails from a hidden valley in Canada where it always snows. He has many of the traditional powers attributed to Sasquatch and Yeti: being big and strong, having humongous feet, a surprising deftness, and a collection of freezing-cold moves.

Alright, these aren't usually qualities attributed to Sasquatch in the folklore, but shape-shifting into a ghostly child-eater isn't very easy to dramatize in a fighting game, so this probably works out better.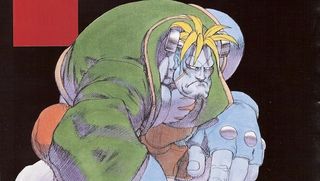 Victor von Gerdenheim
Some smarty pants might say, Um, actually, I think you'll find Victor von Gerdenheim was the creature's human creator; you're talking about Gerdenheim's Monster. Common mistake. However understandable that might be, since Victor is virtually identical to Frankenstein's Monster, it's incorrect. Victor officially took his creator's name upon the doctor's death. Victor is also known for superhuman strength, the power to generate electricity, and a hunger for the souls of defeated foes.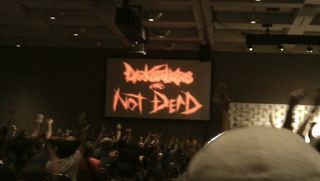 Darkstalkers still aren't dead