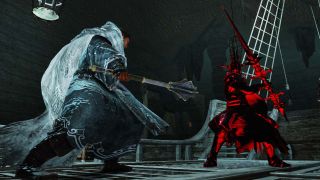 Dark Souls 2 PvP for dummies
Dark Souls 2 is a game that just doesn't end. Not only can you play new game plus into eternity, dueling other players in the game's unique competitive and cooperative multiplayer is something you could easily get addicted to. On top of that, developer From Software just released the second of three expansions--Crown of the Iron King--giving players even more opportunities to shank others in their most vulnerable moments.
But DS2's multiplayer isn't just populated by a bunch of brutes hiding in dark corners and assassinating each other. There is a sense of etiquette and honor here. Players duel like gentlemen and ladies, taking into consideration the proper customs and greetings before crushing each other's spines with tree trunk-sized clubs. If you're revisiting DS2 or just now getting into PvP, it could take some time before you know all of the ins and outs of the competitive combat. Through close observation of PvP battles and my own personal experience, I've decoded the unwritten rules of Dark Souls 2 multiplayer. Come, let me teach you the proper conduct of ruining peoples' days.
Finding proper PvP arenas
With Dark Souls 2's invasion system, PvP combat can happen at any time, in any place. But finding other players who want to duel will yield a better PvP experience than the average Joe trudging through the main campaign. One of the most popular locations for honorable duels is the bridge at the entrance to the Iron Keep. Just take a look at the ground and there should be red summon signs and Dragon Covenant eyes galore.
The players haunting these locations are looking for duels and are more likely to comply with the conduct outlined in this article. All you need to do is pick one of the summon signs or lay down your own, and you'll be dueling in no time. But before you actually go and do that sort of thing, let's discuss how you should be conducting yourself while in a duel.
A friendly greeting goes a long way
Most other Dark Souls players are just as nervous going into a duel as you are. So, it's always a good idea to calm your nerves (and your opponent's) by offering them a sportsman-like greeting. The standard Wave emote does this job nicely, signaling to the other player that you acknowledge their presence and that you're ready to cross blades.
Once both sides have completed their selected emote, the duel can commence. The greeting isn't the only time you should communicate with other players, however. If your opponent does any undesirable actions, a negative gesture may be warranted; such as the No Way, I Won't bite, or Mock (when at a safe distance, of course). If you manage to defeat your foe, any number of gestures are appropriate to use at the conclusion of the duel--depending on the conduct of either side. A simple bow may suffice for a fair engagement, but if there was a significant amount of tomfoolery going on, the Decapitate gesture will surely notify them that their undesirable actions are not appreciated.
The etiquette of healing
One such undesirable action is healing by drinking from your estus flask while engaging in a previously agreed upon fair duel established by the ceremonial pre-duel greeting. Generally, refilling your life bar is looked down upon unless the player is using spell-based healing, but even then, players may note their disapproval with a quick No Way gesture.
If you want to make a no-estus-flask pact with your opponent, you may begin to chug all of your estus uses before your duel begins. If your opponent complies and chugs as well, proceed with the pre-duel greeting and begin the battle.
Stand and fight no matter what
Nothing is more obnoxious to Dark Souls 2 players than an opponent that prolongs a duel unnecessarily. Particularly, when they find themselves on the losing end of a confrontation. Often, players will find themselves outclassed by another player's skill, unable to react to an unfamiliar attack moveset, or unfortunate enough to suffer a crippling backstab at the onset of an engagement.
If this happens to you, proper DS2 etiquette demands that you keep fighting until you pull off a miracle victory or meet your untimely and humiliating end. The worst thing you can do in a losing situation is to run around the combat area like a fool in an effort to avoid your inevitable death. Stand your ground and face the reaper. Your opponents and dignity will thank you.
The invadee is AFK. What do I do?
One thing to consider when playing competitively online is that other players might have actual lives of their own. This means that a player may step away from his or her video game console in order to attend to a real life infant, spouse, or smoking kitchen appliance. This, in turn, may result in you invading and encountering an AFK character in game. When this happens, don't panic. There are steps you can take to ensure you have lots and lots of fun.
Sure, killing the player outright will get you immediate rewards from your respective multiplayer covenant, but meeting an AFK player is a rare opportunity. After waiting a minute or two for them to return (giving them a chance to engage in a respectable duel), I recommend using a low-damage punch to push them off a cliff or into a nearby trap. If you want to be really cruel, load up on armor-breaking Corrosive Urns before you do any PvPing, and toss those at any AFK player until they wake up. There's no glory in defeating an opponent with broken armor, but, by doing so, you're providing a community service by helping that AFK player realize that they should not go AFK ever again.
Multi-invasion king-of-the-hill duels and you
You won't be the only person in Drangleic getting sucked into other player's online worlds. Many times, several players will load into the same world creating an invasion with multiple invaders, which is a situation that can be extremely volatile. The best thing to do is to observe the behavior of the other players in the world and act accordingly.
For instance, if you see two characters fighting while another player calmly waits on the sidelines, you can safely assume you've entered what I call a king-of-the-hill duel. Typically, players will battle one at a time for the right to fight the world master. Your best bet to come out of the invasion with your desired reward is to fall in line and take your turn. Or, you could attack everyone and watch the fragile duel environment crumble like a high-tension Mexican standoff.
Remember, have fun out there
If you follow all of my tips, you'll be several steps closer to being an accepted member of the Dark Souls 2 multiplayer community. Or, you can just ignore everything in this article and be a competitive online dick. Either way, let me know what your rules of engagement are in the comments below.
For more on Dark Souls 2, be sure to check out our Dark Souls 2 boss guide and 10 signs you're playing too much Dark Souls 2.