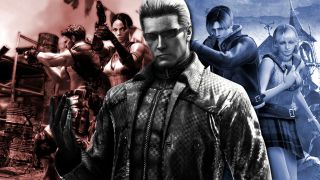 Fueling our nightmares since 1996
Halloween is just around the corner, and we're celebrating with a little something we call Halloweek. It's a terrifying jamboree of all things spooky and sinister… a phrase that perfectly describes Resident Evil. Capcom's classic survival horror sprang to life in 1996 on the original PlayStation, and it released at a time when the survival horror genre wasn't even really a genre.
Since that original game, the Resident Evil series has seen some incredible highs and crushing lows. Even today it continues to pivot back and forth between action and survival, excitement and terror, always searching for the perfect middle ground. Which entries hit that sweet spot? These are our top ten choices for the best Resident Evil games ever created.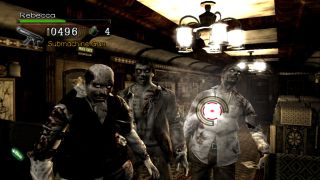 10. Resident Evil: The Umbrella Chronicles
Resident Evil: The Umbrella Chronicles is a wonderfully simplistic side dish of Resident Evil fan service. It's a light gun shooter originally released for the Wii and later given an HD facelift for the PlayStation 3. The scares aren't that scary and the action's not that intense, but what this game lacks in style it makes up for in substance. We're talking a massive campaign that can easily last you 12 hours or more, plus an extensive gun unlocking and leveling system.
That campaign is a reimagining of the first three Resident Evil games. Think of it as the CliffsNotes' version of Resident Evil: you get to see at the iconic scenes and moments, without the hours of running around looking for hidden keys. Plus, there are a handful of bonus missions added in that help fill in some of the lingering plot holes left by the original games. Umbrella Chronicles is Resident Evil comfort food. It's cheap, easy, and once you start you just can't put it down.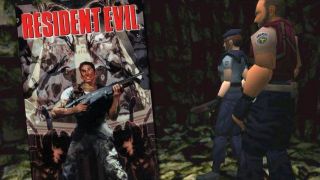 9. Resident Evil
The jokes about Resident Evil are still shuffling around the gaming world almost 20 years later. Who wants a Jill sandwich? Who hopes this blood is, in fact, not Chris' blood? Every Halloween, clips of its student film-esque live action cutscenes make the rounds. With the bigger, better, marginally less silly remake readily available on almost every modern platform, it's easy to forget the very real, very excellent game beneath the dated cheese. Resident Evil's devious puzzlebox mansion holds up all these years later, a slick series of steep challenges for anyone that can acclimatise to its awkward 'tank' controls.
For those that love the series' puzzle elements, the original is tough to beat. It's shorter than the sequels, but Resident Evil still incredibly dense. Choosing to not help certain characters - or failing to do so in a set amount of time - can totally change the outcome. The original masks all of these choices, though, never telegraphing what you should and shouldn't do. It encourages replays and patience, milking scares out of quiet hallways and confusion. There's a timeless eeriness missing in its successors - that very first zombie you see, a surreal computer animated freak, is still incredibly disconcerting.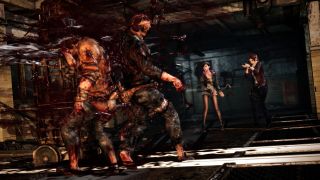 8. Resident Evil: Revelations 2
Resident Evil: Revelations 2 is what Resident Evil 5 should have been. It's a more tonally consistent follow-up to Resident Evil 4, while still including the cooperative play and multiplayer features of RE5. But unlike Chris and Sheva's adventures in Africa, here the two-player dynamic doesn't upstage Revelations 2's unsettling atmosphere, nor does it diminish your feelings of vulnerability.
Plus, Revelations 2 introduces Moira Burton, one of the coolest characters in the whole Resident Evil series. She's a wonderfully complex character, at times foul-mouthed and abrasive and at others kind and compassionate. Learning about her troubled relationship with father, Barry 'Jill Sandwich' Burton, and seeing her budding friendship with Claire develop makes for a far more interesting and engaging backdrop for zombie-killing than, say, Mr. Extreme Makeover."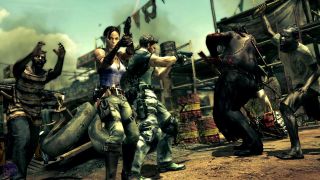 7. Resident Evil 5
Let's be clear: Resident Evil 5 may not be the best Resident Evil game out there, but it is a damn fine action game with lots to enjoy whether you're playing solo or with a friend. The lengthy campaign is well paced with a steady stream of new and challenging enemies throughout, and you're constantly awarded new weapons to bolster your arsenal. And while it does kill the spookiness of the series' predecessors, RE5's emphasis on gunplay played up its gnawing tension.
RE4 and RE5 don't let you move while attacking. This restriction drew plenty of criticism from basically everyone, but it's one of the best ways both games build tension. By forcing players to stand their ground while firing a weapon it simultaneously places you in a position of great strength and vulnerability. You need to take your shots quickly and carefully so you can start moving again, and avoid the dude with the hatchet rolling up behind you. And the one-two-three rhythm of lining up a shot, popping an enemy's kneecaps, and finishing it off with an uppercut feels immensely satisfying.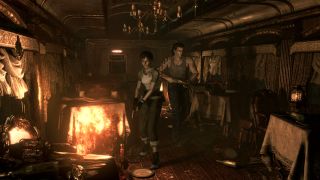 6. Resident Evil Zero HD
Resident Evil Zero gets a lot of flak for being more of the same. But when "the same" is fabulous environments, tough-as-nails boss battles, and a genuine sense of dread… well that's just fine. Since Zero is a prequel, we know Rebecca Chambers will eventually make it out alive, but we don't know what she'll have to endure. This also means Zero is able to largely free itself from explaining things. Umbrella hasn't gone up in smoke yet, worldwide anti-bioterrorism agencies don't exist, and we aren't roundhouse-kicking zombies in the face. Ah, simpler times.
Previous Resident Evil games featured multiple characters, but Zero is the first time players can actively switching between them. This means you need to be extra careful about who carries what and how much ammo you split - after all, you're surviving for two now. Puzzles are more complex and brain-teasing (if still illogical and just plain weird), stand-offs are more tense, and - besides their impact on gameplay - these characters are genuinely interesting. Inventory management is still a drag, though. We can all agree on that.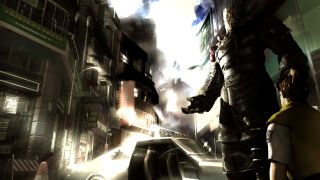 5. Resident Evil 3: Nemesis
Nemesis is one of the most terrifying and relentless stalkers to ever the prowl the gaming landscape. This hulking brute isn't a puzzle to be solved, or a challenge to be conquered. It's simply there to terrorize you; to make you feel helpless. Fleeing with your tail between your legs is the most sensible option, and the most humbling. It reinforces the feeling that Nemesis is this massive, unstoppable force and you're really is just trying to escape with your life.
Knowing this brute could smash through a window at any moment adds another layer of anxiety on top of an already frightening experience. It haunts you as you scavenge for ammo, or backtrack for that missing piece of the puzzle. And when it inevitably comes crashing down upon you, the pace of RE3 falls with it. Slow, careful exploration is replaced with a mad dash to safety, or a desperate fight against overwhelming odds. And when the encounter ends, you press on knowing it's not over. This will all happen again.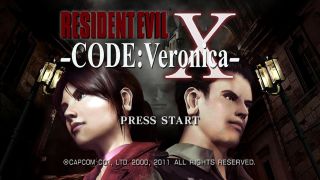 4. Resident Evil Code: Veronica X
Resident Evil Code: Veronica drew the series further down the path of pure action it began in Resident Evil 2. The shift in tone is obvious from the start. Instead of Claire Redfield freaking out as she rides unknowingly into a zombie-infested city, she's playing corporate terrorist, invading the Umbrella Corporation headquarters firing double pistols and doing flips like a pro-grade Matrix cosplayer (hey, it was 2000 after all).
The structure is still classic Resident Evil, though. Claire's shipped off to an island prison for Umbrella's private army (and researchers), and she has to hunt for items while exploring its spooky locales. The familiarity and bombastic tone don't hold back Code: Veronica in the way they did later entries (like Resident Evil 6). Everything works thanks to excellent pacing and smart environmental design. By the time you take control of Chris - as he and Claire try to escape an arctic base taken over by a tentacle monster - the whole thing has reached a delectably absurd fever-pitch. Not even Steve Burnside, gaming's most famous whiner and '90s Leonardo Dicaprio proxy, could bring it down.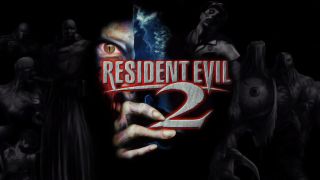 3. Resident Evil 2
We came this close to missing out on Claire and Leon's gruesome journey to the Raccoon City Police Department. A simpler version of the game - deemed too similar to the PlayStation original by creator Shinji Mikami - was scrapped, and a young upstart named Hideki Kamiya was tasked with rebuilding Resident Evil 2. The structure still recalls its predecessor: Leon and Claire must trundle through a mysterious locale overrun with zombies and mutants just like Jill and Chris did the first time. The Racoon City Police Department and the sewers/secret lab beneath it hide a whole lot more stuff to shoot than the Arklay Mansion, though.
Resident Evil 2 is Aliens to Resident Evil's Alien, adding submachine gun fights against skinless, sharp-tongued freaks to all the inane puzzles in the original. Ammo's still precious here, but there's just more opportunity and cause to use it. Kamiya's penchant for bombast as embodied in Bayonetta and Devil May Cry started right here, in a game that lets you trick a giant alligator into chomping on a fire extinguisher so you can blow up its stupid face. But the action never overwhelms the atmosphere, a balance the series struggles to get right again.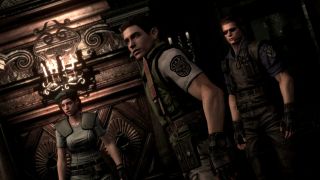 2. Resident Evil HD
Resident Evil had already been re-released and tweaked multiple times when Shinji Mikami announced that he'd be remaking his original survival horror freak out as a Gamecube exclusive. The game now affectionately known as REmake changes a hell of a lot more than a couple of pre-rendered backgrounds (Resident Evil: Director's Cut) or character models (Resident Evil on Sega Saturn). Massively expanding Jill Valentine and Chris Redfield's sojourn at Umbrella's Arklay Mountain mansion, REMake is the evolutionary peak of the classic survival horror recipe of dropping you in a haunted puzzle box and making you hunt for items.
REmake doesn't just rearrange the mansion and shuffle items about. It adds entirely new territories to the map with horrifying new story elements and enemies (like the malformed Lisa Trevor). Even the fundamentals of survival are changed, as zombies can't simply be killed. Burn or embed a knife in their head, lest they return as super strong, ultra fast Crimson Heads. The 2015 update - which finally freed the game from Gamecube exclusivity - further enhanced the game with refined controls. Pour on the most atmospheric, deliciously wrought pre-rendered backgrounds - turning the mansion from a campy spook house into a nightmare maze of shadows - and you have one of the greatest 'classic survival horror games' ever made.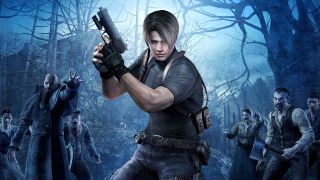 1. Resident Evil 4
Resident Evil 4 was the dynamic, invigorating semi-reboot the series drastically needed in 2005, but its greatest achievement is in how fresh and vital it still is 10 years later. Far more so than either of its direct sequels, in fact. While chastised by the knee-jerk brigade for a supposed descent into dumbed-down action, in truth those superficial appraisals could not be further from the truth. Rather, Resident Evil 4 just presents a slightly different kind of horror, albeit one that actually trades on a great many of the earlier series' core conceits.
The focus on life-or-death, evasive play? RE4 is all about that, only rather than wrestling with artificially hobbly controls and a few shuffling zombies, it ramps up the tension with vast swathes of just-smart-enough-to-be-deadly enemies, and an endlessly malleable, environmentally focused game of cat and mouse. You might have a lot of guns and ammo in RE4, but you never have any power. Instead you must wrest your advantages from the game's malicious grip, maximising every slim opportunity, cleverly controlling space and manipulating the hordes to do maximum damage with minimum risk. Or at least ensure that you always have a clean(ish) line of sight for running away. Combining horror with genuinely clever, exhilarating survival combat and coated in an oppressive atmosphere of creeping malice: Resident Evil 4 is a perfectly distilled, flawlessly balanced high-point the series has never bettered.