Raising awareness
There's no doubt that mental illness can be a rich source for movies searching for an attention-grabbing hook, but for every sensitive and affecting portrayal of real-life conditions, there's a dodgy horror just searching for a serial killer with a split personality in the hope it'll shock just as much as Psycho.
To help you traverse this minefield, here are 30 movies that are brilliant and worthy depictions of mental illnesses, as well as being genuinely great movies in their own right. Some aren't easy watches, yet all are important in highlighting conditions that affect far too many people.
30. Starry Eyes (2014)
The story: An aspiring young actress (Alex Essoe) lands a leading role for a famed production company, only to realise the role comes with a high price to pay.
What it tackles: Before the movie travels into fantastical body horror, 2014 genre festival hit Starry Eyes deals with real-life condition trichotillomania, the compulsion to pull your hair out. In a star-making turn, Essoe expertly portrays the mental damage that can be done from the pressures of pursuing fame and, crucially, the movie doesn't just use the condition for shock effect but deals with it sensitively.
29. X+Y (2014)
The story: Having landed a spot on Great Britain's team at the International Mathematical Olympiad, a maths prodigy (Asa Butterfield) finds new friends and confidence on a trip to Taipei.
What it tackles: A criminally under-seen British movie, X+Y (renamed A Brilliant Young Mind in the US) brilliantly depicts an autistic mind on screen and specifically the way that savant Nathan (Butterfield) sees the world as a result of the spectrum condition (autism on its own is not a mental illness). It's a terrific performance from Butterfield in an tricky role that avoids sentimentality which elevates the movie to being more than just the English Rain Man.
28. The Virgin Suicides (1999)
The story: Based on Jeffrey Eugenides's novel, five teenage sisters are effectively put into confinement by their religious parents after one of them commits suicide.
What it tackles: Sofia Coppola's harrowing movie pulls no punches in its depiction of depression which, in the case of the five Lisbon sisters, turns into a sort of group experience leading to a tragic suicide pact. It aligns the condition with puberty and growing up, as well as showcasing how outsiders (in the movie, a group of boys attracted to the sisters) can sometimes not realise how mentally affected people are.
27. Benny & Joon (1993)
The story: A cinephile (Johnny Depp) starts up a relationship with the mentally ill Joon (Mary Stuart Matherson) when he moves into her apartment, shared with her brother Benny (Aidan Quinn).
What it tackles: Though it received some criticism for sanitising schizophrenia, Benny & Joon succeeds due to the winning trio of lead performances and especially from Mary Stuart Matherson as the mentally ill Joon. It's a turn that isn't over-sentimental and, unlike some movies which cover mental conditions, doesn't stop her character from interacting and connecting with those around her.
26. We Need to Talk About Kevin (2011)
The story: Adapted from Lionel Shriver's novel, a mother (Tilda Swinton) has to come to terms with her son and the terrible crime he has committed.
What it tackles: Brilliant in depicting the potential tragic consequences of antisocial personality disorder and how it affects those closest to the sufferer, We Need to Talk About Kevin is a bleak, but vital, watch. It deals with the condition from a human perspective rather than utilising it for shock value, and Ezra Miller is sensational as the troubled older Kevin with Swinton also excellent as his empathetic and believable mother.
25. The Hours (2002)
The story: Charting the lives of three women of different generations, who are all affected by the novel Mrs. Dalloway, including author Virginia Woolf (Nicole Kidman).
What it tackles: Adapted from Michael Cunningham's Pulitzer Prize-winning novel, The Hours covers how mental illnesses, including depression and bipolar disorder, can lead to suicide. Opening and closing with Woolf's suicide, the movie also shows pregnant housewife Laura (Julianne Moore) consider suicide only for the movie's central novel to change her mind. Kidman won the Oscar for Best Actress for her portrayal of Woolf, which was both stunning and moving.
24. Jacob's Ladder (1990)
The story: A Vietnam War veteran (Tim Robbins) attempts to discover the truth about what happened to him as his mind suffers from hallucinations.
What it tackles: One of the starkest on-screen depictions of post-traumatic stress disorder, Jacob's Ladder has become a cult horror classic although still undoubtedly divisive. Often disturbing, the movie doesn't shy away from the darker elements of PTSD as Tim Robbins' war veteran Jacob suffers from vivid hallucinations and flashbacks, before ending with a real gut punch that will leave you speechless as the credits roll.
23. The Fisher King (1991)
The story: Saved from suicide by a homeless man (Robin Williams), a radio DJ (Jeff Bridges) seeks redemption for a mistake he made that led to a restaurant massacre.
What it tackles: Both lead characters in Terry Gilliam's comedy-drama are suffering from mental illnesses that are linked by a single event. Bridges' radio DJ has sunk into depression for causing a caller to commit a massacre, which directly affected Williams' Parry who becomes schizophrenic when his wife is killed in it. The movie also features one of Gilliam's finest on-screen moments, involving a romantic dance in a train station.
22. As Good as It Gets (1997)
The story: A misanthropic author (Jack Nicholson) strikes up a relationship with a single mother (Helen Hunt) and a friendship with a gay artist (Greg Kinnear).
What it tackles: While the movie's view on how to deal with obsessive-compulsive disorder may be over-simplified, Nicholson is terrific in depicting the condition's potential symptoms, including the fear of contamination, and how it can alienate people from those around them. You'll be happy to be by his side though, thanks to the movie's perfect mix of humour and heartbreak.
21. What's Eating Gilbert Grape (1993)
The story: When love comes into his life, Gilbert (Johnny Depp) has to adjust how he cares after his younger brother (Leonardo DiCaprio) and obese mother (Darlene Cates).
What it tackles: A heartfelt adaptation of Peter Hedges' novel, What's Eating Gilbert Grape features DiCaprio excelling in one of his earliest roles as Arnie who suffers from a developmental disability, including autism. The movie also features depression in the form of Bonnie (Darlene Cates) who has given up on life after the suicide of her husband.
20. Shutter Island (2010)
The story: Based on Dennis Lehane's novel, a US Marshal (Leonardo DiCaprio) investigates a disappearance from a psychiatric facility.
What it tackles: Though it's set in a place containing the criminally insane, Shutter Island's main character Teddy Daniels (DiCaprio) eventually proves to be one of the movie's most troubled and delusional. Or is he? Adding an extra layer to the movie is the ending, which forces the viewer to question the actions of those responsible for treating people with mental illnesses. A mind-melter in the best possible way.
19. Finding Nemo (2003)
The story: When his son is captured, a clownfish afraid of the open ocean sets out on a journey to bring him home, accompanied by a forgetful companion.
What it tackles: It might seem left-field, yet Finding Nemo contains several smartly conveyed mental illnesses. Dory is the obvious one as she suffers from short-term memory loss, something played not just for laughs, and the fish Nemo finds himself amongst in the dentist have everything from obsessive-compulsive disorder to anxiety issues. Pixar would later tackle depression with similarly crowd-pleasing emotional finesse in Inside Out.
18. Misery (1990)
The story: An obsessive fan (Kathy Bates) holds an author (James Caan) hostage and forces him to write for her.
What it tackles: Like the Stephen King novel it is adapted from, Misery's obsessive fan Annie likely suffers from bipolar disorder and a severe borderline personality disorder. It's a sensational performance from Bates including an unforgettable encounter with a sledgehammer, and cemented her place as one of cinema's most iconic and terrifying psychopathic characters. The movie also stands as one of the best King adaptations to date.
17. Eternal Sunshine of the Spotless Mind (2004)
The story: To get over each other, a couple (Jim Carrey and Kate Winslet) erase each other from their memories, only to find themselves drawn together again.
What it tackles: An odd one out as the characters in this movie choose to have their memory wiped, yet Eternal Sunshine of the Spotless Mind still succeeds in showing how a condition such as amnesia can force you to look at something in a different light. Its smart script will win over even the hardest of hearts, and you'll want to have your memory wiped to experience it all again for the first time.
16. Donnie Darko (2001)
The story: Plagued by visions of a giant bunny, a teenager (Jake Gyllenhaal) is manipulated into carrying out crimes as he fears the world is about to end.
What it tackles: A cult classic, Donnie Darko is open to numerous interpretations, but can serve as a believable account of how schizophrenia can affect someone and not turn them violent. After all, Donnie (Gyllenhaal) eventually sacrifices himself for the good of his family and the others around him. That might not actually be the case, but that's the genius of the movie: we are right in Donnie's shoes as even we don't know what to believe.
15. A Streetcar Named Desire (1951)
The story: A disturbed Southern belle (Vivien Leigh) moves in with her sister (Kim Hunter) and violent brother-in-law (Marlon Brando) in New Orleans as she seeks to leave her aristocratic background behind.
What it tackles: As Blanche Dubois, Leigh does an excellent job conveying the mental illnesses suffered by the character, including borderline personality disorder and likely obsessive-compulsive disorder. It's a movie faithful to Tennessee Williams's Pulitzer Prize-winning play, and one that marked the arrival of Marlon Brando as a Hollywood icon with an electrifying performance.
14. Little Miss Sunshine (2006)
The story: Determined to get their daughter to the finals of a beauty pageant, a dysfunctional family undertakes a cross-country trip in their VW bus.
What it tackles: Covering depression in an unflinching, matter-of-fact and sometimes black comedy kind of way, Little Miss Sunshine features two characters suffering from the condition, with one of them having previously attempted suicide. The movie's central road trip allows the two to bond with their family and open up about their problems, leading to a truly cathartic, uplifting finale as the whole family supports their youngest daughter and her breathtakingly ill-advised pageant dance.
13. American Psycho (2000)
The story: An adaptation of Bret Easton Ellis' novel, which centres on a wealthy investment banker (Christian Bale) who wants to indulge in his psychopathic fantasies, while hiding them from his co-workers.
What it tackles: With a main character that suffers from several mental conditions, including borderline personality disorder, American Psycho is not an easy watch and won't be everyone's cup of tea. However, you will all agree on Bale's break-out performance, one which ensures Patrick Bateman remains a compelling and believable protagonist despite his dark predilections, even if he may or may not have acted upon them.
12. Silver Linings Playbook (2012)
The story: Following a stint in a mental institution, a former teacher (Bradley Cooper) moves back in with his parents and gets close with a recently widowed woman (Jennifer Lawrence).
What it tackles: Conveying bipolar disorder and obsessive-compulsive disorder, among other conditions, Silver Linings Playbook is a unique romantic dramedy that suggests all you need is love to overcome certain mental illnesses. It may be a tad more predictable than you'd expect, but there's no denying the excellent, under-played performances from all involved, especially from the Oscar-winning Lawrence.
11. Still Alice (2014)
The story: A linguistics professor's (Julianne Moore) life is shattered when she is diagnosed with Alzheimer's Disease.
What it tackles: Still Alice is made all the more heartbreaking by its accurate use of familial Alzheimer's Disease. Though not a mental illness, the film sensitively portrays the mental health symptoms that can come with the disease and Moore deservedly picked up numerous awards for her nuanced, flawless performance. Kristen Stewart's turn as younger daughter Lydia is one of the movie's strongest arcs due to it not taking the easy option in regards to her reaction to her mother's diagnosis.
10. Girl, Interrupted (1999)
The story: Based on Susanna Kaysen's memoir of her 18-month stay in a mental institution starring Winona Ryder as Kaysen.
What it tackles: Like One Flew Over the Cuckoo's Nest, Girl, Interrupted's institution setting opens it up to containing a range of conditions, such as borderline personality disorder, and proves a strong exploration of mental illness and its treatments as a whole. While author Kaysen is reportedly not too keen on the movie, that didn't stop it being a career-making role for Angelina Jolie.
9. Black Swan (2010)
The story: Having won the lead in Swan Lake, a ballerina (Natalie Portman) slowly loses her mind and her grip on reality as she becomes overcome with pressure.
What it tackles: Who'd be a ballerina? Black Swan is a gripping portrayal of how the pressures of fame can affect the mind with its main character Nina (Portman) eventually suffering from a number of conditions, primarily schizophrenia. In an attempt to uncover her darker side, Nina's psychosis lead her to imagine that she has become the black swan of Swan Lake, and you are compelled to follow.
8. American Beauty (1999)
The story: An advertising executive (Kevin Spacey) becomes obsessed with his daughter's best friend (Mena Suvari) when he has a midlife crisis.
What it tackles: Sam Mendes' magnificent American Beauty may be primarily a satirical take-down of American suburban life, but through its main character Lester (Spacey), it showcases how depression can directly affect others. In deciding not to sleep with Angela (Suvari) at the end though, Lester is shown to be recovering giving the movie a brighter moment, even if one that is quickly taken away as you realise you can never trust a voiceover again.
7. Psycho (1960)
The story: Having embezzled money from her employer, a secretary (Janet Leigh) checks into a secluded motel run by a disturbed manager (Anthony Perkins).
What it tackles: Considered one of the very first slasher movies, Alfred Hitchcock's masterpiece Psycho set the template for numerous mentally troubled villains in horror movies. As in the Robert Bloch novel it's based on, the movie's killer Norman Bates is revealed to have a dissociative disorder to the extent that he not only imagines his mother, but dresses up at her. Before then though, it'll forever change the way you take a shower.
6. One Flew Over the Cuckoo's Nest (1975)
The story: After being admitted to a mental institution, a criminal (Jack Nicholson) rebels against a steely, oppressive nurse (Louise Fletcher).
What it tackles: One Flew Over the Cuckoo's Nest is the second movie to ever win all five major Oscars, and is notable for questioning the definition of a mental illness. There's no doubt characters in it have conditions including anti-social disorders (although it's never clear if Nicholson's McMurphy does), but arguably the person in charge - Nurse Ratched - is the most affected as she displays psychopathic tendencies.
5. It's a Wonderful Life (1946)
The story: A businessman (Frank Capra) about to commit suicide on Christmas Eve is shown how different life would have been for others if he never existed by a guardian angel.
What it tackles: A bonafide classic and festive mainstay, It's a Wonderful Life may focus on a clinically depressed protagonist, but the message is an ultimately uplifting one. It's an early on-screen example of using cognitive behavourial therapy to overcome depression as the movie's main character George is shown the good he has done, leading to changing the way he thinks about his life, including its disappointments.
4. Forrest Gump (1994)
The story: Centres on the life of Forrest Gump (Tom Hanks), a not particularly intelligent man but one who has been at, and influenced, some of the most defining moments of the 20th Century.
What it tackles: Though Forrest may be slow-witted, the main condition covered in Robert Zemeckis's iconic and eminently quotable movie is post-traumatic stress disorder. This affects Forrest's Vietnam War platoon leader Lieutenant Dan Taylor (Gary Sinise), who struggles to adjust to life after the war, which leaves him a cripple, although it all eventually ends on heartwarming terms.
3. Rain Man (1988)
The story: When their father dies, a selfish car salesman (Tom Cruise) discovers he has an autistic older brother (Dustin Hoffman) who has inherited all of the estate.
What it tackles: The highest grossing movie at the US box office in 1988, Rain Man won four Oscars including Best Actor for Dustin Hoffman's mesmerising performance as autistic savant Raymond. Autism is a spectrum condition and not a mental illness, but the film remains vital in raising awareness of the disability due to it becoming one of the most notable on-screen depictions of autism. It has, however, led to the popular misconception that all autistic people are savants. You'll be too busy weeping to notice.
2. Memento (2000)
The story: A man (Guy Pearce) suffering from short-term memory loss searches for his wife's murderer using a method of notes, photos and tattoos.
What it tackles: Praised for its accurate portrayal of anterograde amnesia (the inability to create new memories), Memento utilises a non-linear structure to showcase the effects of the condition. Christopher Nolan's second feature works as both a thrilling, involving mystery and a thought-provoking movie about memory. The lead character might have trouble remembering, but the movie will have no problem lingering long in your mind.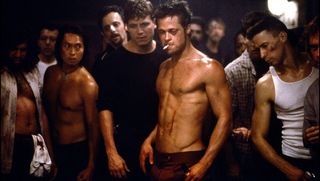 1. Fight Club (1999)
The story: An insomniac office worker (Edward Norton) forms an underground fight club with a soap maker (Brad Pitt) for people who want to fight recreationally, as long as they don't talk about it.
What it tackles: Though it's not revealed immediately, the unnamed narrator suffers from a dissociative disorder, with two personalities in one body. A bit like the narrator, Fight Club had two lives: an underwhelming box office run with mixed critical reaction, before becoming a deserved cult classic and recognised as one of David Fincher's best films. You might want to look away during the Angel Face beating though.