16. Her Story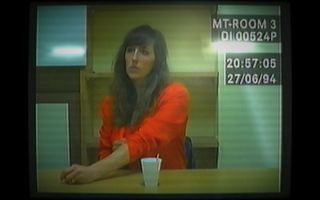 Genre: Story
Price: $0.99 / £0.99
If you still haven't played Her Story, well…why on earth not? It's a standard-setter for how game mechanics can be used to tell a story, and a really freaky story at that. You search a computer database for video testimony given by a murder suspect. There are many paths to the truth, and only your intuition to point you along the way. It's a game that tests your mind by letting you stretch it, emulating the actual work of a detective better than almost any detective game.
15. The Elder Scrolls: Legends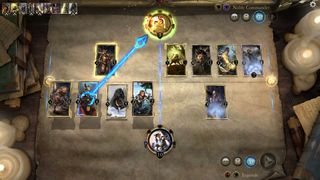 Genre: Collectible card game
Price: Free
Hearthstone isn't the only option these days when it comes to fantasy universe CCGs. The Elder Scrolls brings a unique twist to the card game genre. And if endless grinding of online matches has turned you off similar titles, then Legends' extensive single-player campaign might make this a better fit for your style. It's also a must-play for Elder Scrolls fans, since the game has all the magic and mystique of Skyrim and its predecessors. There's even an "arrow in the knee" card.
14. Sidewords
Genre: Word
Price: $2.99 / £2.99
Imagine an easy-going Sunday morning, cup of coffee one hand and the crossword puzzle in the other. It's educational and relaxing, an all-too rare combination. Recapture that same feeling with Sidewords, a go-at-your-own pace word game. The game has hundreds of word puzzles to tease your brain, but no timers or high scores. All you have to do is fill the entire grid with words spelled from the given letters. I'll put the coffee on.
13. You Must Build A Boat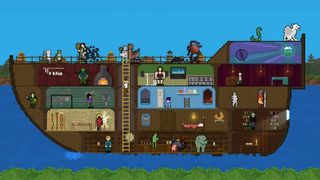 Genre: Match three
Price: $2.99 / £2.99
Look, you just have to build a boat. It's simple. Especially since rather than wield a hammer and canvas sails, you just have to run endless randomly-generated dungeons. Armed with your wits and a big ol' match-three board, you'll fight your way through enemies, loot treasure chests, and unlock new crew members. This game has loads of character and light RPG elements to keep things exciting.
Download You Must Build A Boat here
12. Alto's Adventure
Genre: Endless runner
Price: $4.99 / £4.99
Most game depictions of snowboarding show the sport as a big, brash, adrenaline-fuelled business. Alto's Adventure offers a soothing, zen-like counterpoint. You cut down a picturesque mountainside full of llamas to collect and flag buntings to grind. It's relaxing and lovely, with one of the best soundtracks.
Download Alto's Adventure here
11. Really Bad Chess
Genre: Board
Price: Free
Everybody knows chess, right? This title turns the granddaddy of board games on its head by starting each new match with a random assortment of chess pieces. The end goal of checkmate stays the same, but the game gets way more bizarre when you have five queens and four bishops. Really Bad Chess is actually a really good game, offering fun for any level of chess experience.
Download Really Bad Chess here
10. Cube Escape: The Cave
Genre: Adventure, puzzle
Price: Free
The creative folks at Rusty Lake are a weird bunch. Every game of theirs is a trip into the bizarre, but their strange worlds are ones that you'll likely feel compelled to revisit. If adventure games with a healthy helping of surreal mysticism sound like your jam, then you'll want to start from the beginning with Cube Escape: Seasons and work your way to the latest release, Cube Escape: The Cave.
Download Cube Escape: The Cave here
9. Lara Croft GO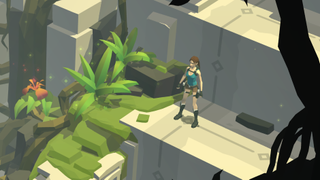 Genre: Puzzle
Price: $1.99 / £1.99
Who would have guessed one of the best entries in the Lara Croft franchise would be a mobile game? In the capable hands of Square Enix, Lara's archeology adventures are transformed into a turn-based puzzle game. It's the same core mechanic that underlies the other GO games. But Lara has an intangible X-factor that makes it the standout title over Hitman Go or Deus Ex GO (although both of them are also quite good).
8. Threes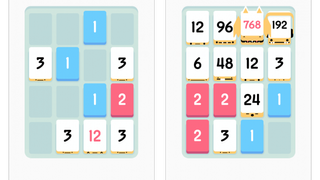 Genre: Puzzle, arcade
Price: $2.99 / £2.99
The objective of Threes is simple: combine different tiles together on a four-by-four grid by matching similar multiples of three. It starts out small, but threes quickly turn into sixes, which turn into 12's, and eventually you'll be squishing two 384's together like a pro. Threes belongs in the pantheon of great puzzle games - it's easy to play for a few minutes at a time, but it's deep enough that you'll want to keep coming back.
7. Vignettes
Genre: Puzzle
Price: $2.99 / £2.99
It's all about perspective and discovery in this technicolor game. Vignettes presents you with an object. As you twist and turn it, that first object can morph into other items. That might sound simple, but uncovering each new surprise in Vignettes feels magical. It's a bit of a head trip, but one well worth taking.