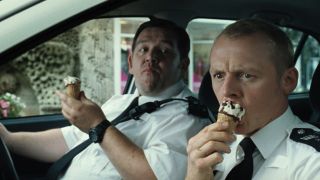 The best streaming chortles and guffaws
It's hard work making a comedy. On the one hand, it's not an expensive genre demanding crazy CGI sequences and a huge stunt budget, but on the other, you can't just string together loads of gags and expect a masterpiece. For comedy to work in film, there has to be a solid story and character holding everything together. And there's another thing. I always find a cream pie to the face hilarious, but someone else might find that type of tomfoolery infuriating. For that reason alone, it's tough to furnish a comedy with universal humor that hits everyone's funnybone. That's why the best way to discover what really tickles your ribs is by working your way through this list of the best 25 comedies on Netflix. There's bound to be at least one that works for you. Probably several, in fact.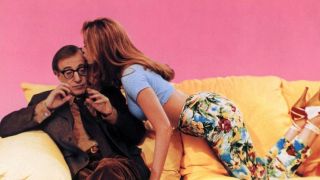 25. Mighty Aphrodite (1995)
Region: UK Woody Allen is one hell of a prolific director. He's got so many films on his resume that it's easy to lose track of which ones you thought were good. Mighty Aphrodite is over 20 years old now, and remains a sorely underrated entry in the Allen canon. In the movie he plays Lennie, a sports writer who goes in search of his adopted son's birth mother and discovers she's a porn star. Mira Sorvino won the Oscar for her performance as Linda Ash, the helium-voiced adult movie actress. She's got a heart of gold, but it's what comes out of her gutter mouth that's the treasure.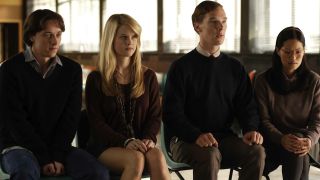 24. Starter For Ten (2006)
Region: UK While The Young Ones raided University Challenge decades earlier for a riotous episode, this James McAvoy-starrer is an altogether, err... less violent take on the seminal quiz show. David Nicholls adapted the screenplay from his own novel (he also wrote the tearjerking One Day), which carries with it that romantic sense of "anything can happen" while you're still at uni. Set during the 1980s, this coming-of-age tale traces the journey of University Challenge obsessive Brian, who winds up making the cut on the Bristol U team, and along the way learns a few lessons about life and love. The supporting cast's an absolute corker, with Rebecca Hall, Alice Eve, Benedict Cumberbatch and Dominic Cooper taking on the roles of McAvoy's friends.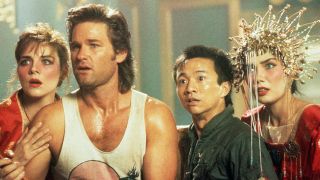 23. Big Trouble in Little China (1986)
Region: UK, US Four years before Big Trouble John Carpenter and Kurt Russell teamed up on The Thing. Either the cold weather was too much to bear, or the terrifying subject matter was a bit hard on the soul. Whatever the reason, their next collaboration went in the exact opposite direction: Russell's in a muscle shirt the entire time and there's loads of rampant action. The movie delves into the dark mysticism simmering beneath San Francisco's Chinatown, leaving plenty of room for amusing quips and over-the-top cliches that no doubt inspired Kung Fury.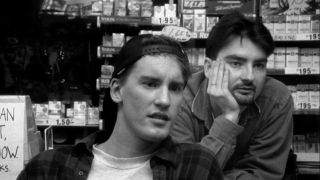 22. Clerks (1994)
Region: UK, US Kevin Smith is quite a divisive figure, but it's hard to argue the brilliance of his filmmaking debut. It is a superb example of lo-fi moviemaking done right that's all about leveraging as much comedy from the mundane as humanly possible. It unravels over the course of 24 hours, following best pals and slackers-in-crime Dante and Randall as they both serve the public behind the counters of two adjacent stores. Smith's trademark quick-fire dialogue is at its best here. He describes the boredom of the service industry and the shocking escapades that take place in convenience store bathrooms with such imagination.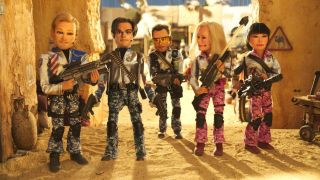 21. Team America: World Police (2005)
Region: UK, US South Park creators Matt Parker and Trey Stone get away with more of their usual un-PC shenanigans, replacing cartoon animation with jittery marionettes. This time the targets of their humorous scorn are big-budget actioners and U.S. foreign policy. The titular team are a paramilitary force on a mission to stop Kim Jong-il's latest scheme, which is the perfect opportunity to rip into... well, everything. It's not just America that gets a good ribbing; tons of A-list actors are recreated in puppet form as they attempt to stop the team from achieving their goals. There's singing, dancing, puppet sex, and the ridicule of just about every action movie stereotype.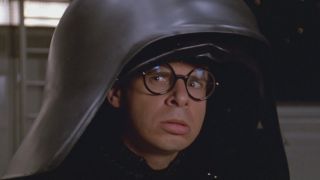 20. Spaceballs (1987)
Region: UK Over the years Star Wars spoofs have become commonplace. But Spaceballs is the definitive riff on the space opera. Mel Brooks writes and directs this retread of A New Hope that includes loads of nods to other sci-fi fare like Star Trek and Planet of the Apes. It's stuffed with daft puns (Rick Moranis' baddie wears a big helmet and is called Dark Helmet) and one-liners ("Use the Schwartz") that are unashamedly silly, none more so than the hilarious Alien ripoff.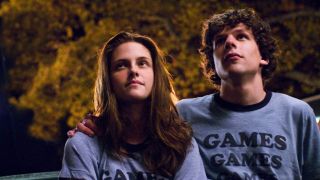 19. Adventureland (2009)
Region: UK, US Gregg Mottola's coming-of-age story isn't a laugh-out-loud comedy, but don't let its absence of obvious humor turn you off. It's funny in a way that's reminiscent of Richard Linklater and early Cameron Crowe films. Jesse Eisenberg and Kristen Stewart star as two twentysomethings working at a theme park to scrape together some post-college money. The heady, never-ending-summer vibe at Adventureland is an apt backdrop for all the social cliques to mix against, including Bill Hader and Kristen Wiig as the awkward park managers.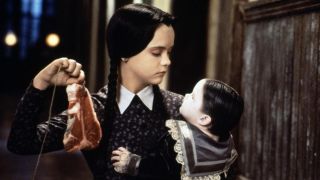 18. Addams Family Values (1993)
Region: US The Addams Family films nailed the blueprint for the sort of family-friendly movie that's become popular today; there's plenty to keep kids entertained, and a raft of more mature, slyly dark gags for adults. Even better than the original, this second run really gives the Addams kids something to do, as Wednesday and Pugsley essentially steal the film from the grown-ups. By far the best moment comes when Wednesday revolts against her camp counsellors and sets fire to Camp Chippewa during a Thanksgiving performance. Christina Ricci alone is reason enough to check this one out.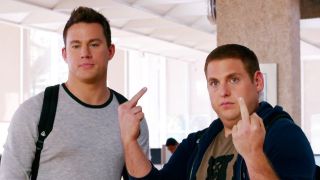 17. 22 Jump Street (2014)
Region: UK Nobody was expecting the first Jump Street to be good - and then it turned out to be a total blast, making jabs at reboots while also being a well-drawn comedy. So, a sequel? Really? What are they gonna do next, move Jenko and Schmidt to 22 Jump Street? Well... yeah, actually. The second outing is just as aware that it's a sequel, and even gives the pair's superior Captain Dickson (Ice Cube) a massive rant about coming back for a second time. It's a simple plot, but the set pieces and chemistry between Channing Tatum and Jonah Hill keep this frat comedy zipping along.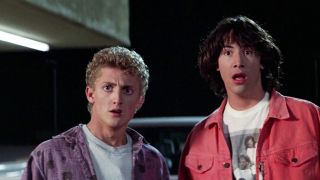 16. Bill & Ted's Excellent Adventure (1988)
Region: US Back when it was super-hip for guys to expose their midriffs, and to replace vowels with similar-sounding consonants, we had Bill & Ted's Excellent Adventure. It's not just a tale of two teenagers who travel through time to get help from historical figures for a school report (although that's a big part of it). Really it's a teen comedy that went against the grain of its contemporaries, the preppy John Hughes movies of the '80s. Bill and Ted don't possess Ferris' cunning, or the self-awareness of those Breakfast Clubbers, which is why their being chosen to save mankind makes the film like, totally funny, dude. Nearly thirty years later, their mispronunciation of Socrates is still one of their adventure's most hilarious moments.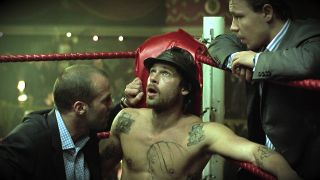 15. Snatch (2000)
Region: UK Guy Ritchie follows up his debut with another yarn of dunderheaded crooks getting themselves into hot water. It sticks to the formula of Lock, Stock and Two Smoking Barrels quite a bit, and even ropes in a few familiar faces like Jason Statham and Vinnie Jones. It's hyper-violent and at the same time utterly ridiculous, because how on Earth could such incompetent criminals be involved in a high-stakes setup? But forget about all that. The comedy here stems from the various shady characters all in pursuit of a rare diamond. The humor is in their colorful language and slapstick mishaps, all of which are drenched in blood.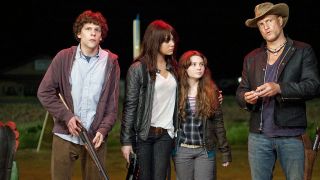 14. Zombieland (2009)
Region: UK Deadpool writers Paul Wernick and Rhett Reese penned this ode to zombie apocalypse movies. Think of it as the Scream of undead cinema. It takes place after the world has become overrun by the zombies, when survivors have grown accustomed to slaying their former loved ones. Jesse Eisenberg and Woody Harrelson play an odd-couple pair, who reluctantly team up with Emma Stone and Abigail Breslin to ride out the end of days. Their adventures come with onscreen pop-ups giving viewers helpful advice on disposing of zombies. If that wasn't cute enough, keep your eyes out for a brilliant tongue-in-cheek cameo from Bill Murray.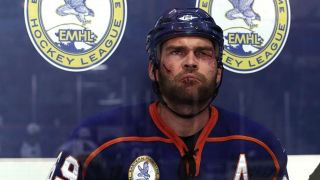 13. Goon (2011)
Region: US Despite how violent Goon is, it's also incredibly funny. Seann William Scott (American Pie's Stifler) takes the lead in this sports comedy as Doug, a nice-but-dim bouncer whose catches the eye of a local hockey team manager after he beats up a guy hurling abuse at his brother. He's quickly hired to become the team's enforcer. On the surface it seems like a formulaic retread of countless underdog movies, but beneath that it's an absurd romp that's a hell of a lot of fun.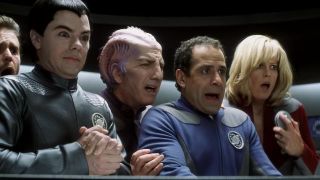 12. Galaxy Quest (1999)
Region: US There's so much to love about Galaxy Quest, a movie that's essentially a full-length feature about fandom. Not once does it look down its nose at aficionados through its thinly-veiled version of Trekkies - but there are nods galore to that iconic show. The movie is a kind-hearted adventure about a bunch of actors from a now-canceled sci-fi series that are mistaken by aliens for a real spaceship crew, and beamed up to help fight an intergalactic war. Its biggest laughs comes from how the cast - Tim Allen, Sigourney Weaver, and the late Alan Rickman - deal with what's happening to them.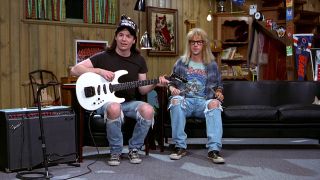 11. Wayne's World (1992)
Region: UK, US A decade after The Blues Brothers made the transition from Saturday Night Live to big screen, Wayne's World did the same. Mike Myers and Dana Carvey play doltish twentysomethings Wayne and Garth, who run a late-night TV show from their basement. Throw in an evil network TV producer, and that's pretty much it regarding any kind of plot. The true sign of its brilliance is that you don't notice that not a lot really happens. This is all about prodding and poking fun at corporate America, which is effortlessly done by director Penelope Spheeris through endless montages riffing on product placement, and the duo's well considered breaking of the fourth-wall. Excellent!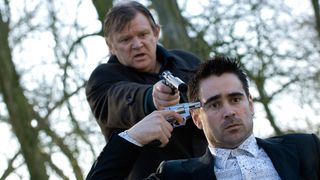 10. In Bruges (2008)
Region: US This superb tragi-comedy from director Martin McDonagh pairs Colin Farrell's first-time hitman with Brendan Gleeson's veteran assassin. Reeling from the aftermath of a job gone awry, the duo hide out in Belgium to wait for stuff to blow over. Then they do what any person would do in Bruges; they go sight-seeing and ponder the meaning of life. After that point, the laughs come thick and fast. I think it's Farrell's finest role to date, and as solid evidence as can be that we need to see him in more comedies.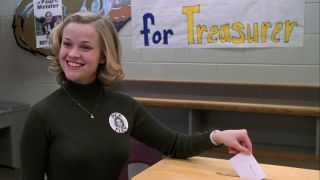 9. Election (1999)
Region: US, UK Alexander Payne's dissection of high school politics remains sharp and biting in its humor even today. Like most of his movies, the comedy comes with a side order of tedium, piled high onto the plate of Matthew Broderick's high school teacher Jim McAllister. His dissatisfaction with life is made worse by Tracy Flick (Reese Witherspoon), a go-getter running for school president who just drives him up the wall. It's his desire to ambush her campaign that sets the wheels in motion, dragging in Chris Klein's simpleton jock Paul to help his disastrous scheme.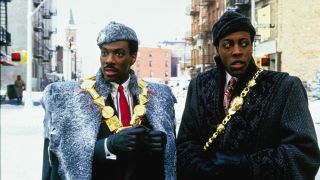 8. Coming to America (1988)
Region: US Eddie Murphy stars as Prince Akeem, a wealthy monarch who treks to New York City with his aide Semmi (Arsenio Hall) in search of the perfect bride. Part of his plan to finding true love - and not a woman after his wealth - involves experiencing life as a real New Yawker. So he gives away his money and the pair take up real employment as a way to find romance. The film is a highlight on Murphy's packed '80s resume, and is bursting with tons of memorable moments. The barbershop scene by itself is reason enough to catch this classic.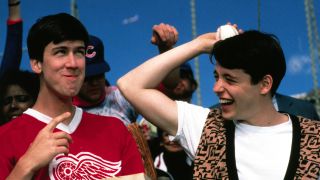 7. Ferris Bueller's Day Off (1985)
Region: UK, US Ferris Bueller still gets love today. Even Deadpool loves it. It's John Hughes at the top of his game, telling another story of teen angst through very funny means. Ferris Bueller is a charming schmoozer and loveable rapscallion. He greases his way out of any and every situation, just so he can blow off school and kick back with his girlfriend and best mate. He's a riot, a reminder that we shouldn't take life so seriously, and Matthew Broderick is perfect in the role. But no matter how great he is, he's still upstaged by Jennifer Grey as his angry sister Jeanie, and Jeffrey Jones and Edie McClurg as headmaster Ed Rooney and his secretary Grace.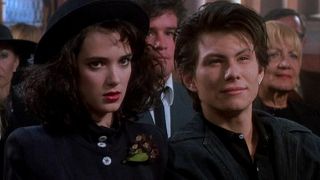 6. Heathers (1988)
Region: US If it weren't for Heathers, we'd never have movies like Mean Girls. On the whole, the world would be a lesser place without dialogue like "Fuck me gently with a chainsaw," and "Dear Diary, my teen angst bullshit has a body count!" Heathers' dark, bleeding underbelly is the perfect antidote to the saccharine sweet comedies that filled multiplexes at the time of release. In fact, it arguably killed the traditional teen movie forever. The film stars Winona Ryder and Christian Slater as two teens who club together to knock off the popular kids, making them look like suicides. Told you it was dark. There are real laughs to be had throughout - they're just black as treacle.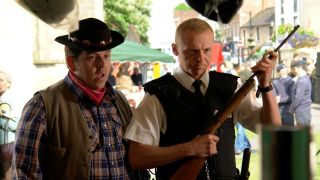 5. Hot Fuzz (2007)
Region: US Simon Pegg and Nick Frost star as mismatched coppers Nicholas Angel and Danny Butterman, who do battle with evil swans and shady businessmen in a quaint English village. This second part of the Cornetto Trilogy - that began with Shaun of the Dead - feasts on the tropes of genre movies and spins them on their heads. The great thing is, Edgar Wright doesn't try to get clever and wink at the audience. This is a straight-up action comedy. It's satire, it's homage, and it's just plain brilliant. Angel and Butterman's love of Point Break also gives us one of the most beautifully-shot rural car chases based on a Californian surf actioner. Winning stuff.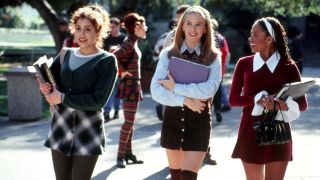 4. Clueless (1995)
Region: US, UK Amy Heckerling adapted Jane Austen's Emma into a '90s teen comedy. It plays loose with the plot, and reimagines its heroine as a wealthy Valley girl, portrayed by a charming Alicia Silverstone. What makes Clueless so timeless - despite its obsolete fashion trends and dated slang - is the razor-sharp script and bubbly visuals. It's a carefree tale about a wealthy girl realising she's not quite as switched on as she thinks she is, and one that continues to accrue loyal followers obsessed with its brilliant one-liners. The cast, especially Silverstone, have tons of great material to showcase their comedy skills. But it's Dan Hedaya - as Cher's lawyer father - who steals the show, grilling her potential suitor Christian in one of the film's best moments.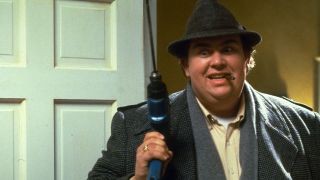 3. Uncle Buck (1987)
Region: UK During the '80s, John Hughes and John Candy cooked up some of their best work, and Uncle Buck is their masterpiece. It's both laugh-out-loud hilarious and heart-warming to the point of giving you the sniffles. Candy plays the 'bum uncle' to his brother's kids Myles, Maisy and Tia, who he's responsible for during a family emergency. It does fish-out-of-water better than any film in recent memory. Buck's dealings with Tia's boyfriend, Bug, Miles' drunk birthday clown, and Maisie's snotty schoolteacher are absolute genius, and proof of Candy's deserved status as a comedy legend.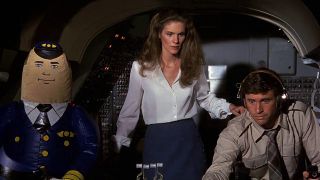 2. Airplane! (1980)
Region: UK Released in 1980, Airplane! parodies the disaster movie genre that had become a firm fixture in '70s multiplexes. Arguably the best spoof of all time, there's simply no joke too silly or too crass for writers Jim Abrahams and David and Jerry Zucker. Plot-wise, it doesn't really matter that there's a planeful of passengers slowly succumbing to food poisoning. It's being up in the air with people from every walk of life that's the source of the humor. The scenario spawns endlessly quotable one-liners and deadpan scenarios that it's hard to believe were played straight-faced by the likes of Leslie Nielsen. There's no other parody that's clung to its legacy for so long.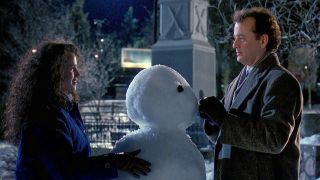 1. Groundhog Day (1992)
Region: US Groundhog Day could easily be a horror movie. Burdened with covering the annual Groundhog Day event, Bill Murray's dry-as-a-bone news reporter Phil Connors is not exactly happy with his predicament. "This is one occasion where television really fails to capture the true excitement of a large squirrel predicting the weather," he intones to his viewers during his last broadcast before entering a hellish set-up - he's forced to relive the same day over and over. You know, so he can learn something about himself. Murray is at his career best here. Yeah, Venkman's great and all, but as Connors, his sardonic wit really shines. Unlike Phil, who despises living the same 24 hours again and again and again, for us this movie just gets better with every repeat viewing.