The best streaming chortles and guffaws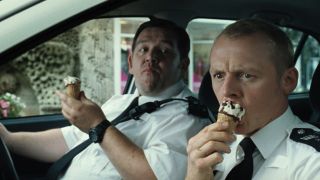 It's hard work making a comedy. On the one hand, it's not an expensive genre demanding crazy CGI sequences and a huge stunt budget, but on the other, you can't just string together loads of gags and expect a masterpiece. For comedy to work in film, there has to be a solid story and character holding everything together. And there's another thing. I always find a cream pie to the face hilarious, but someone else might find that type of tomfoolery infuriating. For that reason alone, it's tough to furnish a comedy with universal humor that hits everyone's funnybone. That's why the best way to discover what really tickles your ribs is by working your way through this list of the best 25 comedies on Netflix. There's bound to be at least one that works for you. Probably several, in fact.
25. Working Girl (1988)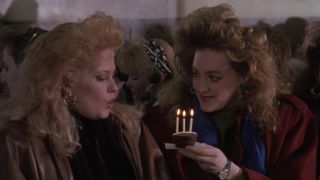 Region: US
The eighties. An era where poofy hair and shoulder pads were seen as the cutting edge of fashion, and quick-witted best friends were the only friends worth having. Working Girl makes great use of all these elements, a true product of its era that's managed to stay funny and warm nearly thirty years later. Melanie Griffiths stars as Tess McGill, a young go-getter keen to make her mark on the business world by masquerading as her boss Katherine - played by an acerbic Sigourney Weaver - who's out sick. She takes risks, she busts balls. Griffiths' is great, but it's Joan Cusack as Tess's smart-mouthed pal who you'll go goo-goo over, and wonder why she's not been given more roles like this since.
24. Starter For Ten (2006)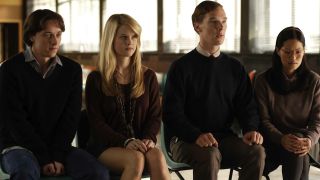 Region: UK
While The Young Ones raided University Challenge decades earlier for a riotous episode, this James McAvoy-starrer is an altogether, err... less violent take on the seminal quiz show. David Nicholls adapted the screenplay from his own novel (he also wrote the tearjerking One Day), which carries with it that romantic sense of "anything can happen" while you're still at uni. Set during the 1980s, this coming-of-age tale traces the journey of University Challenge obsessive Brian, who winds up making the cut on the Bristol U team, and along the way learns a few lessons about life and love. The supporting cast's an absolute corker, with Rebecca Hall, Alice Eve, Benedict Cumberbatch and Dominic Cooper taking on the roles of McAvoy's friends.
23. Big Trouble in Little China (1986)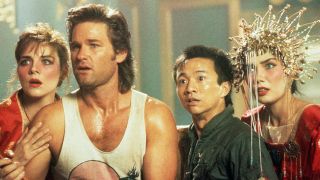 Region: UK, US
Four years before Big Trouble John Carpenter and Kurt Russell teamed up on The Thing. Either the cold weather was too much to bear, or the terrifying subject matter was a bit hard on the soul. Whatever the reason, their next collaboration went in the exact opposite direction: Russell's in a muscle shirt the entire time and there's loads of rampant action. The movie delves into the dark mysticism simmering beneath San Francisco's Chinatown, leaving plenty of room for amusing quips and over-the-top cliches that no doubt inspired Kung Fury.
22. Clerks (1994)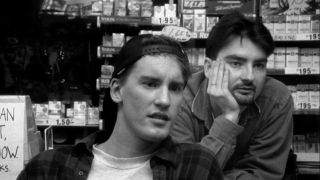 Region: UK, US
Kevin Smith is quite a divisive figure, but it's hard to argue the brilliance of his filmmaking debut. It is a superb example of lo-fi moviemaking done right that's all about leveraging as much comedy from the mundane as humanly possible. It unravels over the course of 24 hours, following best pals and slackers-in-crime Dante and Randall as they both serve the public behind the counters of two adjacent stores. Smith's trademark quick-fire dialogue is at its best here. He describes the boredom of the service industry and the shocking escapades that take place in convenience store bathrooms with such imagination.
21. Team America: World Police (2005)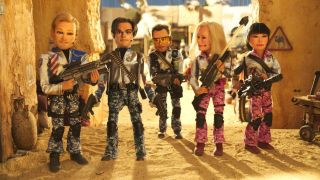 Region: UK
South Park creators Matt Parker and Trey Stone get away with more of their usual un-PC shenanigans, replacing cartoon animation with jittery marionettes. This time the targets of their humorous scorn are big-budget actioners and U.S. foreign policy. The titular team are a paramilitary force on a mission to stop Kim Jong-il's latest scheme, which is the perfect opportunity to rip into... well, everything. It's not just America that gets a good ribbing; tons of A-list actors are recreated in puppet form as they attempt to stop the team from achieving their goals. There's singing, dancing, puppet sex, and the ridicule of just about every action movie stereotype.
20. Spaceballs (1987)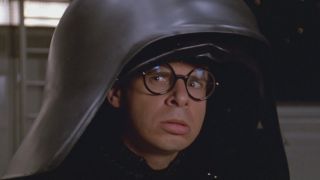 Region: UK
Over the years Star Wars spoofs have become commonplace. But Spaceballs is the definitive riff on the space opera. Mel Brooks writes and directs this retread of A New Hope that includes loads of nods to other sci-fi fare like Star Trek and Planet of the Apes. It's stuffed with daft puns (Rick Moranis' baddie wears a big helmet and is called Dark Helmet) and one-liners ("Use the Schwartz") that are unashamedly silly, none more so than the hilarious Alien ripoff.
19. Adventureland (2009)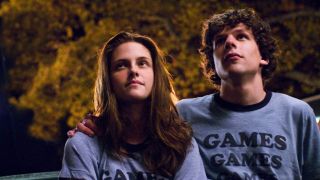 Region: UK, US
Gregg Mottola's coming-of-age story isn't a laugh-out-loud comedy, but don't let its absence of obvious humor turn you off. It's funny in a way that's reminiscent of Richard Linklater and early Cameron Crowe films. Jesse Eisenberg and Kristen Stewart star as two twenty-somethings working at a theme park to scrape together some post-college money. The heady, never-ending-summer vibe at Adventureland is an apt backdrop for all the social cliques to mix against, including Bill Hader and Kristen Wiig as the awkward park managers.
18. Addams Family Values (1993)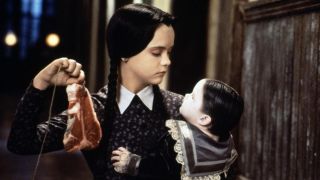 Region: US
The Addams Family films nailed the blueprint for the sort of family-friendly movie that's become popular today; there's plenty to keep kids entertained, and a raft of more mature, slyly dark gags for adults. Even better than the original, this second run really gives the Addams kids something to do, as Wednesday and Pugsley essentially steal the film from the grown-ups. By far the best moment comes when Wednesday revolts against her camp counsellors and sets fire to Camp Chippewa during a Thanksgiving performance. Christina Ricci alone is reason enough to check this one out.
17. 22 Jump Street (2014)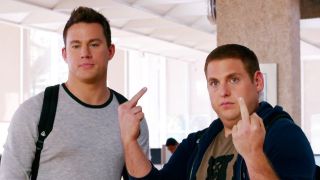 Region: UK
Nobody was expecting the first Jump Street to be good - and then it turned out to be a total blast, making jabs at reboots while also being a well-drawn comedy. So, a sequel? Really? What are they gonna do next, move Jenko and Schmidt to 22 Jump Street? Well... yeah, actually. The second outing is just as aware that it's a sequel, and even gives the pair's superior Captain Dickson (Ice Cube) a massive rant about coming back for a second time. It's a simple plot, but the set pieces and chemistry between Channing Tatum and Jonah Hill keep this frat comedy zipping along.