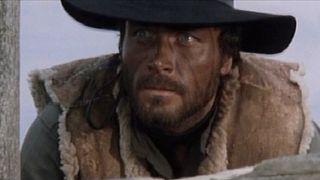 Massacre Time (1966)
The Western: The first spaghetti western from Italian director Lucio Fulci (yep, he of Zombie Flesh Eaters fame) is as violent as you'd expect from the maestro of gore.

Franco Nero plays Tom Corbett, who returns to the family farm and discovers that his brother's an alcoholic. Happy stuff.

Coolest Moment: The hyper-violent bullwhip scene. You'll want to cover your eyes for that one.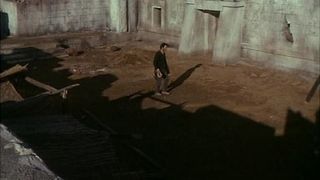 Requiescant (1967)
The Western: Lou Castel is Requiescant, whose village was destroyed by Officer George Bellow Ferguson (Mark Damon) when he was a boy.

Now a grown man, Requiescant returns to his hometown to get his revenge – and save his foster sister from a life in prostitution.

Coolest Moment: The drunken shooting contest, hands down.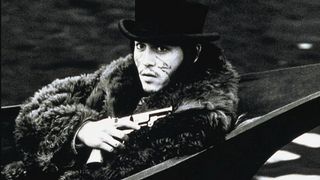 Dead Man (1995)
The Western: A monochrome oddity from director Jim Jarmusch.

Dead Man blends western and fantasy to thrilling effect as Johnny Depp's accountant meets an Indian who mistakes him for the dead poet William Blake – and attempts to prepare him for the afterlife.

Coolest Moment: "Do you know my poetry?"

Blake gets gun happy .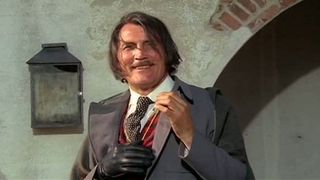 Companeros (1970)
The Western: Franco Nero returns to the genre that loves him, this time playing Yodlaf Peterson, an arms dealer whose plans to strike a deal with a guerrilla are complicated by a locked safe that only one man knows the combination code to.

Coolest Moment: "I beg your pardon," says Nero to a bandit. "Your mother is a whore, your father a thief and you are a...." He doesn't finish until he's beaten the bandit into a pulp.

"Not to mention your sister," Nero concludes. Nice.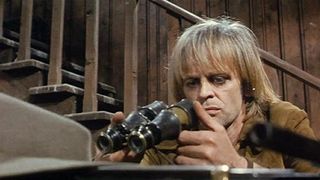 Shoot The Living, Pray For The Dead (1971)
The Western: Also known as the less-wordy but nowhere near as interesting Renegade Gun , Shoot The Living stars Klaus Kinski as a looter attempting to make it to Mexican while eluding the Rangers that are out for his hide.

Coolest Moment: A night-time fight scene in a barn that's brutal and tightly shot, as two men have a fist fight instead of using pistols so that the Texas Rangers aren't alerted.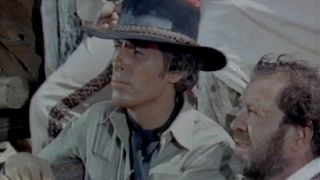 Machine Gun Killers (1968)
The Western : Alt titles: Damned Hot Day Of Fire and The Gatling Gun.

And the debate over this unusual western rages on, with many slating it, others celebrating it for trying something a little different. Clearly we're in the latter camp.

Coolest Moment: That bit where Robert Woods actually wrestles a bull. No, seriously.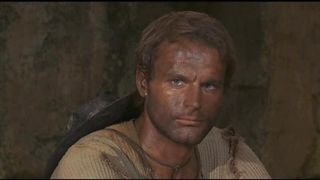 They Call Me Trinity (1970)
The Western: Western stalwart Terence Hill plays Trinità, a drifter who visits the town where his brother is sheriff, only to discover that his brother is really a thief who named himself sheriff in order to use the town as a hide out.

Coolest Moment: Bud Spencer knocks out an enemy with a single slap .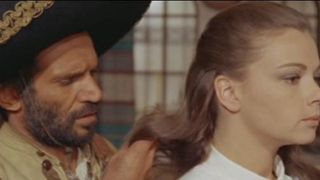 A Pistol For Ringo (1965)
The Western: Giuliano Gemma's first outing as complex anti-hero Ringo, a skilled gunfighter who accepts a mission to rescue a family from a Mexican bandit.

In the wake of A Fistful Of Dollars , this was one of the most successful Italian westerns, and injected Leone's formula with a little more humour.

Coolest Moment: "Alright, kids, step aside and keep your eyes open... a new game more fun than hopscotch. The first o' these gentlemen that steps forward gets a new lead bullet between his eyes."

Angel Face takes a break from playing hopscotch with the kiddies in order to bring down the Benson Brothers.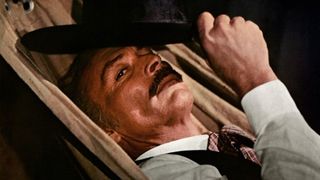 The Grand Duel (1972)
The Western: Lee Van Ceef's on the right side of the law this time (he occasionally switched before the two) as Sheriff Clayton, who helps a young man accused of murder tackle three brothers who've marked him for death.

Coolest Moment: Numerous firearms are aimed at his head, but Van Cleef doesn't flinch , striding right into town…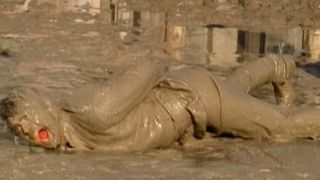 The Dirty Outlaws (1967)
The Western: "They dealt in violence and death!" shrieks the film's tagline.

They sure did, as outlaws arrive in a town where another outlaw has convinced a blind man that he's his son.
Like 1966 film Django , The Dirty Outlaws is as gloriously grimy as its title suggests.

Coolest Moment: The film's central saloon fight takes some beating. Talk about gunfire.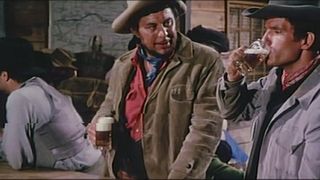 Fort Yuma Gold (1966)
The Western: Gold's alternative title, F or A Few Extra Dollars , is as sure a sign as any that director Giorgio Ferroni was inspired by Leone's Dollars Trilogy.

That much holds true for his cast, many of them Leone regulars (hello Clint), not to mention the loving use of sound effects from The Good, The Bad And The Ugly.

Coolest Moment: Clint rides into town. All the women and children hide.

Then he meets three unfriendly-looking Mexicans …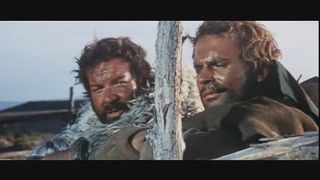 Boot Hill (1969)
The Western: A somewhat unusual – but all the better for it – second sequel to God Forgives , which sees Cat Stevens (Terence Hill) and Hutch Bessy (Bud Spencer) joining forces with circus performers to take down the villainous Honey Fisher (Victor Buono).

Coolest Moment: Stevens and Bessy take on Fisher's men with a little help from the circus performers – quite literally, as the little people get in on the action.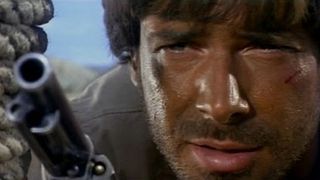 The Ugly Ones (1966)
The Western: Variously referred to as The Ugly Ones , The Bounty Killer and The Price Of A Man , this was the first Spanish western to be awarded state funding at the height of the genre's popularity.

Tomas Milian stars as José Gómez, an outlaw who's protected by his hometown while bounty hunter Luke Chilson (Richard Wyler) attempts to take him down.

Coolest Moment: The closing scene in which Chilson finally faces down Gómez. But who'll come out on top?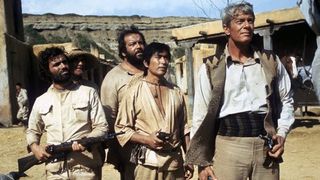 Five Man Army (1969)
The Western: Partially shot on the same location as Once Upon A Time In The West , Five Man Army stars Peter Graves as Dutchman.

Leader of a bandit gang, he's planning on raiding a train for the gold that's onboard.
It gains extra cool points for being penned by horror maestro Dario Argento.

Coolest Moment: The bullet-blizzard finale, in which the Five Man Army are celebrated as heroes by the Mexicans for killing ill-doing Mexican soldiers.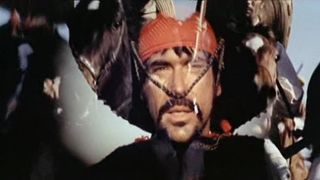 Tepepa (1969)
The Western: Producer Italian horror helmer Lucio Fulci defines Tepepa thusly:

"[ It's ] very different from the other Italian westerns one could see then: both soft-spoken and extremely violent. The confrontation between two brothers in an unreal climate."

Coolest Moment: The tense moment that Dr Price (John Steiner) treats Tepepa's (Tomas Milian) bullet wound – only Tepepa is a man he's pledged to kill.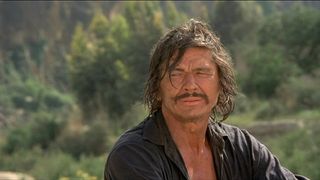 Red Sun (1971)
The Western: Charles Bronson goes gun-to-sword with a samurai warrior in Terence Young's continent-flavoured film, heralded 'The First East-Meets-West Western'.

As Link Stuart, Bronson is a ruthless bandit who attempts to loot a train that's carrying a Japanese ambassador. But has he bitten off more than he can chew?

Coolest Moment: Bronson makes a right meal of fighting samurai Kuroda (Toshir Mifune).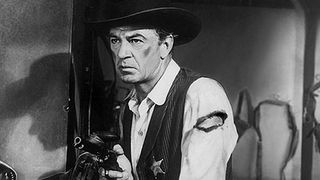 High Noon (1952)
The Western: Starring the super-glamorous likes of Gary Cooper and Grace Kelly, High Noon was one of the most successful westerns ever, nabbing itself four Oscars.

Cooper stars as Marshal Will Kane, a man who's forced to confront a man he sent to prison – and is now out for revenge.

Coolest Moment: No overblown theatrics here (well, not in this very final segment, anyway).

High Noon ends with Kane taking two well-judged shots at Frank Miller (Ian MacDonald), saving hostage Amy (Kelly) in the process.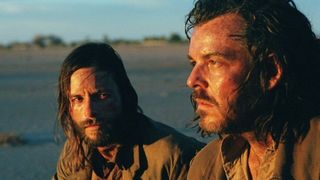 The Proposition (2005)
The Western: Guy Pearce goes west in John Hillcoat's dirty, Australian spin on the genre.

He plays a gang member charged with tracking down his older brother (Danny Huston), or else his younger brother will be killed for the gang's crimes.

Coolest Moment: The ridiculously violent gunfight at the film's opening between the police and the gang of brothers.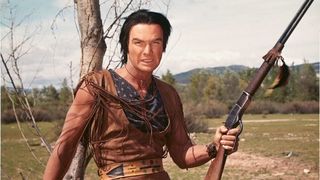 Navajo Joe (1966)
The Western: Despite Burt Reynolds panning the film ("so awful, it was shown only in prisons and airplanes because nobody could leave," he said), Navajo Joe is still awesome – a violent blast of anti-hero action.

Reynolds didn't want to be in the film, and never made another western, but it sure doesn't show.

Coolest Moment: Joe (Reynolds) takes down Duncan (Aldo Sambrell) by embedding a tomahawk in his head. Nice.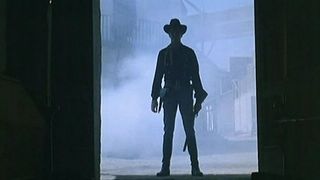 The Return Of Ringo (1965)
The Western: Giuliano Gemma returns as civil war soldier Ringo (and, as was tradition, is billed as Montgomery Wood).

This time around, Ringo's return home is unhappier than he'd hoped when he discovers his family has been killed.

Coolest Moment : The closing moment with Ringo, a hero, strolls away from the scene of an epic shootout.

With his newfound daughter and fiancée, he steps through the bodies littering the ground…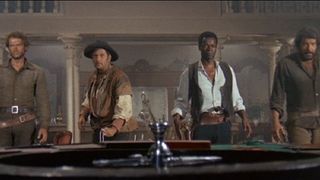 Ace High (1968)
The Western: First sequel to God Forgives… I Don't! starring Terence Hill as Cat Stevens, who's robbed by Cacopoulos (Eli Wallach).

After chasing him down, though, Stevens becomes an ally of Cacopoulos', who was wrongly convicted of murder

Coolest Moment: Cacopoulos and Drake (Kevin McCarthy) have the showdown to end all showdowns at the film's bullet-riddled close.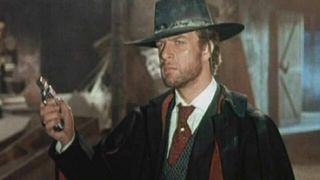 If You Meet Sartana, Pray For Your Death (1968)
The Western: It's all there in the title, with Gianni Garko playing unforgiving hero Sartana, who attempts to track down the man responsible for a horrendous stagecoach massacre.

Coolest Moment: Sartana kills murderous gang leader Lasky (William Berger) and rides off into the sunset with a coffin stuffed with gold…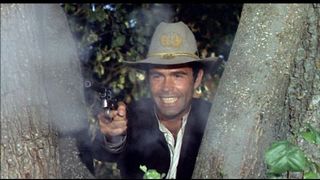 Hellbenders (1967)
The Western: A smart, slick western from Sergio Corbucci, Hellbenders keeps its twists coming as it serves up the expected shootouts (and less expected campy flourish) as Col Jonas (Joseph Cotten) attempts to prolong the Civil War.

Coolest Moment: Jonas and his three sons ambush a Federal gold shipment at the film's opening, leaving a grand total of nobody alive.

It's epic.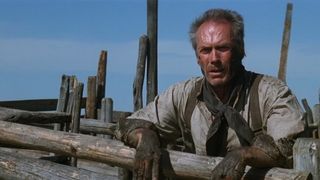 Unforgiven (1992)
The Western : Clint Eastwood returns to the genre that made him with a blistering turn as retired sharp-shooter Will Munny.

Far from being past it, though, he finds himself engaged in a war against Gene Hackman's Little Bill Daggett.

Coolest Moment: "Who's the fella owns this shithole?"

Clint appears. With a rifle .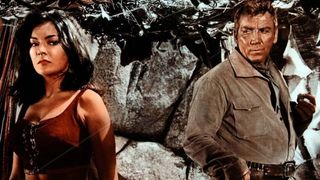 Minnesota Clay (1965)
The Western: Every bit a Sergio Corbucci western, Minnesota Clay is the perfect example of what Corbucci did well.

Despite this being his first crack at the genre, we get wanton violence, a hero with a disability (Clay's going blind) and an evil gang you can really sink your teeth into.

Coolest Moment: At the film's close, Clay throws his glasses into the air and shoots both the lenses out – he doesn't need them anymore, see.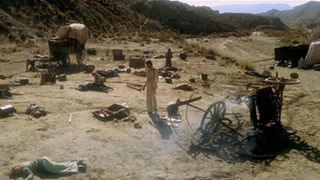 Four Of The Apocalypse (1975)
The Western: Helmed by horror legend Lucio Fulci, Four Of The Apocalypse is, naturally, one of the most gory and violent entries in the genre – it's as brutal as it is thrilling.

The plot takes place in 1873 Utah, where a quartet of criminals is pursued by a Mexican bandit.

Coolest Moment: Chaco (Tomas Milian) tortures a sheriff – and then pins his sheriff badge right to his bare chest.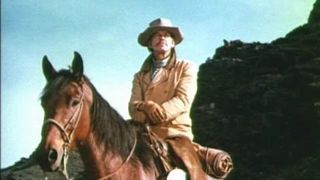 Chino (1973)
The Western: Just one of the westerns that Charles Bronson made in the 1970s, Chino has him playing the titular gunslinger, a mixed Native America-Caucasian who has been ostracised after being branded a 'half breed'.

Coolest Moment: Though John Sturges' film is lacking in the action most of the director's westerns revelled in, Chino does offer up a fantastic bar fight scene.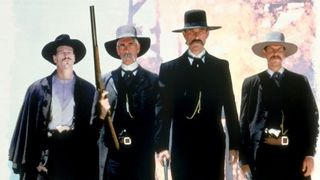 Tombstone (1993)
The Western: A more recent western (in comparison to the '60s films, at least), Tombstone gets everything right.

Right down to the casting of Kurt Russell as retired gunslinging peace officer Wyatt Earp.

Coolest Moment: Long coat. Moustache. Rifle. Spurs. Earp is awesome no matter what, not least in this train station scene .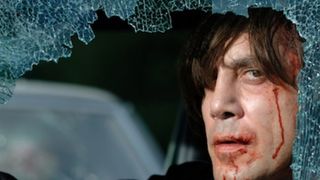 No Country For Old Men (2007)
The Western: The Coen Brothers' adaptation of Cormac McCarthy's novel is pegged a thriller, but it's definitely a modern day western at heart – right down to its gunslinging manhunt plot.

Coolest Moment: Pick any moment that involves Anton Chigurh (Javier Bardem) – though the scene in which he spares a gas attendant's life by flipping a coin is up there.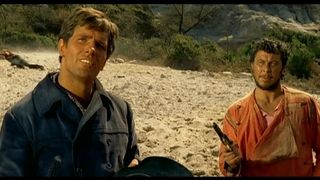 Arizona Colt (1966)
The Western: Another Giuliano Gemma vehicle, and one with some of the most gorgeous western cinematography you'll ever see.

This time, Gemma plays the titular and awesome-named Arizona Colt, who refuses to join Torrez Gordo Watch's gang, and soon incurs the gangster's wrath.

Coolest Moment: "What is your name?" asks Gordo. "Like the land I'm from... Arizona," answers our hero.

"Arizona? What else?" demands Gordo. "Colt... Arizona Colt. Fine state, fine pistol!"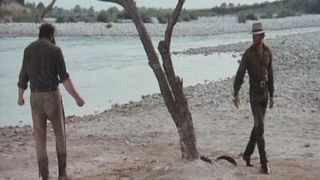 God Forgives I Dont! (1969)
The Western: First entry in a trilogy that saw the franchise continue with Ace High and Boot Hill.

Terence Hill plays Cat Stevens, a gunslinger who lures a thieving bandit into a poker game in an attempt to rob him.

Coolest Moment: A devilishly clever opening scene unfurls as a welcome party watches a train pulling into the station – but it doesn't stop, crashing right on into the barricade…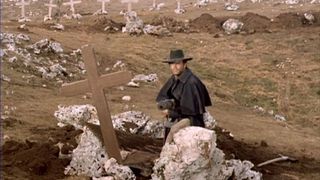 Viva! Django (1971)
The Western: Django lives!

Played not by original Django Franco Nero, but by Anthony Steffen, this time it's personal, as Django goes after the bandits who raped and murdered his wife.

Coolest Moment: The moment Django strolls back into town, horse saddle on one shoulder, guitar twanging over the soundtrack.

"You had an earthquake? Tornado?" he grunts. "What happened here?"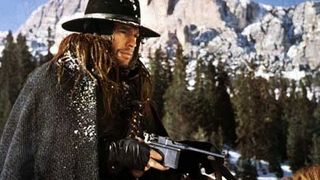 The Great Silence (1968)
The Western: Jean-Louis Trintignant famously only took the part of Silence (as a favour to his producer friend) if he didn't have to learn any lines for the film.

It's a quirk that makes The Great Silence stand out from other westerns, as Trintignant battles a blizzard in pursuit of bounty hunter gang.

They used shaving foam to make the snow…

Coolest Moment: There's blood in the snow as Corbucci's spag careers to a grandstanding close .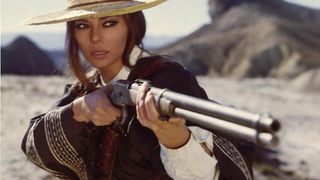 The Mercenary (1968)
The Western: Also known as A Professional Gun (and Il mercenario ), Sergio Corbucci gun-shooting epic is set during the Mexican Revolution.

Franco Nero stars as Sergei Kowalski, a Polish mercenary who was responsible for training a dangerous Mexican revolutionary

Coolest Moment: Curly's (Jack Palance) plan to kill Paco (Tony Musante) at an arena is interrupted by Kowalski (Franco Nero), who challenges him to a fair duel.

Naturally, Kowalski wins.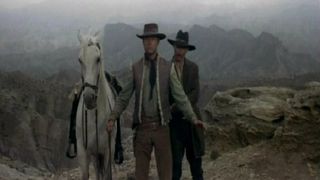 Death Rides A Horse (1967)
The Western: Star Lee Van Cleef hated the title (he preferred the original From Man To Man , which he came up with), but that didn't stop this being one of the best westerns ever made.

Van Cleef plays Ryan, who teams up with grudge-bearing Bill Meceita (John Philip Law) to bring down murderous thieves.

Coolest Moment: That classic Mexican stand-off at the film's close.

"Vengeance is a dish that must be eaten cold," snarls Van Cleef.
Too right.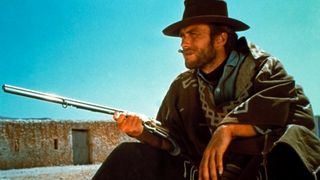 For A Few Dollars More (1965)
The Western: Second film in Sergio Leone's landmark Dollars Trilogy.

This time, The Man With No Name (Clint Eastwood) joins forces with Colonel Douglas Mortimer (Lee Van Cleef) to track down an outlaw.

Coolest Moment: "Thought I was having trouble with my adding," muses The Man With No Name after counting bodies into a wagon, then spotting and shooting a man he missed.

"It's all right now."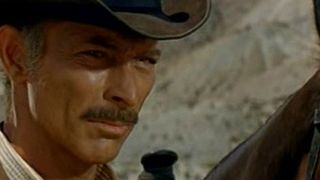 Day Of Anger (1967)
The Western: Lee Van Cleef plays Frank Talby in Tonino Valerii's western.
The film's plot is loosely credited for inspiring Star Wars .

Frank rides into a small town and promptly shoots dead a man bullying Scott (Giuliano Gemma).
A friendship is born.

Coolest Moment : Van Cleef proves his western credentials in a heart-hammering fight scene in which he challenges his opponent on horseback – and they charge at each other with rifles in the place of joust sticks.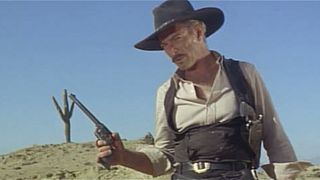 The Big Gundown (1966)
The Western: "If you don't kill me right now," snarls Lee van Cleef, "it'll be the last mistake you ever make."

The western fixture this time plays an 'unofficial' lawman who's hunting down a man accused of raping a young girl.

Coolest Moment: Is the blade mightier than the bullet? Only one way to find out .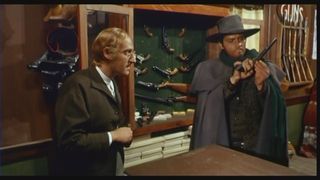 Today We Kill, Tomorrow We Die (1968)
The Western: Inspired by Samurai movies, director Tonino Cervi helms a relatively straightforward revenge flick that has an ace card in Django look-a-like Bill Kiowa (Brett Halsey).

Having served his time in jail, Kiowa recruits four brilliant gunmen and goes after murderer James Elfego (Tatsuya Nakadai).

Coolest Moment: The poker scene – in which cheating is dealt with by the flip of a blade and the unloading of a barrel.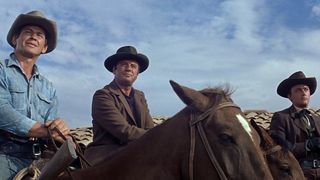 The Magnificent Seven (1960)
The Western: Magnificent in name, magnificent in nature.
John Sturges' genre-defining gunslinger is a westernisation – quite literally – of the Japanese film Seven Samurai .

Awesome from start to finish, and one of the coolest entries in an already-packed genre.

Coolest Moment: It's all about the gun v knife duel ...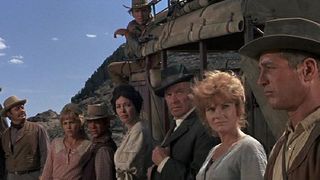 Hombre (1967)
The Western: Taking a pop at cultural racism and wholeheartedly favouring the Native Indians over the white man, Martin Ritt's western is a daring tradition-burner with real bite.

It also contains a fantastic performance by Paul Newman, who plays a white man who was raised by Apache Indians.

Coolest Moment: The stagecoach robbery scene, which also involves bad guy Cicero Grimes making off with a female hostage.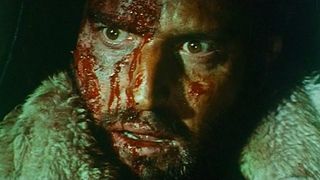 Cut-Throats Nine (1972)
The Western: The Spanish Alps stand in for snow-swaddled America as Sgt Brown (Robert Hundar) and his daughter Sarah (Emma Cohen) transport a group of criminals across the mountains to jail.

The snifter? Brown is also secretly transporting gold, which is camouflaged in the chains of the criminals.

Coolest Moment: Brown shows his charges he won't stand for no nonsense when one of the men refuses to keep walking.

Brown's solution? He shoots him in the head and cuts one of his legs off.
Tough love and all that.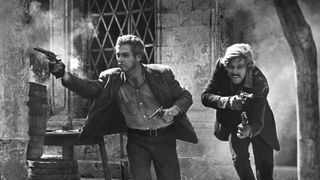 Butch Cassidy And The Sundance Kid (1969)
The Western: So cool that star Robert Redford started his own uber-trendy film festival (er, Sundance) off the back of it.

He and co-star Paul Newman make for an iconic pairing as the two robbers who'll do anything to make a quick, easy buck.

Coolest Moment: The second train robbery, in which Butch uses too much dynamite and blows up the baggage carriage.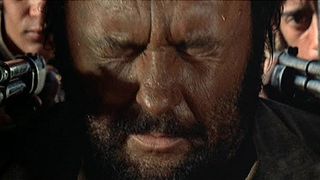 Duck, You Sucker (1971)
The Western: Despite the fact that big names came close then walked away from this western (Sam Peckinpah considered directing, Clint Eastwood almost took the lead), Duck, You Sucker remains one of the best '70s westerns ever made.

The unconventional plot sees IRA explosives expert John H. Mallory (John Cogburn) helping out Mexican bandits during the revolution.

Coolest Moment: "Duck, you sucker!" advises Mallory, just before a car is blown to smithereens.

Of course, he walks away without looking back at the explosion.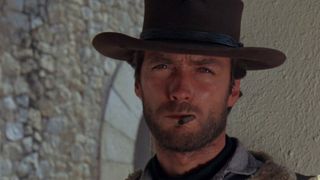 A Fistful Of Dollars (1964)
The Western: Erroneously hailed as the first ever spaghetti western upon its release (it was just the first to get an international release), A Fistful Of Dollars introduces Clint Eastwood as The Man With No Name.

And a legend is born.

Coolest Moment: "Get three coffins ready," The Man With No Name tells a carpenter as he prepares to take down the guys who shot at his mule.

"My mistake," he tells the carpenter when he's done. "Four coffins."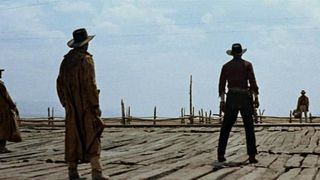 Once Upon A Time In The West (1968)
The Western: Henry Fonda plays against type in Sergio Leone's epic western as scary-named assassin Frank, who's being hunted by Cheyenne (Jason Robards) for murdering Claudia Cardinale's family.

Coolest Moment: Easily the introduction of Fonda's villain, who emerges out of the dust with his posse.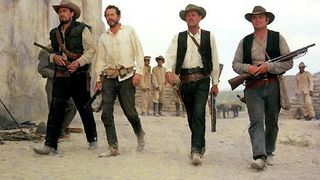 The Wild Bunch (1969)
The Western: Infamous for all the right reasons, Sam Peckinpah's bloody western is one of the most violent examples of the genre.

It's also a gut-bustingly cool movie in its own right, set during the demise of the Old West, and starring the legendary likes of William Holden and Warren Oates.

Coolest Moment: The Wild Bunch 's violent final confrontation with the villainous Mapache (Emilio Fernández). Epic.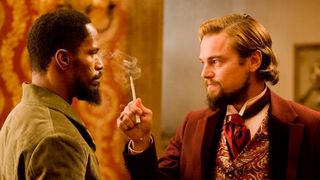 Django Unchained (2012)
The Western: All right, Tarantino's called it a 'Southern', but that doesn't mean his movie doesn't play around with western tropes as freed slave Django (Jamie Foxx) goes on a quest to reclaim his wife (Kerry Washington).

Coolest Moment: Too many to choose from, but Django's confrontation with the Brittle brothers is high up on the list. "I like the way you die, boy."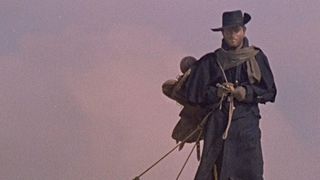 Django (1966)
The Western: The inspiration for Tarantino's film and a violent, achingly cool western that contains a career-defining turn by Franco Nero as the titular drifter.

Despite all the other films branded Django afterwards, Nero only played the character once more after this film.

Coolest Moment: The moment Django reveals what's really in that coffin he's been dragging around with him…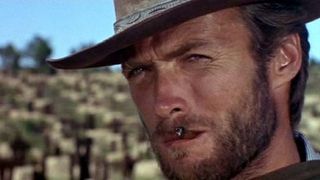 The Good, The Bad And The Ugly (1966)
The Western: The spaghetti western to end all spaghetti westerns.

Directed by genre godfather Sergio Leone, it's the final instalment in the Dollars Trilogy and one heck of a franchise send-off as three gunslingers hunt for treasure during the American Civil War.

Coolest Moment: "Take a couple steps back," growls Blondie when he encounters three bounty hunters who have cornered bandit Tuco Ramirez (Eli Wallach).

He then takes them out without even blinking.