Miss America
The Avenger: A one-time member of the Teen Brigade, America Chavez was raised in the Utopian Parallel before landing in America. She's basically like a female version of Superman.

Team History: 'Musical differences' were responsible for Miss America leaving the Teen Brigade and enlisting with the Young Avengers.

Movie Version: We haven't even had a Wonder Woman movie yet, let alone a Miss America one.

That said, if Eliza Dushku fancied playing her, we'd be on board with that.
Speed
The Avenger: A mysterious teenager with the ability of super-speed (obviously), Tommy Shepherd was locked up for vaporising his high school. Then the Young Avengers sprung him out…

Team History: Speed became a member of the Young Avengers in the comic of the same name. Other members include Hawkeye (the leader), Marvel Boy, Miss America (see previous entry), Prodigy and Wiccan.

Movie Version: Speed hasn't made it into cinemas yet, but with his past apparently tied up with Quicksilver, we'd place bets that he'll make an appearance soon…
A-Bomb
The Avenger: The only person who knows Hulk's true identity, Rick Jones is Bruce Banner's trusted sidekick, who later transforms into the awesome A-Bomb, a Hulk-like superhero.

Team History: Rick becomes an honorary member of the Avengers when Hulk leaves. After a bit of a complicated sojourn in which Hulk tries to kill him, Rick becomes A-Bomb and joins the Avengers to help take down the evil Red Hulk.

Movie Version: We've yet to see a movie version of A-Bomb, but he would make sense for a stand-alone Hulk movie – if we ever get another one…
Black Bolt
The Avenger: An Inhuman with more powers than most Marvel superheroes combined, Black Bolt has his own special exo-suit that keeps his energy-manipulating powers under control.

Team History: Though Black Bolt has never been a regular team member, he did team up with the Avengers to take down Ultron in The Avengers #127.

He's also set to become a key player in the upcoming third incarnation of the New Avengers.

Movie Version: There's never been a movie version of Black Bolt, though considering the part he played in overcoming Ultron, we wouldn't be surprised if he cropped up in Avengers 2.
Spectrum
The Avenger: Harbour Patrol Lieutenant Monica Rambeau transforms into Spectrum when a criminal scientist's energy disruptor weapon messes with her genetics. Her powers include the ability to transform herself into different types of energy.

Team History: Spider-Man introduced Spectrum (while she went under the moniker Captain Marvel… oh, do keep up) to the Avengers, who trained her. She eventually became the team's leader.

Movie Version: Spectrum's powers are probably a little too out there for her to appear in movie form. That didn't stop Electro from making it to the big screen, though, so maybe we'll be forced to eat our words one day…

Mr Fantastic
The Avenger: Scientist Reed Richards was transformed into Mr Fantastic by cosmic radiation, which rearranged his DNA so that he could stretch his body. Think Stretch Armstrong, only brainier.

Team History: In the comics, when Reed and Sue Storm retired from the Fantastic Four, Mr Fantastic decided to enlist with the Avengers instead.

It didn't last long – he butt heads with Captain America and missed being the one calling the shots all the time.

Movie Version: Miles Teller will play Mr Fantastic in the upcoming Fantastic Four reboot directed by Josh Trank. Don't expect an Avengers crossover, though – the FF rights still belong to 20th Century Fox.

Namor
The Avenger: Also known as the Sub-Mariner, Namor is basically the Aquaman of the Marvel-verse. He's a citizen of the underwater world of Atlantis – and has the honour of being the comic's first official anti-hero.

Team History: When he lost the Atlantis throne, Namor joined the Avengers (in 1985).

When the Avengers went to war against the X-Men, though, he allied himself with the latter instead – and was defeated by the Avengers.

Movie Version: The movie rights to Namor reverted back to Marvel this year after Universal failed to get its own water-logged project off the ground.

Which means it's entirely likely we could see Namor in cinemas in the near future.
She-Hulk
The Avenger: Jennifer Walters is the lawyer cousin of a certain Bruce Banner. When Bruce gives her a life-saving blood transfusion, she transforms into the formidable She-Hulk. D'oh!

Team History: When the Avengers go up against the X-Men, She-Hulk sides with the former.

She became an Avenger in 1982 issue Avengers #221 and is now a member of the Mighty Avengers. Well, a superhero's gotta eat.

Movie Version: Brigitte Nielsen briefly considered playing She-Hulk (so much so that she posed in her green, crazy-haired costume for promo stills), but the film never materialised.

If a movie version was ever created, we'd want Zoe Bell in the role. She certainly wouldn't be afraid to tackle She-Hulk's more rage-filled carnage scenes.
Wonder Man
The Avenger: Two decades after DC gave us Wonder Woman, Marvel gave us Wonder Man, a super-being powered by ion. He's really, really strong. Just look at his arms.

Team History: Though he was introduced early on as an Avengers team member in The Avengers #9 in 1964, it wasn't until 1977 that Wonder Man actually became a regular player in the comics.

He went on to become a founder member of West Coast Avengers before becoming a member of splinter group Mighty Avengers. Honestly, it's hard to keep up…

Movie Version: Probably because of the problems with DC accusing Stan Lee of copyright infringement over the Wonder Woman/Wonder Man name similarities, we've yet to get a cinematic version of Wonder Man.

If anybody was going to play him, though, surely Iam Somerhalder fits the bill? He's got the arms, at least.
Beast
The Avenger: A mutant normally associated with the X-Men, Hank McCoy aka Beast is a mutant with ape-like abilities. Also, he's blue…

Team History: Beast becomes a provisional member of the Avengers in Avengers vol. 1 #137 before being given full membership.

He quickly bonds with Wonder Man and only occasionally leaves the team to help out the X-Men.

Movie Version: Though we've yet to see Beast in a Marvel movie, he's appeared in the X-Men flicks, played by both Kelsey Grammer and Nicholas Hoult.

Beast in the Avengers? Now that's something we'd like to see.
Maria Hill
The Avenger: A SHIELD agent who's the right-hand-woman to Nick Fury. She even leads SHIELD for a time. Yes, she's awesome.

Team History: In the Heroic Age (aka Avengers Vol 4 #1), Hill became leader of the Avengers. When the Avengers war against the Serpent finally ended, Captain America reclaimed the leader role from her.

Movie Version: So far, Hill's appeared (played by Cobie Smulders) in Avengers Assemble and Captain America: The Winter Soldier, and she'll also show up in Avengers: Age Of Ultron.

Though she's yet to receive her own storyline, Smulders has definitely nailed Hill's badass characteristics. You want this lady on your side, that's for sure.
Spider-Man
The Avenger: Everybody's favourite web-crawler. Peter Parker's just a regular teenager until a spider bite transforms him into Spider-Man, the teen hero of New York City.

Team History: Spider-Man joined the Avengers in Avengers #316, 'Spiders & Stripes'. He later becomes a member of the New Avengers and is a pivotal player in epic comic Civil War.

Movie Version: Which one? In the past 12 years, both Tobey Maguire and Andrew Garfield have played the friendly neighbourhood Spider-Man.

So far, neither have appeared in the Avengers , though Garfield's keen. "I would love that, as a fan, I think that would be great," he's said. "I don't know how that would happen, but I certainly would be supportive of it."
Falcon
The Avenger : High-flying military type who has close ties with Captain America. He also has a huge pair of wings which helps him actually fly like a falcon.

Team History: Falcon signed up to the Avengers in 1979 (he's recruited, naturally, by Caps) and he remains a member of the Avengers and the Mighty Avengers.

Movie Version: Falcon made his big-screen debut in Captain America: The Winter Soldier, played by Anthony Mackie.

Fans weren't disappointed. Mackie brought both an impressive physicality and an innate likability to the role, making Falcon more than a mere superhero sidekick. More please.
Captain Marvel
The Avenger: Though there have been numerous heroes called Captain Marvel in the Marvel-verse, Carol Susan Jane Danvers is the one who really counts. She's a former SHIELD operative who was mutated by Kree technology.

Team History: Captain Marvel was recruited to the Avengers in the 1970s (under her various guises, including Ms Marvel, Binary and Warbird) and remains a team member to this day.

Movie Version: According to The Hollywood Reporter, a Ms Marvel movie is in the works – Marvel already has a script ready to go.

Who to play her? Why not Amber Heard? She's yet to play a superhero and she already has the blonde locks…

Scarlet Witch
The Avenger: As the name suggests, Wanda Maximoff aka the Scarlet Witch possesses magical powers. That's thanks to her mutant heritage (her pa's Magneto), which imbues her with various abilities.

Team History : Scarlet Witch joined the Avengers with her brother in 1965 and is now a member of the Uncanny Avengers.

Movie Version: Elizabeth Olsen is playing the Scarlet Witch in Avengers: Age Of Ultron.

We already received a post-credits glimpse at her in character at the end of Captain America: The Winter Soldier , and we love what we saw. Talk about perfect casting…
Quicksilver
The Avenger: If you're ever putting together an athletics team, this is the guy you want. Peter Maximoff aka Quicksilver is a mutant who puts Mo Farah to shame in the speed stakes.

Team History: Quicksilver and Scarlet Witch both joined the Avengers in 1965. Quicksilver went on to become an instructor at Avengers Academy.

Movie Version: This year, we're getting two versions of Quicksilver. Evan Peters' version in X-Men: Days Of Future Past already knocked our socks off, and we've still got Aaron Taylor-Johnson's interpretation to come.

He'll appear in Avengers: Age Of Ultron , playing a sportier version of the superhero. Is there room for both of them? We'd say so…
Nick Fury Jr
The Avenger : An eyepatch-wearing Army Ranger, he's the son of Nick Fury (like you needed telling that). Like his pa, Jr was born with the infinity formula in his bloodstream, which means he ages slower than everybody else.

Team History: When SHIELD's attacked, Maria Hill creates the Secret Avengers, a new super-team that consists of Nick Fury Jr, Black Widow, Hawkeye and Phil Coulson.

Movie Version: As far as we know, Nick Fury's yet to spawn any identikit progeny in the Marvel movies.

Still, if Samuel L. Jackson ever decides to retire from the MCU, Nick Fury Jr would be an awesome replacement.
Agent Coulson
The Avenger: A SHIELD agent who was once a US Army Ranger, Coulson's a regular Joe (i.e. he has no superpowers to speak of) who's good with a gun.

Team History: Like Nick Fury Jr, Coulson is recruited into Maria Hill's Secret Avengers team when SHIELD is threatened. He's the one who, in turn, enlists Black Widow and Hawkeye.

Movie Version: Coulson actually originated in the Marvel Cinematic Universe before he made the jump to the comics.

That's probably because Clark Gregg's portrayal of the character (in all of the Phase One films) was just so cool.
Black Panther
The Avenger: The first black superhero to be introduced to American comics. With superhuman senses and serious grey matter, he's both brain and brawn.

Team History: Black Panther travels from his homeland of Wakanda to become a member of the Avengers before getting his own standalone series.

Movie Version: So far, Black Panther's only appeared in animated TV shows like Avengers Assemble and The Avengers: Earth's Mightiest Heroes .

Djimon Hounsou once campaigned for the role, though, and we could definitely see him playing the jungle cat. Avengers 3 , maybe?
Wasp
The Avenger: Sometimes referred to as 'The Winsome Wasp', this black and yellow superhero can shrink down to a tiny size.

Team History: In the comics, Wasp is one of the founding members of the Avengers – so much so that she gave the team its name. Which sort of makes her really important.

Movie Version: We've yet to see a version of Wasp on-screen (Joss Whedon toyed with putting her into Avengers Assemble before realising the cast list was already HUGE), though we imagine she'd be a good fit for the Ant-Man movie.

Well, they're both named after insects, right?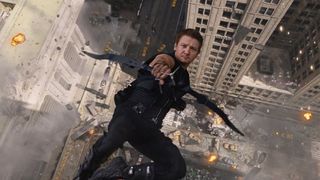 Hawkeye
The Avenger: Handy with a bow and arrow, Hawkeye is so called because he pretty much never misses his target.

Team History: Hawkeye's been an Avengers team member since 1965, and has contributed to various incarnations of the team over the years – including the New Avengers and Secret Avengers.

This guy just loves avenging.

Movie Version: After appearing briefly in Thor (2011), Hawkeye became a full-fledged Avenger in Avengers Assemble , only briefing becoming a brainwashed slave to Loki.

He kicks considerably booty in the film's city-trashing climax, living up to his superhero moniker.

Captain America
The Avenger: All-American hero whose costume, naturally, comes in red, white and blue. Basically, he's a super-soldier. Oh, and he has a natty shield that he likes throwing around.

Team History: Though he wasn't part of the founding team, Captain America was later attributed with a retroactive 'founder' status when he became leader of the Avengers.

Movie Version: Chris Evans played both the geeky and the gargantuan versions of Captain America in his first big screen outing, avoiding making the hero into a bland goody two-shoes by playing up his emotional vulnerabilities.

Avengers Assemble gave him some great modern day confusion ("I understood that reference!"), while Captain America: The Winter Soldier was an awesome mash of '70s paranoid thriller and comic-book movie. In Cap we trust.
Thor
The Avenger: The tempestuous Asgardian and son of Odin. Wears wings on his helmet and likes to smash things with his giant hammer. Oh, and he's a god.

Team History: In the comics, Thor co-founded the Avengers in 1963. He's been a longstanding member ever since.

Movie Version: Looks exactly like Chris Hemsworth. So far, Thor's appeared in three Marvel flicks – two solo films and Avengers Assemble.

His solo flicks have been responsible for successfully uniting action cinema with Shakespearean melodrama, mostly thanks to Kenneth Branagh and Hemsworth's brilliant comic timing.
Hulk
The Avenger: Not so much a friendly green giant as a really flipping angry one, Hulk is what Dr Bruce Banner turns into whenever he sees red. He likes to smash things.

Team History: Though the other Avengers were responsible for helping co-found the team, it was an attack on Hulk that prompted it.

When Loki attempted to trick Hulk into attacking Thor, the attack resulted in the formation of the Avengers. Hurrah!

Movie Version: Three actors have played Hulk on-screen in the past two decades – Eric Bana, Edward Norton and Mark Ruffalo.

Only Ruffalo really got it right (in Avengers Assemble ), mostly thanks to Joss Whedon, who nailed the character. All hail Ruffalo. We love him when he's angry.
Black Widow
The Avenger: A Russian spy called Natasha Rominoff, who was introduced as an enemy of Iron Man. Rominoff soon became an ally and started calling herself Black Widow. Because why not?

Team History: Black Widow originally joined the Avengers as a 'reserve member' in 1973 before going on to become a key member of SHIELD's Secret Avengers.

Movie Version: Iron Man 2 cast Scarlett Johansson as Black Widow and got her to do some cool flippy moves in the black catsuit.

It wasn't until Avengers Assemble that we really got to see what she was made of, though. Surprisingly funny, she goes up against mobsters, Hulk and even Loki single-handedly. Badass.

Doctor Strange
The Avenger: A neurosurgeon who also moonlights as the Sorcerer Supreme – which is a fancy way of saying he protects the planet from mystical evil.

Team History: Though he's now more associated with the Illuminati (a secret organisation that Strange co-founded to protect the Earth), Doctor Strange has also been a member of the New Avengers.

Movie Version: Has any other character in the Marvel Cinematic Universe been through quite as much of a torturous to-and-fro as Doctor Strange?

Well, no. What you need to know: Scott Derrickson has signed on to direct a Doctor Strange movie, with a lead yet to be announced.

Do we want Johnny Depp? He's less bankable than he used to be (and might be considered too old), but it'd be interesting to see what he'd do with the role…
Wolverine
The Avenger: One of the angriest damn mutants you'll ever meet. A self-healing, mutton-chopped wunderkind who ages slower than most people, Wolverine has retractable claws and an adamantium skeleton. And a whole lotta rage.

Team History: Wolverine enlisted with the Avengers in 2005 issue New Avengers #6. He became a regular player for three years in the 2010-2013 comic series of Avengers and New Avengers.

Movie Version: Hugh Jackman's set the record for playing a superhero the greatest number of times – so far he's reached seven, and he's showing no sign of slowing down.

Also, he wants a Wolverine appearance in an Avengers movie. "I think it'd be fantastic," he's said. "I loved The Avengers ."
Luke Cage
The Avenger: First appearing in the Marvel pages in 1972, Luke Cage is a superhuman with impenetrable skin and an accelerated healing ability. His real talent, though, lies in his supreme fighting prowess.

Team History: Cage is currently the leader of the Mighty Avengers, having been recruited to the team by Captain America. Needless to say, he's one awesome leader.

Movie Version: John Singleton is set to direct the movie version of Luke Cage, though an actor's yet to be cast in the role.

Idris Elba's expressed an interest, though, and we can't imagine anybody better suited to the role. Let's make this happen…

Ant-Man
The Avenger: Also known as scientist Dr Henry Pym, who created a special substance that enabled him to shrink down to the size of (you guessed it) an ant. Naturally, he uses that power to fight evil.

Team History: Ant-Man was the one who came up with the idea of uniting superheroes into a team. Clever clogs.

Since then he's been the leader of the Avengers AI and the Avengers Academy. Eat your heart out, Professor X.

Movie Version: In a somewhat left-field bit of casting, Paul Rudd will play the movie version of Ant-Man, and we can't think of anybody better suited to the role.

He won't be directed by Edgar Wright, though. The director dropped out over script concerns…

Iron Man
The Avenger: The superhero alter ego of billionaire playboy Tony Stark. Iron Man's exo-suit gives him an insane amount of power. It also means he can fly.

Team History: Alongside Thor, Wasp and Ant-Man, Iron Man was a founding member of the Avengers. He even donated his Manhattan mansion to the team as its base.

Movie Version: When Robert Downey Jr was cast as Iron Man, there were guffaws and gulps of apprehension.

How times have changed. Bringing a whipsmart sense of fun to Stark (a character who, let's face it, could have been REALLY boring), he's the face of the Marvel Cinematic Universe and we can't get enough of him.