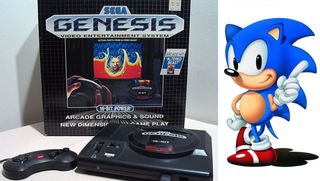 WELCOME TO THE NEXT LEVEL
best Genesis games of all time
The last 25 years of Genesis/Mega Drive love has been fueled by the tiny details just as much as the huge exclusives. Between the hardware, accessories, advertisements, and, yes, some games, here are 25 unique things that make the case for Sega's most popular system being one of the greatest consoles ever.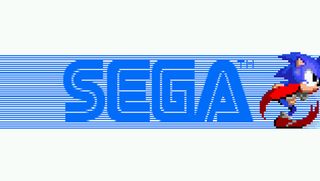 That beautiful, robotic "Saaaay-guuuuuh" sound that started the Sonic games
You could tell a great game awaited if your Genesis game booted up with a bit of fanfare. The primary example is the catchy jingle that accompanied the first two Sonic the Hedgehog games. Forget the grandiose intros that play when you boot up the likes of a PlayStation or GameCube; it took these Genesis games less than five seconds to alert you to the unforgettable experience that was about to follow. You almost wish that the tune was the system's start-up music all the time but then it would have nullified the next entry.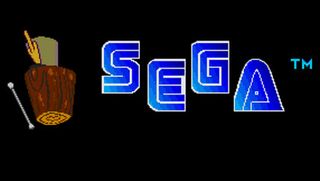 Fun with the Sega logo
While many games began with the Sega logo, it was always a treat when a developer had a little fun with the iconic text. Who could forget Earthworm Jim flexing by the text, Jurassic Park's T-Rexes roaring by the logo, Log leading the parade of letters before Ren & Stimpy started, and The Tasmanian Devil eating the S? Heck, it even made Cool Spot memorable, and he's just a one-note soft-drink pitchman. Not only is it a novel way to make a game endearing before you even press a button, but it shows that Sega wasn't above having a laugh at its own expense.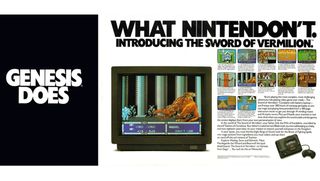 Cooler commercials
How popular was the Genesis in the '90s? Sega's name had two entirely different utterances in advertisements, each effective in their own way. When it came to classier, kid-friendly stuff, the aforementioned sing-songy "Saaaay-guuuuuh" would suffice. However, when the product was more extreme, you got the shouted, manic SEGA! There were other memorable commercial tags beyond those, like the eerily whispered Welcome to the Next Level and the early Genesis does what Nintendon't. Meanwhile, Nintendo wavered between goofy kids stuff and awkwardly trying to be edgy with a censored Butthole Surfers song.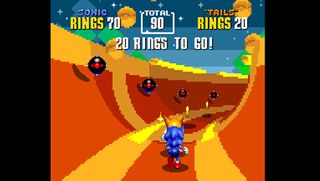 Being hyped by the concept of Blast Processing
Speaking of memorable commercials, who could forget Sega hyping Blast Processing at every opportunity? One ad putting Sonic the Hedgehog 2 on the back of an F1 racer and Mario Kart behind a jalopy didn't really explain the programming trick, but damned if it didn't make millions of kids believe Genesis games are way faster than Super Nintendo's. True, one of the greatest games of all time doesn't need a nonsensical buzzword to sell, but that commercial and the idea of Blast Processing are so effective that I'm scratching my arms for a Sonic fix.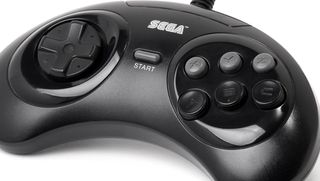 Using the six button controller on the best fighting games around
Short of having an arcade stick, (and how many '90s kids had the money for a controller that cost more than a game?) there was no better controller for fighting games than the six-button gamepad introduced during the second half of the Genesis' lifespan. While three buttons worked fine for the lions share of Sega games, getting the most out of memorable arcade ports like Street Fighter II: Special Champion Edition or Mortal Kombat III demanded at least twice the buttons. Sure, SNES had some fun fighters all its own, but having to tap shoulder buttons to perform a fierce or roundhouse is just awkward.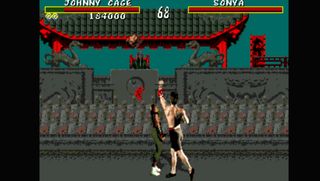 Making fun of your SNES-owning friends when they bought Mortal Kombat
Has there ever been a more lop-sided multiplatform port than the original Mortal Kombat? While Super Nintendo owners tried to tout the larger sprites and slightly-more-accurate tunes, the completely neutered violence made the argument an easy one win for Genesis owners. Once you entered the iconic code (ABACABB!), all of the gory fatalities were just two wins and an awkward sequence of button press away. It took an entire year before Nintendo got its act together with the sequel, but until then Genesis fans had an instant argument winner in the form of Mortal Kombat.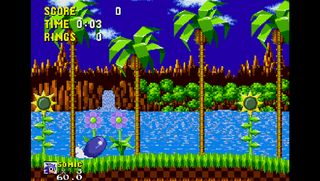 Hearing Sonic's Spin Dash revving up
Everyone loves the original Sonic the Hedgehog (more on that later), and the Spin Dash that came with the Blue Blur's later releases might just be the most iconic of the franchises many top-notch sound effects. As much as Sonic fans love ring pickups, bumper-bouncing, the bwah of a shield powerup, and whatever that noise is when Sonic finds a bubble underwater, whenever I hear a Spin Dash start to rev, I know our hedgehog mascot is about to do what he does best; go really, really fast.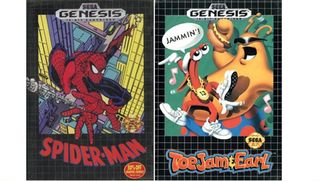 Preferring the hard, black plastic game cases to SNES's flimsy cardboar
While there were a few early exceptions and an ill-advised jump to boxes near the end of the console's lifespan, the clamshell cases that came with many of the most popular Genesis games make collecting them way less of a hassle than the wimpy boxes Nintendo used for every single cartridge it published. Keeping an opened SNES box from getting crushed or creased is a very difficult feat, while you can stack those early Genesis games any way you wish, secure in the knowledge they won't be crushed and they'll open as easy as the box to your VHS copy of Wayne's World.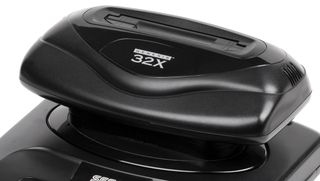 Thinking the 32X was next-gen
Okay, maybe the 32X was a dud, and maybe it caused a level of distrust that doomed the Saturn and Dreamcast to lose their respective console wars. But you can't deny that the brief period after Sega announced the Genesis' second add-on was the launching point for next-gen dreams back in the 16-bit era. And heck, for $160, there was enough to love, like a nearly arcade-perfect Virtua Fighter, the underrated Knuckles Chaotix, the most realistic Star Wars game consoles had seen to that point, and (arguably) the finest hummingbird-based shooter available. If only the games came in clamshell boxes.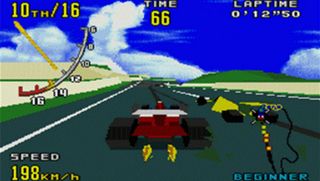 Being amazed that Sega somehow got Virtua Racing to run on the Genesis
Any time a developer could drop some polygons into a 16-bit cartridge, it was an EVENT. While nothing can top the classic that is Starfox, Virtua Racing was no slouch. While it came with a few corners cut from the arcade original (not the least of which was eschewing full-screen visuals to save processing power), it was pretty well-regarded amongst fans and critics, and is a definite testament to the engine under the hood of the Genesis. And it ran WAY better than the SNES-exclusive slideshow known as Stunt Race FX.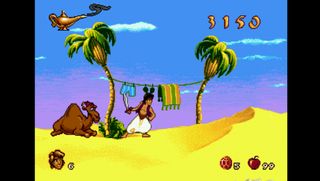 Playing the objectively better version of Aladdin
The argument has raged on for years from schoolyards to PAX panels, but c'mon, let's be real. We're in a safe place here. The Genesis version of Aladdin is the best adaptation of Disney's movie classic. The animation was more fluid, while the eponymous hero was faster and actually wielded a sword--all the SNES' version of the hero had to fend off sword-swinging attackers is a huge supply of apples. Heck, even famed game developer Shinji Mikami, who worked on the Capcom-developed SNES version, has admitted the Genesis edition of Aladdin is superior. And as a kid who defended the SNES adaptation back in the mid-90s, this pains me to admit... I agree.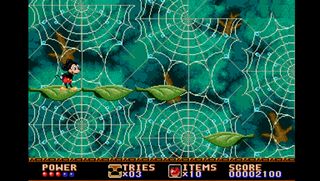 All the other great Disney games
It wasn't just Aladdin who proved his platforming dominance on Sega consoles. If you were a animation fan of the early '90s, the Sega Genesis was the premiere destination to get your Disney fix. Games like Quackshot and Castle of Illusion Starring Mickey Mouse are amazingly original takes on the world's most famous cartoon characters, while top-notch adaptations like The Lion King and Toy Story satisfy the more modern cravings of the day. There's nary a miss in the Genesis' Disney-game catalogue, which was a relief after iffy 8-bit offerings like Mickey Mousecapade and Who Framed Roger Rabbit.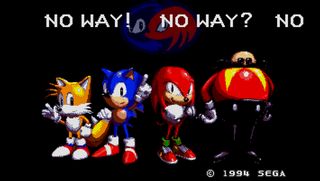 Attaching your old Sonic games to Sonic & Knuckles
As if Sonic the Hedgehog 2 and 3 aren't already all-time greats, Sonic & Knuckles adds even more replayability to the two classics. After playing through the deep standalone game (which played drastically different depending on whether you chose the hedgehog or echidna), you could revisit the Sonic Team's two previous adventures and play through those stages in a whole new way with Knuckles' moveset, thanks to Sonic & Knuckles' lock-on technology. Plugging in any other Genesis cart flashed a big No Way on the screen, but a quick press of A, B, and C, you could bypass that and unlock a neat minigame.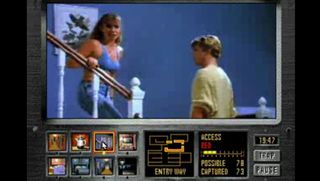 Playing FMV games and compact discs on your Sega CD
Uncanny valley, schmuncanny valley. While developers today struggle with rendering realistic human beings, unforgettable teams like Digital Pictures made interactive movies where you ACTUALLY CONTROLLED HUMANS. Granted, it was via a single button press every five seconds, and these games may be responsible for the QTE-epidemic that plagues us to this day, but you gotta admit, the full-motion video titles on Sega CD were pretty intriguing (and definitely felt next-gen) back in the day. And really, outside of the arcade, the Sega CD still has the best version (out of 50+ ports) of Dragon's Lair, and was the only console at the time that could play your new compact disc for Michael Jackson's Dangerous.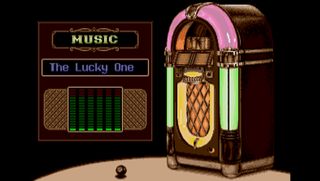 Games that didn't abuse the Genesis' sound chip
If a developer didn't know how to (or didn't bother to) properly utilize the Genesis' sound chip, the results were ugly. If you can imagine two malfunctioning robots having a rap battle in a wind tunnel, it'd be more or less what some of the worst Genesis games have pumped through unfortunate CRT TV speakers. However, a few game makers that really knew the hardware were able to make some of the most memorable 16-bit soundtracks of all time. Every entry in the Streets of Rage trilogy, the sublime Sonic the Hedgehog 3 (which had a soundtrack ghost-written by Michael Jackson), even the otherwise-forgettable Wrestle War had unforgettable tunes, just to name a few.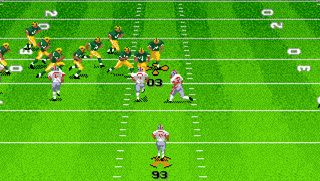 The best versions of the best sports franchises ever
It probably shouldn't surprise you that today's two biggest sports game studios had their best early seasons on the Genesis. EA Sports made some of the most fondly regarded entries in their Madden, NBA Live, NHL, FIFA Soccer, and PGA Tour franchises on Sega's platform. Basically, if it had a small round object being hit or thrown, EA was making it and people were loving it. What we currently call 2K Sports had its humble beginnings as Visual Concepts, a team that aided EA in the creation of Genesis versions of EA's finest titles. Beyond those two giants, other developers made first-party classics like Sega's Sports Talk series (I can't believe it.), Evander Holyfield's Real Deal Boxing, and World Series Baseball. Even if you hate sports, you can't deny Sega's influence in video game sports, as the two of the most memorable console cameos in film history were Sega hockey games in the movies Swingers and Mallrats.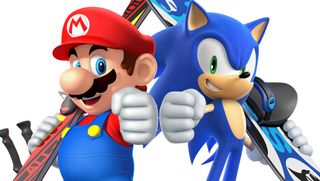 Arguing Sonic vs. Mario with classmates
Console war debates are so bland these days. Most of the time, the tech is on equal grounds, multiplatform releases play pretty much the same regardless of what controller you're holding, and first-party releases really only amount to who can pay what developer more to make exclusives. Back in the '90s there were mascots to fuel our arguments. Just as they were the centerpieces of advertisements, cartoons, and comics, Sonic and Mario drove our arguments too. They even worked as microcosms of the argument as a whole. Mario games may have a bit more polish and finesse, but Sonic games were faster and more fun. Nowadays the two can have smashing brawls and race canoes at the Olympics, but it was truly a blood feud during the 16-bit era.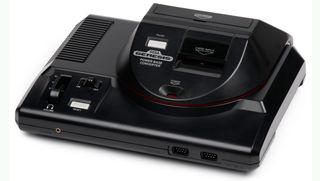 Being able to explore the Master System's library via Power Base Converter
It's been, what, six console generations of people whining about the lack of backwards compatibility in new game consoles? If you thought the complaints about PlayStation Now were excessive, you should have heard TV news shows go on about you'd have to buy a whole new Nintendo during the 1991 holiday season. Fortunately, early Genesis adopters had the ability to play their favorite 8-bit games via the system's first cross-platform add-on. By snapping the Power Base Converter into the original Genesis' cartridge slot, you could then insert and play almost every single one of the 100+ Sega Master System games that most 80s kids ignored in the face of the NES juggernaut. Classics like the original Phantasy Star, the first three Wonder Boy platformers, and the offbeat Fantasy Zone schmup series were instantly added to the Genesis library shortly after the system launched, making the system's lineup pretty formidable from the start.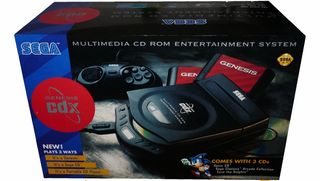 The (mostly) cool redesigns
While the original Sega Genesis console that released in 1989 is a perfectly functional console (though I don't know anyone who ever used the volume slider), at the time it was nice to see Sega update the system's design to appeal to potential new customers. While Super Nintendos turned brown in the sun over the course of six years, Sega redesigned the system and its add-ons into some fresh configurations. The Sega Genesis II was much sleeker and more streamlined than the original, while a Sega CD redesign nixed the motorized tray in favor of a far-more-dependable top-loading tray and lay flush with the Genesis instead of adding bulk to the bottom of the console. When Sega realized the 32X was down for the count, the CD-X presented the best-possible Genesis-Sega CD configuration, plus it had a display so you'd know which numbered track of Michael Jackson's Dangerous you were on!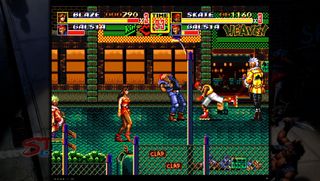 The best brawler series ever
We know Sega had the superior version of Mortal Kombat, and declaring a winner between the premiere beat-em-ups is pretty easy too. The contenders were Sega's Streets of Rage and SNES's Final Fight. In 1999, you could play a botched single-player version of Final Fight sans Guy (because who plays a beat-em-up with friends?) or the unforgettable Streets of Rage, which featured co-op play and a magical cop car that could shoot missiles up an elevator shaft. The next year, Streets of Rage II added Street Fighter-esque special moves to a batch of new fighters, including a pro wrestler and a kid on rollerblades (it was acceptable in the 1990s). By 1993, SNES owners finally had a competent brawler when Final Fight II came to the US, but by then most were on the Streets of Rage hype train, scanning issues of GamePro for screens of the robotic old dude and kangaroo in the trilogy-capper.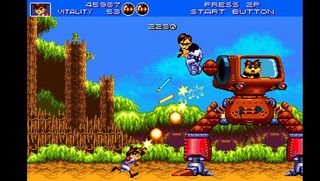 A great Contra and the even greater Gunstar Heroes
For as much as the gaming world loved Contra on the NES, side-scrolling arcade shooters weren't all that plentiful on 16-bit platforms. While the SNES had the stellar Contra III: The Alien Wars early in its lifespan, even greater things came to those who waited (and owned a Sega Genesis). In 1993, Genesis owners got a Contra all their own with Hard Corps; quite possibly the most replayable entry in the series due to branching paths and multiple endings. A year after that, another exclusive landed in the form of Gunstar Heroes, which I dare say remains the best side-scrolling shooter to date. The gorgeous sprites, the insane weapon combos, and the uniquely animated bosses make every minute of arcade action unforgettable, and for the first decade of its existence, the only place Westerners could play it was on Sega's 16-bit console.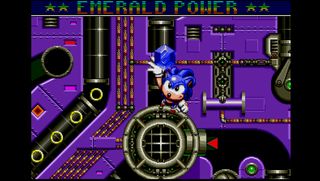 Sweet Sonic spinoffs
Believe it or not, there was a point in time when Sega was actually a bit conservative when it came to mass marketing Sonic. While Nintendo put Mario and friends on any game cover it could (leading to less-than-stellar titles like Mario is Missing and Mario's Pre-School Fun), Sega usually made sure the premise was a fun one before dropping the stars of its prized platformer into new genres. Sonic Spinball added a neat twist on the standard pinball formula, while Dr. Robotnik's Mean Bean Machine made the Puyo Puyo puzzle series a much easier sell to western audiences. Plus, it's the only official game appearance of Robotnik's so-bad-they're-good rooster and drill-handed cronies.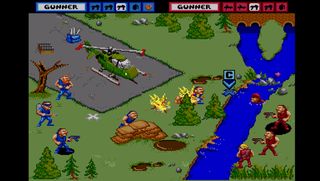 EA's awesome war games
Long before EA even conceived of recreating the Normandy invasion, their 16-bit efforts were commendable, original, and fun. General Chaos actually managed to deliver a fun, lighthearted take on ground-based combat, but the true war sim for 16-bit fans was the Strike series. Starting with the timely Desert Strike in 1992, EA put out a trio of helicopter-based combat games where you basically won various wars with a single chopper, taking out tanks, troops, and buildings with a machine gun and missiles while picking up MIA troops and supplies with a winch.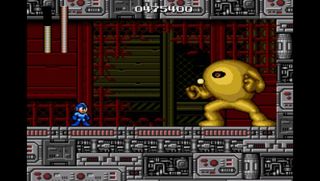 Downloading games a decade early with The Sega Channel
Did you know there was a Mega Man game available for the Genesis in the US? You probably didn't realize that back in the mid-90's because it was never available on cartridge in the States. Instead, you could download it to your system's flash memory via the Sega Channel, a service that allowed subscribers to check out the system's most popular games and a few other never-on-cartridge releases like Alien Storm and Pulseman (from future Pokemon developer Game Freaks) via your coaxial cable connection. Few US gamers had access to the service, but those that did got an early taste of the online future that would become standard over a decade later.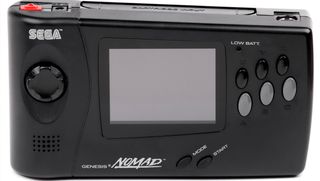 Playing your Genesis games on the go (sorta) with Nomad
It may have eaten batteries like nobody's business, but Sega's Nomad was a sight to behold when it released in 1995. Just over a half-decade past the Genesis' release date, you could play almost any cartridge on the go, provided you had a power source to plug into or could find another six batteries within two hours of play time. If you ignored the fact that you couldn't attach it to a Sega CD or 32X, it was pretty much a functioning home console as well, since it had an AV-out to connect to a TV and a controller input to allow a second player to join in the fun. At last, you could bring OutRun along on a family vacation.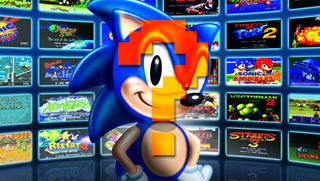 Genesis does what Ninten-don't
What was your favorite thing about the Sega Genesis? And remember, this is a safe place, so if you're like me and have a weird fondness for Altered Beast and Sword of Vermillion, you can talk about it in the comments below. We won't judge you.
What we will judge, however, is our intensely curated list of the top 50best Genesis games ever as well as ranking the 25 best Sonic games. SEGA!