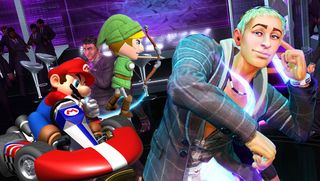 Lets get the party started
Plenty of gamers like to hunker down in their caves, strap on a headset, and immerse themselves in a games wondrous fictional world. But you dont have to be a social outcast to enjoy video games. There are actually a ton of games that encourage socializing with other human beings, in the same room. So, how are you supposed to know which ones will keep the party going through the night, and which will be a total buzz kill? Well, thats why were here.
Weve gathered together our list of the best party games for use at your next gaming gathering ,or just when you want to have a casual competition between a few friends. Just try not to wake the neighbors while you're playing them.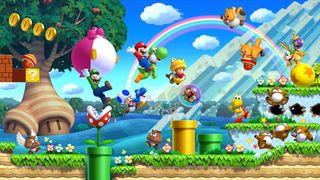 10. New Super Mario Bros. U
The Wii Us Mario title is one of those games that's an amazing experience whether youre playing alone or tackling its challenging levels in five-player co-op. Four players take direct control over Mario, Luigi, and two Toads using the standard Wii Remotes, while the fifth player operates on the GamePad in a much simpler, but no less important, role. The player on the GamePad can tap the screen to create platforms in the game, which can be used to help or hinder the other players.
New Super Mario Bros. U gets significantly more chaotic once you add two or three additional players into the mix. The characters can jump on each others heads and pick up one another, making the levels as much of a battle against the other players as it is against the environment. Still, the added horseplay is great in a party environment. After all, when you're sitting on the couch with four other friends, its all just for fun anyway.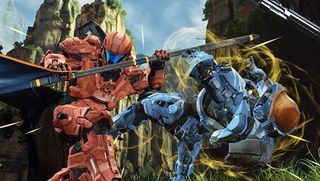 9. Halo 4
Halo 4 might not be the first game you think of when the words party game are uttered, but 343s latest title has co-op and multiplayer all over it--making it perfect for a get-together with a few friends. It may not be the most accessible party game on this list, but if you select your guests carefully, youre going to have a great time. Whether you go all the way to set up a four player LAN party or take the easy way out and go for the local, split-screen experience, youll be fragging noobs with ultra-coordinated group tactics all day long.
There's plenty for you to do, too. Theres a campaign that comes with a four-player co-op option, a new story-based co-op mode called Spartan Ops, and of course, the series outstanding competitive multiplayer. Basically, this is the game you'll keep playing even after all your guests have gone home.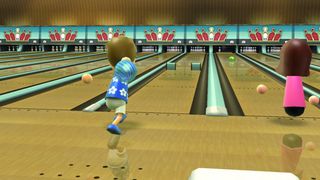 8. Wii Sports
The first game that proved that motion control functionality could be fun is still one of the best party games you can get your hands on. Literally every age group is covered: Senior citizens have been known to play it at retirement homes, and the controls are simple enough that even the youngsters can quickly grasp the basics.
Each of the minigames in Wii Sports is easy to control, but the intricate motion gestures you can make with the Wii Remote allow skilled players to perform more complicated moves. That means that even the hardcore can have a good time with the seemingly simple games.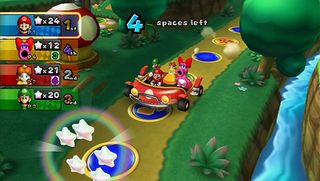 7. Mario Party 9
The ninth entry in the Mario Party series is the one to snag if you're looking for an amazing social party game. Mario Party 9 (like its predecessors) lets four players compete against one another in a board game full of minigame challenges. The players take turns rolling a die to move the players car across the board. The player who collects the most stars by the time they reach the end wins it all.
The minigames are varied and incredibly entertaining. You might find yourself bowling for Goombas with Koopa shells, riding dolphins through rings, racing on a rocket, or just trying to collect more rings than your competitors. In addition to standard minigames, youll also encounter boss battles in which youll have to fight off classic enemies like Lakitu and Bowser. Mario Party 9 brings a twist to board game night--it'll make you wish all parties could be this hectic.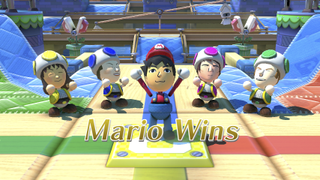 6. Nintendo Land
The Wii U's Nintendo Land is a collection of minigames set in a virtual amusement park. The game features a dozen "attractions" based on classic Nintendo franchises that up to five players can participate and compete in. You'll recognize retro classic-themed levels based on games like Balloon Fight, but there are also plenty of challenges that take you into the worlds of Luigi's Mansion, The Legend of Zelda, and the Donkey Kong arcade game.
All of the games take advantage of the Wii U's GamePad specific controls. Games will have you tossing ninja stars by swiping the touch screen, using the tilt controls to navigate complicated Donkey Kong-inspired platforms, and even play one-versus-four multiplayer matches using the GamePad's separate screen. If you've already bought a Wii U, this is the party game you'll want to get.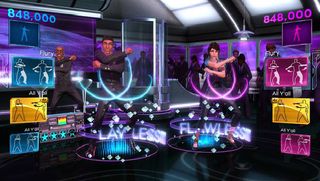 5. Dance Central 3
Dancing and partying go hand-in-hand, and besides being one of the best ways to get some use out of your Kinect, this groove-inducing dancing title is a ton of fun. It shows you exactly how to shake your rump with on-screen dancers, scrolling dance diagrams, and intense beats to keep you in rhythm.
Dance Central 3 only picks up two players at a time, but that doesnt mean spectators cant also dance along with the music, thanks to the new eight-person Crew Throwdowns. With a track list that includes Nicki Minaj's "Starships," Black Eyed Peas' "Boom Boom Pow," and a total of 45 other pop music hits, it makes it hard for you (or anyone watching) to be a wallflower.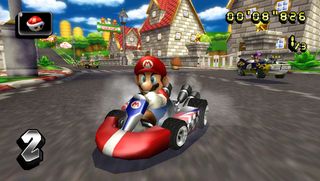 4. Mario Kart Wii
The Mario Kart series has always been a go to when it comes to party games. Karting is easy for anyone to play: Just press one button, steer, and you're good. Of course, with Mario Kart Wii, there's a bit more than that, and the entire package is extremely fun to play with a group of friends. Hop into the traditional karts or ride character-themed motorcycles as you blaze down tracks like the Mario Circuit, Moo Moo Meadows, and the series staple Rainbow Road.
The classic Mario Kart characters, power-ups, and even some tracks from previous games make an appearance, like Double Dash's Peach Beach, and Super Mario Kart's Ghost Valley. Competitive racing is a great way to bring people together (or maybe tear them apart)--but either way, Mario Kart Wii is a good time.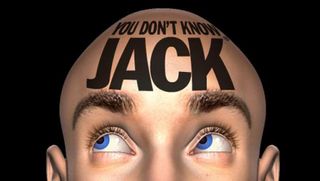 3. You Dont Know Jack
Who doesnt enjoy a game of trivia? Like, seriously. You Don't Know Jack is little more than a trivia game, with game categories like Dis or Dat, Skrew your Neighbor, and Twisted Trivia questions. The questions cover it all, from history to pop-culture to chemistry, and infuses it all with some humor that's equal parts sharp and stupid. The presentation keeps the quiz stimulating with wacky scenes and oddly placed giant chickens. Also, whether you get questions right or wrong, you can be sure to get a snarky comment from the part-radio DJ, part-gameshow-host narration from Cookie Masterson, which keeps the evening banter going.
Ideally, You Don't Know Jack is at its best when playing local four player multiplayer trivia--if only to share in the onslaught of hilarious insults spewing from the TV screen. If you're looking to invite some friends over who like to get their trivia juices flowing, you can't go wrong with You Don't Know Jack.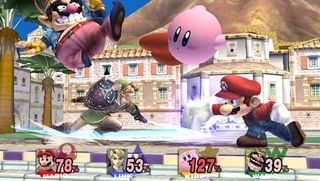 2. Super Smash Bros. Brawl
Nintendo really outdid itself when it decided to make a fighting mash-up with classic gamings most notable mascots. Mario, Link, Sonic, Bowser, and more than a dozen other famous faces enter the battle arena to kick the snot out of each other with attacks and special abilities unique to their respective games and personalities. The stages are also made up of environments from game series like Metroid, Earthbound, Star Fox, and Metal Gear, giving you a nostalgic punch to the gut in every match you enter.
In standard Nintendo fashion, Super Smash Bros. Brawl is easy to pick up and play, but is insanely difficult to master. The basic and special moves for each character are incredibly easy to pull off, making it a thrill to lay the smack down on your friends as your favorite Nintendo character. The chaotic four player matches lower the barrier to entry for newcomers, so you dont have to feel intimidated by high pressure one-on-one matches. Brawl is the single best fighting game to center a social gathering around.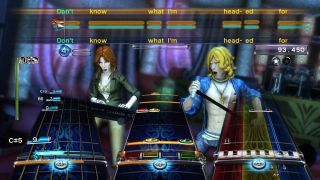 1. Rock Band 3
Rock Band 3 is an incredible music game, whether youre playing it alone or in a party setting. Who doesn't love to sing and play instruments to the tunes of their favorite bands (or at least try to)? The versatile drum set, guitars, and microphones make it easy for newcomers to jump into the rock show, and the hundreds of songs available--from rock classics like Queen's "Bohemian Rhapsody" to more modern hits like The Hardest Button to Button by The White Stripes--give you plenty of variety in terms of musical taste.
The multiple difficulty settings ensure that players of nearly every skill level can participate at any time, and the intuitive interface makes it simple to pick up and play. This is the closest you can get to becoming a rockstar without having to spend any time learning to play an instrument, and it's easily the best party experience you can get in a video game.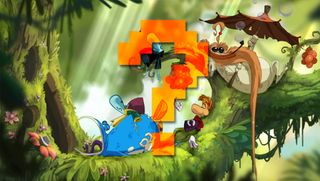 How do you like to party?