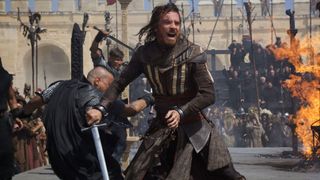 Scene there, done that
OK, being brutally honest, video game movies are no one's favourite genre. Despite being Hollywood catnip due to a fanbases already millions strong, the average video game movie is exceptionally low on the Rotten Tomato-meter. The good news though is that no one is giving up. Even now, there's serious Hollywood talent desperately trying to make something that fans actually want to see - check out every upcoming video game movie for proof.
But it can be done and it has been done. There ARE good video game movies. The exceptions to the rule that aren't Hitman, Need for Speed, or *gulp* Silent Hill 2. The best video game movies are never going to win award gongs or even really make you watch them more than once but if that first time didn't make you want to claw your eyes out in the cinema, then that's a victory. Here are the best video game movies so far.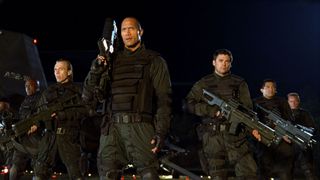 11. Doom (2005)
If the Doom movie had been made after the release of the barnstorming 2016 game sequel, it would have been a very different beast. With such explosive, hilariously violent, cleverly knowing subject matter to launch from – not to mention a decidedly braver cinematic environment to launch into – it could have been a riotous festival of witty, Evil Dead-style carnage. Alas, it was not to be. The decidedly more sober Doom 3 was arguably the inspiration, and – probably to avoid controversy – Universal opted to remove all literal references to Hell and demons, rewriting Doom's beasties as genetic aberrations, and axing all but the most standard and zombie-like.
That said, taken on its own terms, the Doom movie isn't a terrible time. A pacey, schlocky, bloody action-horror, it's not a bad prospect if you're looking for a boozy, Friday night goof-off with friends. And heck, it has both Karl Urban and The Rock. Nothing with Karl Urban and The Rock should ever be entirely written off. The once-standout first-person sequence toward the end might now appear a little stiff and tame, but it also has Layer Cake's Dexter Fletcher turning into a Pinkie and being chainsawed in half, so that's fun.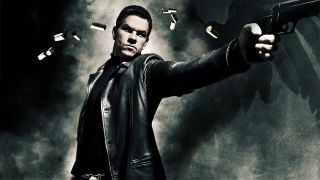 10. Max Payne (2008)
Max Payne is a movie that dreams of being Sin City when it grows up, from the neo-noir setting to its oppressive, shadowy visuals. You could say that much of that style comes from the Max Payne video games, but Max Payne the movie uses its roots as a segue rather than a foundation, turning it into a straight-up private-eye thriller.
Of course, losing the more game-centric aspects of Payne's vendetta means the film misses out on bullet-time physics and comic-inspired visuals, which is a big part of what made Max's exploits so good in the first place. The film's plot feels almost entirely removed from all but the basic parts of the Payne mythology, so there isn't much for fans here. Still, it latches onto the grittiness of Payne first and foremost, making it perfect if you're looking for a mystery marinating in dark action. If that's your jam, make sure to grab a copy of the Unrated edition, as things were toned down for theatrical release - the exact opposite of what Max Payne should be.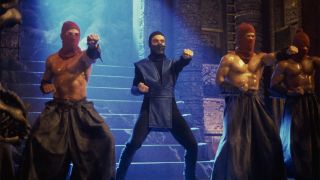 9. Mortal Kombat (1995)
Before taking the helm on the Resident Evil movies, Paul W.S. Anderson directed Mortal Kombat, one of the first video game movies that managed to appeal to a mainstream audience while faithfully adhering to its source material. The film follows the saga started by the evil Shang Tsung and his plot to destroy Earthrealm (i.e. Earth); the exaggerated fight moves of Johnny Cage, Sonya Blade, and Liu Kang are the only thing that can stop him. It's incredibly cheesy in proper early '90s fashion (with all the bad hair and leather to boot), but commits to the premise so sincerely that it's hard not to love.
The quirky nature of the film fits right in with the characters themselves, who are constantly cracking jokes and switching between increasingly ridiculous outfits. Its fight scenes are genuinely exciting, made even better by regular overacting, and both capture the spirit of Mortal Kombat even without the gut-churning Fatalities. While Hollywood tried to bottle lightning again in Mortal Kombat: Annihilation, it lacked the goofy soul it needed to succeed. In a battle between the two, the original Mortal Kombat scores a flawless victory.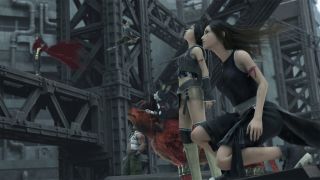 8. Final Fantasy 7: Advent Children (2005)
Advent Children is the ultimate in fan service, and it's not sorry. The impatiently awaited sequel to Final Fantasy 7, Advent Children comes bearing a plot that you need a reference guide, some diagrams, and a ton of red string to properly understand. Yet its stellar cinematography makes much of its narrative incoherence forgivable, and once you actually sort out what's happening, it's the perfect story for those in need of an FF7 fix.
Here are the broad strokes: two years after the end of FF7, three Sephiroth clones show up and start all sorts of trouble, so the gang has to get back together to stop them (and help Cloud get over his re-emerging survivor's guilt over Aerith's death). That's about all the explanation the movie offers up, which leads to a lot of head-scratching moments when the characters' motivations don't stretch farther than the next fight scene. But man are those fight scenes amazing: varied and gorgeous enough to stay interesting despite their frequency, with bits of character development in between that'll leave any FF7's fan's heart a-pattering. Dress it up with full CG that still looks fantastic ten years later, and you've got a solid gift for the fans that doesn't need to make sense to be enjoyable.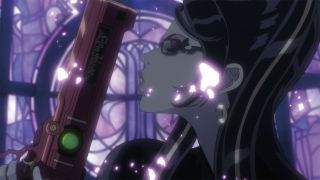 7. Bayonetta: Bloody Fate (2013)
Capturing the scale of Bayonetta's battles is hard to do on film, and Bayonetta: Bloody Fate never really gets there. Even though it's replete with explosive battles and outrageously campy action, the anime interpretation feels toned down in comparison to the game, with a lot of stylized close-ups and music that has nowhere near the peppiness of Fly Me to the Moon. But as different as Bloody Fate might feel from its source material, it's still a stellar standalone, and that's not half bad for a video game film.
Through gorgeous animation that uses its bold color scheme as a storytelling tool, Bloody Fate recounts a simplified version of Bayonetta's tale, which is easier to make sense of when it's actually explained. Unlike other game adaptations that demand a thorough understanding of the original game from the start, Bloody Fate is a workable stand-in for the original game. You won't have to know anything about the seductive witch ahead of time to get the jist of what's happening, letting you enjoy the gleeful carnage on its own, beautifully rendered merits. Now if only they'd give Bayonetta 2 the same treatment (no Wii U necessary).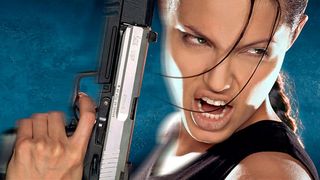 6. Lara Croft: Tomb Raider (2001)
Lara Croft: Tomb Raider was right to put Lara's name first, because that's what the movie's really about: the spelunking heroine of video game legend, and everything else is secondary. Angelina Jolie is the perfect actress to fill Lara's combat boots, and her action hero chops have made her virtually inseparable from old-school Lara in the minds of many moviegoers. Tomb Raider is an action-packed popcorn flick through and through, with excellent choreography and magnificently ridiculous fight sequences; Jolie's performance is the hot, buttery magic on top.
That doesn't translate to Tomb Raider being a good movie per se - the story is bare-bones at best, and when the movie does attempt to foster an emotional core through Lara's feelings about her dead father, it's painful in all the wrong ways. But don't worry about that - Lara just sliced a robot open with its own blade arms and popped her party mix into its disc drive, and you don't want to miss another second. Hopefully the Alyssia Vikander starring Tomb Raider next year can right the plot wrongs of this adaptation.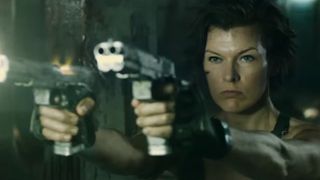 5. Resident Evil series (2002 onwards)
After 6 movies and the apparent final chapter, Paul W.S Anderson's Resident Evil series is ridiculously good guilty pleasure fun. It doesn't follow the story of the games, which can be impenetrable for non-fans, and would've probably been diminished if simplified for mainstream audiences anyway. Instead, the series follows brand new protagonist Alice (played by the lovely Milla Jovovich) and a group of Umbrella Corporation soldiers as they work to contain the outbreak of the T-Virus. With guest appearances from game favourites like Clare Redfield and even Wesker, the movies have remained as brainless as their virus ridden victims but there's a genuine sense of fun here that's just to good to miss. The series has gone from the sublime to the truly ridiculous and back again but with more than $290 million grossed worldwide for the series, it makes sense than another six movies are on the way...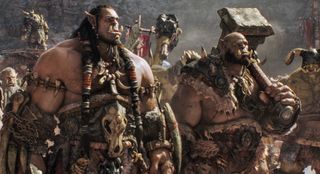 4. Warcraft (2016)
The Warcraft games are full of fantasy characters and lore so it's little surprise that Legendary Pictures and Blizzard Entertainment announced a partnership to make a big screen adaptation in 2016. What's more surprising though is that Duncan Jones - who had little experience with big blockbuster movies up until that point - signed on to direct. While Warcraft doesn't exactly hit Oscar-worthy heights of storytelling, it's a solid fantasy film with well-rounded characters and some impressive CGI.
The plot is a simple one - the orc world is dying so they use a magic portal to travel to a the world of Azeroth, which is full of humans. Unsurprisingly, the human population isn't too keen on this influx of refugees and war is on the horizon. Only a handful of humans and orcs - Anduin Lothar (Travis Fimmel), Garona Halforcen (Paula Patton), and Durotan (Toby Kebbell) - try to hold back the impending doom with little to no success. Basically, just sit back and enjoy the violence.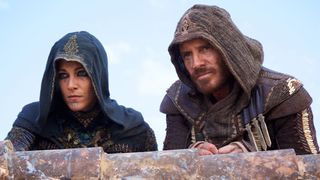 3. Assassin's Creed (2016)
So is it any different when a games studio creates its own motion pictures team specifically to head up its own movie adaptations? Well, kind of. While Assassin's Creed was critically stabbed in the jugular on release, the silver screen version of the hooded franchise is actually a perfectly enjoyable movie if a little heavy on the old exposition. Michael Fassbender and Marion Cotillard do their very best with a script that has to explain not just the eternal lore-heavy battle between the Assassins and Templars but also the small matter of living through genetic memories via a giant claw hand.
Plus, there's plenty of genuine fighting to enjoy. The time travelling trips back to the Spanish Inquisition are packed with crunchy combat, thrilling horse chases and life threatening free running. And while the historical heroes don't get much of a chance to speak their native Spanish - director Justin Kurzel wisely filling their screentime with genuinely exciting air assassinations and leaps of faith - Fassbender and his co star Ariane Labed make for excellent action heroes. Throw in Jeremy Irons as a modern day Templar villain and there's a stack of fun to be had if you turn off your brain for a bit and grab some popcorn.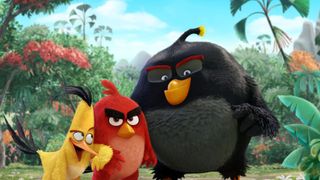 2. The Angry Birds Movie (2016)
Look, we know, okay? On the surface of it, a mobile game about launching birds into stacks of bricks in order to explode a series of roly-poly pigs does not make for the dense, engaging subject matter upon which to base a movie. But at the same time, the less there is to adapt, the less there is to mess up. Angry Birds, miraculously, does very well out of that equation, transforming the game's decidedly slight scenario into a surprisingly fun, funny, and well-crafted animated family comedy.
Directed by Clay Kaytis (animator on Frozen and Wreck-It Ralph) and Fergal Reilly (storyboarding for Cloudy with a Chance of Meatballs), from a zingy script by Simpsons writer Jon Vitti, The Angry Birds Movie also has a heck of an impressive cast, including Peter Dinklage, Kate McKinnon, Jason Sudeikis, Bill Hader, and Sean Penn (yes, really, Sean Penn). The source material might not be inspiring, but it turns out that if you throw the right talent at a project, you can indeed make a silk purse out of a (green, roly-poly) sow's ear.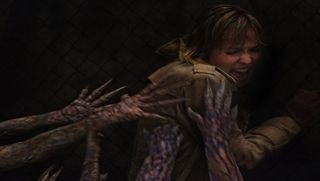 1. Silent Hill (2006)
Striking a balance between loyalty to the source material, mass appeal, and good filmmaking is the biggest hurdle video game movies have to jump, and very few manage to keep one aspect from overwhelming the others. Silent Hill isn't perfect in that regard (its no stranger to cheap horror gimmicks and clichs, for instance), but it's gotten closer than any other game movie to date. It takes what made Silent Hill so terrifying in the first place and captures it on film, feeding off that same fear that made the game successful so many years before.
Reimagining the story of Silent Hill with a female lead named Rose, the Silent Hill movie pulls from the game's otherworldly horror for its visuals and iconography, incorporating series touchstones like the cultish Order, psychic child Alyssa Gillespie, and nightmarish monsters at every turn (including Pyramid Head in one of the movie's best scenes). Most importantly, it doesn't shy away from the grotesque imagery that makes Silent Hill so affecting, so you never get the sense that it's been sanitized for Hollywood. It even takes things a bit too far at the end, so get ready to cover your eyes.