10. Snow White and the Seven Dwarves
We begin our top 10 with the beginning. 1937's Snow White was Disney's first ever feature-length animated movie, and a huge gamble at the time. The production costs were astronomical and required years of planning, so much sweat was flicked from brows at Disney when it released to wild critical and commercial success. The quality of Snow's animation, colour, music and design had never been seen on screen before, and its story packed an emotional punch. Cartoons at the time were short and simplistic, but Snow White proved they could be complex and cemented Walt Disney as a true visionary. Sure, when we watch it today the story's pacing lags and Snow's character belongs firmly in the 1930s. But you've got to remember that Snow White and the Seven Dwarves was the movie that carved a path for every Disney movie coming after it, and therefore stands firmly as one of the most important.
9. The Princess and the Frog
Described by co-writer Rob Edwards as "a princess movie for people who don't like princess movies", Disney's last traditionally-animated movie brought European fairytale trappings to America. New Orleans waitress Tiana became Disney's first black princess, an accolade second to her desire to own a restaurant business. The Princess and the Frog's production was marred by some faux pas (Tatiana was originally a chambermaid to a white woman), but the team worked with consultants like Oprah Winfrey to course correct and create a fair story of the bayou. Considering Disney's past insensitive controversies like Dumbo's crows and the Song of the South, The Princess and the Frog was a positive step in a new direction. And after all that, it packed a good story, great songs, and a gorgeous setting into the traditional 'kiss a few frogs' trope.
8. The Hunchback Of Notre Dame
'Disney movie' isn't a synonym for 'sweetness and light.' The Hunchback of Notre Dame brought Victor Hugo's gothic novel to the silver screen, and didn't scrimp on its treatment of infanticide, sexual violence, religious damnation, or genocide. Yet somehow, despite being one of the darkest Disney movies made, The Hunchback of Notre Dame is also one of the most poignantly beautiful. When gypsy Esmerelda stares up at the face of the Virgin Mary in the church's cavernous halls and sings "yes I know I'm just an outcast, I shouldn't speak to you, still I see your face and wonder were you once an outcast too?" the movie highlights how hypocritical society can be. With careful direction by Gary Trousdale and Kirk Wise, the movie took many risks in tone and storytelling to point a finger back at audiences and teach us that those on their high horses aren't always so moral themselves.
7. The Little Mermaid
The 1970s and 80s were tough decades for Disney. After inventing feature-length animated movies, forty years later their ideas weren't quite landing. Forgettable releases like The Black Cauldron made many believe the sun was setting on the studio's dynasty - and then The Little Mermaid came along. Ariel was a truly interesting idea: an ocean princess who wants to be human, falling in love with a prince on land. Alan Menken and Howard Ashman wrote the score, packed with classics like 'A Part of Your World,' 'Under the Sea,' and 'Kiss the Girl.' The music was so successful, it won two Oscars and was heralded as the movie that brought Broadway to cartoons. The Little Mermaid put the studio back on the map, and ushered in a new era known as 'The Disney Renaissance'. Less successful was the scene where the clergyman marries Ursula and Eric; some viewers mistook the clergyman's short, knobbly knee to be an erect penis. An Arkansas woman even sued Disney over it.
6. Pinocchio
You know the opening slate of every Disney movie? Where the shooting star flies over Sleeping Beauty's castle? There's a reason Pinocchio's 'When You Wish Upon a Star' is the song they choose to play at that moment. The second feature-length animated movie Disney ever made, Pinocchio is widely held as the apex of Disney talent. It's hard to believe that the animators working on this story of a little puppet who wants to be a real boy were still learning their craft. From the homely chaos of the workshop to the nightmarish horror of that donkey scene, Pinocchio created a world that still holds up today. It released in 1940 to critical applause, but slumped at the box office due to the outbreak of World War 2. Thankfully, it was re-released a few years later and skyrocketed to pop culture stardom, prompting children the world over to gingerly check their noses whenever they told a lie.
5. Moana
Bursting onto screens in 2016, Moana is the most recent movie on this best Disney movies list and therefore not quite yet worthy of the 'classic' label. But give it a few years, and the moniker will stick. Moana is the story of a girl from a Polynesian village who sets out onto the open ocean to return a mystical relic to a goddess. Teaming up with another god along the way, the tale invites audiences to embrace their roots, families and communities - and the production team made great pains to ensure their portrayal of Polynesian culture was accurate. The result is a stunning adventure following a selfless and heroic heroine (and a clucking chicken voiced by Alan Tudyk) that isn't bogged down by romantic cliches. If that isn't enough for you, just watch it for the water. Seriously, those effects will make your eyebrows rapidly ascend into your hairline.
4. Aladdin
The fact Aladdin birthed two straight-to-video sequels, a SEGA videogame, an entire TV series, a West End musical, and a live-action remake is all the proof you need of the movie's popularity. Considering the movie almost didn't get made (Disney CEO Michael Eisner was hesitant to make an animated movie set in the Middle East) it went on to become the highest grossing movie of 1992, outstripping Batman Returns and The Bodyguard. It's no wonder, really. Aladdin boasts a rags-to-riches story filled with romance, glamour, and rib-cracking one liners, plus one of Disney's best soundtracks to date. The only niggle are some wincingly insensitive lyrics from one key song that have since been fixed in Guy Ritchie's recent remake. An impeccable cast included Robbie Williams's vocal talents, which turned the genie into an icon and spooned ladles of zany comedy into an already stellar script. All in all, Aladdin stands as one of the greats.
3. Beauty And The Beast
With modern day Moanas and Elsas, it's easy to forget - or even take for granted - how Belle rewrote the role of a Disney princess. She blazed a trail for smart, sharp heroines with more to motivate them than just the affections of a prince. Her story is one of acceptance, which dazzles with some of the most beautiful designs Disney has ever created, incredible voice acting, and iconic songs. In fact, Mrs Potts's 'Beauty and the Beast' might be the best romantic song in Disney history. It's not an extravagant ode or declaration of love, it's a song about love. Mrs Potts isn't singing to Belle or the Beast, but to her son, explaining the very core of what true love is: a tale that has existed since the beginning of time, and one that everyone shall learn. Piercing, beautiful, and haunting, there's a reason why Beauty and the Beast was the first animated feature to ever be nominated for Best Picture at the Academy Awards.
2. The Lion King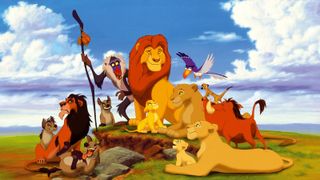 Remember those realistic animals who captured hearts in Bambi? In 1994 a crew of Disney designers took those lessons in naturalistic animation and brought it to the African savannah, bringing to life Shakespearean tragedy in broad strokes of burned orange and gold. The Lion King is the ultimate tale about growing up, parenthood, and how our perception of the world (and our role within it) changes in response to trauma or love. Despite the grandeur of Simba's story, its beating heart of shaken identity is deeply familiar to many - and many a cheek could have irrigated the sahara after the stampede scene. The musical talents of the legendary Elton John and virtuoso Hans Zimmer (who went on to score Gladiator and Inception) are the cherry on top of a masterpiece.
1. Mulan
Mulan is the story of a young girl who - to protect her ailing Father - cuts off her hair, strips away her female identity, and rides to war against the invading Hun army. Based on an ancient Chinese folktale, Mulan celebrated queerness ahead of its time and combined the very best of Eastern and Western culture into a movie that somehow never felt jarring. It borrowed heavily from Chinese painting and classic samurai movies, meshing their themes with a big-hearted Hollywood musical score. 'I'll Make A Man Out Of You' is one of the most rousing Disney songs ever penned, while the pensive sadness of 'Reflection' was quiet enough to hear the soft crack of hearts breaking around the cinema. It's a testimony to Mulan's incredible script that when the hilarious 'A Girl Worth Fighting For' musical number is interrupted mid-note by the brutal devastation of a burning town, the sudden shift from laughter to horror doesn't give the audience whiplash.
This is partly due to the strength of the cast, which is filled with wonderfully-talented Asian actors. Ming-Na Wen brings erudite warmth to Mulan, while George Takei, Pat Morita, and BD Wong provide stellar support. Meanwhile, Eddie Murphy's Mushu belongs beside sidekick greats like the genie for his belly laughs and unwavering loyalty to Mulan. The Disney Holy Trinity of story, song and setting is capped off by stunning art: everything from a smoking battlefield to Mulan's homely garden are brought to life with calligraphic curves unlike anything ever seen in a Disney movie. Mulan is - to borrow a phrase from another icon - practically perfect in every way, and a story that never gets old.