Everyone loves Scarlett Johansson, so it's hardly surprising that a Black Widow movie is on the way despite many major Marvel actors' contracts expiring with Avengers 4: Endgame complete. Captain Marvel has placed a welcome, and long-overdue, focus on female characters headlining new Marvel movies, and the experienced Johansson – reprising one of the series' most popular characters – should ensure huge box office numbers for the Black Widow movie regardless of what it's about.
For now, much of the information pertaining to the Black Widow movie is of the nudge-wink variety, with understandably excitable fan speculation often overwhelming set-in-stone fact. That hasn't stopped us from super-sleuthing our way to the salient details though. Below you'll find the likely Black Widow movie release date, critical intel on those set to appear in the Black Widow movie cast, a likely arrival time for the Black Widow movie trailer, confirmation of the Black Widow movie director, and lots more.
At the time of writing, production on the Black Widow movie had just begun, so expect plenty of updates in the coming months. Until then, multiple watchings of Endgame when it hits on April 26 should just about scratch your Natasha Romanoff itch…
Fast Facts:
Black Widow movie release date: TBC
Black Widow movie director: Cate Shortland
Black Widow movie cast: Scarlett Johansson and more TBC
Black Widow movie writer: Ned Benson
Black Widow movie release date
The Black Widow movie release date isn't carved in granite just yet, but fan speculation points strongly towards May 1, 2020 – a timeslot backed by websites purporting to be in the know, such as That Hashtag Show. As far as the Marvel Studios schedule goes that would place it ahead of The Eternals, which is rumoured for release in November 2020, and the even-further-away Black Panther 2. Don't forget 2019 is already taken up by Captain Marvel, Avengers: Endgame and Spider-Man: Far From Home.
If that Black Widow movie release date is correct it'll make it consecutive years in which Marvel has released a movie with a female character in the lead role. About bloomin' time, and long may the trend continue!
Read more: The most anticipated upcoming movies of 2019 and beyond
Black Widow movie trailer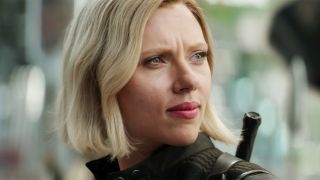 Given the abundance of footage available portraying Scarlett Johansson as Black Widow from past movies there are numerous teaser Black Widow movie trailers out in the wild – one 'fan edit' has an astonishing 5.6 million YouTube views. Sadly, like the rest, it's fake. With no other cast members revealed and the release date still unofficial it'll be some time before we see real footage from the flick.
Avengers: Endgame is the understandable focus of all things Marvel – and Black Widow – for now, but once the release of that and Spider-Man: Far From Home are out of the way, buzz for this one will swiftly pick up. Expect Marvel to capitalise on that with a Black Widow movie trailer release in either late 2019 or the outset of 2020. Some have tabbed this summer's San Diego Comic Con as a possibility – but Marvel memorably skipped the event entirely last year.
Read more: Watch Marvel movies online (yes, ALL the MCU)
Black Widow movie cast
Inevitably Scarlett Johansson is down for the lead role in the Black Widow movie. This will be her eighth film appearance as the character, and The Hollywood Reporter says she'll claim a monster $15 million for this headline entry in the black suit.
To recap, we've previously seen her in:
read more
The best Avengers 4 theories explained, analysed, and explored
While Johansson's co-stars haven't been announced yet, That Hashtag Show purports to know details of the characters who'll appear in the movie. It specifies the main antagonist as "exciting, with the studio open to ethnicity and looking for someone in their 40s".
Romanoff is also getting an ally character described as a "female Bond". It's most likely Yelena Belova, and the Marvel community has clamoured for Charlize Theron to be cast in the role. However, That Hashtag Show reports that Emma Watson is the studio's first choice, with Alice Englert and Dar Zuzovsky also under consideration.
Also tabbed for the film, according to That Hashtag Show, are the following:
A secondary villain played by an actress in her '50s
A male ally of African, Middle Eastern or East Indian descent
A European Caucasian male aged 50-60
A European Caucasian female aged 50-60
Malaysian actress Raja Ilya was linked to the movie, but Rojak Daily debunked that rumour in summer 2018.
WWE wrestler Titus O'Neil has also announced via Twitter that he's set to follow in Dave 'Drax' Bautista's footsteps and appear in a Marvel movie – perhaps Black Widow. Could he be that "male ally of African, Middle Eastern or East Indian descent"?
284lbs now 6weeks from today I'll be ready for a Lifelong Goal 2be reached&I'm excited about the process to go down to a Leaner 41 year old 270lb @Marvel Character 😎🌍 Has nothing to do with @WWE but everything to do with being a Blessed Man! @DaveBautista I'll see you soon 😊 pic.twitter.com/zdeuhaQ7GKMay 17, 2018
Black Widow movie rating
One of the most controversial – and, to some, exciting – rumours surrounding Romanoff's return concerns the Black Widow movie rating, with nameless 'insiders' proclaiming that it would be a more mature outing for Johansson. Marvel Studios president Kevin Feige confirms that is most definitely not the case, and this will be another superhero movie for all the family – albeit under parental supervision. "It never was going to be [R-rated]" Feige told Collider. "Somebody writes, 'I hear it's R-rated!' And then everybody writes it up." Expect PG-13 all the way again, then.
Read more: 6 dumbass female action movie hero tropes that make no sense whatsoever
Black Widow movie director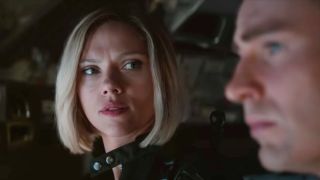 For now most of the details surrounding ScarJo's solo Avengers project are being kept top secret, but the Black Widow movie director has been known for a little while. According to The Hollywood Reporter studio execs met with more than 70 potential directors for the flick, with Cate Shortland ultimately getting the big gig.
Shortland made her name with a succession of short films in her homeland of Australia before the 2004 release of Somersault, her first feature film. She's best known for Lore, a 2012 historical drama where a Nazi family seek to evade Allied forces at the end of World War 2. That experience should bode well for Black Widow, which centres on another American-European conflict – this one, thankfully, fictional.
According to The Hollywood Reporter, potential directors who lost out to Shortland include Amma Asante (Belle, A United Kingdom), Kimberly Peirce (Boys Don't Cry, Carrie) and Maggie Betts (Novitiate).
Collider report that the Black Widow movie writer is Ned Benson, most famous for his work on The Disappearance of Eleanor Rigby. The role originally went to Jac Schaeffer (The Hustle), but apparently Benson has been commissioned for a significant rewrite of Schaeffer's script.
Read more: The best Marvel movies, ranked
Black Widow movie set photos
With shooting underway in March 2019 (according to Deseret News), there are no Black Widow movie set photos to mull over just yet. Nonetheless, some sites claim to already know where additional filming will take place, no doubt triggering interest for paparazzi (or committed fans!) with an interest in foreign travel.
For instance, the very same Deseret News story pegs the UK as a likely location for filming, while That Hashtag Show talks up Croatia's chances of hosting some scenes. It's a believable claim: the Adriatic nation's climate and architectural elements could just about double for Russia (who Black Widow is at war with) without the cast or crew ever having to set foot in a state that hasn't always looked fondly on American interests. Filming in Croatia also offers favourable production incentives, which was one of the reasons for Disney using it in Star Wars: The Last Jedi.
Read more: Every Marvel post-credits scene and what they mean
Black Widow movie plot
According to IMDB, the Black Widow plot gets underway with Romanoff living in the USA, 15 years after the fall of the Soviet Union. If true, that would set it in 2006, two years after the events of Iron Man, but six years before Black Widow joins the Avengers.
That same synopsis, originally uncovered by Production Weekly (via Comicbook), places Romanoff in New York at the movie's outset, although the action will surely extend far beyond the Big Apple. As discussed earlier the UK, Croatia and/or Russia are all on the potential locations list.
As part of the movie we should see more of Romanoff's backstory: groomed by the KGB to become its ultimate operative, only to be named an enemy of the state after its dramatic break-up.
Those earlier reports of an antagonist in his '40s would point to The Red Guardian as the potential main enemy. In the comics he's an RGB fighter pilot – AKA Alexi Shostakov – turned super soldier who was at one time married to Romanoff. Predictable, perhaps: but when predictable sounds this exciting, who cares?!
Find out what's happening with the Black Widow's next MCU movie with everything the cast has said about Avengers 4 ending so far.