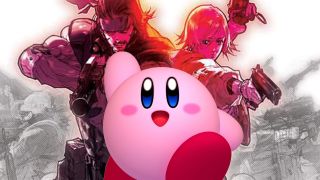 The highly unusual suspects
Oddball spin-offs, such as the ones included this list, have become something of a rarity these days. In the high-stakes world of video game development, most major game developers won't take the risk and put, say, Marcus Fenix in a baseball game. But every so often, someone will roll the dice and put together such an odd pairing. And the results - be it good or bad - are almost always entertaining.
Some developers, however, might've gone a bit overboard in trying to change things up, producing some of the weirdest spin-offs that the world of gaming has ever known. What follows are the series outcasts that threw us for a loop, with bizarre premises that are often wildly detached from the source material. And come on, where else are you going to find a Final Fantasy rhythm game, or Solid Snake playing cards?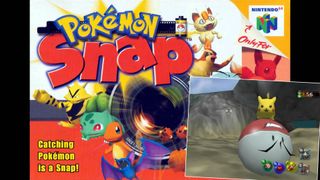 Pokemon Snap
Original genre: Turn-based RPG
Spin-off: First-person photography
This entry was truly a neck-and-neck race between Pokemon Snap and Pokemon Conquest, the turn-based strategy game that mixed Pokemon with the Japanese-only strategy series Nobunaga's Ambition. Because why the hell not? At least Conquest is a turn-based strategy game, so there's a logical connection with the original games. A Pokemon game about taking pictures is just plain weird.
The fact that Pokemon Snap didn't kick off a new wave of first-person, on-rails photography games is a crime. You take pictures of Pokemon. That sounds really boring on paper, but dammit it makes a strangely engrossing game. It's not enough to just take pictures - you have to take good pictures, and that means thinking about composition, son. And when you've got Pidgey flying all over the place you need to have a hair trigger on the shutter to make sure you capture to the majestic beast right at the opportune moment.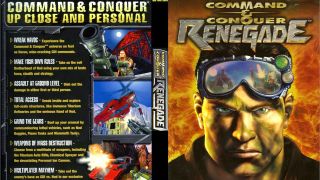 Command & Conquer: Renegade
Original genre: Real-time strategy
Spin-off: First-person shooter
Command & Conquer: Renegade isn't the sort of game you see very often. Rarely does an established strategy game developer, such as Westwood, decide to dive headfirst into a genre they've never touched before. It's like if Blizzard tried to make StarCraft into a shooter, and we all know what happened to that little project.
For fans of the Tiberium Wars series, Renegade is a real treat because it gives an up-close-and-personal view of the action, a perspective never-before-seen in a Command and Conquer game. It blended some of its RTS roots in with the FPS action, such as letting you spend resources to requisition better weapons and vehicles - sort of like Battlefield with resource management. The game was so beloved, in fact, that just last year a group of superfans released Renegade X, which updates Renegade's designs with Unreal Engine 3.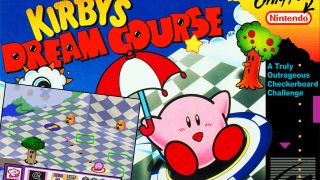 Kirby's Dream Course
Original genre: 2D platformer
Spin-off: Puzzle and golf hybrid
Kirby's Dream Course sounds like a recipe for disaster. 'Hey guys, let's take this fun, co-op platformer and needlessly turn it into a golf game. Because if there's one thing kids love, it's long, boring games of golf.' Okay, maybe it didn't happen exactly like that, but I'm glad someone had this idea because the resulting game is actually awesome.
It helps to think of Dream Course not as a golfing game, per se, but as more of a puzzler with some golfing rules sprinkled on top. Kirby is the ball, there's a hole, you want to get 'em in there with a few hits as possible. The pink puffball's signature power-ups are in the mix, letting you zoom across the course as a wheelie or skate across frozen lakes with the power of ice. And because this is a Nintendo game, all the controls are super smooth and easy to learn. It may be an odd pairing, but Kirby's Dream Course is - wait for it - a hole in one.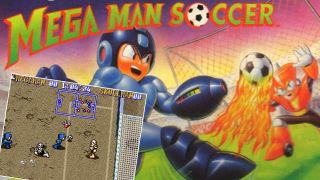 Mega Man Soccer
Original genre: 2D platformer
Spin-off: Soccer (or football, or whatever)
Mega Man Soccer and Kirby's Dream Course share a lot in common. Both games take a popular, 2D platformer and mash it up with a popular sport. But while Dream Course is a good game, Mega Man Soccer, quite frankly, sucks. It sucks worse than my ability to come up with soccer metaphors. Its most redeeming feature is performing special shots that utilize the powers of the different robot masters, but even those all do the same basic thing.
Things really go downhill quickly. The game will chug when more than, say, three characters are on the screen, and the limited field of view makes it nearly impossible to play the field - a problem which the AI doesn't seem to have, mind you. There's also this ominous tidbit from the game's Wikipedia page: "The game has no ending." There's a paper thin plot, but no conclusion, meaning the blue bomber is likely stuck in soccer-playing limbo for all eternity. Maybe that's why we don't see him around much anymore...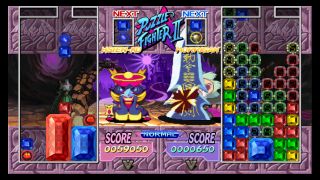 Super Puzzle Fighter II Turbo
Original genre: 2D fighter
Spin-off: Color-matching puzzler
In spite of Mega Man Soccer's poor reception, developer Capcom surged ahead with their "Let's give it a shot, why not?" strategy and released the masterful Super Puzzle Fighter 2 Turbo two years later. This game is a real gem - literally. It's a fast-and-furious, competitive puzzle game centered around building up large gems of a single color, and then smashing them to send garbage blocks over to your opponent's screen and, hopefully, ruin his or her game.
And it also starts a crossover of Street Fighter and Darkstalkers characters (plus Devilotte of Cyberbots fame) because, again, why the hell not? And it's glorious. You're constantly trying to build a larger and larger gems so you can squash your opponent quickly while simultaneously hoping they don't send a bunch of garbage your way and muck up your plans. Plus, the little characters in the middle duke it with hadokens and shoryukens while you play. It's adorable.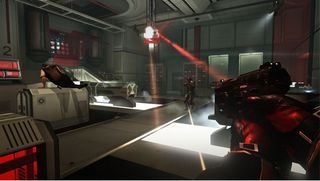 Syndicate
Original genre: Tactical strategy
Spin-off: First-person shooter
When Syndicate launched back in 1993, it was a deeply complex isometric tactics game. Using a squad of cyborgs to establish world-wide domination via assassinations, infiltrations, and persuasion was a simple yet alluring premise, and the whole experience was bolstered by the ability to research new equipment and tax conquered territories for income.
But Starbreeze Studios 2012 reimagining involved a little less politics and a lot more shooting, as the Syndicate reboot launched in first-person shooter form. Fans of the original were none too pleased. It was only related to Bullfrog Productions 1993 classic in so much as the word Syndicate showed up a lot, and it had guns in it--even though it was a fairly decent game in its own right.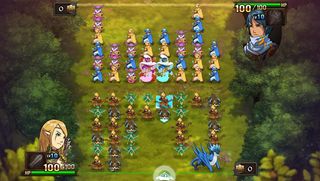 Might & Magic: Clash of Heroes
Original genre: Turn-based strategy
Spin-off: Puzzle
Depending on your genre preferences, theres a good chance that this spin-off will resonate with you far more than Might & Magics traditional gameplay. Instead of old-school, turn-based warfare between gangs of evil wizards and noble warriors, Clash of Heroes took a hard left turn into Japanese puzzle game territory.
With an aesthetic similar to Avatar: The Last Airbender and one-on-one stacking battles akin to Puyo Puyo and Magical Drop, this was a game that had next to nothing in common with the franchise entries before it. But sometimes, a little experimentation pays off--and the intricate, addictive strategy of placing your adorable troops just so was a blast of ridiculously fun fresh air in a series that seemingly had one foot stuck in the PC gaming past.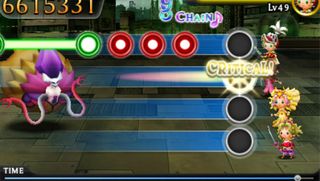 Theatrhythm Final Fantasy
Original genre: Japanese role-playing game
Spin-off: Rhythm game
Square Enix's storied JRPG franchise had seen its fair share of spin-offs prior to 2012, but this bizarre yet endearing 3DS rhythm game takes the cake by far. Despite having a name that literally no one on the planet knows how to pronounce (or spell without consulting Wikipedia, for that matter), Theatrhythm Final Fantasy is the perfect homage to the role-playing series. It allowed players to build a party by choosing from several of the characters from each of the main entries in the franchise before embarking on a rhythm-based journey to save the universe.
While its plot was relatively simple (and perhaps loosely based on the film Footloose), the gameplay was delightful in its odd presentation. Battles and exploration were successfully completed by tapping and swiping the 3DS touch screen with the stylus to the beat of Nobuo Uematsus classic compositions. Anyone with a deep appreciation for all things Final Fantasy will find this to be an absolute treat.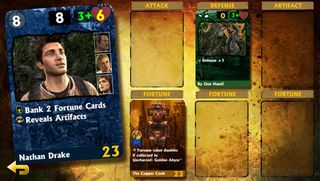 Uncharted: Fight for Fortune
Original genre: Action adventure
Spin-off: Card game
After three hugely successful outings on the PlayStation 3, the Uncharted series moved on over into the mobile arena. First, there was Uncharted: Golden Abyss, a standalone prequel; then there was the downloadable Uncharted: Fight for Fortune, where Nathan Drakes treasure-hunting exploits depended more on card game tournaments than life or death adventures.
Fight for Fortune was basically a lite version of Magic: The Gathering in which youd use your best cards (unlocked when the game would synch its data to your progress/Trophies from previous Uncharted titles) to duel an opponent. While this was certainly a departure from the series roots (and contained 150% less Nolan North), it was a mildly entertaining affair for anyone with five bucks to burn.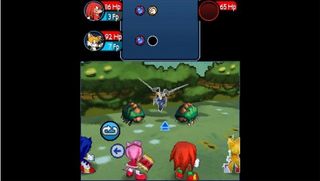 Sonic Chronicles: The Dark Brotherhood
Original genre: Platformer
Spin-off: RPG
Though Sonic is no stranger to freeing animals trapped inside the metallic bodies of evil robots, he was a stranger to turn-based battles and experience points. That is, until BioWares first-ever handheld project, Sonic Chronicles: The Dark Brotherhood. As it turns out, several of the Canadian developers employees were fans of Sonic the Hedgehog--so much so that they developed an RPG set in The Blue Blurs universe.
This Nintendo DS exclusive featured a large cast of playable characters and a lengthy (albeit lightweight by BioWare standards) narrative, which was fortified with stylish cutscenes. Exploration and traditional RPG battles were done via the DS touch screen and stylus, and though many found the game to be far too easy, it was generally well received.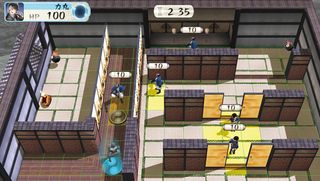 Shadow Assault: Tenchu
Original genre: Stealth
Spin-off: Trap action
Before Mark of the Ninja hit the scene, the Tenchu franchise delivered the go-to games for when you wanted to sneakily execute feudal Japan-era guards, using a combination of traditional trickery and sick-nasty ninjutsu. Flash-forward to 2008--one decade after the release of the PlayStation original--when From Software decided to mix things up with a downloadable XBLA title that bared almost no resemblance to its predecessors.
The basic gameplay involves sneaking around an overhead-view map, much like Bomberman, as you pepper the tiled playfield with spike traps and springboards to comically take out AI guards or player-controlled rival ninjas. Think Rube Goldberg meets Hanzo Hattori. To date, its the only Tenchu game thats rated E for Everyone.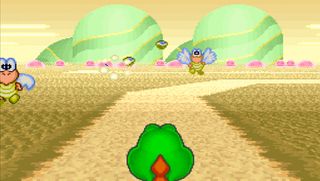 Yoshi's Safari
Original genre: Platformer
Spin-off: On-rails shooter
Marios done a lot ofinterestingthings in his tenure as the most recognizable face in video games, but blasting enemies out of the sky while riding atop a Yoshi ranks up there pretty high on the weird-o meter. Yoshis Safari, an on-rails shooter, took advantage of the Super Nintendos Super Scope, forcing players to annihilate baddies from a first-person perspective by using a two-foot plastic cannon peripheral.
Each level offered plenty of platforming segments and branching paths, allowing you to choose your route, which would determine which items and enemies you would encounter. As you rode Yoshi around, all youd see was your gun cursor and the dinobeasts head bobbing as he ran. Fun fact: If you accidentally shot Yoshi in the back of the dome, youd lose health and receive his ultimate death stare, all while he continued to sprint forward at full speed.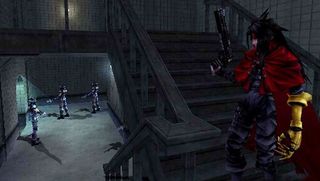 Dirge of Cerberus: Final Fantasy VII
Original genre: JRPG
Spin-off: Shooter
Its no secret that Final Fantasy VII is, to put it lightly, rather popular. So when Square Enix announced the Compilation of Final Fantasy VII metaseries--a collection of spin-off games, films, and novels meant to expand on the games universe--we werent exactly shocked. Dirge of Cerberus: Final Fantasy VII was one entry in that collection, a third-person shooter that put side character Vincent Valentine in the spotlight.
It featured an over-the-shoulder perspective not unlike Resident Evil 4, and Vincent would gain experience points and Gil as he buried bullets in the chests of his foes. The RPG elements lent a bit of familiarity to an otherwise foreign outing for the FF franchise, and though Dirge of Cerberus wasnt the FF7 sequel or remake fans had been hoping for, it did provide a few answers to the many questions spawned by its progenitor.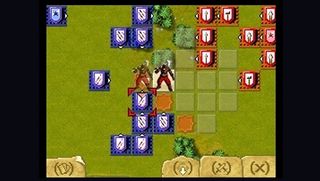 Battles of Prince of Persia
Original genre: Action platformer
Spin-off: Turn-based strategy
This is a series thats seen plenty of re-envisioning, from misguided Godsmack incorporation to beautiful cel-shading--but we dont recall the dashing Prince regaling us with tales of an Advance Wars clone. For whatever reason, Ubisoft Montreal felt the need to bridge the story gap between The Sands of Time and Warrior Within with a fictitious war between India and Persia.
Said war revolved around defeating demon armies, summoning troops with collectible cards, and vying for control over Chess-esque tiling. Battles was largely ignored at retail, immensely overshadowed by its console big brother, Prince of Persia: The Two Thrones, which released that same week. But for DS owners who fancied turn-based strategy, it became something of an off-brand, off-kilter cult favorite.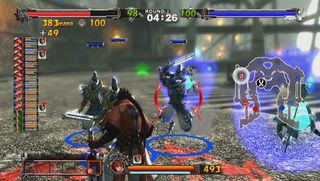 Guilty Gear 2: Overture
Original genre: 2D fighter
Spin-off: 3D beat 'em up
Heres a great way to alienate your entire fanbase. Step one: Title your so-called sequel as 2, for a fighter thats had a stereotypical number of nonsensically named iterations of the same base game. Step two: Make the gameplay completely different in every way. Step three: Profit? Guilty Gear 2 stars some familiar faces from the legendary anime fighter, like Sol Badguy and Ky Kiske. But past that, Arc System Works went totally off the rails, plopping the formerly pixelated pugilists into a Dynasty Warriors-style melee.
In theory, Overture actually sounds pretty cool: You have a modicum of control over waves of spawning troops, all the while turning the tides as a stereotypical anime super-soldier. In practice, it ended up being a mediocre disappointment that left longtime fans of the series scratching their heads in befuddlement.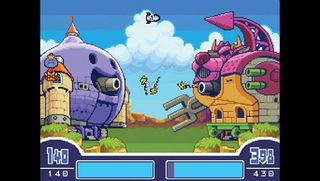 Dragon Quest Heroes: Rocket Slime
Original genre: JRPG
Spin-off: Action adventure
Yes, the iconic smiling Slimes of Dragon Quest have practically become the face of the wildly popular franchise. That doesnt mean we need a game revolving around the adventuresome exploits of the lowly enemy. Somebody mustve pined for it, though, because Rocket Slime is the second in a three-part series all about that lovable, blobby mascot.
This bizarre game tells the story of Rocket, a Slime who must save the abducted citizens of Boingburg. His war machine of choice: the flute-powered Schleiman Tank, with firepower capable of blasting enemy panzers, like the Cactiballistix and Carrot Top, to smithereens. If that plot summary made any sense to you, youre in for a treat--this spin-off hit a perfect, whimsical balance between enjoyable exploration and lighthearted-yet-intense tank showdowns.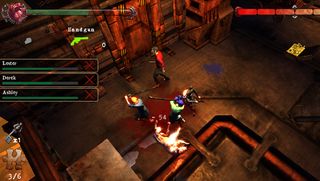 Silent Hill: Book of Memories
Original genre: Survival horror
Spin-off: Co-op hack 'n' slash
If you're a diehard fan of the Silent Hill series' trademark tension and pants-wettingly disturbing monsters, then the concept of this spin-off is bound to befuddle you. Instead of a terrifying, solitary adventure into ones deepest fears, Book of Memories is a top-down action game that features up to four-player multiplayer.
Unsurprisingly, its somewhat harder to establish cerebral horror when the core gameplay has you and your friends wailing on mutated creatures with lead pipes and electric guitars. The game suffered as a result of this identity crisis between the brand name and the arcadey experience. It just goes to show that sometimes, its wiser to take a gamble on a new IP than risk offending the hardcore fans of an existing franchise who might be repulsed by the out-of-left-field experiment.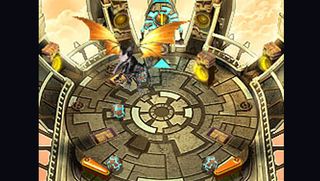 Metroid Prime Pinball
Original genre: Sidescroller
Spinoff: Pinball
Oh sure, plenty of game-themed pinball tables exist, whether virtual (Ninja Gaiden, Street Fighter II) or physical (Super Mario World, Street Fighter II again). The next step up from those are the out-and-out pinball games that completely revolve around a popular property; think Pokemon Pinball, Mario Pinball Land, Sonic Spinball, or The Pinball of the Dead. But Metroid Prime Pinball is a very special spin-off case, where the premise has a smidgen of canonical believability. Its possible--however unlikely--that Samus could get stuck in Morph Ball form as shes bounced around an oddly ramped-filled space station.
The tables themselves are taken from established Metroid lore, including familiar locales like the Phazon Mines and Phendrana Drifts. Youll also have the chance in ball form to batter infamous bosses like Meta Ridley to death. Listen: Were suckers for a finely crafted pinball game, and when you ground the high score proceedings in some semblance of a Metroid plot, our delight reaches astronomical levels.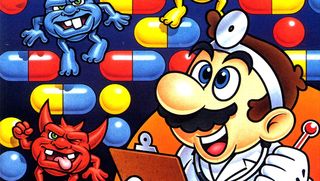 Any Mario spin-off
Original genre: The definitive sidescroller
Spin-off: Pretty much anything you could imagine
Okay, here's the thing. Mario is a plumber. He's good at jumping (and jumping on things), and he even managed to saved a princess a time or two--that alone is pretty admirable considering his other talents include removing junk and fecal matter from clogged up pipes. So... why does he also prescribe medicine? He's a blue collar worker, not an MD. And he certainly doesn't make for a very good pinball.
Now that we think about it, he does a lot of things that don't really make sense. Why is he teaching typing? We've never seen a single computer in the Mushroom Kingdom. How the hell does he even know what a keyboard is? And why is he so good at every sport that isn't the long jump or "mustache growing"? He's not exactly athletic. While we'll continue to tip our hats to Mario's adventurous ways, the fact remains--pretty much everything about that dude is pretty damn weird.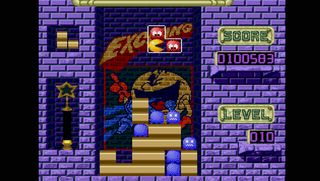 Pac-Attack
Original genre: Arcade
Spin-off: Puzzle
It isnt unnatural to see a mascot like Pac-Man appear in a number of spin-offs, but in the early 1990s Namcos pellet-muncher rarely strayed outside of his comfort zone of chomping ghosts in mazes. That changed in 1993 when the popularity of puzzle games--particularly Tetris--were hard for publishers to ignore.
Namco decided to meld the concept of constantly falling blocks with Pac-Mans unending appetite, but this time the combination ended up working out. We were pulled in by the odd challenge to not only match blocks, but also to create the optimal path of ghosts for Pac-Man to eat. Though left alone many years, Pac-Attack was recently rereleased on iOS devices, giving many a new chance to experience this unusual chapter in the arcade icons life.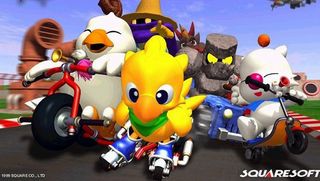 Chocobo Racing
Original genre: JRPG
Spin-off: Racing
These days Square Enix is ready to take a chance on combining any disparate genre with Final Fantasy, but a kiddie FF side game was still fairly novel in the late 90s, particularly a kart racer. Following in the footsteps of Crash Team Racing, Square adapted the Mario Kart concept to fit with their more adorable creatures, including chocobos, black mages, and moogles as the drivers.
The gameplay didnt do much to differentiate itself from similar games, but the most bizarre choice was that--aside from Squall and Cloud being unlockables--Square went with cutesy characters instead of the more popular humans from the main games. It was a mistake they wouldnt make again with Kingdom Hearts.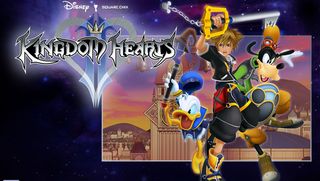 Kingdom Hearts
Original genre: Turn-based JRPG
Spin-off: Action RPG
Forget everything you know about the series and just imagine a game based on the following description. An amnesiac tween is living happily on an island with child version of Final Fantasy heroes. The idyllic paradise is attacked by shadow monsters that kidnap the other amnesiac kids.
The incredibly convoluted story then has the kid teaming with Donald Duck and Goofy, visiting dozens of worlds based on films from the Disney vault, and saving Mickey Mouse from certain doom. Oh, and he also battles Sephiroth and Cloud in Hercules battle coliseum. If there wasnt so much proof that these games actually exist, wed think that this was particularly immature fan fiction.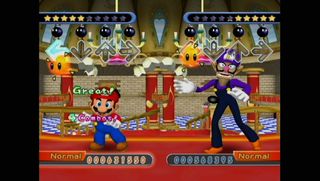 Dance Dance Revolution: Mario Mix
Original genre: Sidescroller
Spin-off: Rhythm game
Mario is the king of spin-offs, able to have a great time whether playing golf or medicating patients as Dr. Mario. Still, theres one thing that will likely never look natural on Mario and thats dancing, a fact that this DDR digression for the GameCube proved expertly.
In Mario Mix the portly plumber fights Waluigi, Bowser, and many other regular enemies, though instead of jumping on their heads, he battles them with smooth moves on the dance floor. Sadly, this wasnt the last time Mario hit the dance floor.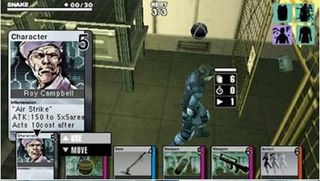 Metal Gear Acid
Original genre: Stealth
Spin-off: Turn-based strategy
Millions have enjoyed Solid Snakes long career in espionage, mostly involving sneaking around corners, shooting guards in the head, and pontificating on the nature of war. Series creator Hideo Kojima is one of the most experimental minds in gaming, so no potential spin-off seems totally impossible. However, translating Snakes mature tale of betrayal and intrigue into a collectible card game was not something we expected to play when the PSP launched.
Set in a separate continuity from MGS, the usual lengthy cutscenes were replaced by cheaper motion comics, while Snakes normal actions all work within the concept of what card you pulled. It grew a cult audience, and the sequel fixed some of the problems, but most Metal Gear fans were left waiting for the real PSP Metal Gear that they got in Portable Ops.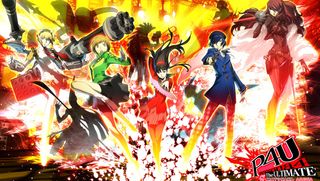 Persona 4: Arena
Original genre: JRPG
Spin-off: 2D fighter
Persona 4: Arena brought together two different niche fan bases together with one fighting game. Developed by the team responsible for Guilty Gear and BlazBlue, Arena pulled together the emo high school students of both Persona 3 and 4 into one 2D fighter.
Even weirder than the idea of mashing together genres as dissimilar as fighting games and RPGs was the fact that the single-player story was canonical. Everything that happened in it was official as far as Persona publisher Atlus was concerned, even though they could have gotten away with calling it an imaginary game. A weird choice, but one appreciated by Persona fans addicted to the franchises mythology.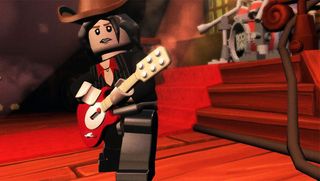 LEGO Rock Band
Original genre: Rhythm game
Spin-off: Slightly blockier rhythm game
LEGO Rock Band was a weird side gig for all parties involved. For Traveller's Tales, it was a departure from the usual film-based brick-a-thons it had been cranking out for Lego; and for Harmonix, it was an uncharacteristically kid-friendly take on its head-banging Rock Band series. The whole concept felt like it was born out of a drunken night of brainstorming between the two studios, except unlike most creative projects born of alcohol, both developers remembered it the next morning.
Luckily, the game fared well amongst critics, and sold more than enough to break even. Still, we've never heard of anyone who played it, and by the time the music faded, both studios were ready to go back to solo projects.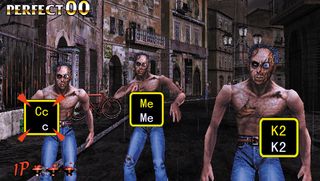 The Typing of the Dead
Original genre: Lightgun shooter
Spin-off: Typing tutor
In 1999, WOW Entertainment envisioned a zombie apocalypse fought not with shotguns and secret agents, but with keyboards and, uh, guys who could spell goodly. Copied and pasted from House of the Dead 2, the Sega-published edutainment title replaced the satisfaction of shooting monsters with the hardcore, finger-tapping excitement of typing words to rid the world of evil, one labeled zombie at a time.
The Typing of the Dead was later ported to Dreamcast in 2001 by Smilebit (Jet Set Radio, Panzer Dragoon) where it proceeded to ruin Christmas for a generation of gamers. Was this Sega's way of fighting mankind's greatest plague, illiteracy? Perhaps. But even though critics were kind to it in reviews, we're not sure many schools wound up making this part of their curriculem. Curriculim. Corric ... er, school learning.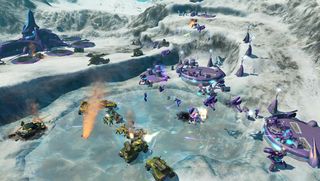 Halo Wars
Original genre: FPS
Spin-off: RTS
When Bungie left Master Chief in stasis at the end of Halo 3, it fell to Ensemble Studios to keep the series frosty with Halo Wars, a prequel that mutated the franchise's FPS DNA into a top-down RTS. The genre switch was jarring for the fans to say the least. Think of Half Life: Episode 3 arriving as a puzzle game or Gears of War returning as a point-and-click adventure.
Thankfully, with the talent of the Age of Empires studio to back it up, Halo Wars made the adjustment with nary a scratch to the series' reputation (even if it left some of the more hardcore FPS fans scratching their heads). As one of the highest selling RTS games for consoles, it'd be a stretch to say Halo Wars was a failed experiment.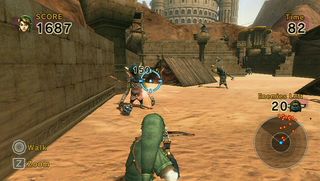 Link's Crossbow Training
Original genre: Action adventure
Spin-off: Shooting gallery
We know why Link's Crossbow Training was made. Nintendo needed a celebrity to plug the Wii Zapper, and Link (presumably) needed the extra rupees. As for whether or not this glorified tech demo has a place in the Legend of Zelda canon, however, we're not so sure. Before Link's Crossbow Training, the famed Hylian never touched a crossbow.
What's more, all that training later went to waste because there was nary a crossbow to be found in Skyward Sword or the DS games that followed. And with merely a couple hours of content, Link's Crossbow Training didn't even match up with its full-release brethren in size or scope. Nevertheless, the game sold nearly 5 million copies and remains among the Wii's top 20 best-selling games, so it looks like the endorsement worked. Fire away... we guess?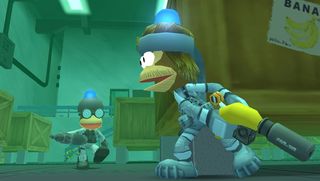 Metal Gear Solid 3: Snake vs. Monkey / Ape Escape 3: Mesal Gear Solid
Original genre: Stealth Action
Spin-off: Action Stealth
What does a ridiculously complex spy series and a lighthearted monkey-catching franchise have in common? Not much. That didn't stop Konami from outfitting Metal Gear Solid 3: Snake Eater with Snake vs. Monkey, a minigame which tasked the master infiltrator with heading into the jungle to capture wayward monkeys from the Ape Escape series. Sony responded in kind with its own Mesal Gear Solid add-on in Ape Escape 3, a minigame which followed Pipo Snake as he battled monkey-esque Metal Gear on a mission to save Solid Snake himself.
Granted, neither Metal Gear Solid or Ape Escape were ever known for making sense, but this crossover was weird by even their standards. Snake vs. Monkey was later dropped for the Metal Gear Solid: HD Collection and Metal Gear Solid: Snake Eater 3D, meaning you're going to have to hit the retro shops to enjoy this odd (but strangely charming) spin-off.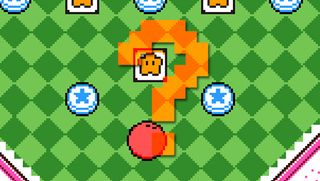 Expect the unexpected