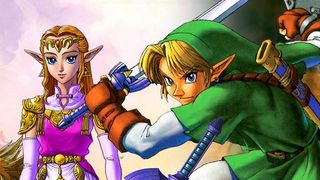 A Timeless Legend
Sure, were in the midst of new console launches and just got our hands on sequels to the two biggest franchises in the Nintendo pantheon, but those arent the only reasons to be excited as a gamer right now: its also been 15 years since The Legend of Zelda: Ocarina of Time made its debut on the Nintendo 64. Thats right--15 years. Thats more than twice as long as Link slept while Ganondorf rebuilt Hyrule in his image.
A lot can change in 15 years time, especially in the world of technology, but peoples love of Ocarina of Time hasnt diminished. Today it continues to stand as one of the most acclaimed and beloved video games ever created (even if, gameplay-wise, it may not hold up as well as more recent Zelda titles). Appropriately, the title truly stands the test of time--and with good reason. We could probably list dozens of components of Ocarina of Time that make the game so amazing, but in honor of its anniversary, here are our top 15 reasons why we still love The Legend of Zelda: Ocarina of Time.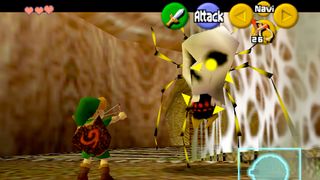 1. Lock-on targeting reinvented 3D
Fifteen years ago, 3D game design was still in its infancy, and lots of things we take for granted now were just being discovered back then. Take combat, for example--how do you fight bad guys in three-dimensional space, reacting to a wide variety of enemy sizes and positions, while being able to attack and defend with numerous items without losing sight of the enemy or having your hero flail around like a fool? The Legend of Zelda solved this problem with the introduction of player-controlled lock-on targeting.
It may seem obvious today, but lock-on targeting was a breakthrough at the time, allowing players to have maximum control in battle while providing an unobscured view of the action, and the result was fun, intuitive, flexible combat. Lock-on targeting system (be it manual or automatic) has proven so influential that Ocarina of Time could be considered the foundation for the modern action game.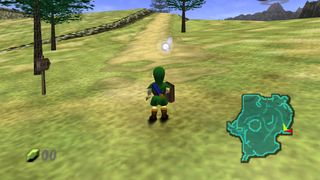 2. A massive 3D world
It wasnt just combat that made an intelligent jump into 3D. Virtually everything that players loved about The Legend of Zelda was rebuilt from 2D as well, and it was done so well that it felt effortless. Enemies, weapons, and dungeon designs were just as brilliant in 3D as they were in 2D, and the puzzles and exploration were adapted to make fantastic use of 3D environments.
While Hyrule had always been captivating and immersive, it now seemed more like a living, breathing place than ever before. Nowhere was this more obvious than in Hyrule Field, the seemingly massive central area of Ocarina of Time; it was breathtaking simply to look off into the distance and see landmarks like Death Mountain or Hyrule Castle, or to run all the way from Kokiri Forest to Gerudo Valley. Like Super Mario 64 before it, Ocarina of Time was a perfect example of how to update a franchise for changing times.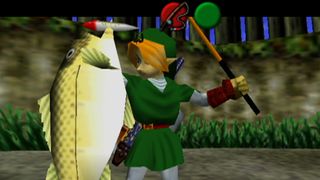 3. Fishing was more than just a pastime
Saving the kingdom as great and all, but sometimes you just need to kick back and relax. Ocarina of Time gave you the chance with its excellent fishing minigame. The sizable fishing pond next to Lake Hylia provided ample opportunity to unwind, and it was addictive to try to reel in another record-breaking catch.
Despite the games simplicity and overall soothing nature, it could also be surprisingly challenging, which made it all the more satisfying to land a particularly resistant catch. And while it was easy to spend hours at a stretch just fishing for fun, it also brought with it considerable rewards, including a piece of heart and a golden scale that allowed Link to dive into the deepest waters.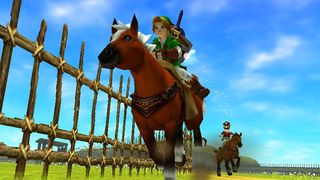 4. Epona is amazing
Forget that loudmouth Navi; Epona was Links true partner in Ocarina of Time. Not only did Epona provide a great way to quickly travel across Hyrule, but watching her gracefully leap obstacles, such as the broken bridge at the entrance to Gerudo Valley, was a joy to behold. Furthermore, she was a steadfast companion who was always ready to help Link in the fight against evil (at least, if you played her favorite tune).
The bond between Link and Epona was subtle but touching--forged when the two met in their youth at Lon Lon Ranch, then solidified years later when Link freed Epona from the ranchs abusive owner, Ingo--and the associated horse-racing minigame was pretty darn fun, too.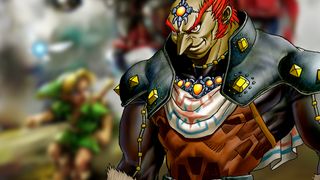 5. Ganondorf's power was truly frightening
Ganon had always been an imposing figure of evil, but it wasnt until Ocarina of Time that players began to get to know Ganondorf, the man behind the monster. The game finally gave some personality and backstory to the villain, establishing him as the leader of the Gerudo tribe, and as a man who had been hardened by the harsh, unforgiving nature of his desert home.
Ganondorf was also shown to be more than the embodiment of power--he was also intelligent and treacherous, as evidenced by how he swore allegiance to the King of Hyrule before betraying him, and by how he tricked Link into opening the path to the Triforce. Too bad his dialogue doesnt reflect his smarts--its hard to believe that at one point he asks Link, You want a piece of me?!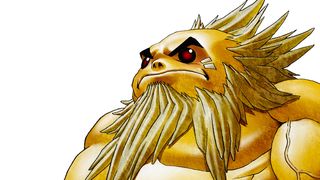 6. Hyrule was super multicultural
Ocarina of Time presented players with a Hyrule that was much more diverse than ever before. And not just in terms of terrain--it was the first game in the series to really introduce various races of sentient creatures beyond the typical human-looking characters.
Ocarina of Time gave rise to the ephemeral Kokiri, the rock-munching Gorons, and the fishlike Zora (which were a far cry from the Zora monsters in previous games), as well as new human tribes in the Sheikah and the Gerudo. Most of these new races have gone on to be prominently featured in later Zelda titles.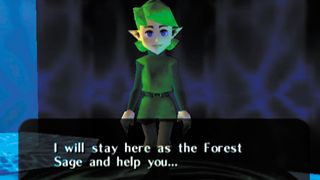 7. Sarias sacrifice was heartbreaking
During his quest to save Hyrule, Link encounters and makes an emotional connection with many characters, including Princess Ruto of the Zora, Malon of Lon-Lon Ranch, and Nabooru of the Gerudo (all of whom apparently want to jump Links bones). But no connection was more powerful than that with Saria of the Kokiri tribe.
At the beginning of the game, before Link had discovered his destiny, Saria was the only one that Link could truly call a friend, and later on Saria sacrifices her future to become the Sage of the Forest Temple so she can empower Link from the Sacred Realm. As she leaves one world for the next, youre left with the heartwrenching words, Saria will always be your friend...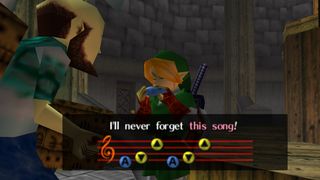 8. One of the best soundtracks of all time
The Zelda games have always sported fantastic music, and Ocarina of Time is no different. The once-advanced capabilities of the Nintendo 64 allowed the music to sound much richer than previous games in the series (returning tunes like Zeldas Theme and the Kakiriko Village theme were amazing), and the sheer number and diversity of the tracks were especially impressive.
Two songs, though, stood above the rest: the Hyrule Field Main Theme (which offered nearly four minutes of unique music and smoothly adapted itself depending on what was happening onscreen) and the incredibly catchy, Western-tinged Gerudo Valley theme. Also of note were the songs you played with the ocarina itself, which offered surprising richness considering they were composed with only a few simple notes.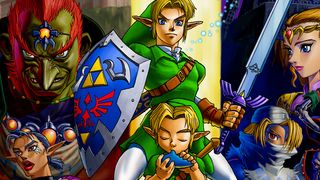 9. It gave us two Links, two Hyrules
Ocarina of Time is notable for being the first 3D Zelda game, but it took the series into the fourth dimension, too. As the Hero of Time, Links spirit was able to travel between two time periods: that of his child self and that of his adult self. As child Link, Hyrule is a relatively peaceful place, but as adult Link, you discover that the world has fallen under Ganondorfs control; Hyrule Castle Town is in shambles and is populated by zombie-like Redeads, Zoras Domain has frozen and become uninhabitable, Hyrule Castle has been replaced by Ganondorfs personal citadel, and the entire world is permeated by a pervasive fear.
Aside from providing powerful storytelling, the time-travel hook allowed for unique puzzles and solutions. The two versions of Link brought some nice diversity, too; though they played mostly the same, each Link had access to distinct items, such as the slingshot for young Link and the bow for adult Link.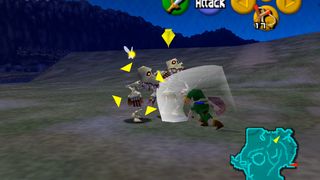 10. The wonderful day/night system
Another fresh element that Ocarina of Time brought to the Zelda series was the inclusion of a pseudo-real time day/night cycle. As you explored Hyrule, you could see the sun rise in the morning, move across the sky, and set at night, bringing a hint of realism to the fantastical world.
And it wasnt just for show; stores would close, people would go indoors, Hyrule Castle shut its gates, and, oh yeah, undead monsters would rise from the ground and wander around Hyrule. Time of day also came into play in other regards, such as with the fire arrows, which could be obtained only at dawn. Overall, it made Hyrule an even more amazing place.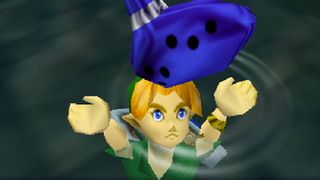 11. We fell in love with the Ocarina
Everyone knows that cool items are a staple of the Zelda series, but the Ocarina of Time is so integral to the adventure that the entire game is named after it. By playing various melodies on the titular instrument you could turn day to night, unleash the power of a storm, summon your steed, teleport to various locations throughout Hyrule, open hidden passages, and more. Playing the ocarina is also what unlocks the mystical Door of Time, thus allowing you to draw the Master Sword and travel between two time periods.
In addition to being an extremely useful item, you can use the ocarina to play your own tunes just for fun. Anyone up for a stirring rendition of the Super Mario Bros. theme?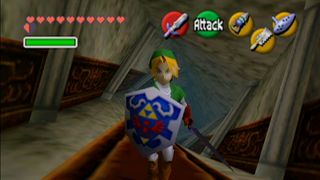 12. The Forest Temple was super innovative
In a game filled with predominantly fun, challenging, and well-designed dungeons, our favorite would probably be the Forest Temple--the first dungeon you encounter after taking control of adult Link. Tough enemies and an interesting layout were just the beginning; the dungeon was packed end to end with innovative ideas, including a collapsing ceiling, a manually rotatable room, and enemies that conceal themselves in paintings.
It also earns bonus points for being as creepy as heck; ghostly Poes play a major role here, Wallmasters threaten to send you back to the temple entrance, and theres one area where the hallway unnaturally twists and warps, forcing you to essentially walk on the wall. And dont forget the terrifying boss: a phantom version of Ganondorf himself.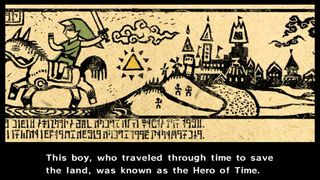 13. It was very obviously the start of something big
Ocarina of Time was an awesome, epic adventure in and of itself, but its story was so powerful that it formed the basis of The Legend of Zelda for years to come. The prologue to The Legend of Zelda: The Wind Waker directly references the story of Ocarina of Time, and during the game you get to see a beautiful stained-glass tribute to the Seven Sages and the Hero of Time while visiting the lost land of Hyrule.
Twilight Princess takes things even further; not only is its overworld clearly based on that of Ocarina, but you get to revisit locations like the Temple of Time and even bare witness to Ganondorfs execution for his villainous OOT actions. It could be said that Ocarina of Time was really the game that established the importance of continuity and narrative in the Zelda franchise.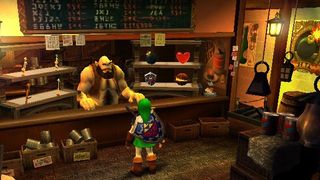 14. The remake modernized the classic
Many people consider Ocarina of Time to be one of the greatest games ever made, but in 2011 Nintendo proved that even the best could get better with The Legend of Zelda: Ocarina of Time 3D. This 3DS release improved upon the original with features like greatly enhanced graphics (the detailed interior environments were especially impressive), touch-screen inventory management, and gameplay refinements such as a less-infuriating Water Temple.
Ocarina of Time was also rebuilt in an extra-challenging Master Quest version--essentially a modified second quest of sorts--which was released both on GameCube and as part of the 3DS edition. (The highlight of Master Quest: the cow switches in Jabu-Jabus belly.) If you havent played these versions of Ocarina of Time yet, youre missing out.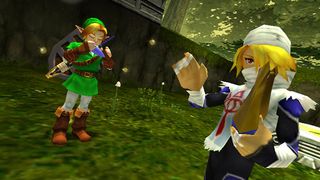 15. Mysterious Sheik was mysterious
Throughout the latter half of Ocarina of Time, Link frequently finds himself crossing paths with Sheik, an enigmatic, ninja-like, harp-playing dude who seems to show up whenever Link needs a hand. He doesnt say much, least of all who he is or what his true intentions are, but after conquering the Spirit Temple near the end of the game and obtaining the last sacred medallion you quickly find out. The mystery man isnt actually a man at all--its Princess Zelda in disguise. (Just dont ask us how she made her blue eyes turn red. Magic contacts?)
In retrospect it could be considered an obvious plot twist, but for most players the reveal was a pretty astonishing moment that emphasized just how captivating Ocarina of Time could be.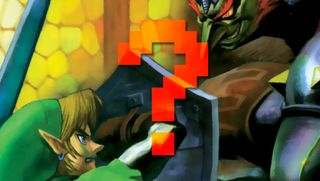 The Legend Lives On
From dungeons to items to bosses to minigames, there are a lot of reasons to love The Legend of Zelda: Ocarina of Time, but we couldnt include them all here. Whats yours? Leave your opinions in the comments section below.
And if you're looking for more, check out top 7 disturbing things about the Zelda universe and best Zelda games.