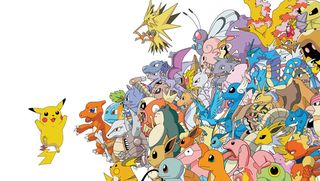 Gotta catch 'em all!
Its been more than 15 years since Pokmon took Japans islands by storm, and since then the numerous species of portable critters have become beloved across the globe. The RPG is a monster of its own, laden with copious product tie-ins and spin-offs. Pokmon Black/White 2 marks the franchises first direct sequel, making this a perfect time to look at its history great and small. Well take a look at each generation, the various spinoffs, and some forgotten relics of Pokmons gaming history, seeing whats significant, what may actually be worth another look, and whats probably best left to rot in a box on Someones PC.
In the entries, we used Japanese, American, and Eurpopean release years when marking the dates.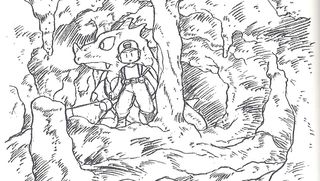 1990 - Capsule Monsters
Pokmons beginnings go back much, much further than you might think. Satoshi Tajiri and Ken Sugimori founded Game Freak in 1989, after their passion for publishing homebrew game strategy guides blossomed into full-on game creation. After analyzing what the Game Boy hardware was capable of, the fledgling firm created a design document in 1990 for a game titled Capsule Monsters, based upon the idea of collecting, training, trading, and battling monsters in duels using the Game Boys system link cable.
The team hoped to finish the game for release by the next year, however, the project required more funding than Game Freak had on hand. Development on Capsule Monsters would start and stop over the years the company worked on various outsourced projects to earn extra cash and attempted to get publishers to fully commit to the idea. At one point in 1993, the company considered abandoning development on Capsule Monsters entirely, but when it came to a vote, the overwhelming majority of staff was in favor of finishing the game. Eventually, after years of work (and a solid track record of developing outsourced titles in their name), Nintendo committed to publishing and marketing Capsule Monsters though, due to trademark issues, the name would need to be changed to Pocket Monsters.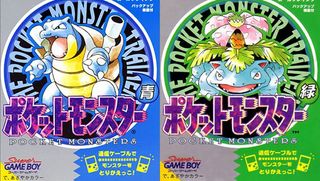 1996~1999 - Pokmon Red/Green/Blue/Yellow
Many a Poke-fan looks back fondly on the days of Red and Blue and the original 151, but what many people dont realize is that Red and Blue werent the original duo that debuted in Japan. In February of 1996, Pokmon was first unleashed in the form of Pokmon Red and Pokmon Green. Red and Green proved to be a massive sales success, but the games had a few lingering issues: they were incredibly buggy (yes, even more so than the international versions) and rough around the edges in a lot of places. To correct these issues, Game Freak developed and released Pokmon Blue later in the year. Blue featured notable improvements: the battle graphics were overhauled, numerous bugs were caught and corrected, previously unobtainable wild Pokmon could now be legitimately caught, certain areas were re-mapped, and the infamous Lavender Town music was made far less harsh-sounding.
The improvements made to the Japanese version of Pokmon Blue were retroactively applied to Red and Green for Pokmons eventual North American debut in 1998. The US Red and Blue versions kept the exclusive Pokmon of the Japanese Red and Green editions, respectively, making the Japanese version of Blue a fairly unique piece of Pokmon history. It also started a precedent which every Pokmon generation since has followed: An initial release of two versions, followed by a third some time later. Green was all but forgotten after the international debut, with Pokmon Yellow assuming its place as the third game in that particular Pokmon generation. Clearly, however, the Red and Green versions remain a strong memory in the hearts of Japanese players and the creators the later Pokmon Generation I remakes for the GBA would be titled FireRed and LeafGreen in all territories.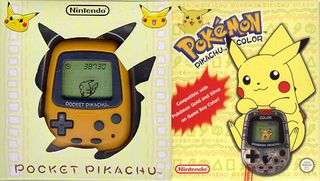 1998 - Pocket Pikachu
The virtual pet craze sparked by Tamagotchi had already begun to taper off by 1998, but that didnt stop Nintendo from releasing its own take on the concept. The Pocket Pikachu was a small, Game Boy-shaped device that could be clipped to or carried inside of ones pocket or purse. The units small screen would display a Pikachu you interacted with by playing games and racking up watts, which were earned through a built-in pedometer. Depending on how well and how often you would play with Pikachu, he would treat you differently, ranging from being exceptionally friendly to being distant and reluctant to recognize you. If you checked in on Pikachu at certain times of day, you would see cute animations of his daily routine.
The unit proved successful enough at the time to be reissued during the debut of Pokmon Gold and Silver. The Pocket Pikachu 2 GS featured a slightly altered form factor, a color display, and the addition of an infrared port. The unit was capable of communicating to Pokmon Gold, Silver, and Crystal via the Game Boy Colors infrared port, and transferring a sufficient number of earned Watts would result in getting various items in-game. Though the Pocket Pikachu lineage would end at the second model, the inspiration for the later Pokewalker and 3DS system is quite obvious.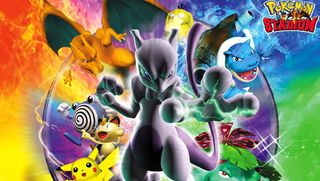 1998~2007 - Pokmon Stadium series
Portable games are fine and all, but what kid wouldnt be elated to see their big, bad Pokmon duking it out in full 3D? That was the train of thought that led to the development of Pokmon Stadium for the N64. The game featured a unique transfer pak that allowed players to insert a Game Boy cartridge and utilize their personal Pokmon team in full-on, 3D-rendered duels. The Pokmon Stadium that saw release in North America is actually Japans Pokmon Stadium 2 the original Japanese Pokmon Stadium was a horribly unfinished mess, with less than a third of the original 151 Pokmon available for use in battle (the rest had character models, but lacked animations). The series has continued onto the GameCube and the Wii under different, fancier-sounding names (Pokmon Coliseum, Pokmon XD, Pokmon Battle Revolution) but with similar concepts to the original Stadium games.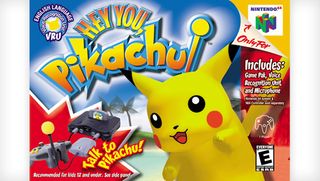 1998 - Hey You, Pikachu!
What would it be like to train and directly command a Pokmon with your voice? Thats the concept behind the interesting--though quite dull--Hey You, Pikachu! The game came with a microphone attachment for the N64 controller, which you could use to issue simple directions to the wild Pikachu you were interacting with. You didnt battle Team Rocket or anything, though--most of your interactions were menial tasks like looking after Caterpie babies and going fishing.
Originally called Pikachu Genki Dechu (a pun that translates roughly into Pikachus doing well) in Japanese, the game would be released in the US a little under 2 years later, following a complete retooling of the voice recognition engine for American English speakers--making for the longest wait between Japanese and North American releases after the original Red and Blue. Hey You, Pikachu! never appeared in Europe, primarily due to the difficulty of further language-recognition retooling. Even the English-speaking UK was left out--the rumor is that the voice recognition was so finicky that it wouldnt function correctly with the wide variety of accents seen across the territory. (Dont worry, guys, you didnt miss much.) The experiment paid off in the end, though: Hey You, Pikachu! is said to have been a testing ground for many features that were eventually implemented into the phenomenally popular Nintendogs franchise.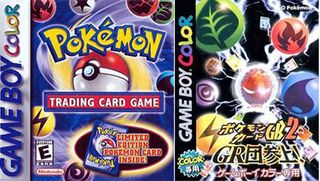 1998~2001 - Pokmon Trading Card Game and Pokmon Trading Card Game 2: Team GR Appears!
The Pokmon card game spin-off has always enjoyed a great deal of popularity, and the tabletop version was eventually adapted into electronic form for the Game Boy Color. The goal, much like the mainline Pokmon titles, is to work your way up the ranks of the Pokmon League, defeating eight Club Masters before fighting four Grand Masters for control of the powerful Legendary Cards. This adaptation was successful enough to earn a sequel, though only in Japan.
Titled Pokmon Card GB2: GR-dan Sanjou!, the game was a direct follow-up to the original, though with numerous improvements. The selection of a male or female protagonist--now a Pokmon standard--was added, as was a useful feature that could analyze the effusiveness of the players deck. Rather than just trying to defeat the Grand Masters, you had to build decks to compete with and defeat the threat of Team Great Rocket (the GR of the title). Its unknown why Nintendo didnt opt to bring this one Stateside, given the continued popularity of the card game and the warm reception of the original adaptation, but our guess is that Nintendo simply decided to focus more on the upcoming domestic Game Boy Advance launch.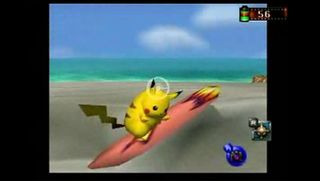 1999 - Pokmon Snap
Pokmon Snap was one of the first Pokmon spin-offs to be released outside of Japan, and it proved just how well the franchises name alone could potentially carry a game that might otherwise get the cold shoulder from consumers. The gameplay itself doesnt sound terribly exciting: you simply take an on-rails ride through predetermined paths while trying to time photo shots to get the best possible pictures of Pokmon doing, well, Pokmon-y activities. But actually playing Snap revealed a unique, strangely relaxing, and intriguing experience. Since Pokmon fever was burning high at the time of its release, Snap performed very well, and it is still quite fondly remembered by many players. Pokmon Snap is available on the Wiis Virtual Console, so interested fans would do well to check it out.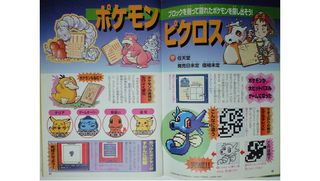 1999 Pokmon Picross
Out of all the Pokmon titles that have appeared over the years, Pokmon Picross is among the most mysterious, mainly because it never saw any sort of release. Based on the picross series of nonogram picture puzzles (most recently seen in Picross 3D), Pokmon Picross was set to release on the Game Boy and Game Boy Color, and featured picture puzzles of various Pokmon. The only information about the game comes from an announcement in a Japanese magazine--any trace of the title eventually vanished, though Pokmon-themed puzzles have shown up in a few other Picross titles.
Image via Bulbapedia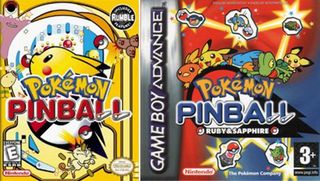 1999~2003 - Pokmon Pinball series
Before it was swallowed up by Nintendo, HAL published one of the first pinball games for the Game Boy, an odd little title called Revenge of the Gator featuring a reptile-themed table. Nintendo kept that experience in mind when assigning development duties for a Poke-themed pinball title (though another developer, Jupiter, would also help out). Pokmon Pinball released on the Game Boy Color in a fairly unique rumble cartridge, which required an extra AAA battery and would provide force feedback as the player bounced the Poke-ball all around the two selectable tables (Red and Blue). A later GBA sequel, Pokmon Pinball: Ruby & Sapphire, would be released in 2003, missing the rumble feature while including many more Pokmon.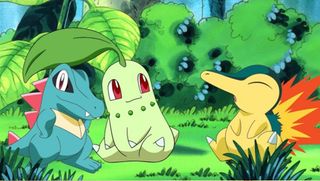 1999~2001 - Pokmon Gold/Silver/Crystal
After Pokmon took over the world in the form of side games, anime, and dozens of toys, it was finally time for the series to have its first true sequel. Taking place three years after the first game and set in a whole new region, Gold and Silver had a similar story of becoming a Pokmon Master, but it introduced so much to the series. 100 new pocket monsters joined the stable, a day night cycle was added, you could now breed Pokmon, and thanks to the Game Boy Colors main characteristic, the adventure was in color too.
GS also gave the series some needed continuity, especially in the endgame that reintroduced the Kanto region and all its Gym Leaders, including Red, the protagonist of the last game. The third game in the set, Crystal, upped the importance of story even more, giving a ton of background to the Legendaries that youre chasing throughout the game. And in a tradition that continues to this day, it let players choose the gender of the hero. Gold, Silver, and Crystal ushered in a new era for Pokmon, proving the series was here to stay.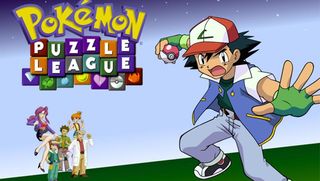 2000 - Pokmon Puzzle League/Pokmon Puzzle Challenge
Intelligent Systems excellent tile-matching puzzle game Panel de Pon is noteworthy in that its never seen a release in North America in its original form. It was rebranded with Yoshis Island-themed visuals in the late SNES release Tetris Attack, and then redone again years later as Pokmon Puzzle League and Pokmon Puzzle Challenge on the N64 and Game Boy Color. Pokmon Puzzle League is also historically interesting in that it never received a Japanese release, as it was built and tailored specifically around the 4kids-produced dub of the anime series. The N64 version is available on the Wiis Virtual Console.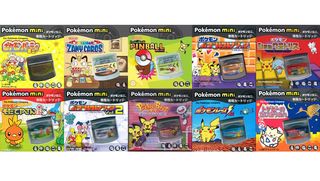 2001~2002 - Pokmon Mini
Building upon the ideas of the Pocket Pikachu, Nintendo introduced its smallest cartridge-based system to date in 2001. The Pokmon Mini had a similar form factor to the Pocket Pikachu, with the added feature of interchangeable, teeny-tiny game cartridges, each containing a different, simplistic game. The unit lacked Pocket Pikachus pedometer (and the Pocket Pikachu 2s color display), but featured an infrared port for transferring data, limited force feedback, a shock detector, and a realtime clock function. The units were released in Pokmon-themed colors: Chikorita green, Wooper blue, and Smoochum purple.
The system proved to be very short-lived outside of Japan, with only four games (Pokmon Party mini, Pokmon Pinball mini, Pokmon Zany Cards, and Pokmon Puzzle Collection) being released in North America. Japan got new releases up through the end of 2002, including Pokmon Race mini, Pichu Bros., and Togepis Big Adventure. The systems lifespan was just under a year in every territory it saw release in, making it one of the least successful Pokmon ventures. We wouldnt see another dedicated Pokmon portable unit until 2010s Pokewalker.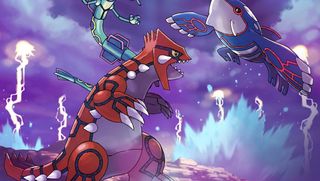 2002~2005 - Pokmon Ruby/Saphire/Emerald
By the time the third generation rolled around, the series got a graphical upgrade on the Game Boy Advance to go along with 135 new monsters added to the series. Another story of a kid going out into the world to become a Pokmon Master, introduced some major new concepts to the series. You had double battles, increased EV and IV training, and each you Pokmon caught became more specialized thanks to individual Natures and Abilities. Some may have complained at the time it was too similar to previous games in the series, but the truest fans could tell this was an adventure all its own.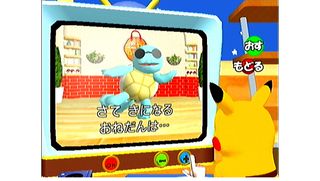 2003 - Pokmon Channel
Some titles are forgotten for very good reasons, and Pokmon Channel is a prime example of this. Make no mistake about it--Pokmon Channel is a terrible game, offering little in the way of fun or even basic interaction. In many ways, it feels like a prototype for the numerous awful, effortless Wii barely-games that flooded the market.
Pokmon Channel involves you and your Pikachu pal testing out a new television network developed by Professor Oak to entertain both Pokmon and trainer alike. You watch terrible television, broken up by brain dead, barely interactive minigames. You can leave the house to talk to wild Pokmon and earn in-game cards, but by and large the majority of the game is you and Pikachu vegging in front of the tube, no doubt getting fat on Mountain Dew and canned Slowpoke tails. The lack of, well, anything in Pokmon Channel is no doubt why its barely remembered why would anyone think a game based around watching TV was a good idea?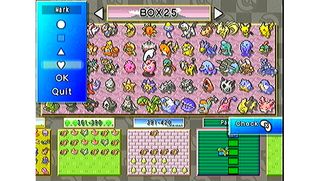 2004 - Pokmon Box
Not so much a game as a utility, Pokmon Box allowed you to transfer and store up to 1,500 generation 3 Pokmon from a GBA cartridge to a GameCube memory card using the GBA link cable. It could also be used to play Ruby/Sapphire on a TV without the need for the Game Boy Player add-on. Its not a particularly exciting piece of software, but we wouldnt be doing our jobs if we scratched over it.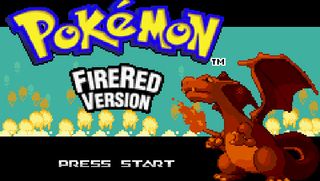 2004 - Pokmon FireRed/LeafGreen
Ruby/Sapphire was exciting in how it embraced the tech of the GBA, but it had one big drawback for longtime fans of the series: It couldnt communicate with the older entries in the series. Pokmon from Red/Blue/Yellow/Gold/Silver/Crystal were stranded on their original carts, unable to transfer off the Game Boy. To remedy this lack of First and Second Gen monsters, Game Freak did their first remakes in series history, transforming Red and Blue into FireRed and LeafGreen. It retold the story of the first games, but still reflected many of the improvements made in the past eight years, especially the ones from the Third Generation.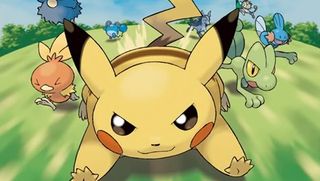 2005 Pokmon Dash
The first Pokmon game on the Nintendo DS was hardly Diamond/Pearl--it was this oddly experimental little racing game from early 2005. Playing as Pikachu (or other Pokmon in multiplayer modes), the player uses the DS stylus to guide your Pokmon competitor around the track in a madcap race to tag various checkpoints scattered around the tracks. There are different types of terrain to keep aware of, and plenty of scattered power-ups to grant your Pokmon an added boost.
Though it might not have been a rip-roaring success, Pokmon Dash certainly left behind some inspiration for later titles, as the game bears obvious similarities in control and theme to the Pokeathlon minigames in HeartGold and SoulSilver. It was also one of the first games to feature connectivity via the DSs built-in Game Boy Advance cartridge slot, allowing players to play special courses shaped like the Pokmon in their Ruby/Sapphire/Emerald/FireRed/LeafGreen teams. Finally, Pokmon Dash delivered the official introduction of Munchlax, keeping a tradition of introducing upcoming Pokmon through spinoffs and other media going strong.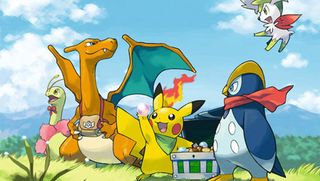 2005~2010 Pokmon Mystery Dungeon series
Chun Soft is quite a famous developer in Japan, and one of their premiere franchises is the Mysterious Dungeon series of roguelikes. Its unknown how and why they were approached to transplant the world of Pokmon into their dungeon-crawler formula (perhaps Nintendo was impressed by their previous efforts with the Dragon Quest series), but the result has been the Pokmon Mystery Dungeon series. The games take place in a world seemingly disconnected from the usual Pokmon setting, where Pokmon and only Pokmon exist and interact with each other, teaming up and going on rescue missions in randomly generated dungeons. The series has never been particularly well received in North America. Its typically viewed as too obtuse and frustrating for a younger audience, but too dumbed-down for the small but devout roguelike fanbase. Despite this, the games keep on getting released abroad--save for the recent batch of WiiWare Pokmon Mystery Dungeon titles, which look to remain Japan-exclusive.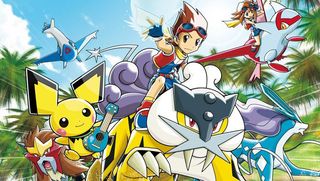 2006~2010 - Pokmon Ranger series
Not all places in the wide world of Pokmon utilize Poke Balls to train and capture their Pokmon. In the Pokmon Ranger series, you take the role of a sort of nature protector who subdues wild Pokmon with the help of a special device called a Capture Styler, which traces rings around them until theyre friendly enough to work with. This sub-series remains widely available and has been quite well-received, no doubt due to a bonus provided in the initial releases: the Ranger games are the easiest way to obtain the rare Manaphy in Diamond/Pearl/Platinum.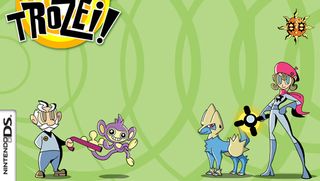 2006 Pokmon Trozei!
Pokmon is no stranger to the world of puzzle games, but if you ask fans about Pokmon Trozei!, youre likely to get some blank stares. For whatever reason, this strange puzzler just didnt make a mark. The games title (and core mechanic) is a rather unusually styled romanization of the Japanese title, Pokmon Torou Ze! (Lets Catch Pokmon!). The game plays similarly to Yoshis Cookie: players shift rows of stacked Pokmon faces vertically and horizontally to line up four or more matches. From there, the player can initiate trozei, or combos, with slightly less stringent restrictions, including fewer matches needed and allowing unusually shaped match formations to be cleared, until a time window expires.
Pokmon Trozei also features an interesting story mode involving secret agent Lucy Lightfoot going up against an evil organization called the Phobos Battalion. The art style of Trozei is wildly different from any other Pokmon game out there, looking very similar to the aesthetic of the Mr. Driller puzzle games. Its not too hard to find, either, so depending on your interest in the franchise, Trozei might be worth tracking down just for its unusual aesthetic alone.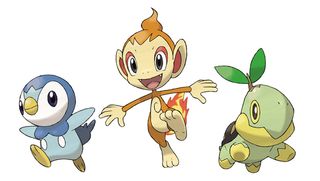 2006~2009 - Pokmon Diamond/Pearl/Platinum
The first entry made for Nintendos dual screen handheld, Generation IV took advantage of the many tools the DS offered. You explored the Sinnoh region, a world bursting with 107 new Pokemon to capture while battling the dastardly Team Galactic. Most likely the most important change, Pokmon Diamond/Pearl used the DSs native Wi-Fi to help players share and battle easier than ever, and it was also one of the very few DS games that could interact with the Wii.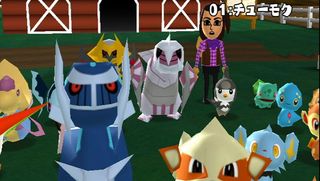 2008 My Pokmon Ranch
WiiWare seems like a dumping ground for a lot of boring, half-formed junk (which is quite unfortunate for all of the good titles on the service), and My Pokmon Ranch doesnt really do much to alleviate that perception. Costing 1000 Nintendo Points, My Pokmon Ranch allows your Mii to interact on a cozy little farm with several zoos worth of transferred Pokmon youve caught in the Diamond/Pearl games. You can play and do simple interactions with the Pokmon, as well as potentially earn some new critters and visit other players ranches. But with no ability to train or otherwise level up your transferred Pokmon, the novelty wears off incredibly quickly. To top it off, Japan got an update to increase the titles Pokmon capacity and make it compatible with Pokmon Platinum an update other territories never saw.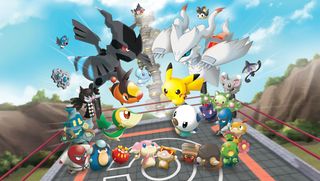 2009~2011 Pokmon Rumble
Another WiiWare exclusive, Pokmon Rumble goes the Smash Bros route of representing the in-game Pokmon as toys very, very strange looking toys that the developers literally re-used from My Pokmon Ranch.
But beyond the adorably polygonal visuals, the game is a multiplayer action title played with a sideways-held Wii Remote or a Classic Controller. As you run through overhead-view levels, waves of enemy Poke-toys assault you, and you use your mechanical monsters abilities to take on both the tiny toys and the big bosses. At the end, everyone participates in a no-holds-barred arena battle to see who will emerge the victor. Its a rather decent--if extremely repetitive--effort, but most players wont find it to be worth the 1500 Wii Points it runs. A sequel, Pokmon Rumble Blast, came to 3DS last year, the first Pokmon game for the new handheld that added virtually every Pokmon in the five generations to the game.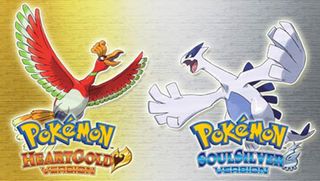 2010 - Pokmon HeartGold/SoulSilver
After the original Game Boy entries had been remade on GBA, it was only a matter of time before the team at Game Freak return to the Second Generation of Pokemon. Retelling the same story and remade to take advantage of all the changes that happened up to Gen IV, Pokmon HeartGold/SoulSilver also added tons of minigames, Easter Eggs, and uses for the DSs second screen. Updated with new ways to catch previously hard to find Pokemon from older generations, HG/SS was a fitting tribute to the series history, and it set the stage for the big changes that would come in Gen V.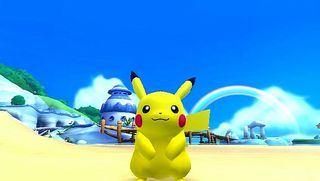 2010~2012 PokPark
Does Game for Wii automatically translate into minigame collection? We wish it usually didnt, but PokPark Wii: Pikachu's Adventure is yet another entry into this unexpectedly crowded genre. Fourteen pieces of the Sky Prism are missing, and theyre scattered about PokePark. Pikachu needs to befriend and use the assistance of other Pokmon to find the pieces, and said befriending involves, you guessed it, minigames! At least the games are mercifully short, but theres really nothing terribly interesting or exciting about this day at the park, or its sequel from 2012, which added multiple Generation V Pokmon, including starters Tepig, Oshawott, and Snivy.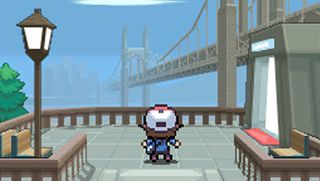 2010~2012 - Pokmon Black/White 1 and 2
When the Fifth Generation rolled around, the franchise was in need of some renewal, and thats just what Pokmon Black/White had in store for players. The graphics got a complete overhaul, the Wi-Fi capabilities of the DS were taken advantage of in interesting new ways, and most importantly, it introduced 156 new Pokmon, and they were the only Pokmon you encountered until you beat the game. It gave a sense of renewal that many fans had felt was overdue, while also making the series even friendlier to new players than it was already.
B/W also had the best story in franchise history, placing your mild-mannered trainer against a massive, ancient conspiracy to separate people all over the world from their Pokmon. The stakes were higher than ever, and the plot asked questions about the general legitimacy of Pokmon ownership, a difficult topic the developers had previously shied away from. The engrossing narrative continues in Pokmon Black/White 2, the first ever direct sequel in the history of the main series.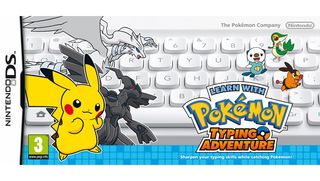 2011 Learn with Pokmon: Typing Adventure
Around the late 90s and early 00s, there were several edutainment PC games that utilized the Pokmon license, though none of them had even the slightest bit of involvement from Nintendo. Strangely enough, not a single one of them was a typing tutor. Flash forward to 2011, and a new Pokmon-themed typing tutor has been announced not for the PC, but the DS. Released in Japan and Europe, but not the US, the game is bundled with a Bluetooth keyboard that is used to play the various minigames contained on the card.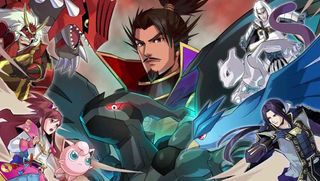 2012 Pokmon Conquest
One of the most bizarre crossovers of all time, recently Pokmon fans were treated to the strange combination of pocket monsters with Japanese history. Combining Pokmon with the long-running (but little known internationally) Nobunagas Ambition, Pokmon Conquests turn-based, strategy gameplay fit well within the world of Pokmon. Despite inheriting some of the more esoteric economy systems and rules of Nobunaga, it still works as a great introduction to the realm of strategy games for Pokmon fans.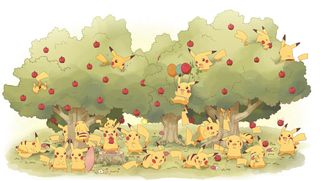 Did you catch all that?