WARNING: This article is dark and full of spoilers.
Game of Thrones took its foot off the gas ever so slightly in the latest episode to do a bit of table-setting for the rest of season six, but with only four hours remaining there's a good chance that the pace will quicken as we near the finale. HBO have released some new images for this week's seventh episode - titled 'The Broken Man' - and while it teases the usual suspects like Arya and Jon Snow, it also reveals the return of Jerome Flynn's fan-favourite character Bronn.
Check it out below...
Image 1 of 6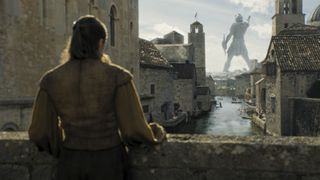 Image 2 of 6
Image 3 of 6
Image 4 of 6
Image 5 of 6
Image 6 of 6
In addition to Bronn's return it looks like we can also look forward to Sansa and Jon finding out if the North truly does remember, while Arya tries to formulate an escape plan from Bravos. There's also the not so insignificant matter of the fallout from the recent events in King's Landing; the High Sparrow has Cersei and the Tyrells on the back foot right now, but something tells me that won't last long. All in all it looks like another busy, and hopefully memorable episode of Game of Thrones awaits.
Season 6 of Game of Thrones airs Sundays on HBO in the US, and Sky Atlantic on Mondays in the UK.
Images: HBO