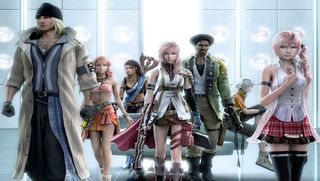 From blue mages and wily thieves to fal'Cie, Eidolons, and ladies named Lightning, the Final Fantasy series has grown to embrace them more complex traits of RPG storytelling. The last two chapters alone Final Fantasy XIII and XIII-2 packed in everything from divine intervention to time travel and alternate dimensions. You can go ahead and pretend you were able to keep track of it all, but we're guessing even the most FF-elite can benefit with a little recap.
So, to prepare for the newly announced Lightning Returns: Final Fantasy (PS: You can go ahead and read our Lightning Returns: Final Fantasy 13 review), the (final?) piece of the Final Fantasy XIII puzzle, here's an overview of the story so far...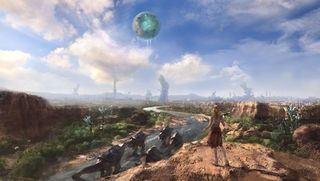 Final Fantasy XIII is a tale of two worlds...
At it's core, Final Fantasy XIII is a story about two worlds linked by fate, legend, and godly influences. One of these worlds is Pulse (sometimes Gran Pulse), a savage planet dominated by untamed monsters, ancient ruins, and divine machines called fal'Cie which dictate all facets of life. The other world is Cocoon, an artificial safe haven for humanity which hovers above the surface of Pulse and is also at the mercy of the fal'Cie. Here, the governing body Sanctum does everything in its power to turn its people against Pulse by convincing them the planet below is more or less a version of hell. Cocoon's anti-Pulse convictions are so strong that any contact with the planet and its inhabitants are met with severe repercussions such as exile or a Purge of any Cocoon section that has the misfortune of discovering something from Pulse in its backyard.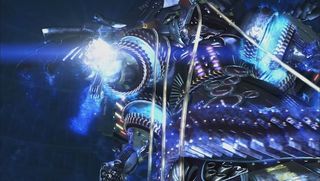 ...the fal'Cie who keep them spinning...
Those fal'Cie we've been referring to? They're a pretty big deal. As the story goes, Final Fantasy XIII's universe (aka the Fabula Nova Crystallis universe) was divided into the mortal realm and Valhalla (aka The City of the Dead). In a bid to rule the mortal realm, the god Bhunivelze killed his mother Mwynn and sent her to Valhalla, but not before she cursed the mortal world (or so he suspected). Hoping to finish her off in Valhalla for good, but without giving up his reign in the mortal realm, Bhunivelze created three other beings to help him break into Valhalla by way of a master plan that would require an entire civilization and loads of time. Thus were born the makers: Pulse, Lindzei, and Etro.
Pulse created Gran Pulse and its fal'Cie, and was tasked with finding the door to Valhalla. Lindzei spawned its own fal'Cie and was responsible for protecting Bhunivelze. Meanwhile, Etro, whom Bhunivelze found to be too much like his mom, was given no powers. Unfortunately, this prompted her to commit suicide, sending her to Valhalla and seeding humanity with her blood. Shortly thereafter, Lindzei built Cocoon from bits and pieces of Pulse under the pretence of giving humans a paradise (read: prison) to call their very own.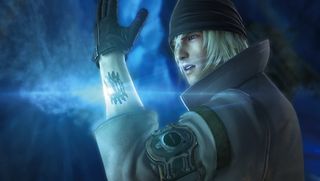 ...and the l'Cie who do their bidding.
Fal'Cie are beings of immeasurable power and influence, but they don't like to get their hands dirty. Instead, they choose humans to carry out various missions (aka a Focus) and brand them with a l'Cie tattoo to give them a rough estimate of how long they have to complete it. The catch is that humans branded as l'Cie must figure out their Focus by themselves. Those who fail are turned into hideous Cie'th monsters. Reversely, those who decipher and complete their Focus are turned into crystal until the fal'Cie can find something else to keep them busy. No matter how you slice it, becoming a l'Cie is a raw deal.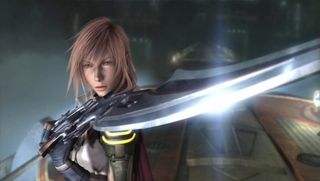 Lightning is the star of the show
Lightning (real name: Claire Farron) is Final Fantasy XIII's number one heroine. She is a strong and (mostly) silent type who's past service with Sanctum's Guardian Corps and proficiency with a gunblade make her a force of ahem nature on the battlefield. When we first meet Lightning, she is cutting a swath through PSICOM (members of Sanctum's main military branch) on a train bound to the Pulse Vestige, a mysterious structure that was discovered in Lightning's hometown of Bodum and relocated to Cocoon's Hanging Edge for safe keeping.
Why all the rush? Early on, it's revealed the Pulse Vestige contains a Pulse fal'Cie called Anima. This motivates Sanctum to Purge the residents of Bodum including Lightning's sister, Serah, who is trapped within its chambers at the beginning of the game.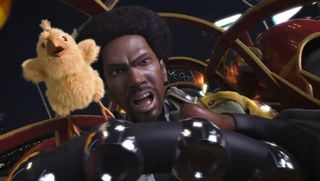 Sazh joined Lightning to help his son
Sazh Katzroy is the first playable character Lightning bumps into on her mad dash for the Pulse Vestige. He joins Lightning to further his own mission to save his son, Dajh, who was taken for study by PSICOM after being accidentally turned into a Cocoon l'Cie at a place called Euride Gorge (remember that). Handy with a pistol, Sazh quickly proves himself to be a useful addition to Lightning's impromptu army. He also houses a chocobo chick in his afro because, well, we're not entirely sure. Our money is on it turning out to be some kind of immortal McGuffin who will save the entire race in Lightning Returns.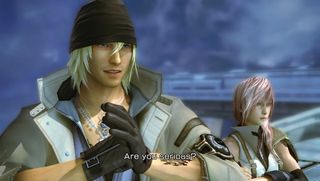 Snow joined Lightning to save his fianc
Snow Villiers is the leader of NORA, a group of young Bodum resistance fighters who, at the beginning of Final Fantasy XIII, are launching their own attack against Sanctum in retaliation for the Purge. Coincidentally, he's also Serah's fianc, giving him another reason to join Lightning and Sazh en route to the Pulse Vestige. Prone to making rash decisions, boisterous outbursts, and ending every sentence with a fist bump, Snow is not Lightning's favorite travel companion. He is, however, vital to the story and can soak up damage like no one's business.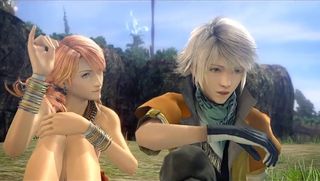 Hope and Vanille joined because they were there
Hope Estheim and Vanille (aka Oerba Dia Vanille) are the final characters that party up with Lightning at the onset of the game. Hope is the youngest of the pair, and he joins the cause after losing his mother in a botched NORA offensive; an incident which leaves him with a burning, unspoken hate-on for Snow for roughly 99.997% of the game. Vanille, on the other hand, is a bubbly teenager who appears all too comfortable with the amount of death and destruction that surrounds her. It's possible this is because she almost became the ultimate source of death and all destruction a few hundred years in the past, but we've already said too much.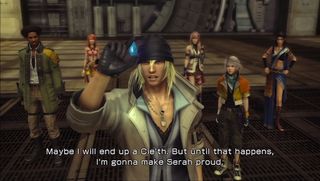 The fun begins when everyone becomes a l'Cie
Upon reaching Pulse Vestige, the ragtag posse finds Serah just in time for her to say something about saving Cocoon and turn into a crystal before their eyes. Naturally, this is not the outcome both Lightning and Snow were hoping for, and in a fit of anger the gang storms the inner chambers of the Pulse Vestige to fight the fal'Cie Anima itself. Their hopeless battle ends with everyone crashing into Lake Bresha below where they awaken soon after with vague recollections of a monster called Ragnarok and freshly inked l'Cie tattoos. And so the countdown begins...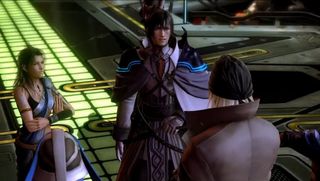 Paths splits, secrets are revealed
Shortly after coming to grips with their new fate, Snow and a crystallized Serah are taken captive by Fang and Cid, leaders of Calvalry, a branch of the Guardian Corps. Fang reveals to Snow that his true Focus is to destroy Cocoon, but Snow being Snow refuses to accept the task. Later, they reconnect with Lightning and Hope who have been kicking around on their own little journey to Hope's hometown of Palumpolum. Once reunited, they learn Sazh and Vanille have been taken prisoners by the Sanctum's Primarch, Galenth Dysley. This prompts Lightning, Snow, Hope, Fang, and Cid to launch an ill-conceived rescue mission.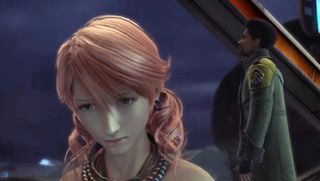 Vanille and Fang were responsible for Dajh's fate
Before they're nabbed by PSICOM, Sazh reunites with his son, Dajh, and watches in horror as his flesh and blood becomes a crystal after having apparently completed his Focus of bringing Sazh and Vanille together. As if this weren't heart-wrenching enough, PSICOM leader Jihl Nabaat reveals to Sazh that Vanille and her friend Fang (yes, the same one chatting it up with Snow) are ex-l'Cie warriors who's presense at the Euride Gorge energy plant during a visit by Sazh and Dajh triggered the fal'Cie Kujata to awaken and turn Dajh into a l'Cie. Shockingly, Sazh does not take the news lightly and Jihl sets him loose to exact revenge on Vanille. Ever the moral man, Sazh stops himself from killing Vanille, and after a brief fight with his Eidelon, Brynhildr, they wind up on the PSICOM ship Palamecia with a one way ticket to execution.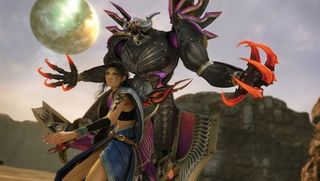 Time Out: Eido-what?
Hold up ... Eidolon? What's an Eidolon (we imagine you asking)? By this point in Final Fantasy XIII, a couple of characters have already gone toe to toe with these massive creatures, which can be summoned forth in battle for assistance once they are initially beaten in the wild. In short, Eidolons are the goddess Etro's real world ambassadors who live in crystals called Eidoliths. Eidolons appear to l'Cie who need them most; which in this case, is everyone in Lightning's crew.
And now back to the plot...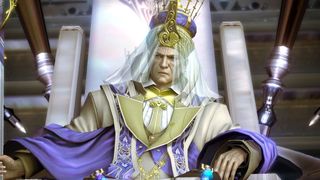 The head of Sanctum was a fal'Cie all along
Dun, dun, duh. In a stunning, there's-no-way-you-could-have-guessed-it twist, the head of Sanctum, Primarch Galenth Dysley, is revealed to be the Cocoon fal'Cie ruler Barthandelus and one of the game's main villains. He is the one responsible for moving the Pulse Vestige into Bodum in the first place, setting Serah, Lightning, and Snow along their paths. As bad guys are wont to do before beatdowns, Barthandelus delays his ass-kicking to tell Lightning and company that their Focus isn't to save Cocoon, but rather transform into the beast Ragnarok and destroy it by killing the fal'Cie Orphan. Remember when we said being a l'Cie wasn't a picnic? This is why.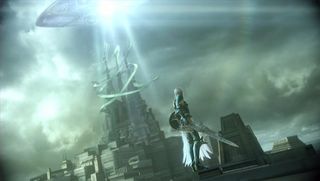 The fal'Cie wanted to resurrect their Maker
The gang escapes Barthandelus with more than a few scratches, only to have their minds blown by Cid who explains the whole goal of the fal'Cie Barthandelus included is to kill the fal'Cie Orphan who is keeping Cocoon aloft, thus sacrificing millions of humans to resurrect their Maker. They need l'Cie to carry out this gruesome act, as fal'Cie are bound by Square Enix logic to not kill themselves or each other. Sure, they can create a whole civilization and manipulate them into killing each other, but going about it directly is a big fal'Cie no-no.
As for who this Maker is, that's open for interpretation. Depending on which fal'Cie you ask (and assuming you can even book an interview), it could be Pulse, Lindzei, Bhunivelze, or another god we don't know about yet. Nevertheless, the fal'Cie aim to meet their Maker by overloading the door to Valhalla Etro's Gates -- with millions upon millions of human souls.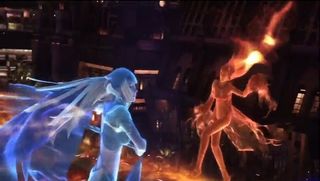 Vanille and Fang almost destroyed Cocoon, but failed
That's right: The Vanille you've likely come to love and/or mute almost annihilated humanity. She confesses this fact aboard Cid's ship, telling the gang that she and Fang were once l'Cie charged with turning into the monster Ragnarok and destroying Cocoon some five hundred years ago during an event called the War of Transgression. Thankfully, they were not successful. In the end, Fang alone transformed into Ragnarok but only managed to take a dent out of Cocoon. The kicker? Fang and Vanille's fal'Cie was none other than Anima, and their resurrection from crystal status in the Pulse Vestige is what kicked off Bodum's Purge.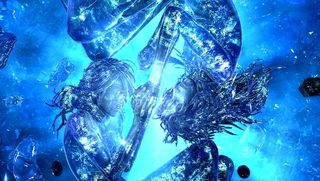 Etro saved Cocoon the first time
Remember Etro? One of the original gods Bhunivelze banished to Valhalla for looking like her mom, Mwynn? As it so happens, not only does humanity owe her for their existence, but Etro was also the being who turned Fang and Vanille into crystals before they could bring Cocoon crashing down. In so doing, this ended the War of Transgression in which Pulse citizens attempted to invade Cocoon, thus continuing an ages-old feud influenced by fal'Cie on both sides.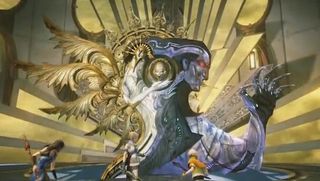 Orphan merged with Barthandelus
With the fal'Cie's plans laid bare, the gang vows to save Cocoon from its fate, even if it means rejecting their Focus and turning into Ci'eth. After some meandering on the surface of Pulse and trying to wash off their l'Cie tattoos in the town of Oerba (the former home of both Fang and Vanille) they encounter Barthandelus once more and discover he is manipulating the Calvary to attack Orphan, with hopes of killing the Cocoon fal'Cie and doing what Lightning and her team refuse to do. After another rousing battle, the gang rushes to Cocoon's capitol of Eden, home to Orphan's Cradle, only to find Barthandelus and Orphan have become one. Seeing no other option but to fight, Lightning and her friends engage the hybrid villain in a final showdown with earth shattering results.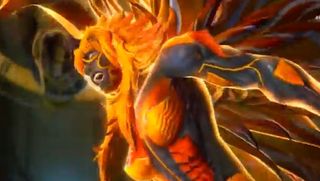 Fang almost destroyed Cocoon ... again
During the end-game face-off with Orphan-Barthandelus (Orphbart? Barphan?), Fang is forced to transform into Ragnarok once again and land the finishing blow on Orphan. The other members of party (briefly rendered Ci'eth) get their human acts together n time to stop Fang from transforming and together they beat Orphan for good.
Wait, you say, wasn't the whole point to keep Orphan alive? Wasn't it Orphan's plan all along to die by the hand of l'Cie, thereby setting off Cocoon's destruction and the return of the "Maker". Why yes. Yes it was.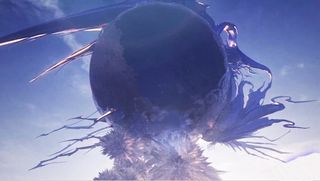 Fang and Vanille saved Cocoon (for a change)
With Orphan out of the picture, Cocoon falls like a rock and everyone but Fang and Vanille turn into crystal as a reward for bringing humanity back from the brink of annihilation. Determined to save their friends, the ladies give into their Ragnarok urges and transform into the legendary beast. This time, however, it's a good thing, as the transformation allows them to crystallize into a colossal pillar which catches Cocoon and prevents the artificial planet from crashing into the surface of Gran Pulse. Hurray!
Wait...but what about...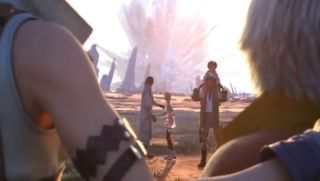 Don't worry, Etro cut everyone a break
According to the rules, Lightning, Snow, Sazh, Serah, and Dajh should have all ended the game as life-sized statues. But as we know, Etro doesn't play by the rules. So, as a nice little gift for restoring balance to the world and not allowing the Etro Gates to burst open, the goddess frees the gang from their crystal prisons and erases their l'Cie tattoos. Friends rejoice, families are reunited, and somewhere a fal'Cie gets its wings...or something. All's well that ends well, right? Wrong.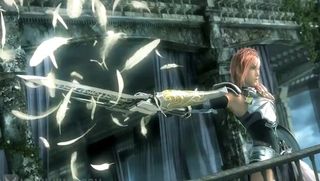 Final Fantasy XIII-2 is a tale of multiple timelines
Proving that even gods can't mess with the rules, Etro's interference at the end of Final Fantasy XIII causes the timeline to become unhinged. It also results in Lightning falling between the cracks to wind up in Valhalla as the guardian to Etro herself, who is worse for wear after stepping in to save Lightning's friends. Final Fantasy XIII-2 picks up three years after the first game in a reality where Lightning has been yoinked from the timeline, leaving her team to believe she is stuck inside the crystal pillar with Fang and Vanille. All except for one...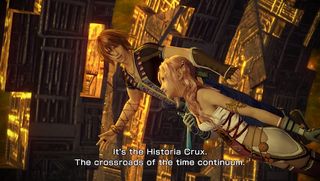 Serah and Noel are the stars of FFXIII-2
Plagued by visions of a sister she knows is still alive, Final Fantasy XIII-2 finds Serah taking up the role of hero and setting off on a journey to rescue Lightning from wherever she disappeared too. Early into Serah's quest, she is saved by an amnesiac warrior from the future named Noel Kriss who acts as her companion through time. Noel knows a few things about Lightning, having fought with her briefly while passing through Valhalla before being spit up in Bodum. Together, they band to find Lightning and save Noel's future by mending paradoxes via the Historia Crux, a passageway through the time continuum.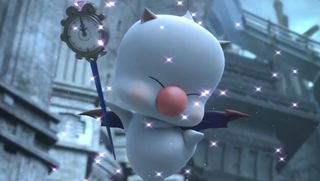 Oh, and there's also Mog (kupo)
Don't forget about Mog, kupo! Mog is important too, kupo! Mog hails from the Ocean of Time, but was sucked into a paradox, and wound up becoming a weapon called Starseeker for Lightning in Valhalla, kupo! When Noel passed through Valhalla, Lightning gave him Mog to pass on to Serah, kupo! If you think this is annoying now, just wait, kupo!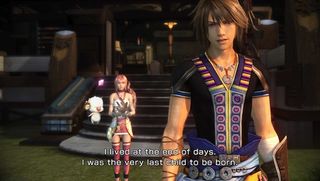 Noel had his own reasons for helping Serah
Throughout their time travels, Noel comes to remember he is from a post-apocalyptic future where Cocoon has broke free of its Crystal pillar and crashed into earth. We also learn he hails from a tribe of Gran Pulse survivors called the Farseers who's population is in the single digits. Desperate to gain the power to change his destiny, Noel begged Etro to lend him a hand, and the goddess responded by opening a time gate to Valhalla and letting him slip through.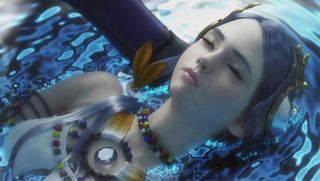 Serah was a Seer (and so is Yeul)
In the Fabula Nova Crystallis universe, there exists females who can see into the future and accurately predict the events to come. This ability comes at a grave cost, however, as Seers have a tendency to be driven mad and die from the effort it takes to receive said visions. In time, Serah comes to learn she herself is one such Seer, and she learns this from Yeul, one of Noel's fellow Farseer's from the future who is fated to die with every alteration the timeline, only to be resurrected again to meet the same fate.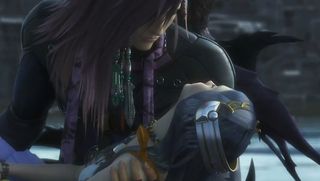 Caius wanted to save Yeul by destroying reality
Caius Ballad is the chief bad guy in Final Fantasy XIII-2. In addition to being Noel's former mentor, he is a warrior who was given the Heart of Chaos by Etro, after which he became immortal and spent the rest of his days protecting the timeline and every version of Yeul throughout history. Like Barthandelus, Caius' mission is to open the gates of Etro and destroy the very fabric of reality. Unlike Barthandelus, his motivations are a little more noble (well, as noble as a mass murderer's motivations can be). As it turns out, Yeul's continual cycle of death and resurrection has driven Caius mad, and the only way he can think to end her suffering is to find a way to kill himself and erase the barriers between Valhalla and the real world. As it turns out, it is Caius who has been setting up the paradoxes, orchestrating events so that Noel would have no choice but to wind up in Valhalla and kill him.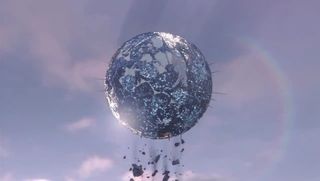 Meanwhile, Hope builds a new Cocoon
While Serah, Noel, and Caius and busy shouting exposition at each other throughout the timeline, a grown up Hope gets busy building finding a way to save Cocoon from crashing in the future after learning of its fate from a vision left behind by Yeul. His first method, a Proto fal'Cie, fails miserably, nearly ending in everyone's demise. His second idea, a brand new Cocoon called Bhunivelze (pop quiz: where have you heard this name?), is more successful thanks to the installation of a few graviton cores found by Serah and Noel. We say a little because while Bhunivelze does make it off the ground, by the time the credits roll, it's future isn't looking so bright.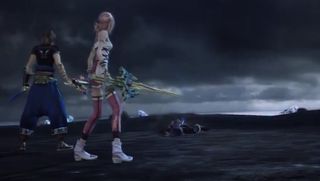 Caius was destroyed, and the world was saved
Serah and Noel eventually leap their way to Valhalla where they confront Caius' Jet Bahamut form. Determined to shatter his own Heart of Chaos for good, Caius goads Noel into striking the final blow. When Noel relents as he did years ago when he first met Caius Caius takes matters into his own hands and drives Noel's blade into his chest. Caius dies and the chaos inside of him is released. Noel and Serah make a haughty escape from Valhalla and arrive back in the real world to find Hope's Bhunivelze making its ascent.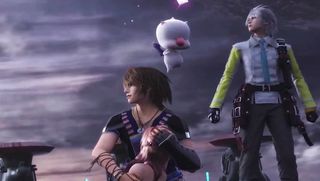 ...But not really
No sooner does everyone have a chance to high five atop Sazh's airship (oh yeah, Sazh is in this game too) does Serah have one final vision and die in Noel's arms. Things go downhill from here as an ailing Mog informs Noel that Etro is dead and everyone watches helplessly as the chaos of Valhalla slowly begins to seep into Gran Pulse and over newly launched Bhunivelze. Cue cliffhanger music.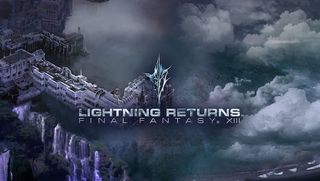 The story continues in Lightning Returns: Final Fantasy
What happens to our plucky heroes? Is the world screwed for good? Does J-pop really exist in the future? All these answers and more will be answered in Lightning Returns: Final Fantasy XIII, a sequel which its developers promise will bring closure to Lightnings story. Read the latest details in Lightning Returns' bizarre details explained by Square Enix.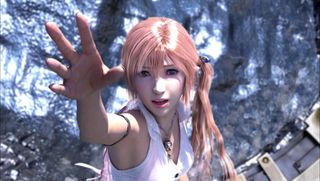 Filling in the gaps
Timegates. Oracle Drives. Crystallium. Pulse Automata. We've done our best to cover the basics of Final Fantasy XIII's story going into Lightning Returns: Final Fantasy, but there's still volumes of nitty gritty details to be gleaned from playing the first two chapters. Feel free to help fill in the gaps or offer your predictions for Lightning's next adventure.
Want more? Read our perfect Final Fantasy XIII review and our almost perfect Final Fantasy XIII-2 review, or get some help on your collectible hunting in our Final Fantasy XIII cieth stone missions guide.