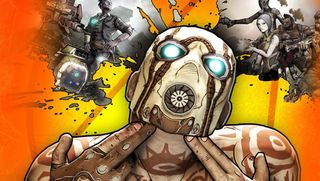 Get caught up before playing Borderlands 2
Maybe you didnt play Borderlands--or perhaps youve already spent plenty of time ransacking Pandora. But while you were busy blazing through side quests and mindlessly force-feeding bullets to bandits and the local wildlife, you mightve missed some important stuff. Sure, Borderlands story presentation was weak, but that doesnt mean there wasnt a story. Because Borderlands 2 is just a day away from launch, we thought it nigh-time for a reminder as to why we murdered half of Pandoras population for shiny new guns in the first place.
Be warned: There are spoilers for the original Borderlands ahead.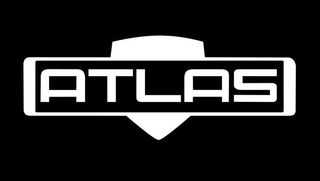 Atlas Corporation hit the mother lode...
Long before anyone turned monsters into mush via Bricks ultra-brutal fists (which well get to later), the Atlas Corporation was busy mining the planet Promethea. See, Atlas was this huge megacorporation that developed all sorts of things, including spaceships and weapons--both of which required lots of resources to manufacture.
While on Promethea, Atlas caught a lucky break and stumbled across a cache of ancient alien technology, which it promptly reverse engineered, bringing the company to the forefront of the weapons biz. Turns out guns that shoot lasers and bolts of electricity were in high demand. Naturally, huge profits followed, and Atlas Corporation became one of the wealthiest companies in existence.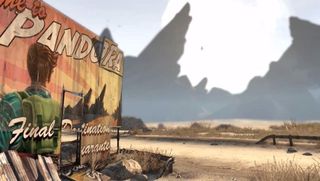 ...then colonized Pandora in search of more alien loot
The discovery of alien tech soon incited other mega-businesses to seek fortune on similar frontier planets, in hopes of mimicking Atlas Corporations success. Of course, Atlas already had a taste of the proverbial pie and was hungry for more, and colonized Pandora some 70 years before the events of Borderlands in hopes that lighting would, indeed, strike twice. This Pandora is not to be confused with the James Cameron version, which housed giant blue monkey creatures and the cleverly named element Unobtanium.
During the initial colonization, Atlas built Pandoras infrastructure, constructing all sorts of excavation and research facilities, as well as housing for the droves of colonists that hoped to get in on the supposed riches. Those treasure hunters scoured the planet in search of a rumored cache of alien tech--like the one found on Promethea--which they began to call the Vault. Unfortunately, no one found anything, and living on Pandora kind of sucked because its winter season lasted the equivalent of seven earth years.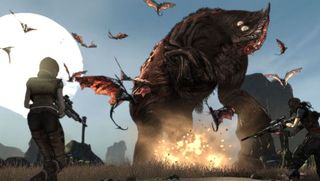 Pandoras wildlife gets hostile when the sun comes out
Pandora had been colonized during that aforementioned winter season, and despite the huge number of people that flocked to its ice-laden surface, no one really took the time to analyze the local wildlife.
Now, this was partly due to Atlas eagerness to find the Vault as quickly as possible, but it was also due to the fact that most of Pandoras creatures hibernate during the long winter. So, after that winter ended, you can imagine everyones surprise when flesh-eating Skags started munching on colonists while Rakks swooped down from the heavens and lacerated peoples arms off with razor-sharp talons.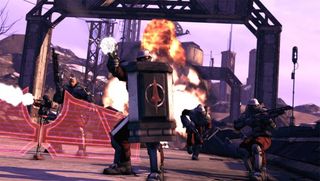 Atlas has a private military group called the Crimson Lance...
Colonists were soon forced to band together and fortify their meager settlements against Pandoras hostile inhabitants. Within a few weeks of the first summer, much of the settler population had been decimated. Atlas Corporation--afraid it would lose the Vault forever--declared martial law over Pandoras biggest city, Sanctuary, and brought in its own privatized military organization, the Crimson Lance.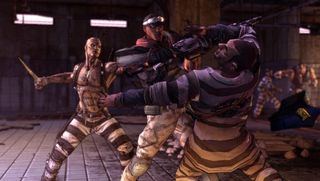 ...who were really big jerks
The soldiers werent kind to Pandoras helpless citizens, looting and pillaging whatever they wanted. Yet the populace endured this abuse in exchange for protection. The Crimson Lance was rather effective at fighting off bandits and deadly creatures alike.
But as time went on, Atlas lost substantial amounts of money to its fruitless investment in finding Pandoras Vault. The company ultimately abandoned Pandora, leaving its lawless and increasingly hostile population behind.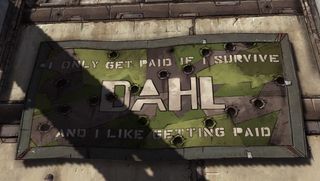 Dahl Corporation tried to find the Vault without Atlas knowing...
With Atlas mostly out of the picture, Dahl Corporation landed on Pandora in hopes of secretly discovering the location of the Vault for itself. Not wanting to stir the hornets nest by pissing off the Crimson Lance (which had remained behind after Atlas departure), Dahl proclaimed to be merely mining Pandora for minerals. Yeah. Sure.
The companys presence brought a resurgence of prosperity to Pandora, as an influx of supplies and personnel revived the planets many desperate settlements. Like Atlas before it, Dahl constructed a bevy of facilities. To do so, it imported tons of slave labor in the form of offworld convicts, who were housed in labor camps during off hours. In addition to building research stations and mining camps, Dahl also constructed a giant city called Haven to serve as its base of operations before beginning covert archaeological digs in search of the Vault.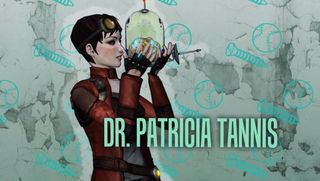 ...and hired Patricia Tannis to do it
Decades after Dahl Corporation began its Vault search, the company hired a noted scientist named Patricia Tannis to assist in the hunt. Tannis discovered that the Vault could only be opened on a specific date, which only occurs once every two hundred years.
Further, she found that the Vault needed to be opened with a key, which was divided into three separate fragments, one of which she recovered. Unfortunately, Atlas Corporation got wind of Dahls findings, and decided to send a huge Crimson Lance unit to Pandora in order to take the key fragment from its owners. By force.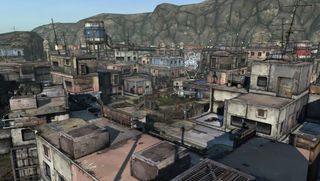 Atlas got mad, and Dahl bailed to escape a military beatdown
Dahl, realizing it didnt have the slightest chance against Atlas superior tech and numbers, decided to leave Pandora and avoid the invasion altogether. In doing so, it abandoned thousands of employees and their families, as well as a ton of mining equipment and facilities.
To make matters worse, the convicts Dahl had shuttled in as slave labor broke out of their labor camps and overran Haven and other settlements while arming themselves with the weapons and equipment left behind. All those bandits youll murder in Borderlands and its sequel? Thats those poor suckers.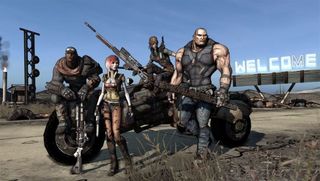 Tannis sends an off-world signal requesting assistance
While Haven is under siege by the bandits, many of its occupants salvage what they can and head west to establish another town: New Haven. Or, as youll come to know it, that junkyard where people live in trailers and piles of scrap. During this transition, Tannis loses her Vault key fragment to a bandit lord, and, shortly after New Haven is built, she develops a phobia of leaving her camp. Intent on retrieving all the Vault key fragments from the safety of her makeshift home, she sends out an off-world signal requesting the aid of any adventurers brave enough to risk their lives for riches. Thats where Borderlands four Vault hunters come in.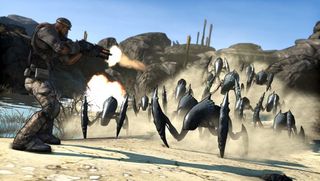 One of the original Vault hunters was the soldier Roland
Though hed previously been a member of Atlas Corporations Crimson Lance, Roland left that brutal life in exchange for one of freedom, opportunity, and more guns than hed ever be able to carry. Hes proficient with just about every type of firearm, and can employ a Scorpio Turret (not too unlike Axtons turret in Borderlands 2) to help him fend off hordes of hostiles. By the powers of some unknown force, he can heal teammates by shooting them with the same guns he uses to make bandits faces disappear.
Note: guns dont heal people in real life.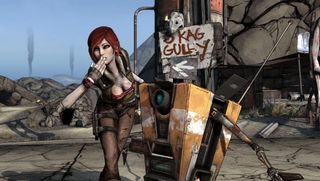 Another was Lilith, who has alien powers that turn her invisible
Lilith is a Siren, of which only a handful exist. These are powerful beings, each born with a series of blue tattoos and a unique alien ability. Lilith, for example, can Phasewalk, rendering her invisible and allowing her to sneak up on enemies undetected. Oh, and shes also very fond of catching people on fire, electrocuting them, or dousing them in acid. For fun. She comes to Pandora in search of another Siren, whos rumored to be somewhere on the planet.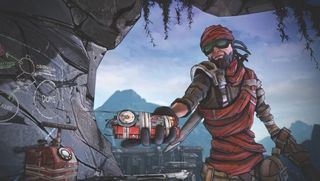 So was Mordecai, an alcoholic sniper with an awesome pet hawk
Mordecai, a renowned sharpshooter, is the kind of dude whose daily caloric intake consists solely of booze. This makes us question the fact that hes always carrying around sniper rifles and pistols, but hey. Who are we to judge? If theres one thing Mordecai loves more than alcohol, cash, and guns, its his pet Bloodwing. This falcon-like bird has razor-sharp talons, which it often uses to de-eye bandits and pick up all the piles of loot they drop upon death.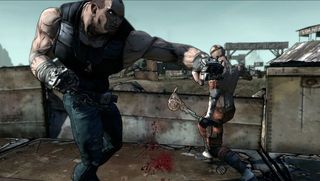 And then theres Brick, who has ultra-brutal fists (told you wed get to it)
What Brick lacks in intelligence he makes up for in size and strength. Hes a pretty scary guy, one that communicates in two-word sentences or guttural grunts and shouts as he punches stuff to death. When hes not using his sledge hammer fists, Brick prefers explosive weapons such as rocket launchers to blow things up in honor of Priscilla, his childhood dog whose dismembered paw he wears on a necklace.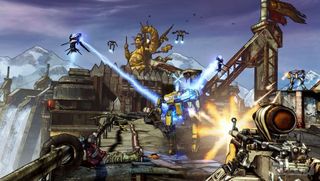 Several companies vie for control of Pandoras weapons supply by the time the Vault hunters arrive
Hyperion, Eridian, Jakobs, and, of course, Atlas and Dahl are but a fraction of the many gun makers whose weapons youll find on Pandora. Some of these companies play a major role in the games story, but all of them imbue their weapons with a unique flavor. Maliwan, for example, manufacturers weapons with elemental properties, such as fire or electric damage, while Tediore guns feature supremely fast reloading times at the expense of damage and accuracy. Nearly all of these manufacturers return in Borderlands 2.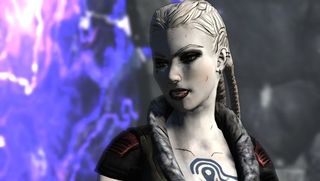 Tannis' call for help also attracted some scumbags
Alas, Tannis transmissions were also heard by the Crimson Lance unit headed by Commandant Steele, who becomes one of Borderlands primary antagonists. She, too, wants to claim ownership of the Vault and its contents. She also bares a striking resemblance to the Sirens, as she is adorned with tattoos similar to those that the rare and powerful beings possess.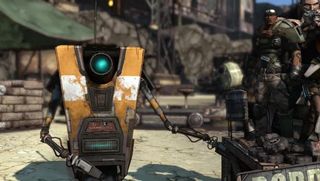 Claptraps are goofy, dancing robots forever haunted by bad luck
Upon stepping foot on Pandora, the Vault hunters are immediately introduced to one of Borderlands most storied characters: the CL4P-TP General Purpose Robot. Or, as we better know him/it, Claptrap. These silly robots spout hilarious lines and are huge fans of dance and dubstep. There are many of the adorable one-eyed machines located throughout Pandora, and finding them (and repairing them) often yields rewards in the form of backpack upgrades or weapon caches. Unfortunately, only one claptrap remains functional by the time Borderlands 2 begins. The rest were destroyed when bandits used them for target practice and skags discovered them to be humorously delightful chewing toys.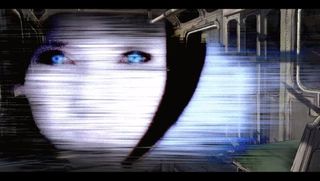 A mysterious being helps the hunters open the Vault...
Periodically throughout the game, a mysterious woman referred to as the Guardian Angel speaks to the Vault hunters via Pandoras ECHOnet communication system. Often cryptic, her messages eventually lead the Vault hunters to all three of the key fragments.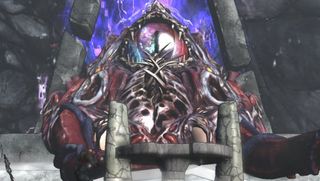 ...which turns out to be a prison for an evil being called the Destroyer
And so, after the four Vault hunters murder thousands of bandits and monsters, they recover all the fragments of the Vault key at last. But before they can celebrate, Commandant Steele and her Crimson Lance unit apprehend them and take the key fragments, declaring them property of the Atlas Corporation. Steele then assembles the key and opens the Vault; but instead of finding a cache of alien tech, she quickly discovers that the Vault is actually a prison meant to cage an ancient beast known as the Destroyer. Its basically a giant eye with tentacles. Lame.
As its name implies, the Destroyers one true purpose is to consume every living thing in the universe. It brutally murders Steele before the four Vault hunters promptly lay the ultimate smackdown upon this horrible creature, which spews a ludicrous amount of purple guns from its gaping, dead maw.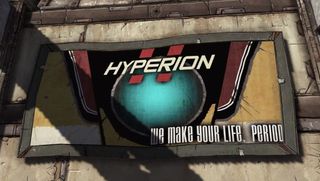 The Guardian Angel works for Hyperion Corporation
Borderlands epilogue reveals that the Guardian Angel operates from or through a satellite belonging to Hyperion Corporation, one of the many weapons manufacturers with a presence on Pandora. It is unclear who, or what, the Guardian Angel is, or whether or not her actions were dictated by Hyperion.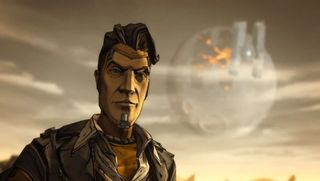 Handsome Jack is Hyperion's leader, and becomes the dictator of Pandora
Fast forward five years, and Hyperion Corporation suddenly becomes the dominant force in Pandora. The companys new leader, Handsome Jack, takes over all major planetary settlements and sends the Vault hunters into hiding before taking credit for opening the Vault and killing the Destroyer himself. As Pandoras dictator, he promises to industrialize the planet and cleanse it of lawlessness by destroying its colonist population. Also, he constantly wears someone elses face as a mask, which is one of the coolest things a villain has ever done in the history of ever.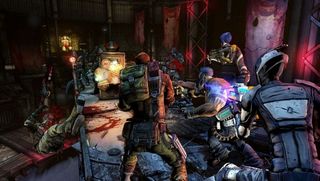 Rumors of a new Vault arise (so Borderlands 2 can exist)
Despite Hyperions genocidal lockdown, Pandoras remaining population--including some of the original Vault hunters--bands together to form a resistance against Handsome Jack and his army of robots. It turns out there was more than one Vault located on Pandora, and Hyperions ever-watchful eye cant stop these rumors from drifting to nearby systems. Thus, four new Vault hunters arrive in search of riches and fame: the short and stocky Salvador who can dual-wield firearms, a commando named Axton who can deploy a defensive turret, the Siren Miya that incapacitates enemies with her Phaselock powers, and the super stealthy ninja assassin, Zer0.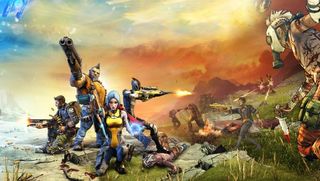 What awaits the new Vault hunters?
Money, fame, and a bajillion guns, to be certain. But how will the adventure unfold? What is Handsome Jacks ultimate goal? And seriously, who the hell is the Guardian Angel? Perhaps well find out in Borderlands 2, which launches tomorrow. Be sure to check back at 9PM PT for our review!
And if you're looking for more ways to get caught up, check out how to prepare for the holiday's big releases and everything you need to know about the Wii U.