Anyone with an iPhone has one of the most diverse and flexible gaming machines in their back pockets. These days, the App Store has something for all tastes as phones get more powerful and developers get more creative, with a range of surprisingly high quality puzzle, strategy, adventure and action games. But given the sheer volume of games for sale on the marketplace, with dozens more added each day, it can feel like a risk to buy something you've never heard of. To help you spend your time – and money – wisely, here are the top games that deserve a space on your iPhone right now. There is life beyond Candy Crush. Honest.
25. Super Mario Run
Genre: Endless runner
Price: Free

Mario's arrival on iOS was a red letter day for Nintendo fans. Especially if you're counting the minutes until the release of Super Mario Odyssey, this is the stop-gap you need. It's an endless runner with all the usual trappings of a Mario title, from coin collection to lots of Toads.
24. Fire Emblem Heroes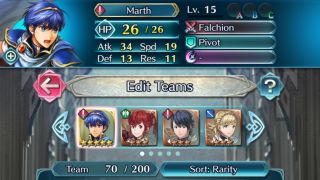 Genre: RPG
Price: Free
More Nintendo-iOS crossover! Fire Emblem Heroes translates the sprawling RPG into a streamlined gameplay experience. New and familiar faces will show up to do battle in the turn-based combat, all in the name of the Kingdom of Askr.
Download Fire Emblem Heroes here
23. Fallout Shelter
Genre: Builder
Price: Free
For you Bethesda fans who have always wished you could take the Wasteland on the go, your problem has been solved. Fallout Shelter puts you in the blue jumpsuit of a Vault overseer. You have to maintain all the critical components of the Vault, from food and power to protection from rampaging Deathclaws. It's a perfect distillation of the future-retro universe into your iPhone.
22. Swap Sword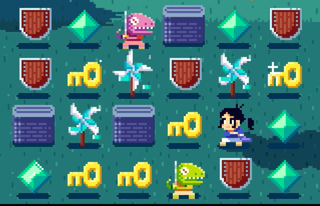 Genre: Match three, strategy
Price: $2.99 / £2.99
At its heart, Swap Sword is a game about resource management. You need to farm as many points as you can in each randomly-generated level before the grim specter of Death appears. Swap tiles to match three in a row or to attack the hordes of enemies closing in on you. Once you start playing, it's hard to put down. Your strategic powers grow with each try, and the ever-changing options of power-ups mean you can take a different angle through each attempt at an ever-higher score.
21. 80 Days
Genre: Adventure, story
Price: $4.99 / £4.99
Lots of games tout the ability to choose your own adventure, but few are as well-written and overflowing with possibilities as 80 Days. Inspired by the Jules Verne classic and given a steampunk twist, 80 Days puts you in the shoes of Monsieur Phileas Fogg's attendant Passepartout, who must manage the expeditions funds and find the fastest routes across the globe. Do you take the Trans-Siberian Railway to cut through Russia? Or do you hop on a hot air balloon and sail across the Middle East? Start a conversation, follow revolutionaries, or just wander the city at night. The choices - and repercussions - are yours.
20. Linelight
Genre: Puzzle
Price: $1.99 / £1.99
Linelight is the kind of zen puzzler that's a must-have for any mobile gaming fan, the type where you can drop in for two minutes or twenty and feel like the time is well-spent. All you need to do is follow the line. Guide your mote of light along the path, avoiding the increasingly complex pitfalls and traps that bar the way. Great puzzle games maintain a steady and gradual rise in complexity, and Linelight does so with aplomb. You may have already played the game on PC or PS4, but it's a great one to carry in your pocket too.
19. Galaxy of Pen and Paper
Genre: Role-playing
Price: $4.99 / £4.99
As you might guess from the title, Galaxy of Pen and Paper revels in the roots of RPG gameplay. But it does so in the not-so-analog outer space setting in the not-too-digital year of 1999. Hilarity ensues. You'll be rolling dice and developing your character while fighting aliens aboard a spaceship with dial-up Internet. Seriously, so much hilarity ensues. If you've already played the studio's also-excellent Knights of Pen and Paper title, you know what I'm talking about.
Download Galaxy of Pen and Paper here
18. Jade Empire: Special Edition
Genre: Action RPG
Price: $9.99 / £9.99
If you never got to experience Bioware's early project, a wuxia-inspired martial arts adventure, when it first came out in 2005, then here's your best chance to experience it. The Jade Empire: Special Edition version for iOS spiffs up the graphics and adapts the fighting to mobile controls with the grace of a kung fu master. It's a must-have for any Bioware fans.
Download Jade Empire: Special Edition here
Genre: Hidden object
Price: $3.99 / £3.99
Hidden Folks is a kooky hidden object game, like Where's Waldo done up in black and white. It'll take some extra sleuthing to find the target items in each level. A monkey might be hiding in the hand-drawn foliage or a person will be napping inside that treehouse. The sound effects, all performed by game creator Adriaan de Jongh, put this interactive creation into serious hipster territory, but it's still irresistibly charming.