Cartoon craze
Animation has come a long way since Walt Disney dreamt up his studio icon, Mickey Mouse. In the beginning Disney created stories with the sole purpose of keeping the kids entertained. But as time has gone on the entire animation world has evolved. We're now treated to titles from multiple studios, each with their own approach to developing the animation art form. Mature themes, sophisticated storylines and creepy characters have all emerged in movies, meaning adults can now revel in the joy of cartoons just as much as their children. This genre now ranges from sinister and shocking, to innocent and childlike, to madcap and fantastical. Here are 60 truly great animated masterworks from around the world, from across the decades. Enjoy.
60. Antz (1998)
The movie: Basically, what a Woody Allen movie would look like if the cast were all ants. The first CGI animation released by DreamWorks Animation, it's a technical marvel that shows just what computer animation is capable of. Allen voices Z, a worker ant who becomes a soldier and vows to take back his right to freedom.
Only in animation: Even though they're a clever species, it would be slightly more difficult to get live-action ants to hit the emotional beats this film demands.
59. The Last Unicorn (1982)
The movie: This adaptation of Peter S. Beagle's fantasy novel unites the voices of Jeff Bridges, Alan Arkin, Mia Farrow and Christopher Lee. A unicorn (Farrow) wonders the forest attracting powerful forces that could wipe out her kind. It's up to a wannabe wizard and some forest dwelling creatures to help her find the answers to her ancestry, and the reason for her unicorn clan's untimely demise. American producers hired Japanese anime company Topcraft to transform the story from a page turner to a big-screen success.
Only in animation: It may look a tad dated but The Last Unicorn's bright coloured animation and quirky characters have stood the test of time.
58. Tangled (2010)
The movie: Disney's 50th animated movie was a traditional choice in one way it was based on a fairy tale, Rapunzel but surprisingly different and progressive as well. This was the most character-driven Disney toon yet, its charm heavily reliant on the relationship of the imprisoned princess with the ludicrously long locks and her unlikely saviour, the cocky thief Flynn.
This is a 30s screwball comedy, Disney-style; Rapunzel and Flynn animated counterparts for Katharine Hepburn and Cary Grant. It's also very genuinely witty and champions the frying pan as a weapon of mass destruction.
Only in animation: The legendary hair looks absolutely stunning.
57. Chico & Rita (2012)
The movie: Spanish animation set in the 1940s and 1950s which hops and skips between New York, Las Vegas, Havana and Paris as the titular singer and songwriter attempt to make it in the tricky world of music. We defy you to not tap your feet when the score kicks in.
Only in animation: The slow-mo explosion of a car as it crashes through a window would have been way harder to get right in live action.
56. The Land Before Time (1988)
The movie: Young dinosaur Littlefoot attempts to make it to the Great Valley after his mother's killed by a T-rex. With a band of young buddies, the journey ahead is dark, scary and hugely entertaining. Just don't bother with any of the sequels.
Only in animation: Though we have no solid proof that dinosaurs DIDN'T talk (aside from that '90s Jim Henson TV show), we're relatively certain the events in The Land Before Time are entirely fictional. But we'd happily hear the Indominus Rex throw in her two cents on park maintenance in Jurassic World 2.
55. Happy Feet (2006)
The movie: Dancing penguins. Need we say more? Oh, alright then! This cuteness overload from the director who brought you the Mad Max movies (no, really) follows Elijah Wood's emperor penguin named Mumble. His attempts to lure a mate through song aren't hugely successful - indicated by his name - so he sets about learning how to tap in order to catch the eye of a prospective female. We kid you not.
Only in animation: The dancers in big song and dance routines can be so much better synchronised when you're dealing with cartoon critters.
54. The Simpsons Movie (2007)
The movie: Everybody's favourite American family head to the big screen, and despite the somewhat dwindling quality of the show's latter seasons, it's never felt fresher in movie form. The story finds Springfield quarantined after Homer makes the town's lake toxic. After the town turns their backs on him, and his family abandons him, it's up to the world's most amusing simpleton to restore Springfield's glory.
Only in animation: Spider-Pig, Spider-Pig! Can you imagine trying to get a real pig to walk on the ceiling?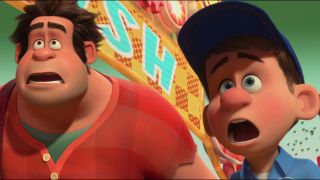 53. Wreck-It Ralph (2012)
The movie: Disney's 52nd animation goes full-on CGI and benefits from the presence of Rich Moore in the director's seat (he previously brought knife-sharp wit to The Simpsons and Futurama). Tired of always being the bad guy in games, Ralph does a spot of game-hopping to figure out how he can become the hero. The film (co-written by Frozen's Jennifer Lee) is a loving ode to all things video game, with in-jokes - and heart - galore.
Only in animation: We see the video game world as it truly is: an animated metropolis of magnificence.
52. Metropolis (2001)
The movie: A jazzy, deliciously creative anime inspired by Osamu Tezuka's 1949 manga of the same name. It follows a Japanese detective and his young sidekick as they investigate the activities of a mischievous scientist, only to discover that he might have brought about the end of the world. Metropolis is a steampunk-y delight with mind-blowing visuals that help it overcome the fact that the story's so familiar.
Only in animation: Glowing girls, Earthly destruction, soaring skyscrapers. This could surely only be done in animation, right?
51. Cloudy With A Chance Of Meatballs (2009)
The movie: As the bizarre title suggests, this animation from Phil Lord and Chris Miller excels at off-the-wall craziness as downtrodden scientist Flint Lockwood figures out how to turn the weather into a food-making entity. The food gags never get old, nor does the sweet morality tale woven into all of the madcap goings-on.
Only in animation: All manner of different food groups hurtle from the sky. If only this would happen in real life - preferably with cheeseburgers.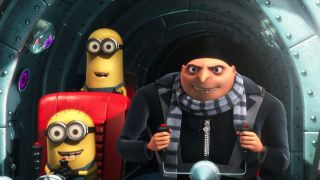 50. Despicable Me (2010)
The movie: Though it came out at the same time as the similarly-themed MegaMind, it was Despicable Me that won the 'bad guy as the lead' in 2010. And not just because of the loveable Minions, who managed to win over everyone's hearts they earned their own spin-off movie. Well, they are chucklesome, but it's watching Gru's journey from megalomaniac to a considerate megalomaniac that's the real treat.
Only in animation: Villain Gru (Steve Carell) succeeds in shrinking and stealing the moon.
49. Lady And The Tramp (1955)
The movie: Disney's first Cinemascope release changed the dynamic of animated movies, with longer takes and greater realism. The story (which is essentially Italian neo-realism with dogs) is like a Romeo and Juliet-inspired tale, except it's not set in Italy, but in dumpsters and back alleys. When a posh cocker spaniel is turfed out by her owners, her only chance of survival - after years of spa treatments - is through friendship with a street smart mutt named Tramp.
Only in animation: Try getting dogs to share spaghetti in real life and see where it gets you.
48. Batman: Mask of the Phantasm (1993)
The movie: The missing link between Tim Burton and Christopher Nolan, this is the only Batman movie (albeit originally intended for the small-screen) to remember that the character was originally pen-and-ink. Taking place in the 1940s, the caped crusader uses his detective skills to track down whoever it is that's wiping out the city's bad guys.
Only in animation: A chance for Mark Hamill to showcase skills beyond Luke Skywalker as the voice of The Joker. We'll be hearing more of his sinister Clown Prince of Crime in this year's Killing Joke.
47. Inside Out (2015)
The movie: An absolute winner from Pixar that plays on everyone's innermost feelings - literally. Things kick off for 11-year old Riley when her happy life suddenly changes after the family uproots to the city. As she experiences new things, her emotions try to help her out. See, they're actual living beings inside us. There's Joy, Sadness, Anger, Fear and Disgust. It's their story, really, that will have you laughing and then five minutes later pretending that there's something in your eye.
Only in animation: Err... the going inside of us and seeing our emotions at the controls? Mind you, Dennis Quaid would probably be the man to call if cinema opted to give it a go.
46. Mary Poppins (1964)
The movie: Not the first movie to mix live-action and animation but the first to do it on such a supercalifragilisticexpialidocious scale. It's a classic in every sense: harking back to the innocence and frivolity of youth, and the scale of our fledgling imaginations. Julie Andrews plays Mary Poppins, a nanny who comes to teach the Banks children a thing or two about bucking up and taking on life's challenges. With a song, a dance and a spoonful of sugar.
Only in animation: Mary gets bored of a merry-go-round and ends up competing in a race with her carousel horse.
45. Paddington (2014)
The movie: Based on the books by Michael Bond, Paddington tells the tale of a young bear who journeys to London, after an earthquake has ripped the Peruvian jungle apart. With a penchant for marmalade sandwiches and the ability to speak English, he quickly attracts the attention of the Brown family who invite him to stay.
A snooty Hugh Bonneville is less than pleased about the idea but soon warms to the loveable little bear, and helps him to escape the clutches of an evil taxidermist, played by Nicole Kidman. Paddington is a charming live-animated film for all the family.
Only in animation: A CGI animated Paddington (voiced by Ben Wishaw) jumps off the screen as the most lively and loveable character in the film.
44. Paperman (2012)
The movie: Pixar's black and white short was screened as the opener for Wreck It Ralph but it attracted more attention than the main act. At only six minutes long, this film is the short and sweet story of a man who claps eyes on a beautiful woman standing at the train station. He soon realises they work in opposing buildings and starts to fashion paper airplanes to throw across the divide.
Only in animation: The film's simple sketch drawn images blended with CGI resulted in Oscar-winning credibility.
43. Up (2009)
The movie: The title could be a metaphor for Pixar's ambitions, but mainly it's because up is the only direction this heart-breaking study of mortality can go after its tear-spilling opening. Packed with all sorts of life lessons, the tale of Carl Frederickson's desire to see the world is one of those movies that gives you all the feels.
Only in animation: Does real-life have as many colours as the balloons which lift Carl Frederickson's home? We doubt it.
42. Bambi (1942)
The movie: A landmark in lifelike animation, Walt Disney ordered animators to study real deer in an attempt to create a convincing forest environment. It's not just passable - it's one of the first movies that crafts an entire world of technicolor woodland magic, and tells a tear-jerking story to boot. Is that why this flick has remained such a favorite for decades?
Only in animation: The shooting of Bambi's mother wouldn't be half as effective in live-action.
41. The Little Mermaid (1989)
The movie: A young adventurous mermaid named Ariel longs to experience life on land. Clearly the majestic wonders of the deep are too humdrum, and so she ventures farther afield, and falls in love with a very human prince. Backed by decent resources and a big, Broadway-style score, this was the film that put Disney - and American animated movies in general - back on the map.
Only in animation: This is the kind of film whose visuals will have you "devotin' full time to floatin' under the sea."
40. Yellow Submarine (1968)
The movie: The Beatles had mastered just about every other medium: so why not animation? This dazzling cartoonish caper starts as a group of music lovers come under threat from a bunch of people who hate anything melodic. A who's who of 1960s animators helped invent the music video in the process, and naturally, John, Paul, George and Ringo are included in their efforts.
Only in animation: Look at any 1960s' film about drugs. Then look at this. Which looks the most stoned?
39. Pinocchio (1940)
The movie: That difficult second album... or not, as Disney's follow-up to Snow White wishes upon a star and becomes a real studio. Loosely based on the novel by Italian writer Carlo Collodi, the story follows a woodworker named Geppetto who creates his greatest masterpiece - a marionette named Pinocchio. The sentient puppet has one desire, to be a real boy, and is granted that wish but only if he's honest and hard-working.
Only in animation: It's hard to avoid the whale, but spare a thought for how brilliant delineated Pinocchio is between puppet, puppet-boy and real boy.
38. The Lego Movie (2014)
The movie: Everything is awesome! Directors Phil Lord and Chris Miller do the unthinkable and turn a 'product' movie into something surprisingly entertaining. It's mostly thanks to all those cameos (Batman, Wonder Woman et al) and a knowing sense of its own ridiculousness. Chris Pratt leads the star-studded vocal cast as Emmet, a construction worker who realises that not all Lego should follow the instructions.
Only in animation: The Lego creations in this flick would put any Lego aficionado to shame. Spaceship! Spaceship!
37. Ratatouille (2007)
The movie: Pitch meeting at Pixar. "What's the maddest, least conventional idea for a family film we can think of?" "A rat becomes a chef in a French restaurant." "Perfect." And would you believe? It really is. The culinary rodent in question is Remy (superbly voiced by Patton Oswalt), who has a nose for the finest food combinations and a desire to create masterful works of French cuisine.
Only in animation: Most food in movies looks like set decoration. The food in Ratatouille looks... really tasty.
36. How To Train Your Dragon (2010)
The movie: Doing away with its usual reliance on A-list voice casting and pop-culture gags, Dreamworks Animation proved it could handle spectacle and story as well as Pixar. With a title that's also a nice description, you sort of know what you're getting with this. A tale set in a distant, faraway land called Berk follows the adventures of hip youngster, Hiccup, who refuses to participate in the tradition of dragon fighting and instead.... yeah, you guessed it, chooses to train a dragon.
Only in animation: Soaring landscapes that - with the help of Coen Brothers' cinematographer Roger Deakins - look better than the real thing.
35. Monsters Inc. (2001)
The movie: The point at which Pixar proved it could take any scenario - monsters using magic doors to scare kids for fuel - and make something funny, sad and wise. It's a terrific twist on an age-old nightmare for kiddies, that lessens the fear of closet doors and the evils lurking beneath the bed. That's in part thanks to the bright and lively vocal work by Billy Crystal and John Goodman.
Only in animation: The beautiful final close-up of a monster Sulley's face widening with love and happiness.
34. Wallace And Gromit In The Curse Of The Were-Rabbit (2005)
The movie: After using Chicken Run to test the big-screen, Nick Park set his most beloved creations loose in an epic Ealing-meets-Hammer mash-up. Wannabe inventor Wallace and his pet dog Gromit branch out into a new line of work: pest control. Hired by Helena Bonham Carter's stuffy aristocrat to rid her garden of a pesky rabbit, things take a decidedly genre turn.
Only in animation: The infinite layers of character in Gromit's furrowed brow.
33. Zootopia (2016)
The movie: Who doesn't love some anthropomorphic action? Zootopia tells of a city bustling with activity, a veritable metropolis that's inhabited solely by animals. It's a brave and bold attempt by Disney to make a cracking kids movie that's layered with lots of juicy subtext and social commentary. Judy Hopps, a bunny, becomes the first rabbit on the police force. Deciding to overcome all sorts of prejudice she takes on a notoriously tricky case.
Only in animation: All those glorious animals.... walking, talking, holding down jobs like us.
32. Shaun the Sheep: The Movie (2015)
The movie: A Close Shave's Shaun gets his own feature length outing, after eight years on the small screen. The woolly wonder pulls a Ferris Bueller and takes the day off from the farm for some fun, but it is quickly short-lived when their farmer suffers a blow to the head. Another whimsical Aardman animation that gallivanted across the big screen this year, receiving praise from both the critics and audiences alike. Fans of the TV show or Wallace and Gromit will appreciate this fun-loving comedy about a mischievous sheep and his barnyard pals.
Only in animation: Animals behaving like humans in stop-animation. Need we say more?
31. Toy Story 2 (2004)
The movie: Matching its predecessor in just about every way, this second Toy Story is where Pixar really 'grew up', tackling intimate themes on a massive canvas as the toys realise that Andy won't love them forever. Still funny and observant - and an absolute blast - it also marks the series' first foray into tear-jerking territory.
Only in animation: While the 'toys come to life' thing is still remarkable, the most impressive thing about Toy Story 2 is how life-like the animation is becoming over at Pixar.
30. Persepolis (2007)
The movie: This faithful film based on Marjane Satrapi's graphic novel, is a memoir of her life during the Iranian Revolution. Beginning in the 1970s, it traces her experiences as an outcast free-spirit, and follows through up until the Iran and Iraq war. While the main focus is on her rebellious activities, the country's political problems bubble away. The film's stark palette hides a truly mischievous wit.
Only in animation: ...could an oppressive regime be depicted with such humour and insight.
29. Shrek (2001)
The movie: Dreamworks' two-fingered salute to Disney dominance trashed sacred cows and provided Pixar with its first real competition, especially when it beat Monsters Inc. to the inaugural Best Animated Feature Oscar. Mike Myers voices the green-skinned ogre, whose happy swamp-dwelling existence is disturbed by an influx of fairytale characters. He sets out with Donkey (Eddie Murphy's best turn in years) to visit the evil Lord Farquaad and demand he take them back!
Only in animation: A snake and a frog are blown up turned into living balloon animals.
28. Princess Mononoke (1997)
The movie: Historical fantasy doesn't get much more magnificent than this tale of a prince who becomes entangled in a war between the forest gods and the humans who continue to destroy nature. A bona-fide blockbuster amongst animations (the running time is well over two hours), Hayao Miyazaki's epic cost more - and made more - than any previous anime.
Only in animation: Battle scenes with giant monster-gods that leave The Lord Of The Rings looking unadventurous.
27. Fantastic Mr Fox (2009)
The movie: No need for the quote-unquote 'fantastic': Wes Anderson's triumphant translation of his hipster deadpan into stop-motion is the real deal. Don't be put off by the 'hipster' tag, fans of the source material - Roald Dahl's classic children's book - have plenty of reasons to enjoy this keenly-observed piece of animated cinema.
Only in animation: All of the critics who had accused Anderson of self-parody suddenly allow him to get away with it once he stops using live-action.
26. Dumbo (1941)
The movie: It might have been made fast and cheap to offset Disney's losses on Fantasia, but Dumbo proved that a) the studio didn't need to adapt classic literature and b) it could animate the craziest ideas you could think of. This is an original idea that works, sparking a new era for the Mouse House.
Only in animation: No prizes for guessing this one. "Well I be done seen 'bout ev'rything, when I see a elephant fly!"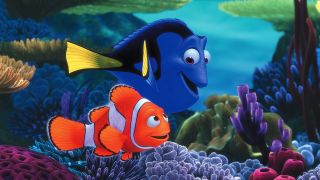 25. Finding Nemo (2003)
The movie: Ellen Degeneres gives a superb, award-worthy performance as the confused-yet-loveable Dory, a blue reef fish who helps Marlin (Albert Brooks) track down his lost son Nemo. Anchored by a layered screenplay (which, unusually, was finished before production began) this was Pixar's biggest project to date, both in terms of scale and box-office.
Only in animation: The film was partly conceived as an exercise to see if Pixar's animators could handle water. Answer: yes, they could.
24. The Iron Giant (1999)
The movie: Brad Bird's sensitive adaptation of Ted Hughes' British story relocates to Cold War-era America to provide a 20th century fairytale with real-world insight. It's got a great Spielbergian edge, as a young lad in middle America discovers a robot crash landed in the desert. Naturally, the authorities want to get their mitts on him.
Only in animation: CGI was used to help create the Giant, as it would be in a live-action movie. What sells this film is that everything else is stylised.
23. Watership Down (1978)
The movie: Authentically English animation which takes the bucolic pleasures of country bunnies and puts them through the wringer in a way that's more like a Ken Loach movie. One of the first animated flicks that made grown-ups realise, 'Hmm, maybe should have watched this one with the kids.' It's got some nice parts, but in truth, this is all about animals attending the school of hard knocks.
Only in animation: Animal cruelty so intense an entire generation remains traumatised to this day.
22. Fantasia (1940)
The movie: Having over-budgeted on his Mickey Mouse / classical music mash-up, 'The Sorcerer's Apprentice,' Walt Disney figured he may as well make a whole film in the same style and provided an astonishing revue of animation's possibilities. It's hard to believe this is a Disney movie, the best way to describe it is David Lynch meets Quentin Tarantino minus the swearing and violence. It's seriously bonkers.
Only in animation: The seamless choreography of a dance between ostriches, hippos, elephants and alligators.
21. Chicken Run (2008)
The movie: Aardman continue their success with this fun, feathered film about a group of chickens trying to fly the coop. Mel Gibson's cocky Rocky arrives on the scene, winning over the women and irritating the cockerels in camp. Its up to these friendly farmyard animals to dodge their chicken pie fate and break free of their confines.
This was Aardman Animation's first full feature-length film and paved the way for a trail of cinema successes from the British studio.
Only in animation: Chickens acting out The Great Escape in classic Aardman animation. Winner.
20. The Nightmare Before Christmas (1993)
The movie: The sensibility of this twisted, what-if-Halloween-took-over-Christmas? fable is pure Tim Burton. Sick of the typical scaremongering at the end of October, the terrifying Jack Pumpkinhead takes a trip to Christmasland for a spot of kidnapping. Yeah, not your usual animated family-friendly affair. It's worth reminding everybody that the gloriously grotesque stop-motion is pure Henry Selick - the film's director.
Only in animation: Oogie-Boogie. He walks and talks like a humanoid, but he's actually a load of insects in a sack.
19. Wall-E (2008)
The movie: Pixar proves it can do anything again. A post-apocalyptic neo-silent comedy about a robot who collects trash? No problem. The 'bot in question doesn't say, well anything, but in his happy-go-lucky adventure Pixar discovers one of its most honorable heroes to date. Managing to add in an environmental dig is a bonus.
Only in animation: The stunning depiction of Earth, which is so photo-realistic it's a wonder live-action movies don't give up.
18. Aladdin (1992)
The movie: The Disney renaissance period had already nailed the animation and the emotion. With Aladdin, they weren't content to settle for what had come before. Sure, it'd be simple to do a retread, but here they ramped up with comedy, thanks to an irrepressible Robin Williams as The Genie who delivers some of his finest witticisms.
Only in animation: The stream-of-consciousness visuals as Williams improvises The Genie's dialogue, including a spot-on genie avatar for Jack Nicholson.
17. Who Framed Roger Rabbit? (1988)
The movie: Toontown stands in for Hollywood, a place where people and animated stars mingle like it ain't no thing. Detective Eddie Valiant (Bob Hoskins) is lured into a case involving a major star, Roger Rabbit, and his sultry wife Jessica. Never mind the thrill of seeing such unprecedented interplay between actors and cartoons. Thank the lawyers for reaching a deal that allowed Donald and Daffy to duke it out on-screen. Remember, this was years before Marvel and Sony's hand-shaking made headlines.
Only in animation: Jessica Rabbit. She's not bad, she's drawn that way.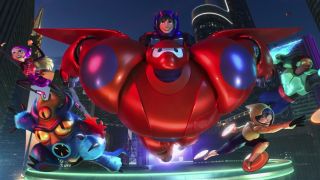 16. Big Hero 6 (2014)
The movie: Although it may not look like it, Big Hero 6 is a Marvel Comics adaptation. To be fair, though, its a very loose adaptation, and the films breakout star, Baymax an inflatable medical droid repurposed as an armoured fighting machine is very different to his comic counterpart. The film, though, was an unexpected delight; a story of teenage friendship with a manga makeover. Think Stand By Me meets Neon Genesis Evangelion (or if thats too obscure a reference, a cooler version of Mighty Morphin Power Rangers). Its funny, emotionally engaging, visually spectacular and packed with charm.
Only in animation: Baymax goes from cuddly Michelin Man to Hulkbuster with rocket hands and you totally buy into it.
15. South Park: Bigger, Louder And Uncut (1999)
The movie: Your favorite precocious school kiddies hit the theater. After Kyle, Stan, Cartman, and Kenny see an R-rated Canadian movie they blame their subsequent pottymouths on the nicest nation on Earth. At the time, many worried that the big screen would tame Matt Stone and Trey Parker's subversive TV hit. Instead, they cussed their way to performing a song about declaring war on Canada at the Oscars.
Only in animation: Saddam Hussein dies, goes to hell and becomes Satan's bitch.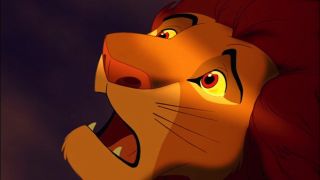 14. The Lion King (1994)
The movie: Could Disney do Hamlet with jungle animals? Of course it could. The tale of young lion Simba, as he heeds the advice of his father Mufasa in making his way in the world, is a true epic. Thanks to its stellar animation it managed to capture the world's attention and make everyone think Jeremy Irons was the devil incarnate. Hakuna Matata, indeed. Still king of the box-office after its recent 3D revival.
Only in animation: The wildebeest stampede. Still terrifying. Still tragic.
13. Grave Of The Fireflies (1988)
The movie: The film to show anybody who thinks 'toons are strictly for kids. After Watership Down (see above) of course. Isao Takahata's bleak study of life during WWII is one of cinema's most devastating tear-jerkers, but that doesn't mean you should avoid it. It's beautifully-crafted, and handles the subject matter with great tenderness and poignancy.
Only in animation: What child actors could perform the scenes of young girl Setsuko dying of malnutrition with such emotional force?
12. The Jungle Book (1967)
The movie: "Oh, oobee doo, I wanna be like you-oo-oo." The standard of animation might have slipped since the Golden Age, but the last film produced by Walt himself contains arguably the biggest soul of any Disney movie. Tapping into our universal human love of animals, the story is loosely based on Rudyard Kipling's book that tells of an abandoned boy raised by the jungle-dwellers. Who hasn't seen this film and longed to chuck in the office job and go dance around in the wild? It's fun and carefree.
Only in animation: Talking animals? A given. Try Kaa's psychedelic hypnotising eyes.
11. Frozen
The movie: Of course, some people will want to condemn Disney's Frozen to the nether regions of hell for infecting their lives with the earworm that is, Let It Go. There's little point denying, though, that the film inspired by The Snow Queen is a genuine phenomenon, officially the biggest-grossing animated film ever made. And it did this without an ounce of cynicism in its running time. This is old-school Disney, a full-blown musical with comedy critters and lovestruck princesses. Thankfully said princesses are little more kick-ass and proactive than some of their swooning house-cleaning predecessor but there are few of the kind of knowing winks and cultural references that form the backbone of much of the humour in modern family films.
Only in animation: The on-screen realisation of Elsa's ice powers borders on breathtakingly beautiful at times (so much so, you wonder why anybody would want winter to end).
10. Waltz With Bashir (2008)
The movie: Animation brought surreal intensity to an already unique project - Ari Folman's autobiographical documentary about his experiences as an Israeli cadet in the 1980s. It's a fascinating creature, in that Folman himself learned about his time in Beirut by reaching out to others who were also there. There's not many animated movies that can boast first-hand history lessons and superb storytelling to boot.
Only in animation: The opening dream sequence about a pack of feral dogs racing through the streets.
9. James and the Giant Peach (1996)
The movie: In 1996 Disney got their hands on Roald Dahl's classic children's story about a boy and a giant peach, and turned it into a musical animation. The Nightmare Before Christmas director Henry Selick pulls the stop-animated strings, bringing James and his oversized insect pals to life on the big screen. James and co. come face-to-face with ghosts, sharks and skeletons as they travel through Dahl's fantasy world. With colourful sets and lively scenes this animation is worth every stop-motion moment.
Only in animation: Selick originally wanted a live action James throughout the stop-motion sequences, but production costs prevented the two from merging. However, the final outcome was fruitful.
8. Coraline (2009)
The movie: Another Henry Selick film about a young girl whose mundane life is turned on its head, when she stumbles into a parallel world inside her bedroom walls. Gone are the cold and dirty showers and insect infested bathrooms, but there's something darker lurking underneath this new worlds shiny surface. When her parents emerge with buttons sewn into their eyes it all gets a bit creepy. Expect Alice in Wonderland meets Pans Labyrinth, with a stop-animated twist.
Only in animation: Stop animated characters with buttons for eyes? This is some seriously twisted animation, but that's why we love it.
7. Ponyo (2008)
The movie: A sweet Studio Ghibli animation about a young boy and a goldfish princess who fall for one another. On the surface it sounds a bit strange but Hayao Miyazaki's (Spirited Away) colourful feature-length cartoon is a delightful depiction of childhood innocence. Miyazaki has cited the Little Mermaid as his inspiration, so if you love Disney's under the sea adventure then you cant wrong with this one. An English dubbed version, including the voices of Matt Damon and Cate Blanchett, was released to Western audiences, confirming its worldwide appeal.
Only in animation: Hayao Miyazaki's masterpiece was a labour of love. The director was personally involved in drawing the aquatic scenes.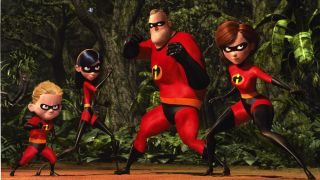 6. The Incredibles (2004)
The movie: Pixar confirmed its ascendancy by luring established 2D star Brad Bird to make its first film about human characters. Sorry, that should say superhuman characters. Now that we're fully entrenched in the era of the caped do-gooder, it's always fun to revisit this adventurous and fun-loving dig at the genre. The film picks up years after Mr. Incredible and Elastigirl are forced into retirement - as a 'normal' family - and their inevitable return to the fold.
Only in animation: Baby superhero Jack-Jack discovers his powers include the ability to morph into a devil, while free-falling thousands of feet in the air.
5. My Neighbour Totoro (1988)
The movie: Having perfected the integration of human interest into his fantasy worlds, Hayao Miyazaki reversed the equation: a neo-realist charmer with added woodland sprites. Even so, it's still got everything you could want in a Miyazaki film. There's that edge of the esoteric, a perfect blend of fantasy and reality, and a massive heart. It's one of the late Roger Ebert's favorite movies.
Only in animation: The Catbus, public transport it's worth waiting in the rain for.
4. Beauty And The Beast (1991)
The movie: A resurgent Disney took on a classic art-house movie - Jean Cocteau's La Belle Et La Bete - and upturned the usual tropes (the villain is handsome, the hero a monster) to create its most critically acclaimed film in decades. And it was the first animated movie to score a Best Picture nomination. Might be an idea to reacquaint yourself with this little gem before the live-action beast (ahem) opens next year.
Only in animation: Angela Lansbury voicing singing teapot Mrs Potts.
3. Snow White And The Seven Dwarfs (1937)
The movie: Walt Disney gambled his studio on a musical feature in glorious Technicolor. Without it, this list probably wouldn't have happened. Ole Walt took inspiration from the Brothers Grimm fairytale about a young beauty and an old sour-faced witch. It's a legendary yarn that's been recycled time and time again over the years (see: this year's Huntsman: Winter's War) but no other movie has come close to recapturing the magic of the original.
Only in animation: Wildlife helps with the housework during 'Whistle While You Work.'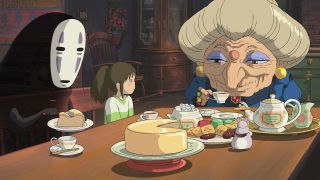 2. Spirited Away (2001)
The movie: The first film to earn $200 million at the box-office before opening in America, this has become Studio Ghibli's most famous film, and the perfection of Hayao Miyazaki's storytelling. Combining many of his go-to elements - a blend of fantasy and reality - it's a staggering work of ambition and pure joy for the story. In a nutshell: a young girl moves to a new neighborhood to find herself 'spirited away' to a bizarre dimension where her parents are turned into animals. She has to work to earn their freedom.
Only in animation: As Chihiro's parents are turned into pigs, reality gives way to a spirit world teeming with monsters.
1. Toy Story (1995)
The movie: John Lasseter knew that Pixar's feature-length debut would gain attention for its groundbreaking computer-generated animation. How to ensure it wasn't a flash in the pan? Make a film of flawless storytelling, timeless characters, belly laughs and huge heart. And then make two sequels that are arguably better.
Only in animation: For all the escalating scale of the trilogy's set-pieces, the Toy Stories never lost sight of the childlike thrill of seeing toys come to life.