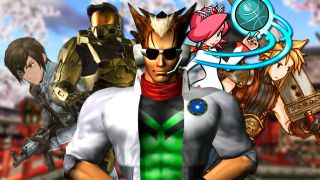 Hey, hold on, isn't that...
Decades before Stan Lee perfected the art of the cameo, video games were giving winks and nods to their contemporaries throughout the multiverse. Some were subtle, such as beleaguered photojournalist Frank West leaving behind a few words in Left 4 Dead 2. Others were a bit more... aggressive, such as Duke Nukem's cameo in Blood (which we'll cover in a sec).
Today, cameos are big business. Entire gaming franchises are built upon crossovers (Marvel vs. Capcom), mashups (Sonic and All-Stars Racing Transformed), or whatever the hell Shin Megami Tensei x Fire Emblem has become. To celebrate the industry's eternal love of cross-company crossovers, we've put together a list of some of the greatest examples of characters from one game appearing - for better or worse - in another.
Cloud image via Miel the Ninja.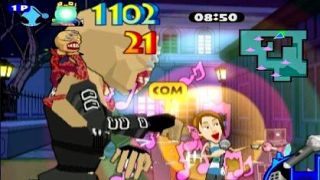 Under the Skin
Dante was probably the most successful Capcom character at appearing in other franchises, but he was by no means the only one (and were not counting the Capcom's Vs. series in that equation). Resident Evils Raccoon City appeared as a level in the oddball alien body-snatcher sim Under The Skin, bringing with it superdeformed, cel-shaded versions of Jill Valentine and Nemesis.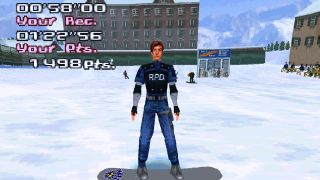 Trick'N Snowboarder
Less impressively, 1999s Trick'N Snowboarder also featured a few appearances from Resident Evil characters, including grainy-looking versions of Claire and Leon (as well as a zombie cop that we couldnt find images of in time).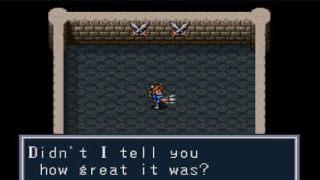 Breath of Fire
Meanwhile, not even Capcoms RPGs were safe from less-than-serious cameos. At one point in the first Breath of Fire on SNES, a magician in the town of Bleak will give you an opportunity to spy Chun-Li executing a wind kick. Sadly, she cant be recruited, but its cool to just see her the same.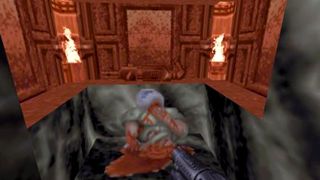 Duke Nukem 3D
This next cameo isnt the most cheery, nor is it in any way "official." Its not new, either. It is, however, one of the all-time best. Theres paying your respects to those who came before you, and then theres "paying your respects" by depicting them as mangled corpse and making a bad pun about their fate. Both are classy, in their own way.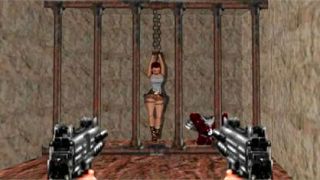 Shadow Warrior
Man, those 3D Realms guys sure did love coming up with nasty fates for their contemporaries. Here, the walking racist pun machine Lo Wang comes upon a helpless, struggling Lara Croft, and jokes that shes raided her last tomb. Elsewhere, there are four dead Ninja Turtles laying around for you to discover.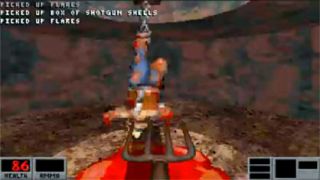 Blood
Duke Nukem finally found himself on the receiving end of a cruel cameo when he turned up as a dangling, mutilated corpse in the 1997 shooter Blood. In case theres any doubt to his identity, a quick jab will send him swaying, accompanied by his favorite catchphrase: "Shake it, baby!"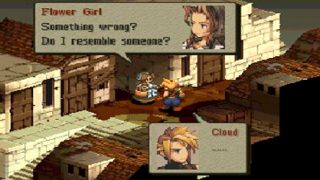 Final Fantasy Tactics
Ehrgeiz wasn't the only time Final Fantasy VII's characters stepped beyond the confines of their original game; nor was it the first, either. A year before Ehrgeiz, Final Fantasy Tactics featured a guest appearance by the iconic, amnesiac swordsman Cloud, along with potential girlfriend, Aerith.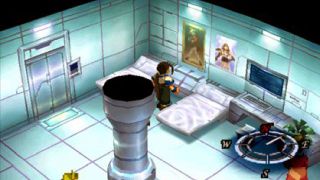 Xenogears
Not to be outdone, Cloud and Aeriths friend Tifa also made her own crossover appearance in 1998. It wasnt quite as cool, but it still qualifies as a cameo.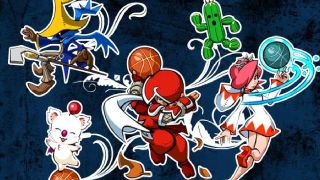 Mario Hoops 3-on-3
Of course, Final Fantasy cameos arent just an oddity left over from the '90s. In 2006, Mario-sports fans could challenge Nintendo's characters to a game of hoops as three characters from the original Final Fantasy, as well as a Cactuar and a Moogle.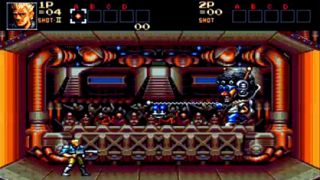 Contra: Hard Corps
In another inexplicable case of a hero turning into a weirdo villain, 1994's Genesis Contra game featured nothing less than a huge-headed, cyberpunk version of Simon Belmont, complete with a chain whip and a fetish for roast chicken. In case there was any doubt as to his identity, publisher Konami threw in a remixed version of the Castlevania theme called Simon 1994RD.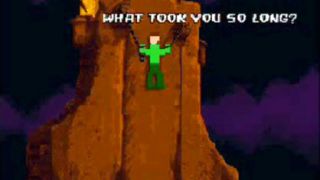 Pitfall: The Mayan Adventure
While we wouldnt ordinarily count a character from an earlier game showing up in a sequel as a "cameo," this ones too weird to pass up. Throughout the 16-bit reboot of the classic Pitfall, youre a young adventurer fighting to save his father, the original Pitfall Harry. The original original Pitfall Harry. The one from the Atari 2600. The fact that he hadnt aged a day for his 16-bit debut - and was chained to a giant Atari logo, no less - pushed this over from simple "callback to the prequel" and into full-on bizarre-cameo territory.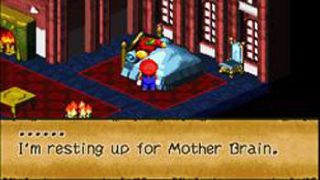 Super Mario RPG: Legend of the Seven Stars
In a slightly more conventional move, we have The 1996 Super Mario RPG, which featured two very familiar heroes catching 40 winks. The first is Link, who dozes at the Rosa Inn and who plays a snippet of Zelda music if you try to talk to him. The second is Samus, who sleeps in the Mushroom Kingdom castles guest room, and is apparently resting up for Mother Brain.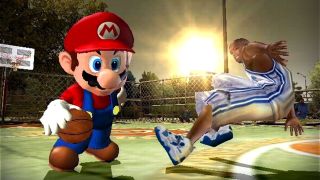 NBA Street V3
As ubiquitous as he is in Nintendo games, Mario almost never ventures into titles by third parties. In 2005, however, Nintendo teamed up with EA to create exclusive content (read: playable Nintendo characters) for the GameCube versions of certain EA Sports titles. The first was NBA Street V3, which featured bizarre, not-quite-right versions of Mario, Peach, Luigi, and Yoshi tearing it up on the court.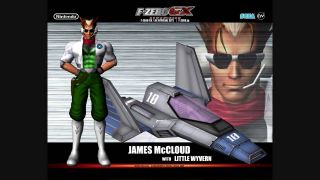 F-Zero GX
Star Fox fans have long speculated about the ultimate fate of Fox's father, James McCloud. But as it turns out, Nintendo already provided us with an answer in F-Zero GX. I guess after helping his son escape Venom, James took a wrong turn at a warp zone and ended up on the race track.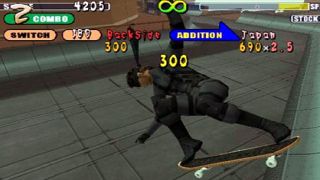 Evolution Skateboarding
We could fill an entire article with just Snakes appearances in other games - oh wait, we did - but its still worth rehashing his bizarre turn in this 2002 skater sim, which later went on to become its own strange mode in the remastered Metal Gear Solid 2: Substance.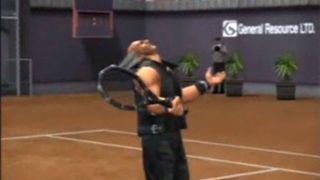 Smash Court Tennis Pro Tournament 2
Like Sony, Namco loves to sneak its characters into its sports games, and the Smash Court series has played host to guest appearances from Tekken characters since the PlayStation days. SCTPT2 was a relatively crowded example, pitting its more realistic tennis pros against the likes of Heihachi Mishima, Cassandra Alexandra, and more.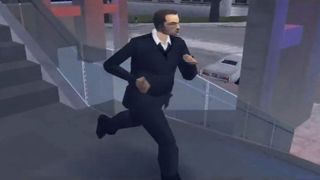 Grand Theft Auto III
While most of the cameos on this list are of the officially sanctioned variety, the shout-out in GTA III harkened back to the jabs 3D Realms took at Doom and Tomb Raider. In two missions, players have to hunt down a strangely animated undercover cop named Tanner, who runs like a goof and drives a '70s muscle car. He is, of course, a reference to Drivers protagonist (also named Tanner), and is specifically a reference to the way he runs in that game.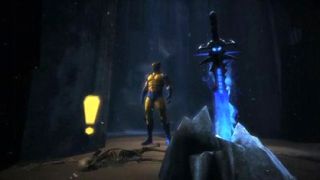 X-Men Origins: Wolverine
The hack-and-slash tie-in to that unfortunate Wolverine movie wasnt just the most gruesome game ever to star the character - it was also filled with Easter eggs, including the hatch from Lost. More interestingly (to World of Warcraft gamers, anyway), it also included the Lich Kings sword, Frostmourne, as a hidden extra.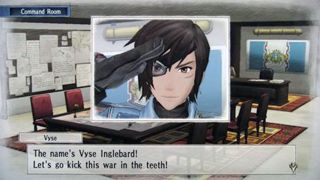 Valkyria Chronicles
There was a lot to like about Segas alternate-history World War II strategy-RPG - particularly if you were a fan of the Dreamcast/GameCube RPG Skies of Arcadia. Its three main characters - Vyse, Aika, and Fina - were among the characters it was possible to recruit as you made your way through the game.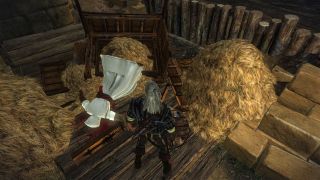 The Witcher 2: Assassins of Kings
Early on in Assassins of Kings you can find the remains of another type of assassin. We're still waiting for Geralt to meet an untimely end somewhere within the Assassin's Creed universe.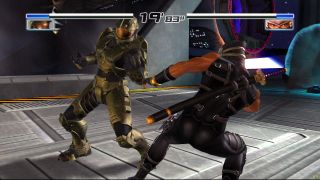 Dead or Alive 4
There wasnt a whole lot to recommend the lackluster 360 continuation of Dead or Alive - unless of course youre a big Halo fan, in which cast the opportunity to thrash the other, less armored characters as Nicole (a female Spartan created for DOA4 by Halo dev Bungie) was probably irresistible.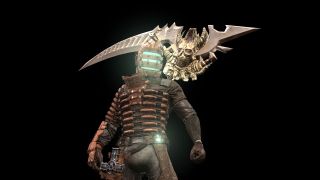 Dantes Inferno
OK, this is another one thats more of a "costume" than a "cameo." But so long as you cant see his face behind that space-engineer armor, whos to say that its Dante and not Dead Spaces Isaac Clarke whos actually doing all the killing?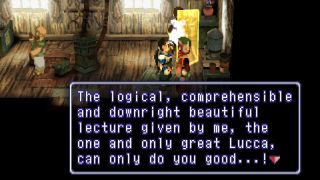 Xenogears (again)
Seeing as how Chrono Trigger was (and still is) one of the most beloved games on the Super Nintendo, it should come as no surprise developer Square decided to add in a little nod to the past by including wizkid Lucca in Xenogears. Lucca has a fascination with robots, after all.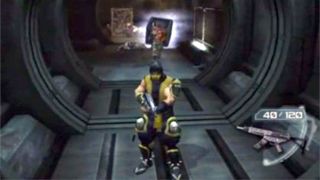 Psi-Ops: The Mindgate Conspiracy
This unlockable skin, meanwhile, is unmistakably Scorpion from Mortal Kombat. All arguments of it being a costume aside, who the hell else would leave their house in this ridiculous getup?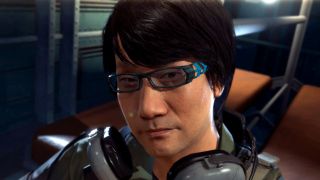 Metal Gear Solid V: Ground Zeroes
"To say he's a critical VIP would be a massive understatement."