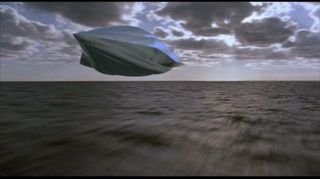 Petrol Station Flight Of The Navigator (1986)
The Moment: David (Joey Cramer) pulls his space-age 'navigator' over at a petrol station in order to call his brother on a pay phone. As you do.

Cleverest Detail: David has to get out of the spaceship to make a phone call. What, the ship doesn't come with its own phoneline?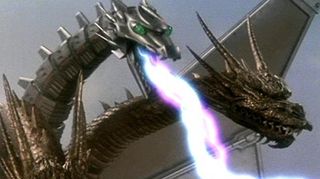 Many-Headed Monster Godzilla Vs. King Ghidorah (1991)
The Moment: Future humans decide the best way to get rid of Godzilla is to travel back in time and destroy his ancestor, Godzillasaurus (no, really). Instead, they unleash an even scarier monster.

Cleverest Detail: We're not gonna mess around, there's nothing particular clever here, apart from (perhaps) the concept of a Godzillasaurus…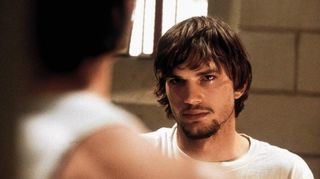 Got Womb The Butterfly Effect (2004)
The Moment: Not included in the final cut of the film, but the alt ending to The Butterfly Effect is daringly grisly, with Evan (Ashton Kutcher) time-hopping back into his mother's womb.

Cleverest Detail: It's the only logical conclusion (the released ending sucks), and a fittingly sticky end for a guy who dared to mess with time travel to begin with.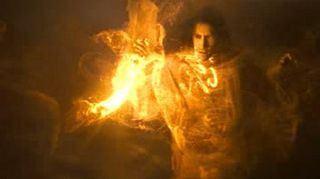 Dagger Time Prince Of Persia: The Sands Of Time (2010)
The Moment: Prince Dastian (Jake Gyllenhaal) unwittingly uses the time-jumping Dagger of Time during a confrontation with Princess Tamina (Gemma Arterton) and manages to change the outcome.

Cleverest Detail: When the dagger is activated, literal sands of time consume Prince Dastian. A metaphor in motion.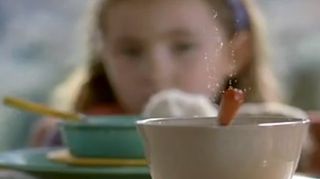 A Little Sugar The Last Mimzy (2007)
The Moment: "Would you pass the sugar?" asks David (Timothy Hutton), having just poo-pooed daughter Emma's (Rhiannon Leigh Wryn) concerns about stuffed toy Mimzy's ailing health. In response, Emma psychically dumps a load of sugar in her dad's cereal. Take that.

Cleverest Detail: It's psychic sugar! That's pretty nifty, you have to admit.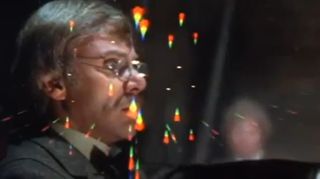 Travelling Time After Time (1979)
The Moment: Herbert George Wells (Malcolm McDowell) uses his time machine for the very first time, resulting in psychedelic light shows and funky pre-CGI effects. He also discovers McDonalds.

Cleverest Detail: The effects are pretty shoddy, which means the close-ups up on McDowell's face are vital in perpetuating the feeling of wonder. He pulls it off brilliantly.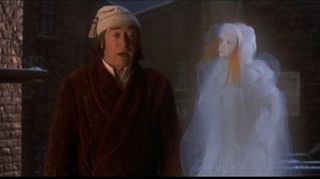 Childhood Moments The Muppet Christmas Carol (1992)
The Moment: Scrooge travels into his past with, uh, the Ghost of Christmas Past, where he starts to discover what turned him into such an old grump.

Cleverest Detail: Not really clever, but the fact that Scrooge is played by Michael Caine himself is quite a coup.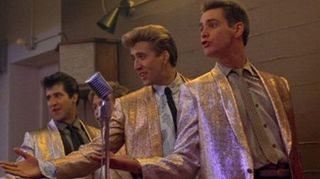 Lets Get Musical - Peggy Sue Got Married (1986)
The Moment: Charlie Bodell (Nicolas Cage), Walter Getz (Jim Carrey) and co take to the stage in the shiniest jackets they could find for a foot-tapping musical number.

Cleverest Detail: It's a fun play on hysteria-fostering '60s boy bands, with the girls screaming like banshees at, well, nothing in particular.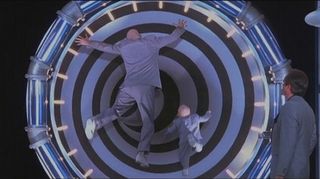 Twist Again Austin Powers: The Spy Who Shagged Me (1999)
The Moment: Dr Evil and Mini-Me hop into their time machine for a quick spin.

Cleverest Detail: Of course Dr Evil's time machine would be a psychedelic whosit that's as groovy as it is functional. The low-fi approach is also brilliantly on the nose.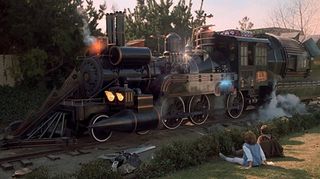 Chugger Chugger Back To The Future Part III (1990)
The Moment: Marty (Michael J. Fox) gets a visit from Doc (and his family) at the close of BTTF3 , and this being Doc (Christopher Lloyd), he appears in style aboard an Old West train that he's turned into a time machine.

Cleverest Detail: Uh, it's a steam train version of the DeLorean, which almost matches the DeLorean for cool. Almost.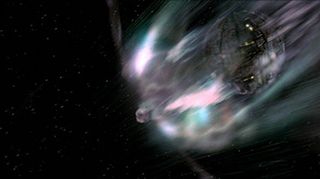 Warped Star Trek: First Contact (1996)
The Moment: The Borg time-hop in order to take out humanity once and for all. Their plan? Stop the humans from ever achieving warp speed.

Cleverest Detail: It's a solid plan – an oldie but a goodie. Naturally, they fail.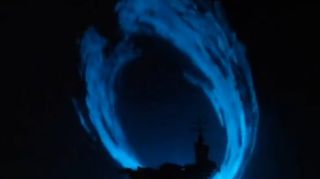 Ship Shape The Final Countdown (1980)
The Moment: Time travel where nobody has a clue what's going on. The USS Nimitz departs Pearl Harbour for a training mission, only to get swallowed by a vortex that transports the ship to 1941.

Cleverest Detail: We love the fact that nobody's really aware they've time travelled until strange things start happening.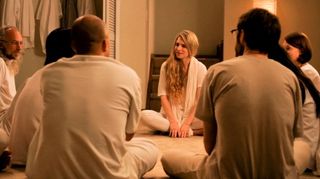 What The? Sound Of My Voice (2012)
The Moment: We're tipped headfirst into this odd world as Peter (Christopher Denham) and Lorna (Nicole Vicius) are introduced to cult leader Maggie (Brit Marling), who reveals that she's travelled from the future.

Cleverest Detail: The meandering pace is seductive, making this a mesmerising moment that has you unable to peel your eyes off Marling.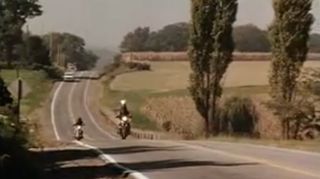 Road Kill Knightriders (1981)
The Moment: George Romero's 'out there' time-travelling biker movie comes to a surprisingly poignant close as Billy (Ed Harris) meets his fate head-on .

Cleverest Detail: After living in a fantasy world, Billy's death comes about thanks to a very modern machine. That's irony, for you.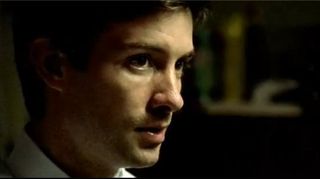 Mad Maths Primer (2004)
The Moment: A mind-spinning scene in which our two leads discuss the mathematical nuances of time travel that, frankly, you need a doctorate (and them some) to get your head around.

Cleverest Detail: All of it. We're assuming it's clever because we don't understand it. If you do, let us know.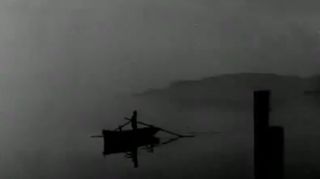 Memories La Jete (1962)
The Moment: Davos Hanich, known in the film simply as 'Man', finally manages to time-jump backwards to a pre-war time when the world wasn't on its knees…

Cleverest Detail: Like the rest of the film, this sequence is made up entirely from still photos.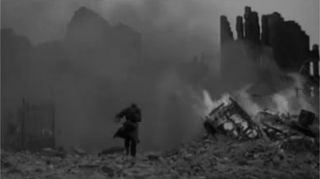 Dresden Burns Slaughterhouse-Five (1972)
The Moment: In this smoky, atmospheric scene from George Roy Hill's adaptation of Kurt Vonnegut's novel, we see the aftermath of the bombing of Dresden (filmed in Prague), where all hope is lost.

Cleverest Detail: Sure, there's the overriding question of if Billy really has time-jumped, but the cleverest thing here is the emotion wrung out of a scene with almost no dialogue.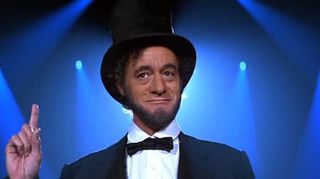 Rock Concert Bill & Teds Excellent Adventure (1989)
The Moment: Having collected numerous historical figures from across the ages, Bill and Ted put on the most radical rock concert ever seen. Ever.

Cleverest Detail: Before the concert, Napoleon gets lost at a water park called Waterloo. Naturally.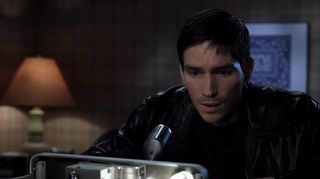 Soundwaves Frequency (2000)
The Moment: "Hello?" A freak radio connection connects John Francis Sullivan (James Caviezel) with his father (Dennis Quaid) over a reservoir of time that spans 30 years. Nice .

Cleverest Detail: The idea of an ordinary device like a radio spanning the ages is beautifully simple. We're going to dust off ours to see if it'll do the same.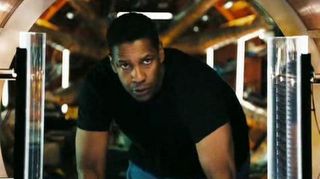 Illegal Alien Dj vu (2006)
The Moment: Doug Carlin (Denzel Washington) jumps into a modified hummer to chase after Carroll Oerstadt (James Caviezel).

Cleverest Detail: It's a literal chase against time as Carlin must keep Oerstadt in the sight of the 'Snow White' system, which allows people in the present to see over four days into the past. If Oerstadt strays outside of Snow White's range, he's gone.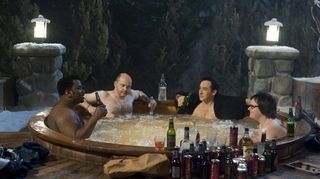 Bubbles Hot Tub Time Machine (2010)
The Moment: The guys inadvertently turn their hot tub into, yes, a time machine, with a little help from some alcoholic beverages. Don't try this one at home.

Cleverest Detail: The fact that it's not a suped-up, super-impressive contraption but a bog standard hot tub means this is both funny and devilishly clever. Bet hot tub sales sky-rocketed after this.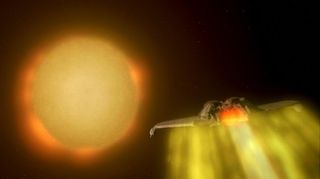 Sunny Side Star Trek IV: The Voyage Home (1986)
The Moment: Kirk (William Shatner) flies the Klingon ship Bird of Prey around the sun in order to go back in time. The move's been known ever since as the 'slingshot'.

Cleverest Detail: It's a move that sounds ridiculous, but the Trek guys somehow make us buy it. Now that's clever.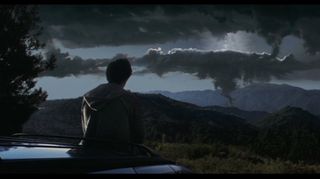 Messy Ending Donnie Darko (2001)
The Moment: Donnie Darko comes to a mind-boggling conclusion as Donnie (Jake Gyllenhaal) watches an airplane's engine detach and plummet into a vortex. Then the last 28 days of his life reverse and he dies by being crushed in his bed by an airplane engine…

Cleverest Detail: We still don't understand it, which must mean it's clever, right?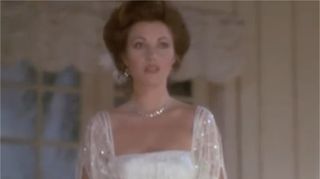 Dream Man - Somewhere In Time (1980)
The Moment: While on stage, Elise McKenna (Jane Seymour) goes off-script to talk about the man of her dreams in a moving, soft-focus rendition that can't help but stir the heart strings .

Cleverest Detail: Is Elise's monologue a play on the idea that the whole world is a stage?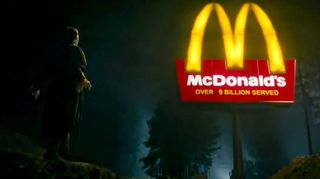 Twin Peaks - Dark Shadows (2012)
The Moment: Vampire Barnabas (Johnny Depp) wakes up in the 1970s, only to find the world has changed a fair bit since the last time he made ladies swoon.

Cleverest Detail: Fresh from his coffin, Barnabas stumbles across a road ("strange terrain") before being blinded by a glowing McDonald's sign. Ah, modernity.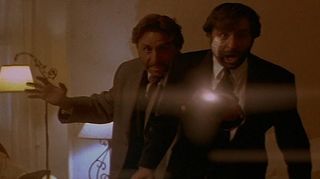 Melty Man Timecop (1994)
The Moment: Timecop 's villain comes to a weird, sticky end during the film's finale, when the two versions of the time-skipper end up squishing together thanks to a rift in the time-space continuum.

Cleverest Detail: This is surely a play on the doppelganger theory – that if you meet somebody who looks just like you, the universe will implode. Here, it's the doppelgangers who implode.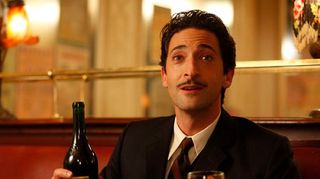 Dali Darling Midnight In Paris (2011)
The Moment: During his (time) travels, Gil (Luke Wilson) bumps into Salvador Dali (Adrien Brody) himself, who's as kooky as you'd hoped he would be .

Cleverest Detail: "Big lips melting over hot sand…" Dali talks like he paints.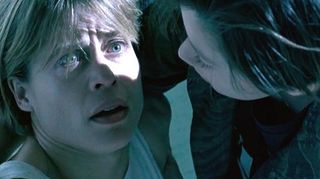 Busting Out Terminator 2: Judgement Day (1991)
The Moment: Sarah Connor (Linda Hamilton) decides enough is enough and busts out of an asylum after seeing that the T-800 is back. She then gets help from an unlikely source.

Cleverest Detail: "Come with me if you want to live." When faced with the T-800, Sarah hears him repeat the first words Kyle Reese said to her in The Terminator . A gambit to make her trust him? Sounds like it.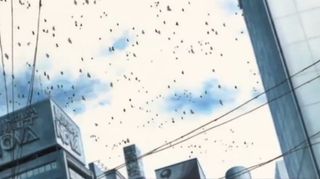 Frozen The Girl Who Leapt Through Time (2006)
The Moment: A gorgeous little moment in this anime version of Yasutaka Tsutsui's novel, in which the entire world is frozen in time.

Cleverest Detail: That's just it, the devil's in the details – from a balloon hovering in the city to kids on swings and birds motionless in the sky, this one's all about the small moments. Beautiful.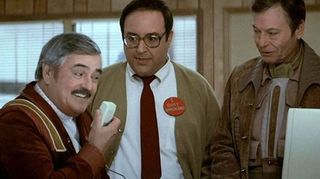 Mouse Talk Star Trek IV: The Voyage Home (1986)
The Moment: Scotty attempts to talk to an eighties computer , and is shocked to find that he needs to use the keyboard. Which doesn't stop him typing in the physics behind transparent aluminium…

Cleverest Detail: The computer seems to know what transparent aluminium is, even though it's not been invented yet...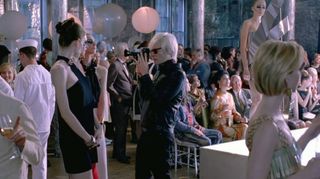 Warhols Party Men In Black 3 (2012)
The Moment: Having jumped (literally) back to the 1960s, J (Will Smith) winds up at a party thrown by Andy Warhol himself – who just so happens to be an alien in disguise. Because of course he is.

Cleverest Detail: The inclusion of psychic Griffin (Michael Stuhlbarg), who can simultaneously see numerous potential futures – some of them worse than others.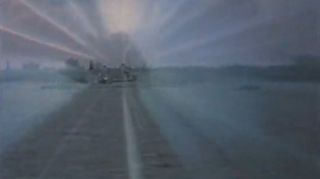 Disappearing Act The Philadelphia Experiment (1984)
The Moment: "I didn't think it was possible…" The titular experiment unfolds, with a ship made invisible to enemy radar by using an electromagnetic field. But then the ship full-on disappears …

Cleverest Detail: Apparently this was based on a real-life experiment performed by the Navy in 1943.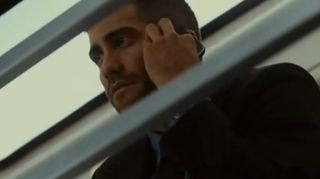 Fond Farewell Source Code (2011)
The Moment: (Spoilers!) Colter (Jake Gyllenhaal) phones his father and pretends to be somebody else. Why? He knows his number's up, and he wants to mend their fractured relationship before he goes. Hankies at the ready .

Cleverest Detail: Clever in the sense that it's emotionally shocking, as we finally see Colter as he really is, just as he reveals his true feelings to his father.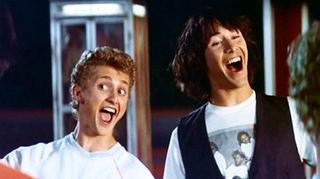 Dudes! Bill & Teds Excellent Adventure (1989)
The Moment: "Dudes! You guys are gonna go back in time!" says Bill. "Yeah! You are going to have the most excellent adventures!" Bill and Ted? Meet Bill and Ted.

Cleverest Detail: It may feature two dudes who don't seem to have more than one brain cell between them, but this Excellent Adventure gets the time travel logic down pat, not least in this scene.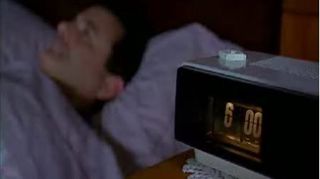 I Got You Babe Groundhog Day (1993)
The Moment: Bill Murray's weather man finds himself caught in a time loop where he wakes up every morning to Sonny and Cher's 'I Got You Babe'. As this montage shows .

Cleverest Detail: The day may start the same every time (with 5:59 turning into 6:00, when Sonny and Cher start crooning), but Phil (Murray) finds a new way to smash the alarm clock every time, too…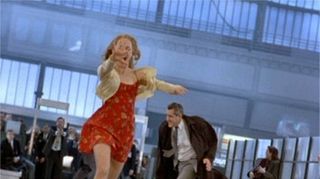 Gunman Twelve Monkeys (1995)
The Moment: Jim Cole (Bruce Willis) is haunted by childhood memories of a man at an airport being gunned down. It's only at the end of the film that we discover who this man is.

Cleverest Detail: (Spoiler!) It is, of course, the older version of Jim, who has time-jumped to save the world from post-apocalyptic Hell.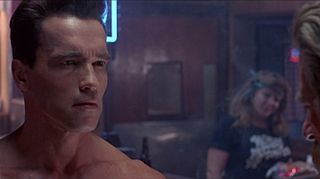 Clothes Please Terminator 2 (1991)
The Moment: We could make a whole list out of amazing scenes from the Terminator movies, and this is one of the best. The T-800 walks into a biker bar and demands a guy's clothes, boots and bike.

Cleverest Detail: The Terminator POV, which tells us why he chose this particular guy.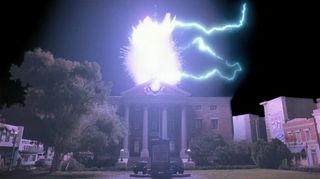 Clock Climax Back To The Future (1985)
The Moment: In one of the franchise's tensest scenes, Marty's attempting to get back to 1985 while Doc Brown struggles to connect a cable in time for when the lightning strikes the clocktower.

Cleverest Detail: We're given the information about the lightning striking the clocktower right at the beginning of the film, which dovetails this first BTTF nicely.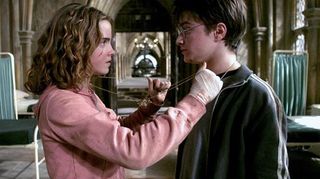 Time Turning Harry Potter And The Prisoner Of Azkaban (2004)
The Moment: Hermione's been using a secret Time-Turner in order to attend more classes (swat alert). Which comes in handy when Harry needs to use it to save the day in this third HP adventure.

Cleverest Detail: Turn the Time-Turner once and you go back just one hour. Which is a handy way of limiting the kids' time travel.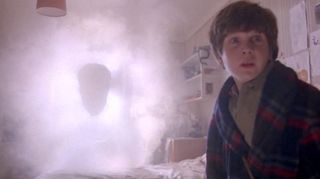 In Da Hood Time Bandits (1981)
The Moment: "Crikey! I mean, I've been in robbing for years, but I've never seen anything like this!" John Cleese brings a stiff upper lip to the role of Robin Hood, whom the bandits come across on their travels .

Cleverest Detail: In a spin on the old yarn, Hood's a bit of a toff, while Maid Marion's, well, a bloke.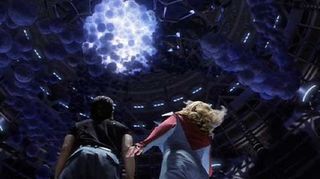 Omega 13 Galaxy Quest (1999)
The Moment: Jason (Tim Allen) uses the time travelling Omega 13 in order to hop back in time and save his crew from their grisly deaths. Nifty.

Cleverest Detail: The Omega 13 only jumps back 13 seconds, which is handy when it comes to not messing with the time-space continuum too much. You're unlikely to undo your own birth in 13 seconds…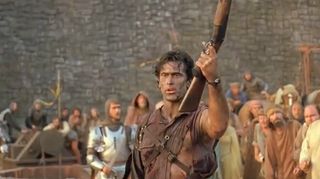 Boomstick Army Of Darkness (1992)
The Moment: Monster-killer Ash (Bruce Campbell) finds himself flung back in time to 1300 AD, where he asserts his authority by brandishing his gun. "Alright you primitive screwheads, listen up! See this? This is my BOOMSTICK!"

Cleverest Detail: Not only does Ash tell them what his boomstick does, he also takes the opportunity to tell them they can get it for a bargain as S-Mart. Always on the clock, this guy.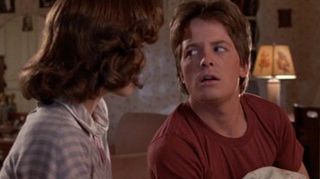 Wake Up Back To The Future (1985)
The Moment: Marty wakes up from what he assumes was a horrible dream and is comforted by his mother. Except his mother's 20 years younger and seems to be, like, totally crushing on him. Radical.

Cleverest Detail: Marty's mum assumes he's called 'Calvin' because that's what is written all over his underpants. Nod wink.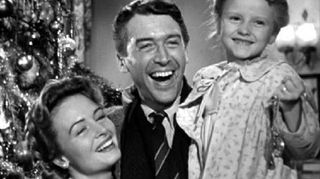 Happy Ending Its A Wonderful Life (1946)
The Moment: We finally get our happy ending as George Bailey (James Stewart) returns to his life, is bailed out by generous townspeople and spends Christmas with his family. Meanwhile, an angel gets its wings…

Cleverest Detail: The film seems to be spiralling toward misery until this happy ending finally turns things around – and not a moment too soon.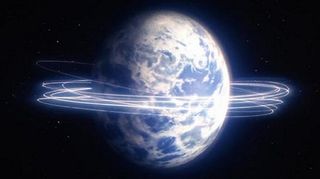 Spinning Around Superman (1978)
The Moment: A grieving Superman goes against nature herself in order to save Lois Lane, who's died in a landslide. He jets off into space, then reverses the Earth's rotation by flying around it backwards.

Cleverest Detail: It makes it look like the Earth has rings to rival Saturn. Not bad.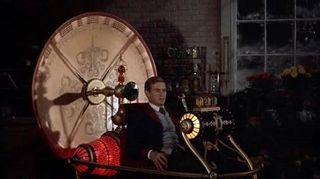 Time Jumping The Time Machine (1960)
The Moment: H. George Wells uses his clock-like time machine for the first time, which involves lots of fuzzy flashing lights, some rain and smashed windows. He ends up in the year 802,701…

Cleverest Detail: The time machine itself is shaped like a massive clock, which makes perfect sense considering time is an important factor…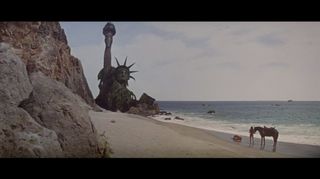 Liberty Lady Planet Of The Apes (1968)
The Moment: Charlton Heston's spaced-out astronaut comes across something truly horrifying at the climax of Planet Of The Apes – an old, rusty Statue of Liberty, half-buried in the sand.

Cleverest Detail: In a shuddering crash, we realise that Heston's not landed on another planet, but Earth way in the future.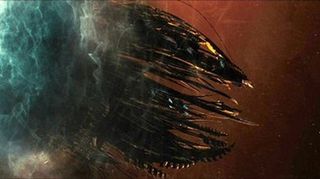 The Narada Star Trek (2009)
The Moment: Mining ship The Narada travels through a black hole, which transports it through to the year 2233.

Cleverest Detail: Instead of messing with the already established S tar Trek cannon, J.J. Abrams cleverly finds a way to tell his own stories in an ongoing alternate timeline. Absolutely genius.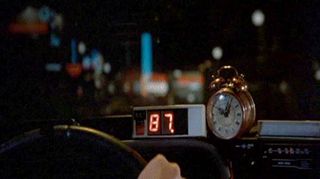 88mph Back To The Future (1985)
The Moment: In an attempt to escape evil Libyan terrorists, Marty McFly hops into Doc Brown's DeLorean and puts the pedal to the metal, forgetting that if he gets up to 88mph, he'll jump through time.

Cleverest Detail: Surely the car itself, which turns time travel into something effortlessly cool.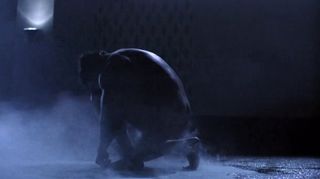 New Arrivals The Terminator (1984)
The Moment: The T-800 blasts into the 1980s. Not wearing a stitch of clothing, he's still an imposing figure, slowly rising from the tarmac before confronting a gang of youths.

Cleverest Detail: Of course he's naked – The Fly told us that travelling with another object could cause a scary biological breakdown. We like this kind of sci-fi reasoning.