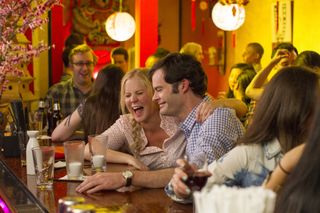 Love is in the air
Love triangles. Clandestine glances. Dancing in the rain. Nothing describes 'guilty pleasure' more accurately than watching a romantic comedy. In romcom-land, everybody is sexy (yes, even the supposedly frumpy and unloveable), everyone overcomes obstacles and grows as a person (perfect people have to admit they're not perfect), and everyone gets a happy ending (except the 'baddie' of the piece). No wonder we continue to flock to them in our love-addled droves... especially around Valentine's Day.
Sure, they can be formulaic, but when a filmmaker gets it right, just watch the fireworks fly from the swoonsome glamour of the '40s (hello Katharine Hepburn) and the sharp wit of the '90s (Amy Heckerling, we heart you) to the knowing, formula-skewing romcoms of today (welcome aboard Judd Apatow). There's nothing like a bit of love to warm the cockles and melt your heart. So prepare your tear ducts, it's the top 50 romantic comedies of all time!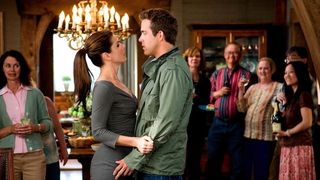 50. The Proposal (2009)
The romance: When Margaret (Sandra Bullock), editor-in-chief of a prestigious publishing company, is issued a deportation order back to Canada, she forces her long-suffering assistant Andrew (Ryan Reynolds) to marry her for the visa. As part of the arrangement, their relationship must appear genuine to fool immigration officials. Much to her chagrin, Margaret then accompanies Andrew back home to Alaska for his grandmas birthday.
Why it wooed us: The chemistry between the two leads transcends mere lovey-dovey gush. They unleash some killer one-liners. Andrews suggestion for her social iciness - Youll have to stop snacking on children while they dream" - is a precursor to their old age bickering.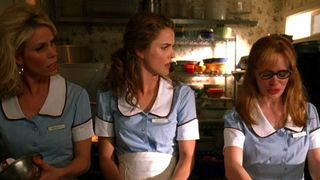 49. Waitress (2007)
The romance: Pregnant waitress Jenna (Keri Russell) pledges to enter a local pie contest in order to escape her bullish husband Earl (Jeremy Sisto) when she embarks on a secret affair with the towns sweet new physician (Nathan Fillion).
Why it wooed us: It's a sweet, low-key tale with a surprising ending thatll have you grinning from ear to ear. And plus, it has Malcolm Reynolds as a romantic lead, what more could you want?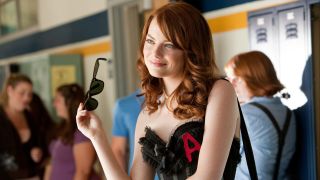 48. Easy A (2010)
The romance: California teen Olive Penderghast (Emma Stone) is branded a "dirty skank" and shunned at school after lying about losing her virginity, which throws the spanner in the works a bit when she starts having feelings for her childhood friend Todd (Penn Badgley).
Why it wooed us: It's a teen romcom for the new generation, with nods to past hits (that stereo-hoisting moment) and plenty of fresh ideas. Plus it cemented Stone as a fantastic leading lady.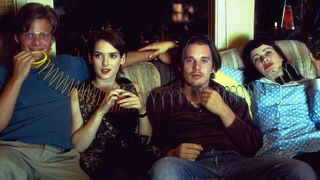 47. Reality Bites (1994)
The romance: Former college valedictorian, Lelaina Pierce (Winona Ryder) scrambles to make something of her life at 23. Sharing her flat with sarcastic strumpet Vick, in-the-closet Sammy, and best friend musician Troy, she spins their lives into a documentary. Reality Bites is picked up by wannabe TV exec (Ben Stiller), who pursues Lelaina romantically at the same time Troy acknowledges his feelings for her.
Why it wooed us: Like all stellar romcoms, Reality Bites cult classic status was cemented by its sharp script. Vickie and Sammys enactment of his coming out being the movie's standout chuckle.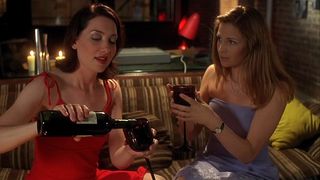 46. Kissing Jessica Stein (2001)
The romance: After a flood of disastrous blind dates, New York copy editor Jessica Stein (Jennifer Westfeldt) responds to a classified ad quoting her favourite author, Rilke. From the women seeking women column. Against every fibre of her hetero being, Jessica arranges a date with Helen (Heather Juergensen)...
Why it wooed us: Based on Westfeldt and Juergensens play, it channels the neuroticism of Woody Allen, throws in a clever analysis of bisexuality and looks damn beautiful to boot.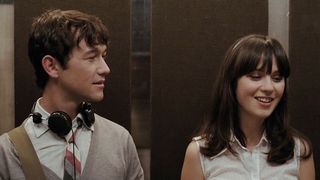 45. (500) Days of Summer (2009)
The romance: Card writer Tom (Joseph Gordon-Levitt) falls head over heels for the vibrant, quirky Summer (Zooey Deschanel), despite her assurances shes not after a serious relationship.
Why it wooed us: The time-skipping narrative jumps in and out of the pairs courtship, teasing the audience with future events. The effect is an expert blend of humour and nostalgia. Also, we love the movie's joyful, unexpected musical sequence.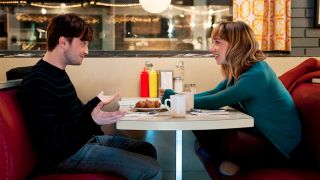 44. What If (2013)
The romance: Toronto-dwelling med school dropout Wallace (Daniel Radcliffe) meets Chantry (Zoe Kazan) at a party and there's an instant spark. Only problem? Chantry has a long-term boyfriend, Ben (Rafe Spall), who's Wallace's polar opposite.
Why it wooed us: Radcliffe's on fine form post-Potter, bringing an affable charm to Wallace. Meanwhile, Kazan does wonders with a role that could have been little more than another irritating Manic Pixie Dream Girl.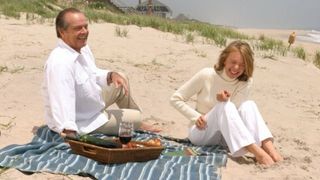 43. Somethings Gotta Give (2003)
The romance: Romance novelist Erica Barry (Diane Keaton) doubles as a skittish neurotic whose twenty-something daughter, Marin (Amanda Peet), turns up at home with Harry Sanborn (Jack Nicholson) in tow. That very night, he suffers a heart attack. Ever the meddler, Erica tries to set Marin up with dishy doc Julian (Keanu Reeves), while she tangles with Harry as her live-in patient. They inevitably drive each other bonkers before cupid draws back his sneaky bow during a frisky trot on the beach.
Why it wooed us: The web of romantic interest, Erica-Harry, Harry-Marin, Marin-Julian is glued together by some of director Nancy Meyers slickest dialogue yet. No by-the-numbers romcom bleatings here.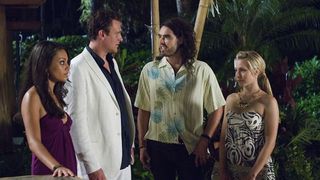 42. Forgetting Sarah Marshall (2008)
The romance: After being dumped by his famous girlfriend, Sarah Marshall (Kristen Bell), TV composer Peter Bretter (Jason Segel) takes a trip to Hawaii to forget his woes. Upon his arrival, he meets the down-to-earth cutie Rachel (Mila Kunis) who could be just what he needs to get over Sarah. Turns out she is doing the same... with her new beau, musician Aldous Snow (Russell Brand).
Why it wooed us: The movie's hilarious and often awkward central story is surrounded on its periphery by a handful of brilliant supporting turns from Jonah Hill, William Baldwin, Paul Rudd, Bill Hader and Jack McBrayer.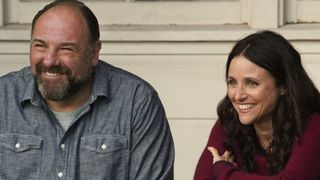 41. Enough Said (2013)
The romance: After being introduced at a party, masseuse divorcee Eva begins dating Albert (James Gandolfini). Their fledging relationship holds promise. That is until Eva realises her latest client Marianne (Catherine Keener), an enigmatic poet journeying through her own divorce, is Alberts ex-wife.
Why it wooed us: Thank goodness, another smart, witty romantic comedy revolving around people over the age of forty.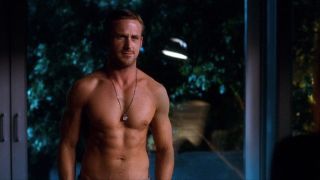 40. Crazy, Stupid, Love. (2011)
The romance: In the wake of his break up from wife Emily (Julianne Moore), Cal (Steve Carell) is given tips on how to become a woo machine by suave ladies man Jacob Palmer (Ryan Gosling). Meanwhile, Jacob becomes romantically entangled with hot go-getter Hannah (Emma Stone)...
Why it wooed us: You mean apart from Gosling and Stone re-enacting the 'lift' from Dirty Dancing? This is a smart, sharply funny romcom that boasts considerable star wattage and Gosling's ridiculous abs.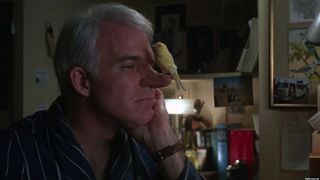 39. Roxanne (1987)
The romance: The owner of a sizeable facial appendage, Charlie Bales (Steve Martin) tends to strike out with women: in particular, town newcomer Roxanne (Daryl Hannah). When she shows interest in one of Charlies co-workers, the dim-witted Chris (Rick Rossovich), Charlie lends a hand, writing love letters on his behalf, confessing his love for her vicariously.
Why it wooed us: Released at a time when Martins output was at its peak, Roxanne treads the path between odd, tender and sweet, proving that love comes in all shapes (ahem) and sizes (ahem... again).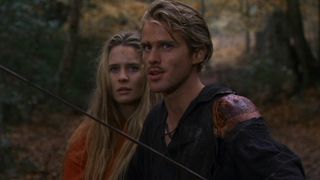 38. The Princess Bride (1987)
The romance: The beautiful Buttercup (Robin Wright) falls for farmhand Westley (Cary Elwes), who vows to seek his fortune before returning to marry her. When his ship is attacked by Dread Pirate Roberts (also Elwes) she believes he has perished and marries the insufferable Prince Humperdinck (Chris Sarandon). When a mysterious Man In Black comes to rescue her after Humperdinck has her kidnapped, he bears a striking resemblance to a young farm boy...
Why it wooed us: Rob Reiners fantasy romcom mocks the typical swashbuckling fare which preceded it, and pushes William Goldmans screenplay to the hilt with choice dialogue that still holds fast for fans.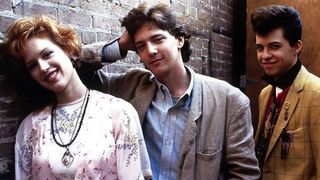 37. Pretty in Pink (1986)
The romance: High schooler Andie Walsh (Molly Ringwald) has the tummy flutters for rich, preppy hunk Blane McDonough (Andrew McCarthy) at the same time as her best friend, Duckie (Jon Cryer), harbours big time love buzz for her. Andie and Blane attempt to give romance a whirl, but his smug elitist mates put the dampeners on that. As the prom approaches, good girl Andie decides to go with Duckie, as Blanes on the cusp of a major epiphany.
Why it wooed us: A classic love triangle with quirky supporting turns (Annie Potter as Andies mentor, Iona), this is John Hughes at his best; the torment of teenage romance was never such fun to watch.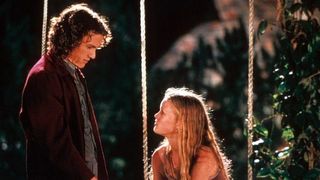 36. 10 Things I Hate About You (1999)
The romance: Cameron James (Joseph Gordon-Levitt) is head-over-heels for Bianca Stratford (Larisa Oleynik). Due to a stipulation by her father, Bianca can only date if her angsty sister Kat (Julia Stiles) does. So Cameron tries to convince the mysterious Patrick Verona (Heath Ledger) to date Kat...
Why it wooed us: A modern take on Shakespeares The Taming of the Shrew updated to a Seattle high school, the movie has a superb leading cast, all at the start of their careers. But its Allison Janney as the smut-scribing guidance counsellor who absolutely steals the movie.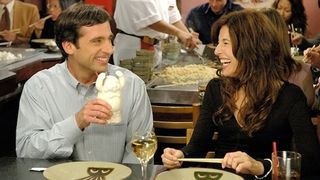 35. The 40-YearOld Virgin (2005)
The romance: Andy Stitzer (Steve Carell), the titular virgin, works as an assistant at an electronics store, whose humdrum existence revolves around action figures, video games, and hanging out with the oldies next door. His co-workers intervene and try to get him laid, resulting in a number of unsuccessfully hilarious dates which lead him to Trish (Catherine Keener), the laidback owner of an eBay store. She doesnt know his cherry is still intact, and his nerves are mounting...
Why it wooed us: The gang of bromancers Andy (Carell), Cal (Seth Rogen), David (Paul Rudd) and Jay (Romany Malco) are on top form, riffing off each other in some of director Judd Apatows funniest improvised scenes.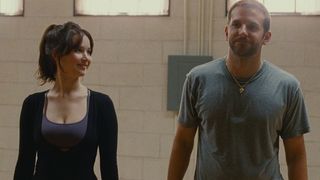 34. Silver Linings Playbook (2012)
The romance: Released back into society after an incident involving his wife and her lover, Pat (Bradley Cooper) aims to win her back by pouring his heart out in a series of letters. To navigate around his pesky restraining order, he enlists the help of new friend Tiffany (Jennifer Lawrence), providing he does her a solid and competes alongside her in a dance contest. The stubborn pair are often at loggerheads... and we know what that means.
Why it wooed us: Pat and Tiffany are so determined to prove to each other theyre not crazy, they kinda fall in love by accident. And while the climactic dance sequence at first seems conventional, it has a delightful ending.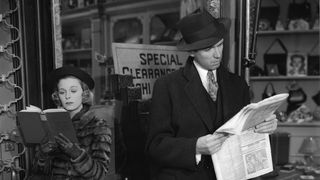 33. The Shop Around the Corner (1940)
The romance: Budapest gift shop employees Alfred Kralik (James Stewart) and Klara Novak (Margaret Sullavan) can barely stand the sight of each other. Neither realises theyre actually in correspondence, after forming a mystery relationship from the paper's classifieds section. When the mystery pair finally agree to meet, Alfred spies Klara first, and chooses to keep quiet. After all, how can his bothersome co-worker be the glorious woman he has come to know through letters?
Why it wooed us: Since remade as the lightweight Hanks-Ryan vehicle You've Got Mail, The Shop Around the Corner nailed its central performances around a charming conceit: they love AND hate each other. One of cinemas best examples of the now-established formula.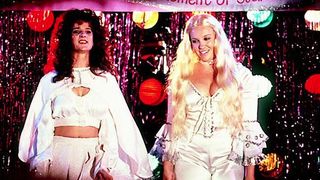 32. Muriels Wedding (1994)
The romance: Loveable social misfit Muriel Heslop (Toni Collette) wants nothing more than to find her ideal man and throw the lavish wedding shes dreamt of since she was a little girl. After leaving her family homestead on a self-discovery voyage with best friend Rhonda (Rachel Griffiths), she marries a South African athlete to secure him a visa, and bag the wedding of a lifetime.
Why it wooed us: Hidden behind the flashy dazzle of her marriage to Olympic swimmer, David, is the movies real love story: a stronger-than-blood friendship between Muriel and Rhonda.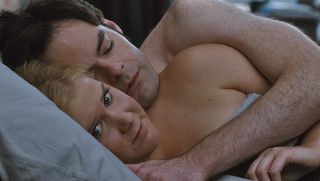 31. Trainwreck (2015)
The romance: Having been taught from a young age that monogamy isn't realistic, magazine writer Amy (Amy Schumer) lives a life free from romantic commitment. That is until she finds herself falling for the subject of a new article she's writing, sports doctor Aaron (Bill Hader).
Why it wooed us: Though it ends up being a lot more conventional than its set-up suggests, the winning central pairing of Schumer and Hader ensures that even classic tropes feel fresh in Trainwreck. A consistently funny and genuinely affecting modern romcom that also delivers the most awkward cheerleader routine ever.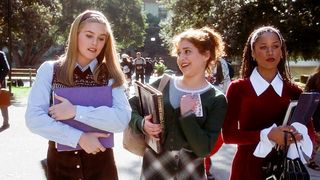 30. Clueless (1995)
The romance: An affluent Beverly Hills high schooler, Cher Horowitz (Alicia Silverstone) makes over new students (Brittany Murphy) and parades about in the latest fashions with her best friend Di (Stacy Dash); all while attempting to bag James Dean-wannabe Christian. In the midst of staving off her irritating stepbrother Josh (Paul Rudd), she realises Christian is gay and... shes kind of in love with Josh. But he only sees her as his annoying stepsister, right?
Why it wooed us: The dialogue, updated from the source material (Jane Austens Emma) and transplanted to L.A., is snappy, quotable and still instantly recognisable. All together now: "As if!"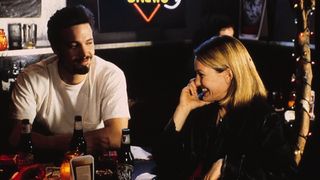 29. Chasing Amy (1997)
The romance: Comic book creator Holden McNeil (Ben Affleck) meets feisty chatterbox and fellow author Alyssa Jones (Joey Lauren Adams) and is immediately smitten. The pair hit it off - banter, laughs, the whole shebang. The twist in the tale? Shes a lesbian.
Why it wooed us: Holdens confession to Alyssa on their way home from dinner; moving, funny, and probably Kevin Smiths best monologue ever scripted.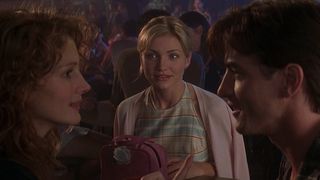 28. My Best Friends Wedding (1997)
The romance: Three weeks before her 28th birthday, food critic Julianne Potter (Julia Roberts) receives a phone call from her oldest friend Michael (Dermot Mulroney), telling her of his upcoming nuptials to the 20-year-old Kimmy (Cameron Diaz). Regardless, Jules is hell bent on keeping a pact the two made in college; if they arent married by 28, theyll marry each other.
Why it wooed us: It's a bonafide mainstream romcom - with a starry cast, big budget and an amorous dilemma - yet it approaches the setup from a different angle. We dont always side with our heroine, and Kimmy, the woman we ought to despise? Shes a hoot!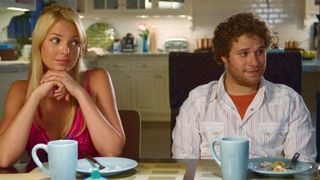 27. Knocked Up (2007)
The romance: Directionless stoner Ben Stone (Seth Rogen) strikes up bar-room chatter with sexy TV producer Alison (Katherine Heigl), leading to a one night stand of horizontal shuffling. Of course, through the haze of their drunken affair it turns out Ben forgot to use protection, bringing the unlikely duo together for nine months whether they like it or not.
Why it wooed us: It was one of the first movies to introduce us to frat pack bromances. Although, sadly, it seemed to mark the high-point of Heigl's career (27 Dresses aside).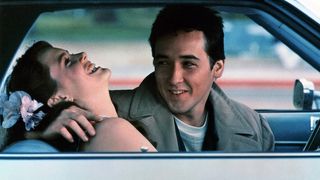 26. Say Anything (1989)
The romance: The sweet Lloyd Dobler (John Cusack) might be an average student, but he aims high when he asks valedictorian Diane Court (Ione Skye) out on a date. Her affluent lifestyle and his humble upbringing make the two a perfect 'opposites attract' pair as he helps her overcome her shyness and the ability to drive a stick shift, and she... well, loves him.
Why it wooed us: One of Cameron Crowes sweetest love stories, this is teen romance with a big, quivering heart that avoids sanctimony or silliness. On top of that, it delivers one of THE iconic romcom images.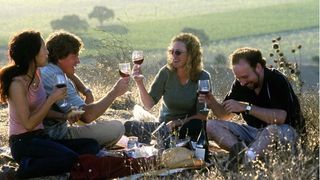 25. Sideways (2004)
The romance: A three-way triangle between a man (Paul Giamatti), his woman (Virginia Madsen) and his wine (Chateau Cheval Blanc).
Why it wooed us: The story of two best friends on a wine country tour is enticing enough, but its the object of Miles (Giamatti) desire, Maya (Madsen), who stole our hearts. Her impassioned speech, detailing with youthful zest her love of wine, is rapturous.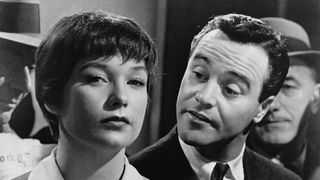 24. The Apartment (1960)
The romance: Insurance salesman C.C. Baxter (Jack Lemmon) is a chap keen to get a leg up at work. When a fitting arrangement presents itself - his superiors start taking their floozies to his apartment for saucy shenanigans - hes only too keen to oblige. Being at the centre of the offices duplicitous goings-on, its not long before spunky elevator operator, Fran Kubelik (Shirley Maclaine), turns up at Baxters flat with his boss. Thing is, Bax is rather sweet on her...
Why it wooed us: Quite the game-changer, The Apartment walks the fine line between bitter and sweet, examining some serious issues with snarky irreverent comic relief. Maclaines Fran is a rare romcom creation: smart, funny and oh-so dark.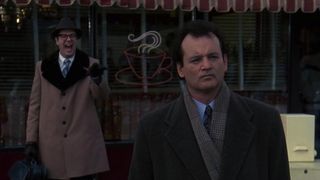 23. Groundhog Day (1993)
The romance: Curmudgeonly TV weatherman, Phil Connors (Bill Murray) would rather be anywhere than here. Here being Groundhog Day in the snowy town of Punxsutawney on an endless loop for YEARS. Nevertheless, he uses his strange situation to learn more about his boss Rita (Andie McDowell), who turns out to be more intriguing to Phil than he first thought.
Why it wooed us: The sheer quantity of hilarious set-pieces derived from Connors situation culminate in one of cinemas funniest pay-offs: the entire Ned Ryerson sequence. Instantly quotable and crammed full of memorable scenes, Groundhog Days success lies in its union of two plot strands: the never-ending predicament of Connors, and the deeper revelation that he is capable of selfless love.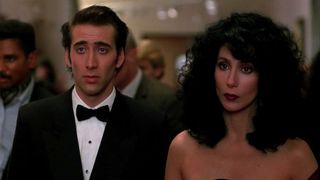 22. Moonstruck (1987)
The romance: Sicilian New York widow Loretta (Cher) is set to to marry Johnny Cammareri (Danny Aiello) - a man she likes but doesnt love - much to the enthusiasm of her parents. With Johnny back in Italy, he urges her to contact his younger, feisty brother Ronny (Nicolas Cage) to invite him to the wedding. They drive each other up the wall, which can only mean one thing, right?
Why it wooed us: The relationship between Loretta and her father Cosmo (Vincent Gardenia) is a treat. Their digs at each other are the foundation of the movie's chuckles.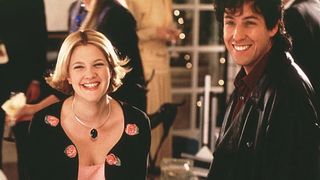 21. The Wedding Singer (1998)
The romance: Jilted wedding singer Robbie Hart (Adam Sandler) befriends waitress Julia Sullivan (Drew Barrymore) during the run-up to her wedding to prized douche Glenn Gulia (Matthew Glave). With Robbies help finalising the details for the big day and the two grow closer, Julia thinks she might be marrying the wrong man. It's a feeling Robbie soon shares as he uncovers Glenns infidelity while on a double date with the soon-to-be newlyweds and Julias cousin, Holly (Christine Taylor). Deciding to dump his so-called fiancee once and for all, Robbie decides to take a chance and admit his love to Julia...
Why it wooed us: This is Sandler in his prime; funny, compassionate and inherently likeable. Twinned with Barrymores charming and goofy Julia, the pairs crazy chemistry harks back to Hollywoods golden era.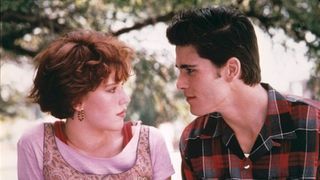 20. Sixteen Candles (1984)
The romance: Samantha's (Molly Ringwald) 16th birthday turns out to be less sweet than anticipated. The object of her affection (Michael Schoeffling) has gotten wind that shes nuts about him, the school geek (Anthony Michael Hall) is trying to get into her knickers, and no-one has remembered her birthday...
Why it wooed us: John Hughes teen romance is over 30 years old and still gives more recent high school flicks a run for their money. A good dose of one-liners, a charming central performance from Ringwald, and two guys vying for a womans attention... the perfect romcom formula.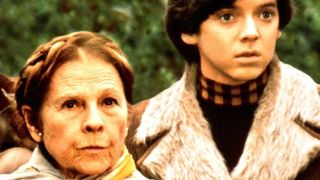 19. Harold & Maude (1971)
The romance: Suffocated by his home life, 20-year-old Harold (Bud Cort) harbours an obsession with faking his death, when he befriends the octogenarian Maude (Ruth Gordon). Her free-spirited outlook and unorthodox way of approaching life forges a bond between the two, and opens Harold up to the possibility of something extraordinary. Which involves grand theft auto, smoking pipes... you know, the usual.
Why it wooed us: A counter-culture classic, Harold & Maude caters to an audience who prefer a touch of the idiosyncratic in their romance. The fact the age gap between the two never seems a barrier to their union is testament to the phenomenal chemistry between Cort and Gordon.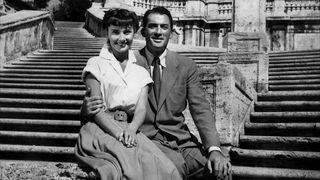 18. Roman Holiday (1953)
The romance: Princess Ann (Audrey Hepburn), on tour of Europes capitals, grows bored of her strict regime, breaking free from her chaperones to romp around the continents most beauteous city, Rome, with reporter Joe Bradley (Gregory Peck).
Why it wooed us: Hepburns turn was her first starring role. While originally penned for Elizabeth Taylor, she nailed the googly-eyed youngster transforming herself into a true movie star.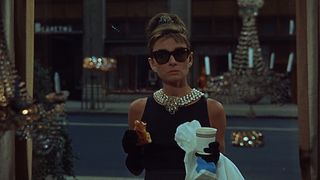 17. Breakfast At Tiffanys (1961)
The romance: High society gal Holly Golightly (Audrey Hepburn) lives a carefree existence, swanning from restaurant to bar, leaving a trail of broken hearts in her quest for a rich husband. Her new neighbour, writer Paul Varjak (George Peppard), is spellbound by her antics, but Hollys got her sights on every millionaire in New York...
Why it wooed us: In the role that defined her career, Hepburn stole our hearts as the doe-eyed Holly, leaving a performance blueprint Winona Ryder would pick up years later.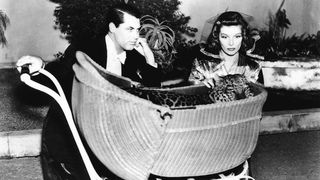 16. Bringing Up Baby (1938)
The romance: When palaeontologist David Huxley (Cary Grant) meets the boisterous Susan Grant (Katharine Hepburn) on a golf course, she mistakenly thinks hes a zoologist and asks him to help her drive a baby leopard cross-country to her aunt. He reluctantly agrees, as its his wedding the day after...
Why it wooed us: Grant and Hepburn, a cracking comedy duo with a string of collaborations, are outstanding as the two opposites attract. Rumours of their hilarious japery extending off-set - so much so, production came in late - are not surprising.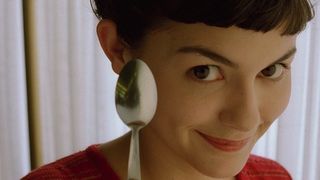 15. Amelie (2001)
The romance: Romantic dreamer Amelie (Audrey Tautou) discovers a box of hidden treasures in her apartment and vows to return them to their owner. It sparks a new zest for life, and a mission to help others realise their dreams. But what about Amelies own happiness? Theres a man about town she keeps bumping into...
Why it wooed us: This bustling feel-good movie is more than a mere romantic comedy. Youll be smiling along with Amelie and holding out for the moment she takes her own advice.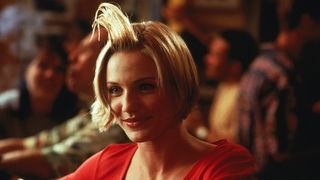 14. Theres Something About Mary (1998)
The romance: Super-nerd Ted (Ben Stiller) tries to reconnect with his high school crush Mary (Cameron Diaz), years after an embarrassing genital incident with his zipper. When he hires slimy private detective, Healy (Matt Dillon) to track her down, it turns out theres more than one chap after her heart.
Why it wooed us: The Farrelly Brothers balanced gross-out humour with a bubbling romance at the centre of a romcom thats a rare breed of sweet and silly.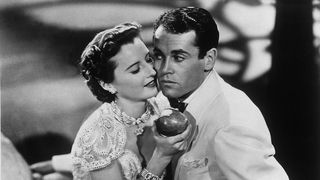 13. The Lady Eve (1941)
The romance: Rich beer company heir Charles Pike (Henry Fonda) boards a cruise liner after a year down the Amazon. Before hes barely aboard, card shark Jean Harrington (Barbara Stanwyck) and her father peg him as an easy mark and set about scamming him of his riches. All's fair in love and war - Jean begins to regret their plan when her intentions for Charles switch from duplicitous to romantic...
Why it wooed us: Fondas a delight to watch as the unsuspecting buffoon falling for the wily charms of Stanwyck. Twice.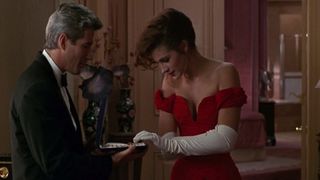 12. Pretty Woman (1990)
The romance: Classy hooker Vivian Ward (Julia Roberts) takes up with rich businessman Edward Lewis (Richard Gere) after taking advice from her quick-witted roommate Kit (Laura San Giacomo) that Lewis could become an established client. Hiring her to be his escort for the week, Edward and Vivian begin to foster feelings that go far beyond nookie. Hearts before parts.
Why it wooed us: This was the performance that catapulted Roberts into the mainstream and into the publics hearts. And its not hard to see why.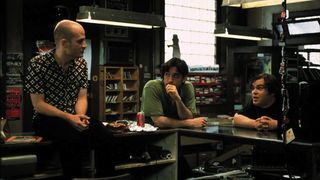 11. High Fidelity (2000)
The romance: Record shop owner Rob (John Cusack) takes a trip down memory lane after his girlfriend Laura (Iben Hjejle) breaks up with him. Amid fighting off hideous visions of Laura schtupping new boyfriend Ian (Tim Robbins), Rob tracks down a series of exes to discover why exactly they ended things, in order to win back Laura.
Why it wooed us: Based on the Nick Hornby novel, High Fidelity was strengthened by its move from London to Chicago. It reinvents a ton of rules that romcoms are often weakened by (breaking the fourth wall, two bickering, bantering side-kick employees Jack Black and Todd Louiso) and Cusack is never-better as anti-hero Rob. Its a cult classic for a reason, and it has a killer soundtrack.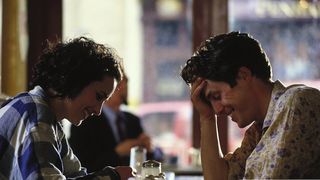 10. Four Weddings and a Funeral (1994)
The romance: Hugh Grants bumbling Brit Charles meets suave American Carrie (Andie Macdowell) at a series of social gatherings. At the films first wedding, the two meet and spend the night together, after which Carrie flies home to the U.S. to prepare for her own wedding to rich Scot Sir Hamish Banks (Corin Redgrave). Charles buries his feelings for Carrie and opts to take the path of least resistance, marrying his ex, Henrietta (Anna Chancellor). That is, until Carrie turns up at the church...
Why it wooed us: A romcom classic, Four Weddings was the first time all the staple elements of British comedy melded together perfectly; a stellar cast, a cracking script and a slew of hilarious one-liners. And it established Grant as the quintessential foppish Brit.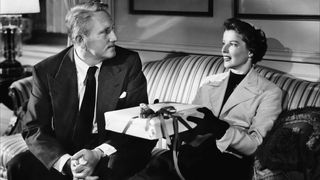 9. Adams Rib (1949)
The romance: Married lawyers Adam (Spencer Tracy) and Amanda Bonner (Katharine Hepburn) each choose to represent opposing sides in a court case. Out to challenge traditional boundaries imposed on the two sexes, she defends a woman charged with shooting her husband, while Adam stands as the prosecution.
Why it wooed us: Written specifically for Hepburn and Tracy, their witty sparring banter proved that six collaborations later, their spark was still flaming brightly.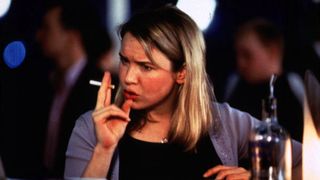 8. Bridget Joness Diary (2001)
The romance: Perpetual singleton Bridget (Renee Zellweger) is desperate to find the perfect man. Fate throws two potential suitors her way in the form of lecherous schmooze Daniel Cleaver (Hugh Grant) and stuffy dullard Mark Darcy (Colin Firth).
Why it wooed us: The big screen adaptation of Helen Fieldings pioneering chick lit accomplished what many comedies geared at women fail to do - it made us laugh. Zellweger is perfectly cast, dropping all traces of her Texan drawl, bringing to life the hilariously flawed Bridget.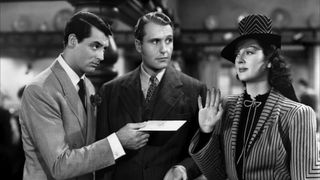 7. His Girl Friday (1940)
The romance: Boorish-yet-somehow-utterly-charming editor Walter Burns (Cary Grant) chucks a spanner in the works of his ex-wife Hildy Johnsons (Rosalind Russell) imminent second marriage to Bruce Baldwin (Ralph Bellamy). Tempting the former newshound reporter with a murder story, shes helpless to say no, especially when theres a promising scoop at stake.
Why it wooed us: Grants banter with Russell at the table, while endlessly quizzing her new fiance, is hysterical. His fast-paced rap-dialogue and Russells slapstick schtick make this an affair to remember.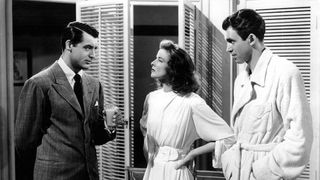 6. The Philadelphia Story (1940)
The romance: Wealthy Philadelphia It girl, Tracy Samantha Lord Haven (Katharine Hepburn) finds herself at the centre of a four-way romantic tangle on the eve of her second set of nuptials. With the arrival of her first husband, the witty C.K. Dexter Haven (Cary Grant) comes fast-talkin reporter Macauley (James Stewart) to cover the events of her wedding to reliable George Kittredge (John Howard).
Why it wooed us: Grant and Stewart fighting it out over a broad with two completely different amorous approaches remains absolutely classic.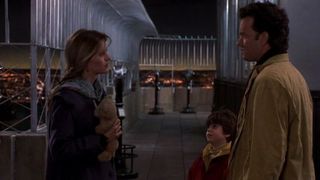 5. Sleepless in Seattle (1993)
The romance: Widower Sam Baldwin (Tom Hanks) opens his heart after his wifes death live on radio, at the urging of his son Jonah. When Annie (Meg Ryan) hears his story, she re-evaluates her engagement and scribbles a letter to Sam asking him to meet her atop the Empire State Building...
Why it wooed us: Nora Ephron's tale is now over 20 years old (!) and had the hallmarks of its now-classic status even then. It's funny and warm without drowning in schmaltz. Hanks and Ryans palpable chemistry is a remarkable feat considering their scant time shared onscreen.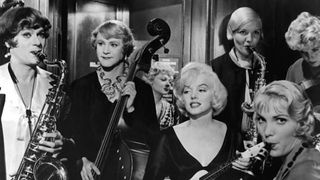 4. Some Like It Hot (1959)
The romance: Jazz musicians Joe (Tony Curtis) and Jerry (Jack Lemmon) end up on the run after witnessing the St. Valentines Day massacre. Masquerading as buxom women, they hide out as members of touring all-female music troupe, Sweet Sues Society Syncopators. Aboard the train, they meet Sugar Kane (Marilyn Monroe), a breathy singer who they each attempt to woo (in disguise), despite her assurances shes sworn off male musicians. Their antics spiral out of control as Jerry feigns wealth to capture Sugars heart, they dodge more bullets and love finally prevails.
Why it wooed us: Billy Wilder pulled out all the stops at a time when censors frowned upon any kind of sexual tomfoolery. Shocking the MPAA with his tale of two transvestites after a bit of hot totty while escaping the clutches of the law, theres no finer environment for Curtis and Lemmons schtick to bloom.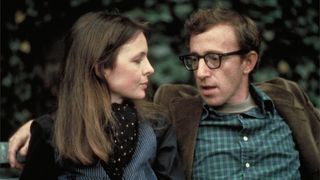 3. Annie Hall (1977)
The romance: Neurotic comedian Alvy Singer (Woody Allen) explores the doomed nature of his past romantic relationships, in particular his most recent paramour, Annie (Diane Keaton). The two meet through friends, and embark on what Alvy considers to be an unusual relationship. Shes a free-spirited hipster with an open policy, while he remains the introspective analyst who can never let a moment go undissected.
Why it wooed us: The subtitled scene following the pairs initial meeting, on a Manhattan rooftop, is pure cinema gold: a sterling example of Allens quick wit. While Annie and Alvy are conducting a seemingly trivial conversation concerning a date, subtitles flash up to reveal whats actually being conveyed.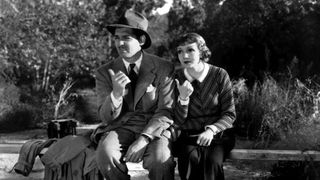 2. It Happened One Night (1934)
The romance: Snobby socialite Ellen Andrews (Claudette Colbert) goes on the lam, relinquishing her rights as heir to the family fortune to elope with her new spouse. On the way, she meets and falls for the charms of a no-nonsense journalist Peter Warne (Clark Gable) during a cross-country trip.
Why it wooed us: THE original romcom, Frank Capras flick emerged as a landmark 'screwball' comedy, introducing the since oft-repeated formula of a mismatched couple who eventually fall in love. It set a precedent for the genre, spinning the norms of the Depression Era on its head by having a wealthy lass abandon the rewards of being an heiress.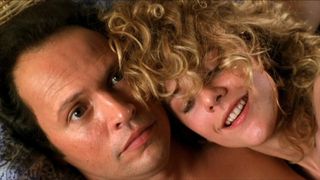 1. When Harry Met Sally (1989)
The romance: Wise-crackin Harry (Billy Crystal) and the progressive Sally (Meg Ryan) strike up a fiery friendship during a rideshare home from university, which ignites a series of chance meetings. Across a little more than a decade, the two challenge each other, bicker, disagree, yet continue to be drawn together. When their matchmaking plans go awry - their best friends end up falling in love with each other, not with Harry or Sally - the pair realise theres a pearl forming from the grit of their friendship...
Why it wooed us: Based on the real-life tribulations of director Rob Reiner following his divorce, it was and still is a revelatory romantic comedy. The combo of Crystal and Ryan revived a gasping genre, exploiting the differences between the sexes to killer effect with heaps of guffaws that never seem contrived. And of course, theres Ryans scene in the deli, making men (and women) the world over stand up and take notice.