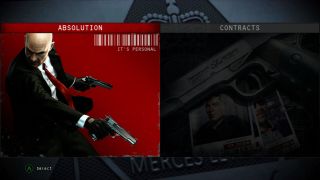 This time it's personal
It's time to load up Hitman: Absolution and make the first hour of the game as full and rewarding an experience the soul hollowing act of cold-blooded murder can be. Which, it turns out, is actually very satisfying as there's all kinds of fun to be had here. We've chosen the story mode for our first hour of fun, so choose this side (left) of the single-player if you want to play along. Ready? Then let's go...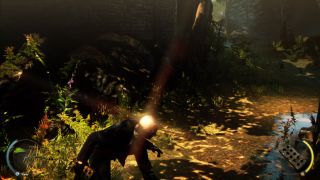 1. Baldly go forth
There's plenty of fun to be had in the back garden area right after the start, in particular watching the sunlight bounce magnificently off Agent 47's bald head.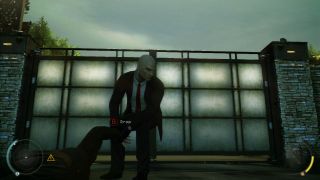 2. Show off for the cameras
Once you've killed the gardener (although you don't have to if you want to be nice), drag him back round to the massive gate and leave him in full view of both security cameras, just for the lulz. They don't do anything.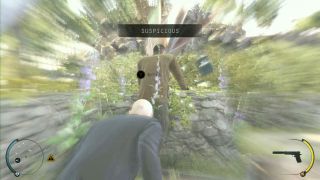 3. Book 'im, Danno
Throwing a heavy hardback book at the back of a guard's head just makes him 'suspicious', although (incredibly) he won't turn around to see who threw it. Plenty of time to get out the old neck wire.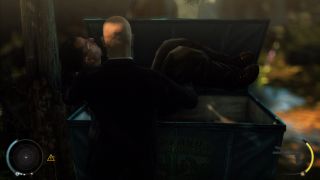 4. Take out the trash
There are loads of places to hide bodies dotted throughout the level. These wheelie bins are wheelie good for covering your murderous tracks...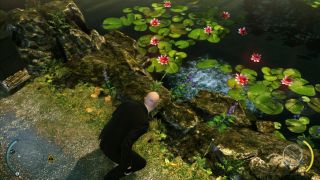 5. "The name's Pond..."
...But hiding bodies in the pond is even better. They sink completely without trace! Who cares about realistic corpse physics when your murders can be 100% evidence-free?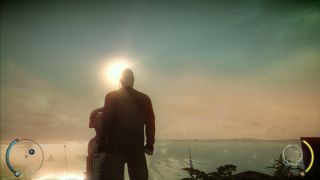 6. Play with the crepusculars
The Glacier 2 engine is capable of some lovely lighting effects. Stand in the way of the sun and watch the light rays stream past your silhouette. What a lovely day for a murderous rampage.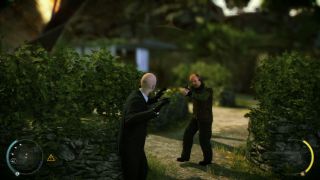 7. Fake your surrender
It's almost worth getting caught just to see how the guards fall for your 'fake surrender' every time. Just hold the A button and Agent 47 puts his hands up, waiting for the bravest guard to approach, before disarming him in an instant. Which leads to...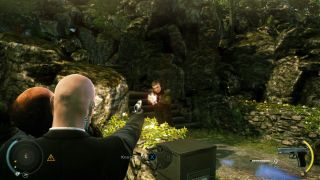 8. Use a human shield
You can grab people from behind and use them as human shields, but the 'false surrender' method automatically gives you one. At this stage, your cover is well and truly blown, but it's fun to do, and the one-hit gun-butt KO for your unfortunate victim is pleasantly blunt-looking.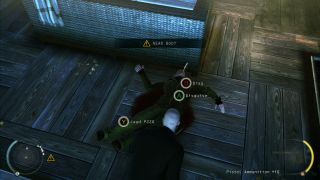 9. Throw some knives
When armed with a knife, get into cover and hold the left shoulder button. You'll see the object's trajectory, which turns into a red crosshair if you aim it at someone's head. Even if they're moving, you'll land your throw right between their eyes.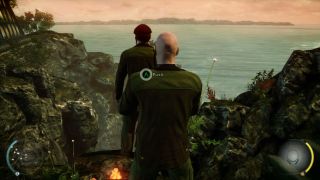 10. He's fallen in the water!
It's too tempting to push this guy over the edge of the cliff. Every. Single. Time. Move the camera quickly and you can see him bouncing down the rockface below. Mmmm... ragdolly.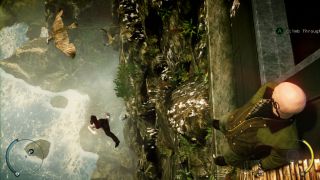 11. Recreate The Lord of the Flies
You can pull this poor chap out of the window while he's talking on his phone. On this occasion, he landed on his back across that rock by the sea giving us a sudden William Golding moment.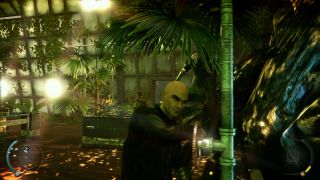 12. Turn on the sprinklers
Worth it for a laugh. Turn on the sprinklers in the greenhouse and everyone gets a wet head, deciding to leave the room instead of confronting you.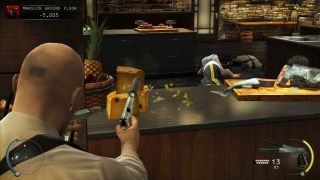 13. Test the food (with bullets)
Once you're inside the house, there's loads to see and do. Using your silenced handgun, you can shoot at things in the kitchen. Apples explode, but cheese absorbs bullets, apparently. We suggest someone starts making body armour out of this stuff.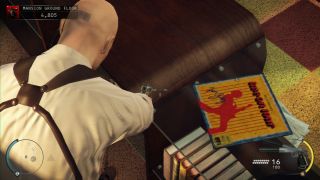 14. Jim Sterling? Really?!
Examine the records lying around in the main room and you can see that this one quite clearly says 'Jim Sterling'. Surely not outspoken games journalist and GamesRadar contributor Jim Sterling? We didn't know he played guitar...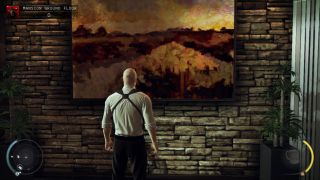 15. Admire the art
There are several large paintings hung around the walls of the house. There's the overall artistic merit to take in...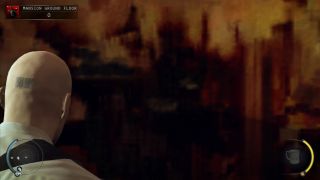 16. Pretend you're Cameron from Ferris Bueller
...or you could just zoom in on the texture until it just turns into coloured flecks. Fun if you're a fan of 1980s movies.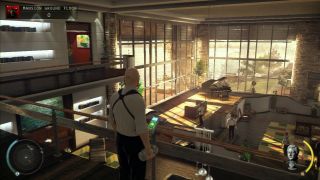 17. Open the shutters
Your first stop should be the upstairs balcony. Quietly dispose of the guard, then hit the shutters button to watch the room fill with light. It's gorgeous and also disrupts the guards' patterns. But wait... what did we do with the guard that was here?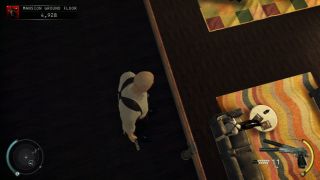 18. Create some artificial slobbery
Pushing the guard's body over the balcony often results in an incredible landing that makes it look like he's lounging in the comfy sofa below. Brilliant.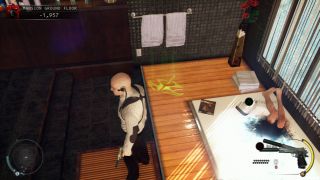 19. The most relaxing bath ever
Having taken a guard's clothes as a disguise, careful shooting can arrange his body in a 'taking a bath' position. But we did it wrong and made it look like he'd drowned in a terrible bathtime accident. Oops.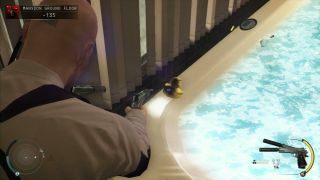 20. Kill the duck
The rubber duck is also a physics object. But if you shoot it into the water, it sinks without trace. Presumably because it's full of bullet holes?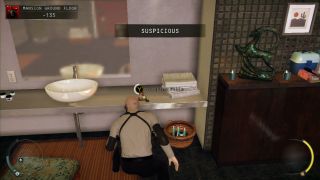 21. Get the sleeping pills
Don't forget to pick up the sleeping pills from the bathroom. There are a couple of uses for these...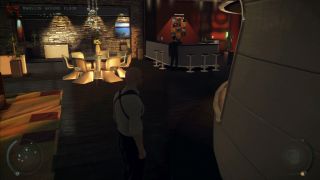 22. Spike the head guard's coffee
Like putting sleeping pills in the head guard's coffee while he isn't looking. He'll eventually feel funny and leave the room, whereupon you can steal his security card to get further into the building.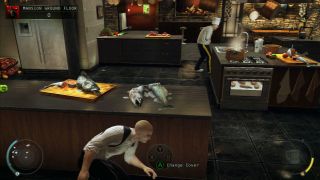 23. Drug the chef
Or you can put sleeping pills into the food that the chef is preparing in the kitchen, sending him to sleep in a chair so you can nick his clothes.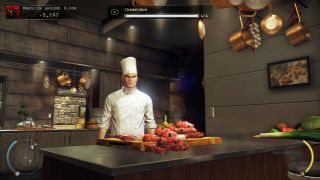 24. Dress as a chef
There's no denying the fun in stealing the chef's outfit, mainly because Agent 47 goes through an incredible transformation, from looking like a big scary assassin to looking like a big scary assassin dressed as a chef.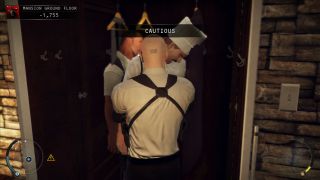 25. Or put your outfit away for later
If you don't want to dress as the chef just yet, you can always store him in a cupboard along with a security guard. He'll have trouble explaining that one when he wakes up.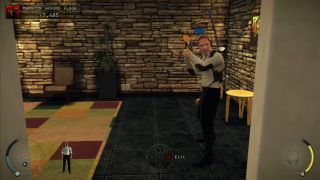 26. Turn invisible
That same cupboard is an excellent hiding place. See how open the door is? See how that guy's looking right at you while searching for the very person that you are? Well, he hasn't spotted you. That's the power of a small cupboard.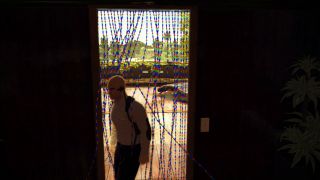 27. Steady your bead (curtain)
The bead curtain's physics are great fun, falling around Agent 47's frame as you walk through, then back again, then through again until you get bored.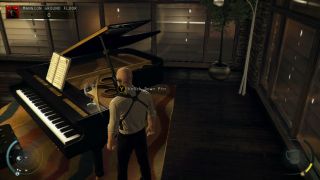 28. Play it again, Sam
There's an 'accidental' kill waiting to be ticked off in your notebook involving this piano. Pressing Y to remove the support brings the lid crashing down, as does shooting it. How could that be used to your advantage...?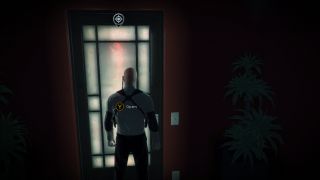 29. Indulge in some 'instinctive voyeurism'
Your instinct mode acts like Batman's Detective Vision, allowing you to see outlines through walls. Your first target is female and taking a shower, which you can see if you trigger your instinct before you open the door and start the cut-scene. Technically, it's just Agent 47's imagination, but still...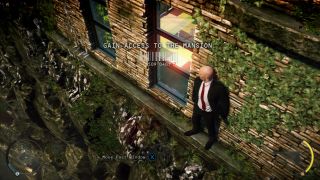 30. Do it again but better
Post level, you'll see there are loads of things you probably missed or could have done, from objects to find through to specific challenges. For instance, how about doing the whole level in your trademark suit? That's quite a tough ask...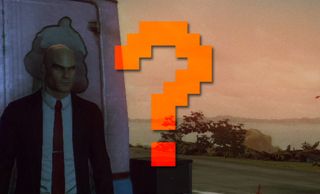 But what can you find?
Whether it's standing Agent 47 up against the ice cream truck to make it look like he has hair (daft idea) or something involving stacking bodies neatly on top of each other in suggestive poses, there's almost certainly even more fun to be had in this level. Tell us your favourite discoveries in the comments!
And if you're looking for more, check out our Hitman: Absolution review and lessons we've learned from video game hitmen.