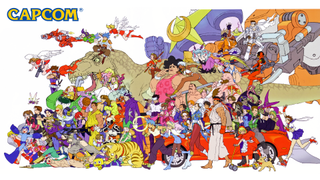 They say its your birthday
June 2013 marks 30 years of games from Japanese developer Capcom. The company had humble beginnings with a couple of arcade titles, and has since grown into one of the biggest publishers around. Franchises like Street Fighter, Resident Evil, and Monster Hunter sell millions of copies with each new release, but what keeps us coming back are the characters weve come to love over the years.
In honor of three decades of Capcom, we've rounded up the 30 best characters that the company has given to gamers. The medium wouldnt be what it is today without these people/cyborgs/deities, so join us in celebrating such a diverse set of characters as...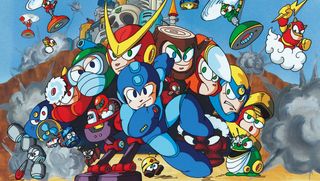 Mega Man
First appeared: Mega Man (1987)
Mega Man/Rockman has probably appeared in more games than any other Capcom-created character, so he deserves to be on this list due to sheer quantity alone. But the little robot boy has quality to back him up. He hit the NES over 25 years ago, and his first (of many) sequels is regarded as one of the best games ever all these years later. Those 8-bit classics made Mega Man famous for challenging gameplay, clever boss designs, impressively open gameplay, and some of the best music ever heard in a game.
And the Blue Bomber is so beloved that spin-offs like Mega Man X, Legends, and Battle Network have earned legions of their own fervent fans. Mega Man is such a versatile hero that its hard to imagine an era he cant work in, as the reaction to his recent return in Super Smash Bros. proves. No matter what hardships Mega Man may face in and outside of games, hell never give up hope, and thanks to his inspiration, neither will we.
Jill Valentine
First appeared: Resident Evil (1996)
Jill Valentine got her start as a member of S.T.A.R.S., an elite law enforcement squad that got cornered in a mysterious, remote mansion. Jill was a highly trained officer at that point, but we doubt she had much preparation for battling the undead that were hiding in every dark corner of the mansion. But as she watched zombies tear apart her team, she adapted very quickly, soon becoming the master of headshots as well as a master of unlocking.
After surviving the mansion, the world had need for experienced agents that could battle bioterrorists, so Jill joined her S.T.A.R.S. partner Chris Redfield in the B.S.A.A. She helped save the world a couple more times before her seeming death/brainwashing by her nemesis Albert Wesker. Thankfully Jill eventually recovered enough to assist in blasting Wesker to kingdom come. Sadly absent from Resident Evil 6, lets hope that the highly capable officer returns to active duty soon.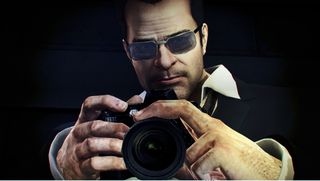 Frank West
First appeared: Dead Rising (2006)
Lets get this out of the way: Frank West has covered wars. That explains why he thinks hes ready to cover a strange outbreak of violence solo, but the experienced photojournalist quickly learns hes out of his depth. Wars are one thing, but a mall filled with thousands of zombies, helpless survivors, and murderous psychopaths is something else entirely.
Frank is forced to adapt or die, so he slashes his way through the undead masses to find the answers behind this zombie outbreak. He eventually masters some pro wrestling moves and saves the day, becoming famous in the aftermath. That fame leads to him being a reality show joke, but he ultimately reclaims some dignity by saving the day once again in an alternate retelling of Dead Rising 2. Outside of the franchise, Frank has been a fast-rising star within Capcom, appearing in multiple fighting games and cameo roles in the handful of years since his debut. Seemingly Frank isnt a part of Dead Rising 3, but we wouldnt count him out just yet.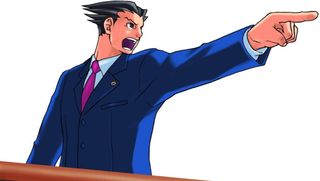 Phoenix Wright
First appeared: Phoenix Wright: Ace Attorney (2001 in Japan)
Many of the characters on this list have superhuman strength or a world class fighting ability, but Phoenix Wright has neither. All he has is his skills as a lawyer to help save the day. And Phoenix isnt even that good of a lawyer when he starts out, but watching him grow is part of why we love him.
The Ace Attorney games are courtroom dramas that show Wrights slow ascension from bumbling assistant to unbeatable master of the law. He gets better with each innocent defendant he saves and each goofball character he cross examines. His methods might not be all that realistic, but wed still want Wrights legal skills backing us up if we ever get wrongfully charged with murder.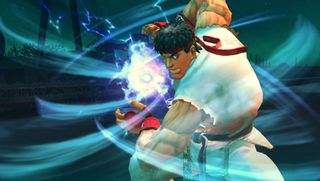 Ryu
First appeared: Street Fighter (1987)
When people think fighting games, Ryu has got to be one of the first faces they imagine. Ryu was the star of Capcoms original foray into fighting in the streets, but it was Street Fighter II that made him famous the world over. Thats when the mild-mannered fighters Hadoken attack of quarter circle forward + punch was burned into the memories of a generation of players.
Ryu might not have the flash of some other Capcom characters, but that didnt stop him from becoming an ambassador of sorts for the series. Always searching for a great fight, Ryu has appeared in in countless side games, usually leading Capcoms battles against X-Men, SNK rivals, or the entire roster of Tekken.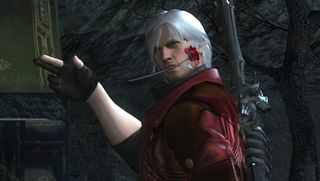 Dante
First appeared: Devil May Cry (2001)
The development team behind Devil May Cry had been working on the relatively serious Resident Evil games for so long that DMC must have felt like a chance to finally cut loose. DMC lead Dante is an ultra-cocky badass that fit with the ridiculous nature of the crazy action those freewheeling developers established. A master marksman and an expert swordsman with punk rock style, Dante carved up demons with an unstoppable confidence that won him many fans.
For all his bravado, Dante is one of the good guys, battling demons with the power he inherited from his father, an ancient demon named Sparda. After being raised by his human mother, Dante became a paranormal investigator, though most of his investigations begin and end with him decapitating hellspawn. Based on kill count alone, Dante has got to be the most successful paranormal investigator of all time (sorry Ghostbusters).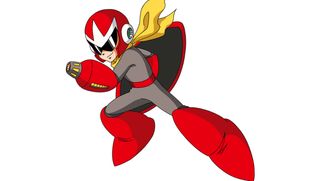 Proto Man
First appeared: Mega Man 3 (1990)
Everyone loves Mega Man, but some fans prefer the bad boy style of his rival/ally Proto Man (a.k.a. Blues). Introduced in the third Mega Man game, Proto was a mysterious enemy that challenged Mega Man when players least expected it. His entrances were dramatic for the time, with the games soundtrack being replaced by a trademark whistle that announced his arrival. And then theres the added drama of Proto secretly being Mega Mans brother--though the family resemblance is obvious.
At first Proto Man was assisting Dr. Wilys evil plans, but eventually Proto turned on Wily to help Mega Man save the day. Since then the brothers have been allies, though weve always sensed a certain competitiveness between them. Its hard to say whos the better robot slayer, but Proto Mans scarf and shield at least make him the more fashionable of the two.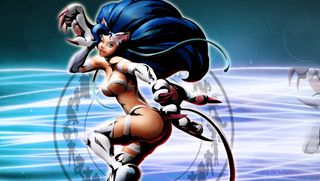 Felicia
First appeared: Darkstalkers: The Night Warriors (1994)
Felecia was a furry long before the internet made it into a fetish. Just like her freaky/sexy roster mate Morrigan, Felicia is an orphan that didnt set out to battle for the fate of the world. Raised by a chaste nun, Felecia only wanted the stardom that came with a singing career. But on the way to fame, she ended up fighting vampires and werewolves. How many other musicians have suffered similar career setbacks?
Felicia has the grace, agility and claws that fit her cross species, with body language comes off more cat than human, and it extends to her personality as well. Behind Morrigan, shes likely the most well known Darkstalker, and has had cameos and playable appearances in multiple games. But when will she get the spotlight she deserves in a true Darkstalkers comeback?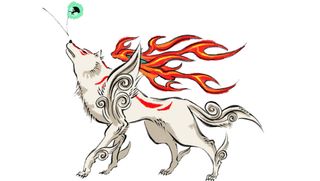 Amaterasu
First appeared: Okami (2006)
Okami launched to lower than expected sales, but that didnt stop the game and its protagonist from gaining a very dedicated following. Amaterasu is the Okami (or powerful god) of the title, but the wolf creatures godly powers are diminished when she returns to Earth in its time of need. Much of the world doesnt believe in gods anymore, so she appears to be an average dog to most humans, which plays into Okamis theme of finding the beauty hiding within the mundane.
Amaterasu slowly regains her power in the Zelda-style adventure, eventually gaining enough strength to free ancient Japan of its many demons. Despite not having much to say, its hard not to be taken by her regal, fiery design, as well as her ability to draw over reality. Following the underwhelming sales of her first game, Ammy has made a handful of appearances since, including as a playable fighter in Marvel vs Capcom 3, so she clearly hasnt been forgotten by Capcom.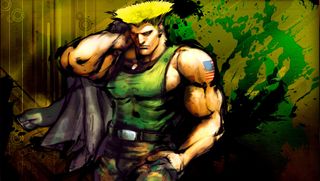 Guile
First appeared: Street Fighter II (1991)
Look at that flat top. That has to be the most extreme haircut in the US military, but thats not the only reason we love Guile. A Major in the Air Force, Guile began his street fighting career to avenge the death of his best friend, Charlie. He fought his way to the top to take down the guilty party, M. Bison, but after defeating the crime lord, Guile decided to be the better man and spare his life. Even after Bisons defeat, Guiles dedication to truth, justice, and the American way continued in future tournaments, but he also found time for a personal life.
Occasionally he finds a glimmer of hope that Charlie might still be alive, but when not chasing that ghost, he lives with his family. In fact, this ripped master of the Sonic Boom is related to Ken by marriage, as each is married to one of a pair of sisters. That must make Thanksgiving uncomfortable.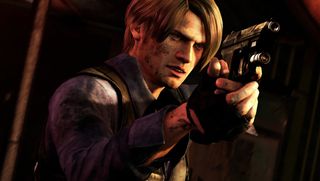 Leon S. Kennedy
First appeared: Resident Evil 2 (1998)
Leon Scott Kennedy had a rough first day at his new job. After arriving in Raccoon City to join the police force, he found the city in ruins thanks to a massive zombie outbreak. Thanks to his skills, resourcefulness, and friends like Claire Redfield and Ada Wong, Leon lived through that day, and was soon recruited by the US government, which really needed his skills in battling bioterrorism.
Leon has since spanned the globe fighting the undead, occasionally running into his old friends, and battling massive beasts that cant be killed by anything less than a rocket launcher. Leon takes his job fairly seriously--even shooting a zombified president if the moment calls for it. Hes been battling Chris Redfield for the top spot as resident Resident Evil lead, but to us theres no contest between the cool, fashionable Leon and the bullish Chris.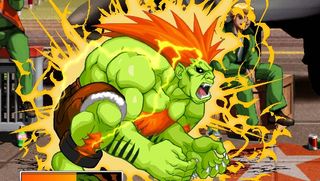 Blanka
First appeared: Street Fighter II (1991)
The roster of Street Fighter II is so memorable that it would be easy to include all of them in this feature, but were going to limit ourselves to the wildest of the crazy characters in the game. Blanka exemplifies the special brand of insanity that made us love Capcom. Raised in the wild since childhood, the green man comes from the forests of Brazil and is ready to tear apart whatever fighter stands in front of him.
His fighting style is much more instinctual than technique-based, and his ability to emit electricity might not be natural, but it gets the job done in a fight. Blanka is often used by Capcom as a comedy character, but facing him in combat is no joke.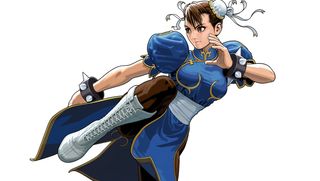 Chun-Li
First appeared: Street Fighter II (1991)
Can you name a more popular woman in video games than Chun-Li? Lara Croft is one of the few that comes close, but Chun-Li has been lightning-kicking ass for much longer. At an early age (perhaps on a Tuesday), the China native watched helplessly as her father was murdered by crime boss M. Bison. She vowed revenge, eventually perfecting her fighting skills and joining Interpol in the hopes of one day stopping Bison.
Chun-Li can throw deadly kicks in the blink of an eye with power backed up by her muscled thighs, and she can throw out energy blasts as well as any Shoto. Even after her father was avenged following Bisons defeat, Chun-Li continued to work for justice, though she still found time to appear in many of Capcoms crossover titles. She blazed the trail for so many playable female characters in games, and shes showing no signs of stopping more than 20 years later.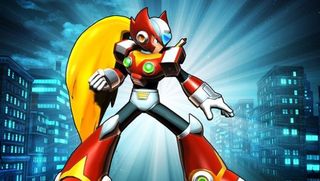 Zero
First appeared: Mega Man X (1993)
While Mega Man and his more advanced counterpart X are fairly similar, their rivals are truly only alike in color scheme. The red-clad Zero is one of the top maverick hunters of a robot-plagued future, which means hes tasked with hunting down AIs gone bad. And unlike X, Zero uses a badass energy sword thats not as clumsy or random as a Mega Buster.
Zero started out as a supporting character, but soon got his own playable campaigns in the X franchise, and his stages played very differently from Xs. As he continued to grow more unique from X, Zero eventually got his own portable spin-off series. Lately hes even made more playable appearances in the Vs. Capcom games than Mega Man has. Is Zero currently the favored Mega Man character of Capcom developers?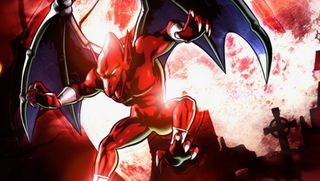 Firebrand
First appeared: Ghost n Goblins (1985)
In the world of gaming theres not much room for advancement. If youre a background character, odds are that youll never get a game of your own, but in the NES days, things were different. Even a somewhat random baddie like Firebrand could go from chasing the main character in Ghost n Goblins to starring in his own game.
After taking the lead role in two Gargoyles quest games and Demons Crest for the SNES, Firebrand went back to his day job of chasing knights. His return to the forefront in Ultimate Marvel vs. Capcom 3 reminded us of why we loved the bright red beast, because his story of hitting the big time gives hope to the rest of us schmucks in the real world.
Viewtiful Joe
First appeared: Viewtiful Joe (2003)
Having grown up with the Power Rangers, we could relate to Joes obsession with Japanese monster films starring costumed hero Captain Blue. And we also wished that we could jump into the screen like Joe did and become a masked superhuman ourselves. Sadly, thats the type of thing that only happens to video game characters like Viewtiful Joe, and he uses his newfound powers with an stimulating sense of childlike excitement.
Joes special powers worked in his sidescroller adventure, but were also fitting for the world of film that he inhabited. He could speed up time or slow down the film to dodge attacks ala The Matrix, or he could zoom in the camera to pull off a particularly devastating combo. The character starred in a quick succession of games, then vanished almost as fast as he became popular, but recent guest appearances in Capcom crossover games have given the hero a new lease on life.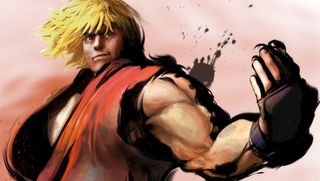 Ken Masters
First appeared: Street Fighter (1987)
Over Capcoms 30 years theyve created some of the most heated (yet friendly) rivalries in gaming history, and Ken and Ryu are at the top of that list. Both trained together under the same enigmatic master, which explains their similar styles, but Ken has always been the flashier of the two. While Kens Hadoken might be a touch weaker than Ryus, Kens fiery version of the Shoryuken leaves Ryus in the dust.
But we think a big reason for Kens continued popularity is him being more relatable than Ryu. Though Ken enjoys overthrowing a would-be world-conqueror as much as Ryu, Ken embraces the fame of being a championship fighter. And unlike confirmed bachelor Ryu, Kens married and has a son. Despite his bravado, Ken ends up with arguably a more balanced life than the solitary Ryu.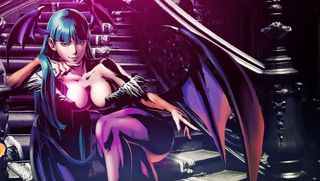 Morrigan
First appeared: Darkstalkers: The Night Warriors (1994)
Capcom has a number of attractive ladies in its history, but its hard to think of any more famous for their beauty than scantily clad femme fatale Morrigan. Shes a succubus born more almost 400 years ago, and shes armed with some powerful dark magic, but she most often fights for the thrill of battle, not with killer intent. It might be easy to like Morrigan for her low cut tops alone, but she has a deeper backstory than some fan art would lead you to believe.
Underneath Morrigans initial impression of vanity and arrogance is a woman avoiding a responsibility that she never asked for. She grew up as the adopted daughter of a demon king, and she was intended to take the throne some day. But Morrigan would rather enjoy the world of humans, a world that had always fascinated her. In later Darkstalkers games, when she becomes the lead of the series, Morrigan ultimately accepts her royal responsibilities, mainly to gain enough power to protect humanity from annihilation. And heres some Morrigan advice: turn on safe search when Googling her. Youll be scarred by what youll see.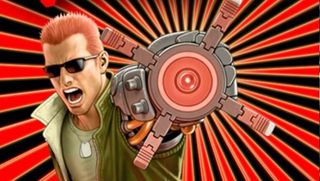 Rad Spencer
First appeared: Bionic Commando (1987)
Rad Spencer may have been created in an age when Mario made jumping the popular means of exploration, but that would have been too easy for a cyborg superman like Rad. Instead of jumping, Rad uses his robotic arm to swing around multilayered 2D stages, blasting henchmen left and right, never once jumping. This gameplay made Rad stand out from the pack in the 8-bit days, and it still feels pretty fresh today.
Though Rad got a gritty reboot in the 360/PS3 era, we prefer the more clean cut super soldier of the earlier games, not least of which because the Rad on the NES wasnt saddled with a ridiculous wife arm revelation. Plus, in the original version of the game, Rad is battling a troop of Nazis run by the reanimated head of Hitler. At the end of the game Rad blows up said head in one of the most entertainingly extreme moments of violence the NES ever saw, and well always be grateful to Spencer for giving us that.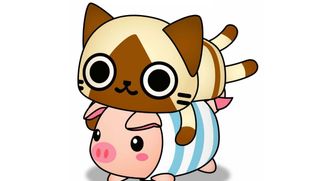 Felyne/Airou
First appeared: Monster Hunter (2004)
It may be underplayed and misunderstood in the US and UK, but Monster Hunter is popular enough in Japan alone that its currently Capcoms best-selling franchise. Both console and handheld Monster Hunter games sell by the millions in its native land, and merchandise for the series is seemingly everywhere. And the majority of that merch features cute versions of the cat monsters in the game known as Felynes or Airou in Japan.
The in-game Felyne look is perfectly fine, but its the more adorable, anime reimagining thats featured on countless pieces of merch and in occasional spin-off games that we prefer. Airou and his pals are so big in Japan that theyve even crossed over with Hello Kitty and Metal Gear Solid, as well as multiple Capcom titles. Were not sure why the adorable guys have yet to conquer the US, but with cute marketability like theirs, its bound to happen eventually.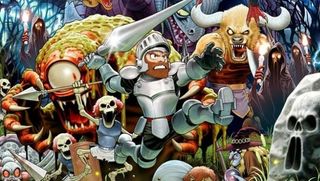 Arthur
First appeared: Ghosts n Goblins (1985)
Determination defines so many of Capcoms heroes, but Ghosts n Goblins star Arthur has faced more painful adversity than anyone on this list. Arthurs also the earliest Capcom creation in this feature, meaning hes been taking punishment the longest of anyone in this group. In all that time he never gives up, even in the challenging GnG games, a franchise that has pushed thousands of gamers to rage quit over the decades.
We credit Arthurs heroic spirit to his devotion to the lovely Princess hes sworn to protect. No matter how many times shes kidnapped, Arthur will don his very flimsy armor and march to the gates of Hell to find her. Even if he has to fight Satan with only his underwear to protect him, Arthur cant be stopped (so long as the player can show similar determination with his crazy difficult games).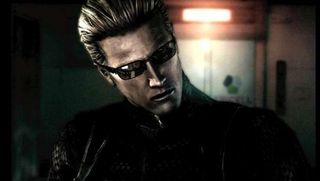 Albert Wesker
First appeared: Resident Evil (1996)
There arent a lot of bad guys on this list, and we credit that mostly to Capcoms ability to create such likeable heroes. But this list wouldnt be complete without the addition of Resident Evils top super villain, Albert Wesker. The nigh invulnerable bad guy kept popping up in RE games as he slowly honed his plans for world domination, and when he showed up, you knew you were in trouble.
Weskers cold, confident demeanor is reflected in his black leather clothes and ever-present sunglasses, but those shades hide the red eyes that reveal his murderous edge. His superhuman speed and strength were often a challenge when facing him in RE titles, but they became a boon when he was playable in Marvel vs. Capcom 3. Even after his death in RE5, Albert Wesker shows no signs of stopping, which is just the way we like it.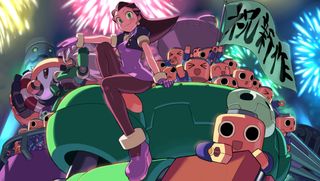 Tron Bonne
First appeared: MegaMan Legends (1997)
The Legends franchise was a spin-off that wasnt accepted by all Mega Man fans. But even if series star Volnutt and his 3D world werent embraced by everyone, series bad girl Tron Bonne was. Tron is part of a family of pirates, though shes more of an expert in electronics than sailing. Tron builds all the robots for her thieving family, including the many walking tanks she takes into battle.
Trons greatest asset has to be her squad of Servbots. Theyre the small army of put upon robots that assist her with virtually everything. Thanks in part to their popularity, Trons had much more crossover appeal than Legends star Volnutt. Shes appeared in multiple Vs. games and even got her own PSOne spin-off. Sadly, the Legends series seems to be on ice at the moment, but we doubt weve seen the last of this hot-headed young lady.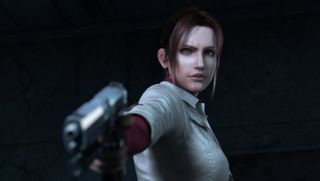 Claire Redfield
First appeared: Resident Evil 2(1998)
Chris Redfield was the co-star of the first Resident Evil, but weve always preferred the company of his sister. She first arrived on the scene searching Raccoon City for her brother. She didnt find Chris, but she made became good friends with Leon Kennedy and together they were able to avoid getting nuked by the US government, so well count that as a win.
After the fiery end of Raccoon City, Claire returned to the road searching for Chris, continually running into zombies in her quest. Claires just as handy with weapons as her brother, and isnt half as gullible. Sadly shes fallen into the background of the series, which makes sense she avoided work as a government zombie hunter, but we hope Capcom has plans for her in the future. Heres a suggestion: a co-op focused RE that teams Claire up with the almost as underused Jill. Its your move Capcom.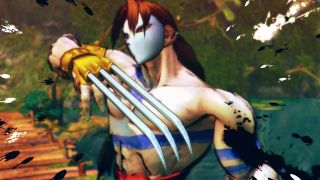 Vega
First appeared: Street Fighter II (1991)
M. Bison might be the lead bad guy, and characters like Sagat and Seth are certainly imposing, but Vega is our favorite villain from Street Fighter. A psychopath of the highest order, Vega has a pretty face that hides a blood-thirsty soul. He broke all the rules in Street Fighter, what with his ability to climb walls, and a mask and claws that can fall off during battle. The pretty boy Spaniard and his Wolverine-esque blades are burned into the minds of all fighting game fans. .
Vega was once a loyal employee of Shadaloo, but after Bisons defeat he returned to killing for his own pleasure. He made a triumphant comeback in Super Street Fighter IV, but otherwise has been relatively underused by Capcom in their side games. Perhaps hes a little too creepy for mainstream fans?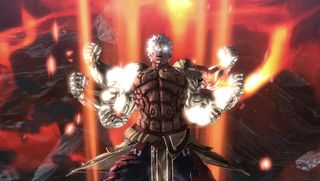 Asura
First appeared: Asuras Wrath (2012)
Anger, revenge, and hate may be frowned upon by Jedis, but those emotions have fueled many video game narratives. Out of all the angry men of gaming, Asura might just be the angriest of them all. Over the course of his long, painful life, Asuras betrayed by his closest allies, and intends to punch them to death for stabbing him in the back.
Sure, any hero can scream to the heavens for vengeance, but its the ludicrous extremes that Asura goes to that make him memorable. He punches people hard enough to crack the Earth. He screams at the top of his lungs in outer space while drop kicking an enemy spacecraft. And Asura somehow overpowers a god whose finger is bigger than the United States. Even though hes only appeared in one game to date, those feats are enough to put him in the Capcom pantheon.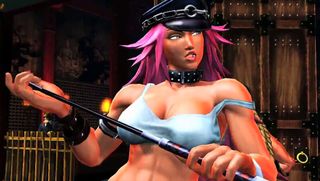 Poison
First appeared: Final Fight (1989)
Poison has been a favorite of many Capcom devotee despite rarely being playable (let alone appearing) in many games. She must have a certain something that makes all the players want her. We just cant put our finger on it. Poison got her start in the Final Fight beat em up series as a regular enemy, then she transitioned into her new role as a manager for man mountain Hugo in the Alpha franchise. After teasing players for far too long, she finally became a playable character in Street Fighter X Tekken.
Poison holds a distinction as one of gamings first transgender characters, which began as a strange choice in localization but has become a part of the character that she wears with pride. If you take issue with it, thats your problem, not hers. It's that kind of confidence that makes her so appealing.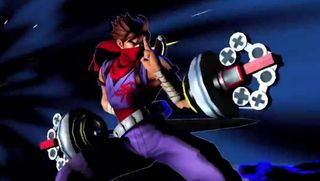 Strider Hiryu
First appeared: Strider (1989)
Strider is a space ninja from 2048, which is awesome enough to guarantee him a place on this list. Mr. Hiryu is tasked with saving the world Grandmaster Meio and his army of henchmen, whom he cuts down by the hundreds with his legendary Falchion sword. When not slicing people with his famous underhand sword technique, hes uses grappling hooks and animal sidekicks to continually save the day.
While Striders arcade game was a hit, his popularity likely peaked with the Genesis port of that game. It was one of the more visually impressive games in the systems early days, and its massive 8 megabit cartridge made it one of the pricier games of its time. About a decade later he got his first true sequel, and after appearing in multiple side games, wed say hes overdue for a Strider 3.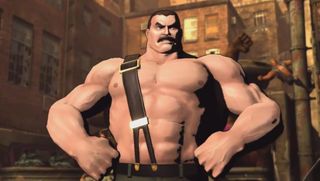 Mike Haggar
First appeared: Final Fight (1989)
Most video game heroes come from humble beginnings, and they return to their simple lives after saving the day. Mike Haggar breaks that mold by being one of the most proactive city officials the world has ever seen, and that insanity is exactly why we love him. With a physique that rivals The Hulks, Haggar is the mayor of a city plagued by the Mad Gear Gang, and when his daughter is kidnapped, he takes a aggressive role in bringing her back.
Mike teams up with co-stars Guy and Cody to hunt down Jessica Haggar, which gives the mayor a chance to use the wrestling moves he has little time for in his political career. Once the girl is saved, Haggar returned to governance, but he still keeps himself in crazy good shape. You never know when hell next need to do spinning piledriver on a criminal.
Sakura
First appeared: Street Fighter Alpha 2 (1996)
The word fanboy/fangirl gets used as a negative at times, but Sakura took her obvious obsession and used it to become one of the greatest fighters in the world. She once was your average Japanese schoolgirl, but once she saw Ryu battle in a Street Fighter tournament, she decided to dedicate herself to becoming a fighter worthy of being trained by Ryu. Sakuras crush was slightly nave, but she could pull off a Hadoken with next to no training, so there ha to be something special about her.
Sakura was only the fourth female character in the series, and her spunky, can-do attitude has made her the most popular character of the Alpha series. She was so popular in fact that Sakura appeared in multiple Street Fighter spin-offs and even found her way into the main series with Super Street Fight IV. But will she ever attain her dream of training with Ryu? Or is their connection even deeper than that now?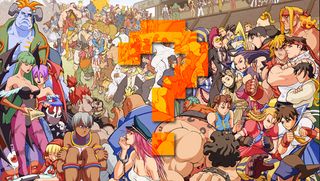 See you in 30 years!