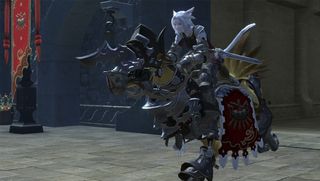 The best of all worlds
We've been spending a lot of time hanging out in Eorzea lately, checking out the sights, listening to the awesome tunes, slaying some cactuars, etc. And for the most part, as detailed in our Final Fantasy XIV: A Realm Reborn review-in-progress, we've been enjoying our grand adventures.
If you haven't had a chance to hop into ARR yet, you might not be aware that it's absolutely loaded with fan service. There are tons of nods to previous Final Fantasy games, and it borrows some mechanics and items wholesale from its predecessors--and we're totally okay with that. Here are a few of the references to specific Final Fantasy games we've managed to find so far.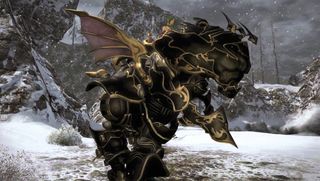 Magitek Armor mounts (FFVI)
Yep, feast your eyes on the Magitek Armor mount--a faithful replication of the design drafted by Yoshitaka Amano for Final Fantasy VI. This mount is something every player will receive upon completing the main story arc in ARR. Considering we've only just hit the halfway mark to level cap, we're a ways off from getting one. But seeing a high-level player run through a low-level zone while piloting one of these things is a sight to behold.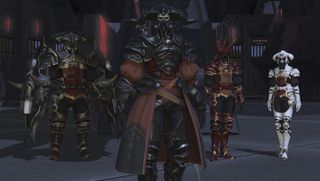 Judge armor (FFXII)
In ARR, the Garlean Empire (perhaps named after Garland, the antagonist of the original Final Fantasy?) is a seemingly evil faction that has waged war on Eorzea in years past. You'll initially encounter Garlean agents via cutscenes--and once you do, it's impossible not to notice the armor some of them wear, which looks nigh identical to the armor worn by the Judges from Final Fantasy XII.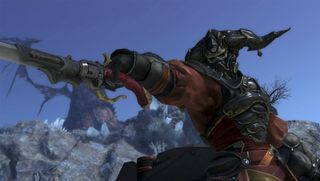 Gunblades (FFVIII)
The Garlean leaders also wield some awfully familiar weapons: gunblades. Both Squall and his rival Seifer used gunblades in Final Fantasy VIII (weapons that made an appearance in XIII as well). Even if the notion of fusing a gun and a sword seems a bit ridiculous (if not impractical), the things still look pretty badass.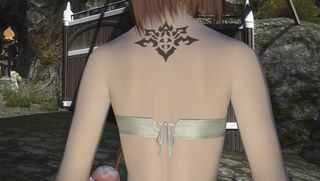 Warriors of Light (FFI)
Load up ARR and it won't be long until you hear mention of the Warriors of Light, a reference to the group of heroes in the original Final Fantasy. This name has shown up in multiple Final Fantasy games, often as a catch-all title applied to the specific game's party of protagonists. In ARR, Warriors of Light specifically refers to the those who purchased and played Final Fantasy XIV at launch, prior to the cataclysmic event that reformed the world (aka the in-game lore that justifies ARR's existence). Those characters are signified by the tattoo in the image above.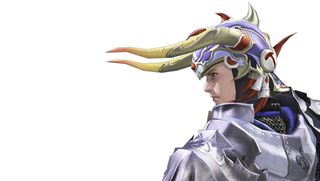 The Helm of Light (FFI)
Speaking of the Warriors of Light, the hero of the original Final Fantasy has a rather iconic helmet that's easily recognizable. And, if you purchase the collector's edition of ARR, you'll get that sweet piece of headgear--the Helm of Light--for yourself.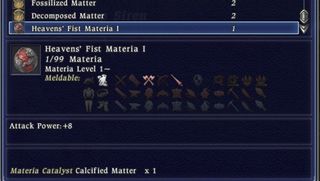 Materia (FFVII)
One of the ways in which MMOs allow players to customize or enhance their equipment is through an enchanting or gem system, which typically imbue items with additional stats. In ARR, you'll do so by using Materia. Unlike in FFVII, the Materia in ARR doesn't grant access to magical spells, instead boosting the attributes (strength, vitality, etc) granted by a piece of equipment. Still, Materia!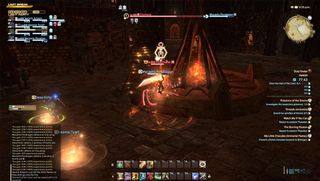 Limit Breaks (FFVII)
Yep, another FFVII reference. Limit Breaks are separated into three levels of power, with each subsequent level increasing the potency of the ability, as well as the restrictions for its use. For the most part, these are available only in instanced dungeons, and they're a communal resource that the whole party shares. As soon as one person in the group uses it, the meter resets. Most of the actual Limit Breaks are lifted from FFVII as well, and change depending on the class that activates it. As a melee DPS class, for example, you'll have access to Cloud's Braver (using a Buster Sword that materializes out of thin air, of course) or Tifa's Final Heaven, while healers can call upon Aerith's Healing Wind.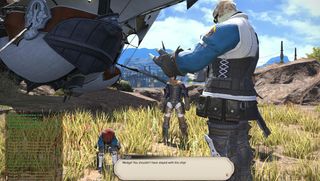 Biggs and Wedge (FFVI and on)
Ever since their initial appearance in FFVI, Biggs and Wedge have been recurring characters and somewhat of a running gag in the Final Fantasy series. (For those not in the know, their names are in reference to the Star Wars characters Biggs Darklighter and Wedge Antilles.) In ARR, you'll encounter these two during one of the main story quests after they've crashed their airship. Oh, and guess what the name of their ship is?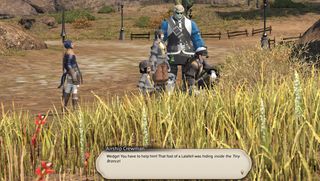 The Tiny Bronco (FFVII)
Ah, yes, the Tiny Bronco. If you've played through FFVII, you no doubt have a nostalgic attachment to the airplane of the same name, crafted by one Cid Highwind. The Tiny Bronco looks a lot different in ARR, seeing as it's a full-blown airship--but the reference is still appreciated, and we couldn't help but smile when its name was uttered.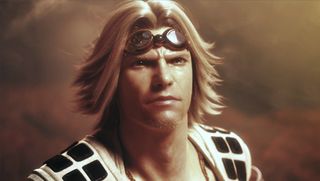 Cid (Basically every FF)
Ever since his initial appearance in FFII, Cid has been a recurring character just like Biggs and Wedge. His character and role changes in each of the games he's in, and you can expect him to play a rather big part in the story of ARR. You'll eventually encounter him via the main quest chain--and his airship is called the Enterprise, a reference to his airship in FFIII.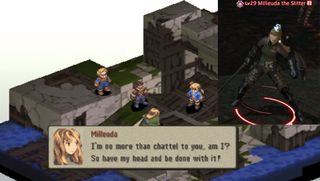 Milleuda Folles (FF Tactics)
You may recall encountering Milleuda Folles, swordmaiden of the Corpse Brigade, in Final Fantasy Tactics: once at Brigands' End, and again at Lenalian Plateau, where she was ultimately killed at the hands of Ramza (you). Turns out, Milleuda's back. In ARR, she goes by Milleuda the Slitter, and is now the leader of the Corpse Brigade. You'll find her in Southern Thanalan in the form of a sub-boss during a Notorious Monster FATE called Adventures in Throat Slitting.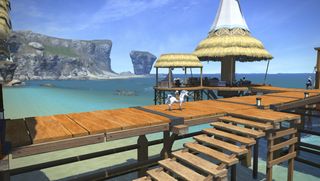 Costa Del Sol (FFVII)
Naoki Yoshida, the producer and director of ARR, has stated multiple times that he aims to bring several locations from previous Final Fantasy games into FF14--and at least one of them is already in place. Around level 30, you'll unlock the ability to travel to Costa Del Sol, the lovely resort town from FVII. Other confirmed locations that will be coming to ARR include the Golden Saucer (again from FFVII), and FFIII's Crystal Tower, which will be a raid dungeon.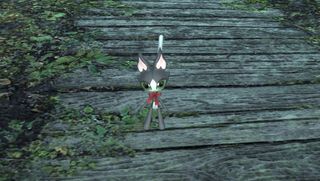 Cait Sith (FFVI)
Another recurring character in the Final Fantasy series, Cait Sith is available as a summonable pet in ARR for those who pre-ordered the game. He doesn't show up in his original coeurl-esque form, as seen in FFIV or the GBA version of FFII, instead appearing more like his design from FFVI and beyond. Awww, how cute!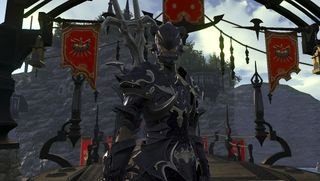 Kain's armor (FFIV)
As in FFXI, you can choose to play as a number of traditional Final Fantasy classes / jobs in ARR. While all of them look pretty awesome once decked out in end-game gear, we couldn't help but make a Dragoon the second we saw its artifact armor, which looks nearly identical to Kain's armor from FFIV. Coincidence? Doubtful.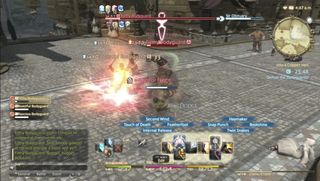 FFII Battle Theme (FFII)
During the main story quest you'll receive a mission entitled "Into a Copper Hell," in which you'll have to protect a young woman from a band of thugs. During your intervention, your ear holes will be tickled by the pleasant-yet-familiar sound of FFII's battle theme music. Well, a remix anyway, but still, it's unbearably awesome.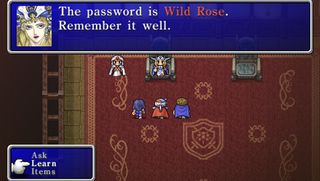 Wild rose (FFII)
In FFII, Princess Hilda is the leader of the Wild Rose Rebellion, a group Firion (the protagonist) and his party requests to join. Hilda denies their request, but provides them with the password "wild rose," with which they can identify other members of the rebellion. In ARR, the head of a secret organization that the player will encounter during the main questline also uses the password "wild rose" as a way to identify other members of this secret order.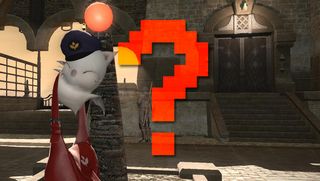 Kupo!