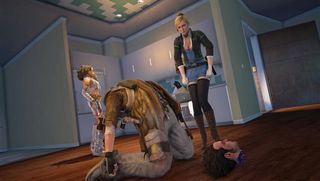 Severance pay(n)
The 14th of July in most parts of the world, that doesn't mean much, but in France it's Bastille Day. Commemorating the storming of the Bastille prison during the French revolution in 1789, it's roughly the equivalent of a French 4th of July, or a really gory Bank Holiday Monday if you happen to be from the UK.
We thought we'd come up with a tasteful, respectful, and stoically patriotic francocentric feature idea to celebrate the day, but instead we decided we'd just do a list of the best decapitations in video games. Because, you know, French revolution.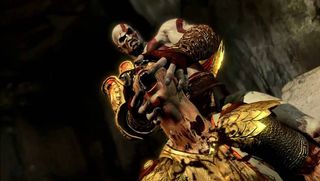 God of War III - The Helios head-pull
Decapitation method: An agonisingly slow, pornographically torturous twisting of the neck until muscle, sinew and veins eventually give way and snap like wet spaghetti, resulting in fervent spurts of the red stuff and a dripping, ragged neck-hole.
Outcome: The head comes off.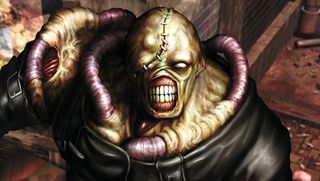 Resident Evil 3 - The hot shower
Decapitation method: An assault by highly concentrated acid. When fighting Nemesis while trapped in the treatment room towards the end of the game, Jill can drastically reduce the amount of ammo needed to put old tentacle-Hulk down by shooting various valves to dump delicious corrosion-juice on top of him. The second time she scores a hit in this way, his head will burn clean off. All of which does rather raise the question of what exactly the treatment room is designed to treat. Excessive sunburn? Particularly stubborn facial warts? Life itself?
Outcome: The head comes off, but Nemesis doesn't die. Again.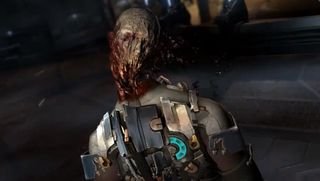 Dead Space 2 - The double-decap
Decapitation method: The Divider enemy's various body parts fall away from each other and attack independently. If the head scores a hit on Isaac it pulls his own head from his body, slithers its tentacle down his neck, and effectively body-jacks what's left of him, stumbling away on top of his shoulders like a hobo jumping a train car.
Outcome: Both heads come off. Two heads enter, one head leaves.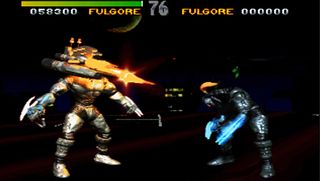 Killer Instinct - The pop-up surprise
Decapitation method: Self-decapitation for an ironic increase in offensive power. Robot soldier Fulgore's best fatality starts with him pulling off his distinctly-Predator-style head with his distinctly-Predator-style clawed hands. But rather than going immediately blind and taking out his opponent with an unusually outrunnable nuke, he unfolds a bloody huge great gun emplacement out of his neck-hole.
Outcome: The head comes off, and then a new one peppers Fulgore's opponent into tiny bits.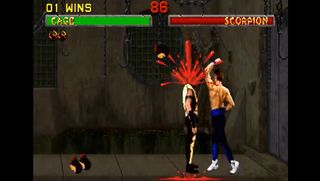 Mortal Kombat series - The triple-decap
Decapitation method: Uppercut with the power of a medieval catapult. Overzealous love of repeated uppercuts. Possibly a glitch.
Outcome: The head comes off. And then comes off again. And then comes off again. After launching his opponent's cranium clean into the stratosphere, Johnny takes another swing at their neck-stump, miraculously finds a new head attached to his knuckles, launches that, and then repeats the process a second time. None of this makes sense. But it's awesomely gratuitous, so in a way it also makes total sense.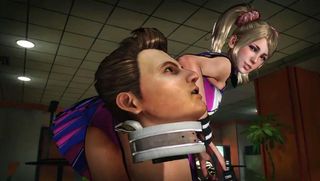 Lollipop Chainsaw - The living decapitation
Decapitation method: Love! Juliet's boyfriend has been infected with the zombie plague. Unable to let him go, she removes his uninfected head and magically preserves it. She then wears his head as a belt accessory. Presumably Top Shop and Urban Outfitters will be full of cheap dissembodied crania once the mainstream high street fashion 'designers' get hold of the idea.
Outcome: The head comes off and survives. But maybe wishes it didn't. The motion sickness alone must be a fate worse than death.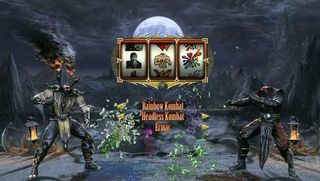 Mortal Kombat 2011 - The mutually assured decapitation
Decapitation method: Kombat Kode. Enter the code 808 808 on the pre-match Vs. screen and both fighters will begin battle without heads.
Outcome: The heads come off. And if you're playing as Kung Lao--whose best special moves and fatalities are based around the throwing of his hat--you're screwed.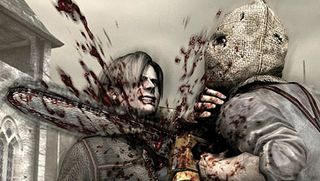 Resident Evil 4 - The iconic one
Decapition method: Chainsaw.
Outcome: The head comes off, by way of one of the most graphically shocking death sequences in video games. The entire game becomes immediately 300% more terrifying due to the simple knowledge that the chainsaw guys exist. Shinji Mikami laughs like a cruel emperor at all who complained that an action-driven Resident Evil wouldn't be scary, and the player involuntarily voids their bowels at the sound of a ticking engine for the rest of his or her life.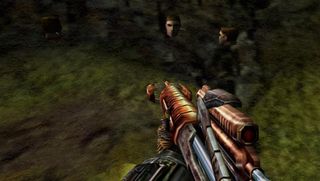 Aliens vs. Predator - The pinboard
Decapitation method: Speargun
Outcome: The head comes off and gets pinned to a wall. Obviously this defies the real-world physics of the situation, which would much more likely dictate that a small projectile moving fast enough to hypothetically tear a head off a neck would instead simply slice straight through the target's skull and out the other side. But it works regardless, based on the inalienable universal over-ride that anything is entirely possible if it's awesome enough and a Predator is doing it.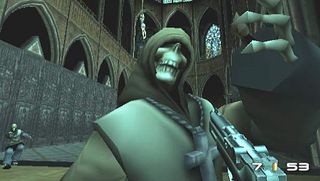 Timesplitters 2 - The bowling ball
Decapitation method: Shotgun or simple, enthusiastic face-punching. Like all good zombies, TimeSplitters 2's are made out of papier mache and decomposing meat, and held together with willpower alone.
Outcome: The head comes of rather neatly and rolls amusingly around on the floor for a bit. It's so satisfying that there's a whole game mode built around it.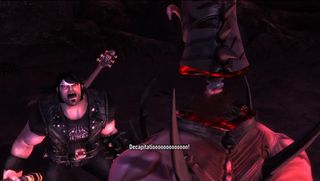 Brutal Legend - The most triumphant decapitation
Decapitation method: Metaaaaaaaaaal. Eddie Riggs finishes off big bad Lord Doviculus with a horizonal swing of his axe blade, and then rightly celebrates with a righteous bellow of "DECAPITATIOOOOOOOOON!".
Outcome: The head doesn't come off. But then Eddie stamps his foot and the head comes off. Which is pretty badass.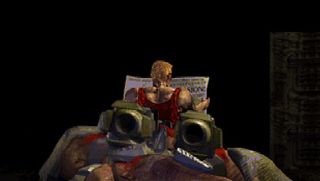 Duke Nukem 3D - The final insult
Decapitation method: Duke completes the Lunar Apocalypse chapter, tears the boss' head clean off its shoulders, and then sits down upon its neck stump to read the paper.
The outcome: The head comes off, and Duke gains a thorough briefing on the week's global current affairs. By which we mean that he takes a massive dump.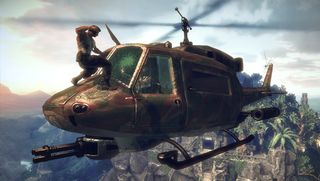 Xmen Origins: Wolverine - The completely unnecessary one
Decapitation method: After disabling a helicopter and enforcing an involuntary, parachute-free skydive for its co-pilot, Logan then turns his attentions to the pilot. He quickly decides that overkill is a half-measure and opts for over-overkill instead. He grabs the hapless mook, lofts him out of the cockpit and sticks his head through the whirling rotorblades.
Outcome: The head comes off and Wolverine makes a nutritious neck smoothy in an instant.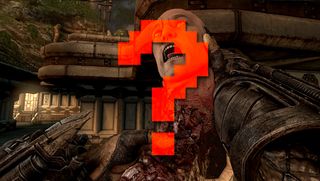 Keep on rollin'
So that's our rundown of the finest and most creative skull removals in games. But what are your favourites? Have you seen another method of separating cranium from spine that you feel you just have to shout about it in the comments section of a video games web-site? Well do so below.
And while you're here, check out some of our related stuff. A history of videogame chainsaw killings would be a good start, and then maybe try out SkeleTONS: nearly every bony bastard in the gaming universe. Happy Bastille Day, one and all!