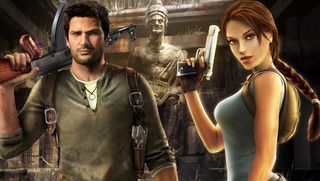 Improvement is the sincerest form of imitation
Originality gets a premium these days, and it's no wonder, given how any Joe Schmo can crank out a crappy iOS knock-off in an afternoon. But as weve already discussed at length, ripping off basic ideas from other games isnt always a punishable offense--sometimes it elevates the idea to new heights. Just because you didnt think of it first, doesnt mean you cant do it better.
Here are but a few of the video games that took the liberty of borrowing a concept of two from someone else, but imitated with such excellence that it's hard to fault their mimicry. As long as youre not copying someone to the letter in each line of code, a little comparable competition can be a good thing.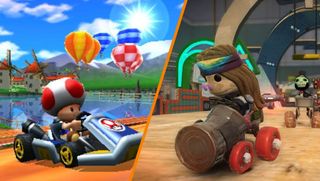 LittleBigPlanet Karting
Inspired by: Mario Kart
The Nintendo fanboy in us can hardly believe it, but Sackboys day at the races might edge ahead of Marios longstanding karting monopoly in terms of pure fun. Our LittleBigPlanet Karting review affords us far more room to sing its praises, but LBPKs most significant improvement to the Mario Kart formula is the inclusion of player-created, shared-online custom racetracks. In theory, that gives you a limitless number of laps to sharpen your drift skills, and LBPs charming aesthetic is already a well-known quantity. Each item also has a defensive use, which goes a long way towards nullifying the infuriating rubber-band AI that hampers kart games at higher difficulties.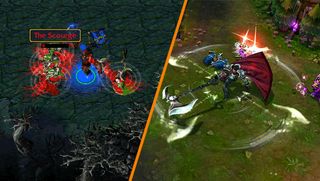 League of Legends
Inspired by: Defense of the Ancients
This one has more heated debates than the contention for who gets middle lane, but as it currently stands, millions upon millions of League of Legends players have made their choice clear. With a nearly identical three-lane map, parallel champion concepts, and the same focus on teamwork over individual skill, LoL owes as much to the classic Warcraft III custom map as Gak does to Silly Putty. But a slew of subtle tweaks to the gameplay make League extremely accessible compared to its hardcore predecessor: more spells per hero, more cooldowns at your disposal, and much fewer drawn-out, tug-of-war matches. Turns out, simplicity often lays the groundwork for success, despite what fervent, foaming-at-the-mouth DotA fans will tell you.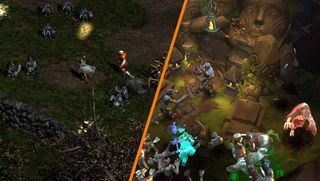 Torchlight II
Inspired by: Diablo
The big red demon and his horde of underworld horrors trained a generation to fight with their mouse-clicking fingers--but the third installment in the series didnt evolve things much further, instead padding the plot with baddies who kept insisting that their friends could beat up our friends. It mightve felt lacking due to the fact that Runic Games, the makers of Torchlight, is a team comprised of Blizzard ex-patriots who wagered that they could do click-and-loot fantasy better than before. Torchlight IIs gear progression makes Diablos feel like a slow-moving treadmill, and its inventive classes offer far more magic-powered diversity. Guess Runic had the right of it.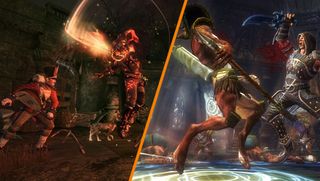 Kingdoms of Amalur
Inspired by: Fable
Word around town was that Amalur was the poor mans Elder Scrolls--but thats like comparing an action-happy apple to an oversized role-playing orange. We feel it owes more to Fable, sans a few of the morality choices and marriage, with fast-paced combat that encourages a mix of magic and mace swings. While Fable has taken an unfortunate turn into Kinect-ville as of late with Fable: The Journey, Amalur hinted at a much grander world filled with colorful vistas and adventures, one ripe for a big-budget sequel if Big Huge Games hadnt shuttered so soon.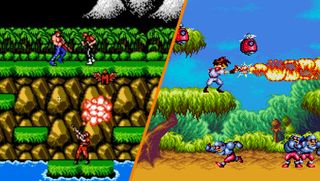 Gunstar Heroes
Inspired by: Contra
Treasures treasured run-n-gun delivers as much on-screen chaos as Bill and Lances war on life, with death always an unseen pixel away. But the brothers Gunstar, Red and Blue, mustve been born with overactive adrenal glands that necessitated nonstop action to stay healthy. Their game harnessed every last bit of the Mega Drives drive to deliver kaleidoscopic shootouts that looked as smooth as butter-slathered monkey bars. Managing your arsenal wasnt just mindless anticipation for a Spread Gun--Gunstars fusing of weapon types encouraged gun-mixing experiments not unlike alchemy, where unlikely combinations could produce your new pet firearm. Oh, the sweaty-palmed, pulse-quickening combat memories.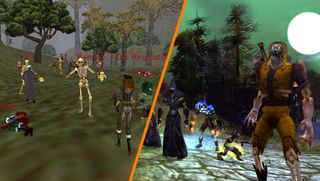 World of Warcraft
Inspired by: EverQuest
Outside of the MUD space, MMOs barely existed before EverQuest established itself as an online haven for the fantasy-minded. So why does Blizzard get all the credit for inspiring a caravan of clones? EverQuest gave the player plenty of options--provided they could actually figure out what in the blue hell they were supposed to do, and had a posse of artificial acquaintances with whom to clear zones. When designing Azeroth as a massive multiplayer canvas, Blizzard was keen to keep things as user-friendly as orcishly possible, with solo questing as a viable--superior, even--alternative to crowd-based character progression. It also didnt hurt that WOWs cartoony graphics withstand the cruelty of technological time in a way EQ could never hope to.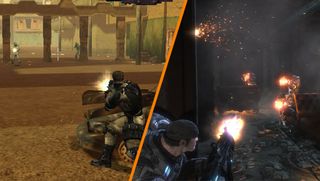 Gears of War
Inspired by: Kill Switch
Gears opened up the brown-tinted floodgates on cover shooters as a genre, though Epic Games gave credit where it was due. Its sticky, strategically staggered cover was cribbed from 2003s forgettable military shooter Kill Switch. In place of hulking, armor-plated man meat, you crouched behind waist-high barriers as rent-a-soldiers with some amusingly awkward animation. Epic had the resources to give the graphics and gameplay mechanics equally excellent attention, so they shoehorned Switchs core gunplay into a far more engaging, Locust-infested package. Come to think of it--why dont more modern shooters rip off the Active Reload system?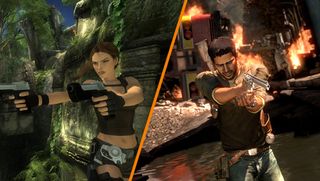 Uncharted
Inspired by: Tomb Raider
Though she in turn owes her archaeological adventuring to Indiana Jones influence, Lara Croft established the template that would later lead Nathan Drake deep into the jungle. Similar pistol-happy gunplay aside, both series feature lavish wildernesses and intriguing ancient ruins to explore, and strike the right balance between over-the-top set pieces and unexciting extremist plots. Drakes not so trigger-happy when it comes to killing animals, though, and the characters he interacts with feel far more human than Lara and her entourage. Plus, Nolan Norths smarmy charm is far more entertaining than Crofts stifling seriousness.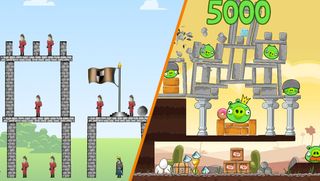 Angry Birds
Inspired by: Castle Clout
Those adorable avian building-smashers might seem like Gods gift to casual gaming, but the basic concept is lifted wholesale from a simple Flash game involving guards and boulders in place of pigs and birds. Castle Clout was addictive in the same way; flinging rocks at cracking walls somehow fires our destructive pleasure centers. Angry Birds smartly borrowed the basic destruction mechanics from a fairly ugly, uninteresting time-waster and spruced them up with drag-and-release touch functionality, goofy graphics, and perfectionist-tormenting star challenges. Despite the copied concept, Birds has proven itself to be a goose thatll continue to lay golden apps for the foreseeable future.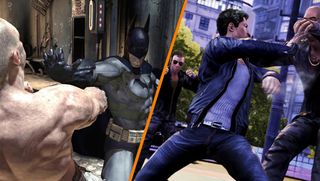 Sleeping Dogs
Inspired by: Grand Theft Auto IV / Batman: Arkham Asylum / Wheelman
United Front Games mustve felt like shoppers in a gaming mechanics mini-mart when it was developing this Hong Kong crime thriller. Weve got enough open-world, mission-based action at home with those True Crime leftovers. Are we running low on fun hand-to-hand combat? Toss some Arkham Asylum counterhitting into the cart. Ah! Wheelman car-diving hijackings are half-off this week--weve got to stock up on those. Luckily, it all adds up to a slightly derivative but always entertaining gumbo of action, and blends the borrowed bits together in style.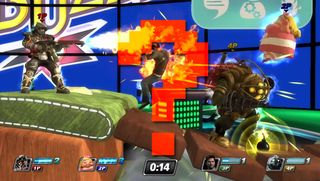 Been there, done that, made it better
Many more games have paid homage or shamelessly ripped off game mechanics and still managed to do them better than their predecessors. Which knock-offs are you a fan of? Let us know in the comments below, and remember that you dont have to be a unique, original snowflake 100% of the time.
For more fun features involving borrowed ideas, check out the 21 coolest retro references in Retro City Rampage and 55 awesome character cameos.