Gal Gadot bought Wonder Woman to life last year in one of the best movies of 2017, but while everyone can't stop talking about the incredible actress, there's still a few things you probably don't know about Gal Gadot's Wonder Woman. It's time to test your fan knowledge and impress your friends with these five little-known facts about leading-lady Gadot and the role which made her famous.
1. Gal Gadot was 5 months pregnant during reshoots for Wonder Woman
Talk about a work ethic! When Gal Gadot returned to finish some reshoots for Wonder Woman, she was just months away from giving birth to her second child. While she had no problem balancing impending motherhood with played the kick-ass heroine, her baby bump was well and truly showing by then so the special effects team had to cover her stomach with a bright green cloth, so that it could be edited out in post-production. "On close-up I looked very much like Wonder Woman," Gadot told EW. "On wide shots I looked very funny, like Wonder Woman pregnant with Kermit the Frog."
Download movies, featuring unstoppable women, to keep forever on Amazon
2. She trained for 6 months before shooting and gained 17 pounds of muscle
As with most action stars, Gal Gadot had to take on a gruelling training regime to get ready for playing Wonder Woman, but she had no reservations. "It was worth it," she told ABC. "I was prepping for this movie five or six months prior to the shoot. We did a lot of gym work and a lot of fight choreographies and horseback riding and sword stuff. It's been very intensive but it's paid off." And it had some unexpected benefits too: "I've gained about 17 pounds, and it's all muscle." She told Glamour. "I feel so much better now."
3. Wonder Woman is banned in Lebanon because Gal Gadot is an Israeli citizen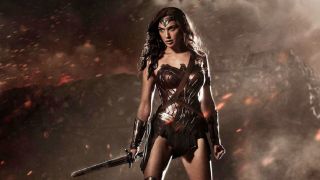 Lebanon and Israel have been in conflict with each other for years, with Lebanon banning the purchase of all Israeli products and preventing its citizens from travelling there. As Gal Gadot is a proud Israeli citizen and even fought in the Israeli army, the Lebanon Ministry of Economy and Trade decided to ban the Wonder Woman movie just hours before it was due to premiere. A similar campaign to ban Batman v Superman in 2016 was unsuccessful and although not everyone agrees with the Wonder Woman ban, the film has never been shown in Lebanon.
Click here for movies with unstoppable women to download on iTunes
4. Gal Gadot originally didn't know she was auditioning to play Wonder Woman
Although it's now hard to imagine anyone but Gal Gadot playing Wonder Woman, the actress originally didn't know what she was auditioning for when she was asked to come in and read lines for Zack Snyder. She was simply given some lines to read and that was it! "I got a phone call from Zack Synder who wanted to audition me for this secret role," she told Jimmy Fallon. "You get the lines, but you have no idea what the story is about, who's the character, nothing." Which makes it even more impressive that she bagged the role!
5. She found out she got the role while on a plane but couldn't tell anyone
Gal Gadot found out she'd won the role of Wonder Woman while on a plane and got so excited that the passengers around her wondered what was going on! "I was sitting in an aeroplane, I had just landed." She told Jimmy Fallon. "I was by myself and I'd just landed in Los Angeles and I open my phone and I have 20 missed phone calls from my agents." She called them back and when she found out she'd got the role she started screaming 'Oh my god!' until the passenger who had been sat next to her all flight asked her what was happening. Sadly, she couldn't say a word so if that passenger was you, now you know!
Surf eBay today to download your favourite movies with unstoppable women
This content is sponsored.