Unwrap a box set this Christmas
All obsessive TV fans know that Christmas is the perfect time to indulge in a box set binge, especially if theres mince pies and leftover turkey sandwiches involved. Whether you've seen these brilliant shows before or they've been on your to-watch list for months, now's your chance to see complete seasons back-to-back. If thats not festive bliss, I dont know what is.
Whether these TV box sets are on your Christmas wish list, or you want to give one as a gift, or you just want to become an unashamed couch potato for a few days over the Christmas break, here's our picks of the best TV box sets available to buy now. You're welcome.
A note on affiliates: some of our stories, like this one, include affiliate links to stores like Amazon. These online stores share a small amount of revenue with us if you buy something through one of these links, which helps support our work writing about games, movies, and TV.
Sherlock: Season 1-3
We desperately wanted Basil Rathbone and Nigel Bruce to be our Sherlock and Dr Watson forever, but Benedict Cumberbatch and Martin Freeman have swooped in and snatched the titles from them. Weve been introduced to killer taxi drivers, mind palaces, death by bonfire (almost) and the nation was perplexed for months by a death-defying leap of faith. Oh, and lets not forget the brilliant wedding episode, which firmly cemented BC as actor extraordinaire.
Fans of the show are expected to wait years and we mean actual years for cliff-hanger resolutions and new episodes, which is why were big advocates of the full seasons one to three box set. Theres a special Victorian London-inspired episode due on New Years Day, but can anything beat "The Reichenbach Fall"? Well reserve our judgement until January.
Vikings: Season 1-3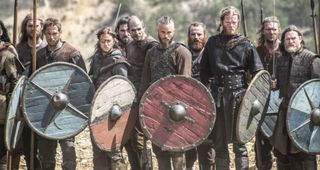 If Spartacus had a love child with Game of Thrones youd probably end up with something resembling Vikings. Created by the Michael Hirst of The Tudors fame, Vikings is surprisingly well researched, with (supposedly) real Norse figures and tales playing key roles in shaping the action.
Fans of unusual romantic leads will probably fall head-over-heels for Ragnar Lothbrok (played brilliantly by Travis Fimmel) and his sheildmaiden wife Lagertha (Katheryn Winnick), who add a bit of spice to the show. But if youre looking for an Outlander substitute look away now theres far too much bloody gore and violent battle for Claire Fraser cheerleaders.
Breaking Bad: Seasons 1-5
Everyone knows Breaking Bad was a TV game-changer, which is why its absence from our TV schedules is hitting us hard. Fortunately, we can have a Walter White love-in thanks to the complete series box set. Hurrah!
Season one may start the show as an off-kilter black comedy drama, but the deeply nuanced, slow-burning character arcs and spiraling - but utterly logical and coherent - narrative threads soon turn it into one of the finest-crafted and compelling works ever committed to TV.
Gotham: Season 1
We cant be the only ones who wondered whether the guy from The O.C. could play a young version of Gary Oldmans Jim Gordon in a Batman origins story. Fortunately, we cast our concerns aside when Gotham first aired in 2014, and were equally riveted by season twos villainous streak.
Season one did have its ups and downs, but seeing some of our favourite DC universe characters in new guises (Penguin, Catwoman, Riddler, and even a young Bruce Wayne) has made this box set a must-buy. Once youve devoured the pilot, youd be forgiven for jumping straight to episode six ("Spirit of the Goat") and episode seven ("Penguins Umbrella") both are proof that Gotham has what it takes.
Game of Thrones: Seasons 1-4
Season five may have swiped the smug faces off everyone whos read the books (yeah, D.B. Weiss and David Benioff caught up with you, George. Get a move on!), but that certainly didn't put a dampener on the action. The Jon Snow cliffhanger has fans on edge, but its whats going on with Sansa, Theon and Daenerys that really has us counting down the days until season six airs next year.
In the meantime, we recommend turning your favourite seat on the sofa into your own Iron Throne for a seasons one to four marathon. Its almost impossible to highlight our favourite bits (its all pretty good), but were going with head full of gold, death by eye gouging, and purple king... you know what we're talking about.
Sons of Anarchy: Season 1-7
Perhaps one of the most underrated shows on TV, Sons of Anarchy's dirty motorcycle drama may not scream Christmas TV viewing, but nothing will cut through a Strictly Come Dancing Christmas special like Charlie Hunnam in leathers.
With the complete box set just a few clicks away, we recommend turning your phone off for season four, episode eight, "Family Recipe", and a shout-out must also go to season one, episode twelve, The Sleep of Babies", which sets the plot for the next few seasons in motion. Its all very gripping stuff.
The X-Files: Seasons 1-9
Now weve finally stopped shouting The X-Files is coming back in JANUARY 2016!!! we can get on with the job of watching all nine of the original seasons over Christmas. Sometimes creepy, sometimes spooky and sometimes plain terrifying, The X-Files has been the stylistic precursor to so many great shows - Fringe immediately springs to mind.
If youve been living in a pop culture bubble for the last 20 years, allow me to introduce you to FBI special agents Dana Scully and Fox Mulder. Shes a super clever scientist and cynic, and hes a gun-first believer in all things alien and supernatural together they investigate inexplicable, often long-abandoned cases known as... well, you can probably guess what they're called. Now go forth and enjoy!
Mad Men: Seasons 1-7
Very few shows are consistently good, but Mad Men managed to avoid any major shark-jumping moments in its seven season run. Fans tend to point to season three of the 1960s advertising drama as a general highlight, but with such a fantastic ensemble cast its hard not to love the lot. Plus, Peggy, Betty and Joan are such fantastic female characters, were surprised more showrunners aren't using Mad Men as a guide to good TV.
Youve got two options here; you could buy the complete collection box set for a friend or family member, force them to watch it, and then talk about the show in minute detail for the rest of 2016. Or, you could buy it for yourself and relive all the best bits with mince pies and leftover port. Well go with the latter
Boardwalk Empire: Seasons 1-5
HBOs very stylish crime drama was all we could talk about when it aired from 2010 to 2014, and a large part of that was down to the talents of Steve Buscemi, Michael Shannon and Kelly Macdonald, who between them should have won a cabinet full of awards. If youve never even seen the opening credits heres what you need to know: its 1920 Atlantic City on the eve of Prohibition and Enoch Nucky Thompson is the part politician part gangster in charge of the whole scene. Also, it's brilliant.
Boardwalk Empire is packed full of great moments, but wed recommend watching out for "Chalkys bookcase", the fight between Nucky and Eli in season two, episode five, "Gimcrack & Bunkum" and the discovery of whats inside the box in season three episode 10, "A man, a plan".