Trailer Breakdown: Land Of The Lost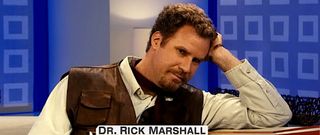 1. Mad Scientist?
We're introduced to Dr. Rick Marshall, played by Will Ferrell. Turns out Dr Marshall's theories - on time warps - aren't exactly respected in the scientific community. There's a reference in this first scene to Stephen Hawking - if it makes the final cut, we can expect an encounter between Marshall and his wheeled nemesis.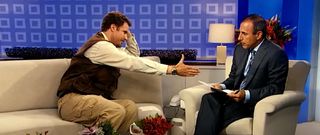 2. Morning Grill
Marshall's appearing on US morning talk show Today. Think GMTV, only... well, about the same. After some disparaging words from host Matt Lauer, Marshall storms off. This is partially inspired by Tom Cruise's tetchy enounter with Lauer during an interview about Scientology and its attitudes to psychiatric drugs in 2005.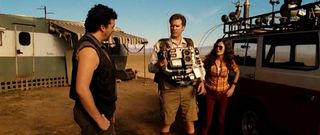 3. Desert Retreat
Marshall and researcher Holly (Anna Friel) head to a run-down store/attraction in the desert, run by redneck Will Stanton (Danny McBride). He claims to operate a water ride where mysterious events have occurred, but much like Marshall, no one believes him. Marshall has been tracking signs that one of the time warps might be in the area.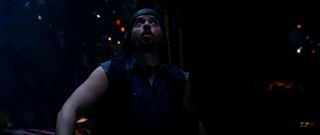 4. Water Rush
But it looks like Will might have been right all along as the team take the ride. One giant waterfall later...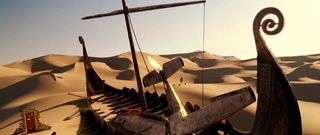 5. Landing Zone
...And they're deposited at a central nexus where objects have fallen into a mysterious parallel world. It's a land... that is lost. You says the name, you wins a prize.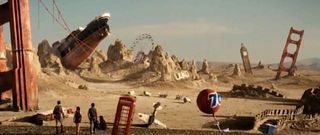 6. Look Kids, England!
We're pleased to note that England is well represented in the Land's arrival zone. But wouldn't people miss the London Eye? And Big Ben? Like the nod to the missing "Land", removed from the Hollywood sign in 1949.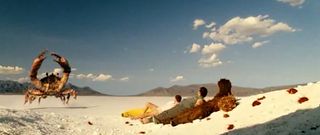 7. A Nasty Case Of Crabs
Giant crab! Run! Everything's bigger in the Land Of The Lost. Well, except the things that aren't. There's a logic behind all this, but it escapes us at the moment.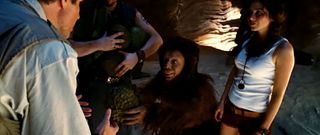 8. Chaka!
Chaka is a Pakuni, a semi-friendly group of chimp-like humanoids who live in the Land. Chaka's played by Jorma Taccone, seen (by the three people who watched and loved it) in Hot Rod and briefly in Role Models. He discovered that some obsessed Land folk had written a dictionary of Pakuni language, so he learned some of it for the movie. That's dedication!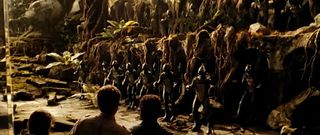 9. Sleestak Attack
Ah, the Land's main threat (not counting, you know, the giant crabs and the dinosaurs), the hissing, slow-moving Sleestaks. To keep the spirit of the show, the Sleestaks are played by men in suits. A few "hero" suits had moving eyes and claws, but most were just latex and foam rubber suits.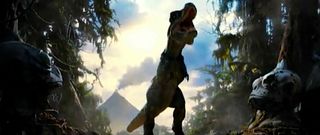 10. When Dinosaurs Ruled The Earth
And here's Grumpy, one of the two main dinosaurs. He plays a fairly big part in the plot, but we don't want to spoil anything.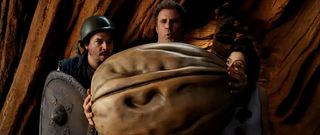 11. Old Chestnut
Actually, it's a walnut. This is where the trailer really starts to lose us, as Marshall declares that dinosaurs have brains the size of walnuts and then finds... A giant walnut. Har. Har. Har.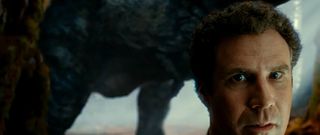 12. CGI Why?
And this shot. Seriously, people... Didn't you listen to the complaints about the Superbowl spot? While we realise trailers must be edited before final effects shots are complete, either clean up this awful bluescreen removal moment or leave it out of the trailer. Find some other Ferrell comic moment to end on. You fail at impressing us.