With Fallout 76 dead on arrival and Borderlands 3 still MIA, The Outer Worlds wants to be the science fiction role-playing shooter that your life needs right now. Obsidian Entertainment, known for such RPG gems as Fallout: New Vegas and Star Wars: Knights of the Old Republic 2, may have just been acquired by Microsoft, but it's not done independently developing titles just yet, with The Outer Worlds set to be its last multi-platform hurrah before the studio becomes an Xbox-flavoured creation house forever.
While details still remain fairly light, we do know that The Outer Worlds will be out sometime this year, and Obsidian has already divulged some of the key details about what to expect from its shooter-infused gameplay. Below, you'll find all you need to know about The Outer Worlds so far, including the latest on release dates, platforms, and more. We'll be updating this page throughout the year, too, so do check back in every now and again for any more information about the game as it arrives.
The Outer Worlds release date is 2019
Good news! The Outer Worlds is out this year, despite being only announced last December. For those of us used to waiting decades for big budget role-playing games like The Elder Scrolls 6 and Cyberpunk 2077, this is music to the ears, though Obsidian hasn't specified any exact launch dates just yet.
We can't rule out the possibility of a delay, too, which wouldn't be out of the question for a studio like Obsidian. In all likelihood, you can most likely expect to see The Outer Worlds in the second half of 2019, and hopefully its creators will be ready to share more about their schedule sometime between now and then. Roll on E3 2019.
Don't worry, PS4 owners, The Outer Worlds isn't an Xbox exclusive
At E3 2018, Microsoft announced that it had acquired Obsidian Entertainment as a first party studio to develop exclusives on its platform, presumably for whatever console follows the Xbox One - currently codenamed Xbox Project Scarlett. So when the studio announced The Outer Worlds six months later, many naturally assumed the game wouldn't be coming to PS4.
Luckily, Obsidian had been working on The Outer Worlds long before Microsoft came along with an offer it couldn't refuse, ensuring that this particular title would remain multi-platform, with the three announced formats so far being PC, Xbox One, and PS4. Sorry, Nintendo Switch fans. We'll let you know if Obsidian says anything about a possible port.
The Outer Worlds trailer is a blitz of action, comedy, and sci-fi spectacle
You can watch The Outer Worlds reveal trailer right here, which does a good job of setting the tone and style of the game over the course of two and a half minutes. We're given the basic premise of the story, in which your fully customisable avatar awakes from cryosleep decades later than planned to find themselves "in the midst of a deep conspiracy threatening to destroy the Halcyon colony."
How that story pans out, of course, is up to you, as The Outer Worlds is made up of Obsidian's trademark for reactive dialogue trees and choice-driven narrative beats. And is it just me, or does this trailer overtly take the mickey out of Bethesda, right up to the Oblivion-style face zooms when talking to an NPC?
The Outer Worlds extended gameplay demo shows off combat, dialogue, and NPC companions
Immediately following the release of that first trailer, Game Informer dropped a 15 minute gameplay demo of The Outer Worlds straight from Obsidian HQ, and the entire thing is worth a watch. The footage gives you your best look yet at everything the game has to offer, including its pulpy first-person combat, feverish visual palette, and an irreverent sense of humour that permeates the entire world.
You can also see your character fighting alongside a team of NPC companions, which are just two of many which Obsidian has confirmed can be recruited, customised, antagonised, or even killed depending on how you choose to behave throughout your adventure. Judging from this walkthrough, The Outer Worlds looks close to going gold, suggesting that 2019 release window isn't going to fall over into next year anytime soon.
The lead developers of The Outer Worlds made the original Fallout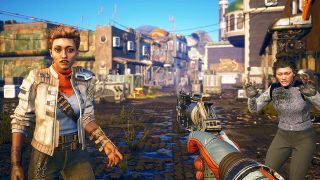 Tim Cain and Leonard Boyarsky are two of the industry's most prolific game developers, known for their work on Fallout, Vampire: The Masquerade - Bloodlines, and - in the case of the latter - Diablo 3. Both joined Obsidian over the last few years, and The Outer Worlds is their first project with the studio as lead directors.
That's a promising nugget for trivia to hold onto in anticipation of the game's release, as it suggests that we could have another cult classic RPG on our hands. Nothing is certain, of course, but the breadth and wealth of the talent working behind The Outer Worlds is yet another indication of the game's promise as a role-playing experience.
The Outer Worlds is open world… sort of
Despite the frequent comparisons to Fallout, don't expect The Outer Worlds to feature a full open world on the same scale as something from a Bethesda game. Instead, Obsidian has stated in an interview with RPGSite will be made up of a series of large, explorable zones across the solar system, similar to something we experienced in the Borderlands games.
"We wanted to provide a focused single-player story experience while leaving options open to explore the different environments", explained Senior Narrative Designer Megan Starks. "Once you get your ship, you'll have a lot of options to explore specific locations, with more opening up as you finish quests or purchase new passes in-game."
And speaking of Borderlands, hoarders can rejoice, as The Outer Worlds will have plenty of loot to discover, customise, and equip to your heart's content. Hurray for dopamine induced hits of unending gratification!
For more about all the new games of 2019 on the horizon, check out our official guide to the ones you should be watching out for.