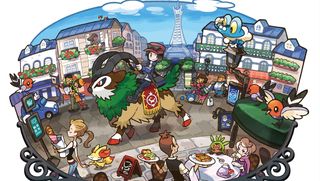 Welcome to the world of Pokmon!
We're entering the era of Pokemon X and Y--just check out our Pokemon X and Y review and video series if you doubt us. To help spread the Pok-excitement, we're sharing some obscure facts from the franchise's history. Think you know everything about pocket monsters? You might be surprised...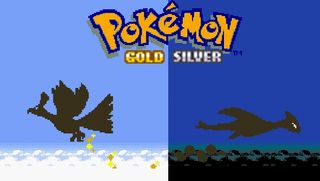 Gold and Silver were planned as the final Pokmon games
As explained in an interview between Nintendo president Satoru Iwata and Pokmon Company CEO Tsunekazu Ishihara, Gold and Silver were considered the last Pokmon games when they were developed. According to Ishihara, I didn't intend to make any more Pokmon titles. I even thought that once we entered the twenty-first century, it would be time for me to do something else entirely. Of course, plans changed after G/Ss success outpaced the original games--and were betting the huge piles of money helped change his mind too.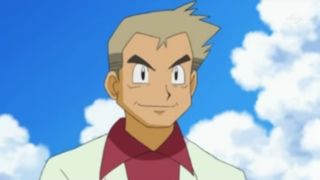 Originally in Red/Blue, you could battle Professor Oak
Professor Oak is a constant source of help and wisdom within the series, and his commitment to Pokmon is fairly scientific. But in the original game, he was also going to be someone you could battle. As a GameShark hack reveals, Oak has a team of high level Pokmon to fight in a standard trainer battle, but without the device, it's inaccessible. We're guessing at some point the developers decided Oak should only be a source of support in the game, and that's how he's been ever since.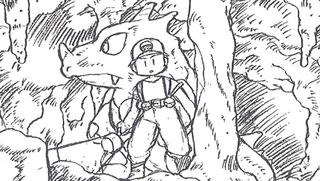 Rhydon was the first Pokmon created
Though Arceus is the oldest Pokmon within the game universe, the first Pokmon ever designed was Rhydon. In the earliest designs for Capsule Monsters, the game that would ultimately become Pokmon, Rhydon appears multiple times and looks pretty close to his final design. This explains why you see random Rhydon statues in some of the games; theyre a tribute to his importance.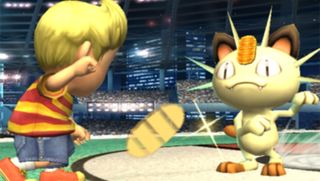 Meowth almost appeared in the first Smash Bros
Since its inception, Pokmon have been an integral part to the Nintendo brawler Super Smash Bros, including Pikachu and Jigglypuff being playable in all three releases. At first, the Smash devs also considered adding a third Pokmon to the game, Meowth, based on his popularity in the cartoon. In the end he didnt make the cut, but eventually he appeared as one of the many Pokmon that attack from a thrown Pok Ball.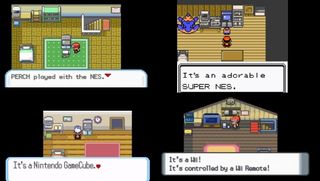 Nintendo's home consoles have appeared in many of the mainline games
Pokmon games are well known for the number of secrets hidden within them, but one of our favorite Easter eggs are usually visible at the start of the game. In many of the mainline entries in the series, the main character owns a Nintendo home console, usually one for the matching Generation in its history. Its only a matter of time before we find a Wii U in our rooms.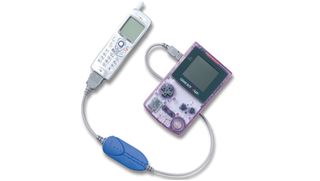 Pokmon Crystal was able to communicate with cell phones in Japan
The online interactions in the more recent portable Pokmon games have took advantage of so much of the series potential, but Game Freak was trying its hand with the internet much earlier in Pokmon history. In Japan, Pokmon Crystal had an attachment that let players hop online to collect special items. The feature was dropped in the US, likely because the average American cell phone wasnt as advanced as models in Japan.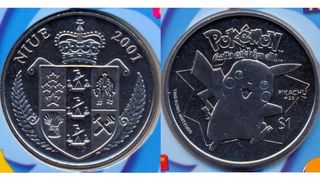 Pokmon have even appeared on money
It goes without saying that putting Pikachu on something is a license to print money, but the lovable electric mouse has literally been printed on money. In the South Pacific island of Niue, though they accept New Zealand currency, the government also prints its own cash, sometimes creating special runs of coins. In 2001, they put Pikachu on the back of their one dollar coin to celebrate the series. How many other games can say they appeared on official currency?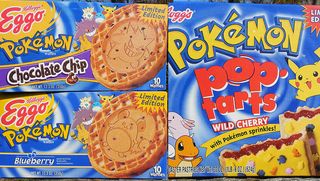 Limited edition Waffles and Pop-Tarts
Sure, appearing on money is cool, but wed rather have our likeness appear on waffles, quite frankly. When Pokemon was at the height of its popularity in the US, Kelloggs teamed up with the pocket monsters to created Limited Edition Eggo Waffles and Pop-Tarts featuring some Gen I favorites. The Pop-Tart sprinkles shaped like the Gen I starters were a nice touch, and we loved that Gengars smiling face was on a waffle. The foodstuffs have long since stopped being produced, so if you happen to find one, we recommend not eating it.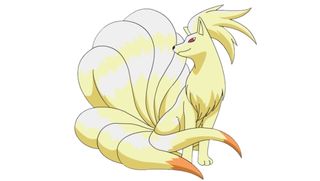 Ninetales is based on the same Japanese legend as a beast in the Naruto anime
Ninetales was one of our favorite first generation Pokmon, with its impressive fire attacks and cute appearance, and we also love the inspiration for the creature. The idea of a magical fox pops up a lot in Japanese mythology, usually as tricksters and shape-shifters, though theres also the concept of a powerful, fire-breathing fox with nine tails. Thats where Ninetales comes from, and its also the inspiration for Kurama, the beast that is locked within popular anime star Naruto. Actually, the more you dig into Pokmon, the more characters youll find based on Japanese folklore.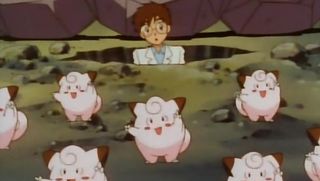 Clefairy was almost the mascot for the series
Today its unthinkable to have Ash followed by anyone other than Pikachu, but in the planning stages for the anime, thats just what happened. Originally Ash would be accompanied by a Clefairy, with the pink and clawed guy backing up Ash on his adventures. Ultimately this was changed before the show started airing, though in the Red/Blue manga, the Ash surrogate was accompanied by a Clefairy.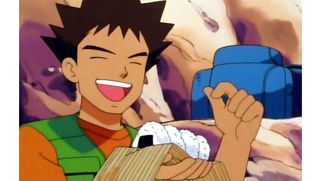 Brock for some reason thinks rice balls are donuts
Though Pokmon and its anime are fairly universal, its Japanese roots occasionally pop up, particularly in an early running joke in the cartoon. Brock continually makes onigiri (aka simple, compacted balls of rice) to serve the group, but most Americans, particularly children, probably have no clue what those are. So instead onigiri are continually referred to a donuts, a silly change and one that implies Brock isnt as good a nutritionist as he claims to be.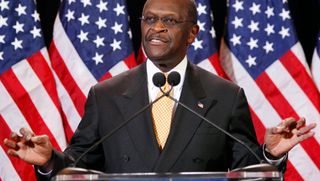 A republican politician unintentionally quoted Pokemon
Herman Cain got his start as a pizza restaurant owner, but eventually transitioned into politics, ultimately vying for the republican presidential nomination in 2011. In one speech he had an anonymous quote saying, Life can be a challenge. Life can seem impossible. Its never easy when theres so much on the line. But you and I can make a difference. Theres a mission just for you and me. Soon enough someone identified those as the lyrics to Power of One from the film Pokemon 2000. When Cain eventually suspended his campaign, he gave proper credit to the quotes origins, perhaps marking the first time ever that a presidential candidate said Pokemon in a speech.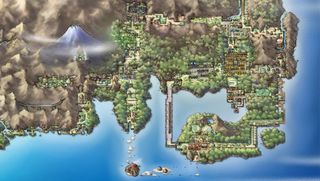 The Kanto region is based on a region in Japan with the same name
Until Gold/Silver, American Pokmon fans didnt know the name of the region in Red/Blue, and onceit was revealed, players familiar with Japanese geography were in for a surprise. The region was named Kanto, which is the name of the area in major section of Japan that houses cities like Tokyo and Yokohama. Additionally, Pokmons Kanto recreated famous areas of Japan within the game, such as Mount Silver doubling for Mount Fuji. Later generations have taken inspiration from other regions of Japan as well when building their maps.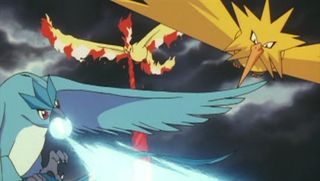 The first legendary birds each have a pun you might have missed
Many Pokmons English language names have cute puns, and while these might have been obvious to some, but we missed this for years. The original legendary bird trio include the Spanish words for one, two, and three. That would be Articuno, Zapdos, and Moltres.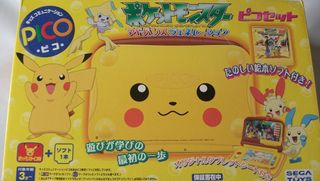 Pokemon game for the Sega Pico
It was a pretty big deal when Sega left the console market and started to publish games on Nintendo hardware, but Pokemon crossed an even bigger barrier: putting a Nintendo game on a Sega console. The Pico was a flop in the US, but kids in Japan were still enjoying the edutainment system in the early 2000s, so Pokemon appeared in a series of games for the system. The most well known one used the Pico touchpad to teach kids how to draw the Japanese alphabets of hiragana and katakana, and it was released alongside a Pikachu branded version of the Pico. Perhaps it shouldve been called a Pico-chu (thank you, thank you).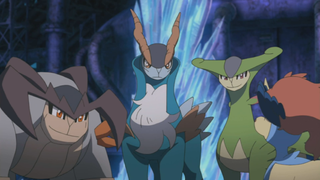 The Swords of Justice legendaries in Black/White are based on the Three Musketeers
Each Pokmon has its own unique origins, though you may not realize that some of the most recent ones have a decidedly French background. Nicknamed The Swords of Justice, Cobalion, Terrakion, and Virizion correspond to Athos, Porthos, and Aramis, respectively, while the recently released Keldeo is a match for the youngest, inexperienced Musketeer, d'Artagnan. The inspiration becomes much more clear in the most recent film, Kyurem vs The Sword of Justice.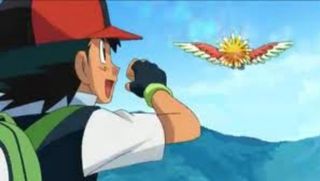 Ash sees Ho-Oh in the first episode of the anime, years before it appears in Gold/Silver
In the first episode of the Pokmon anime, Ash is having a tough time on his way to becoming a trainer, such as constantly being shocked by a disobedient Pikachu. What gives him inspiration to keep going? Spotting a then-unidentified legendary Pokmon that wouldnt be introduced into the series officially for a couple more years. Though kept vague at the time, in later episodes it was revealed the bird was the Generation II Legendary, Ho-Oh.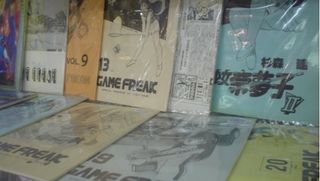 Game Freak got its start as a magazine
We know the developer that created Pokmon, Game Freak, put out several games before taking over the world with its monsters, but it actually existed before its major employees even knew how to make games. Game Freak began in the early 1980s as a small game enthusiast magazine worked on by several men that would go on to create Pokmon. Eventually they quit writing about games to start making them, but they decided to keep the name.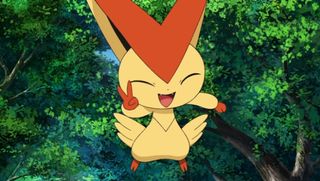 Victini is the only Pokmon with the Pokdex number 000
Every new game introduces a new Pokdex to house descriptions of all the new and old monsters, but no matter the region the game was set in, the Pokdex always started at one. Black/White finally broke that rule when introducing the cute Fire/Psychic type Victini. In the Unova Pokdex he takes the 000 spot, though in the National Pokdex he sits at 494.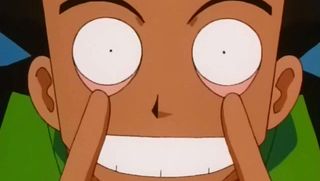 Brock has opened his eyes on three different occasions in the anime
On the Pokmon anime Ash has had many interesting travel companions, but none can replace Brock and Misty, his original friends, in our hearts. Fans of earliest episodes probably noticed that Brocks eyes always appeared closed, though he did open them on three brief occasions, all in service of a joke. And based on how creepy his eyes appeared in the moment pictured above, we hope he never opens them again.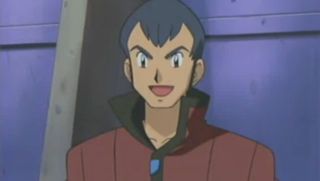 Ruby/Sapphire is the only game in the main series where you see the stars father
One of the stranger aspects of Pokmon is the absence of fathers in the world. In every main game but Ruby/Sapphire, your character has a mother, but the player never sees the characters father in the game. Generation III shook things up some, not only by introducing your characters father, but making him one of the Gym Leaders you have to defeat. However, after Norman, the series has return to leaving its protagonists fatherless.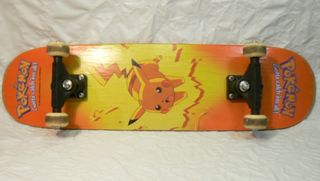 Gold and Silver was planned to include a skateboard
Its a blessed moment when a trainer finally is given a bike in the game, allowing them to traverse the game world much faster. But when Gold and Silver were originally announced in Japan, developer Game Freak wanted to mix things up by also including a skateboard, but this was ultimately cut for unspecified reasons.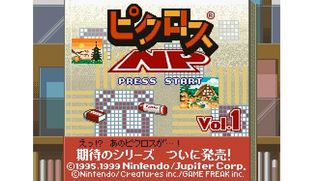 Pokemon had a game on SNES (kind of)
Many Pokemon games have the pixelated qualities people associate with the SNES, but the series didnt start until after the N64 had replaced the Super NES as Nintendos main home console. Despite that, there was a single Pokemon game made for the 16-bit system, though it only came out in Japan. Picross NP was a series of puzzle collections that were based on Nintendo franchises, with one volume based on Pokemon. Even more interesting is that the game was based on a cancelled Pokemon Picross game that had been planned for Game Boy.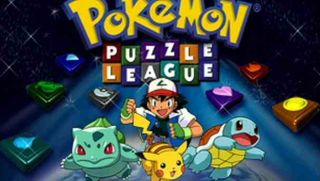 Pokemon Puzzle League was never released in Japan
Longtime Pokemon fans are used to getting games months after they're released in Japan, and occasionally some Pokmon games are never released outside of Japan. Pokmon Puzzle League was the very rare reversal of that situation. Intended for US fans of the anime, it was decided that the N64 had gotten too unpopular in Japan to make importing worth it, and it remains the only Pokemon game not officially released in Japan.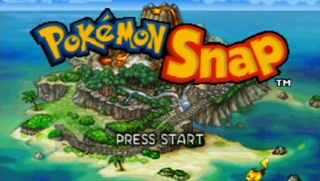 Pokmon Snap was originally for the 64DD and not a Pokmon game
For many early Pokmon fans, Pokmon Snap occupies a special place in their heart. The virtual photo hunt dropped players right into the wonderful world of Pokmon, so its surprising to learn it wasnt originally planned to involve the loveable creatures. As revealed by former boss of developer HAL and current president of Nintendo, Pokmon were added to the game after development on the photography title had begun, and it was also intended for the seemingly revolutionary N64 Disc Drive. Of course, when that add-on flopped in Japan and was cancelled in America, those plans obviously changed.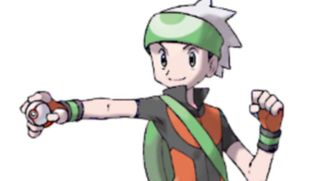 The white hair of the male hero in Ruby/Sapphire is actually a hat
The stars of the Pokmon series are pretty fashionable for kids that are basically on an extended nature hike. With each generation the character designs got more involved, though the character in the first GBA title really stood out thanks to his shock of white hair. At least, based on the not so detailed in-game model, we always assumed it was hair. Turns out it was a hat all along that covers the characters black hair.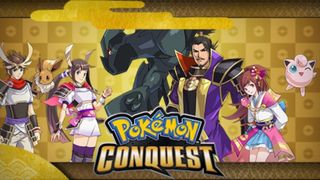 Pokmon Conquest originally pitched as a Dynasty Warriors game
Pokmon Conquest was one of the stranger mainstream games released this year, combining the pocket monsters with the obscure strategy series Nobunaga's Ambition. But originally the developer, Tecmo Koei, had pitched to Nintendo combining Pokemon with their more popular franchise, Dynasty Warriors. Nintendo instead suggested a teaming with Nobunaga, partially because the Warriors games are a little more violent than they like the Pokmon to get.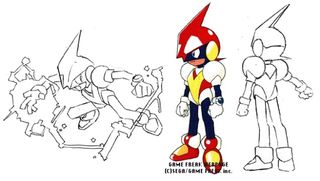 Game Freak once created a game published by Sega
Based on its love for Pikachu, Pokmon developer Game Freak clearly has a thing for electric-powered heroes, but it predates Pokmon. Despite their very close connection to Nintendo currently, pre-Pokmon Game Freak made games for several different companies, including a game called Pulseman for Nintendos then-rival, Sega. Not released outside Japan until recently on the Wiis Virtual Console, the game never got a sequel, but you can see Game Freaks continued love for its would-be mascot in the form of Gen IV Electric/Ghost Pokmon Rotom, which bears a striking resemblance to the Genesis hero.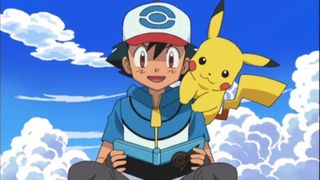 Ash's Japanese name is a tribute to Pokmons creator
American fans have known him as Ash Ketchum since the cartoon premiered stateside in 1998, but that's not what Japanese fans know him as. From the start Ash was known as Satoshi, a common enough name, but also a clear reference to Pokmon creator and Game Freak boss, Satoshi Tajiri. Meanwhile, Ash's original rival, Gary Oak, is known as Shigeru, an obvious tribute to the creator of Mario, Zelda, and too many others to name, Shigeru Miyamoto.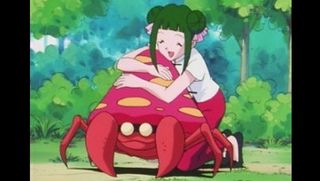 Parasect has rare connection to real world
In the mythology of Pokemon, the world of the games seems to reflect reality, but it isnt filled with actual locations from the planet Earth. The Kanto and Kalos regions certainly have connections to Tokyo and Paris (respectively), though the games never mention their real life counterparts. Parasects early Pokedex entries are one of the very rare exceptions of the games referencing a real country. In Pokemon Stadium, the Pokedex says that Parasects spores are used as medicine in China. That fact was then repeated in the Pokedex of the FireRed remake for GBA. Perhaps China is one of the few countries thats shared in both Game Freaks imaginary world and our own?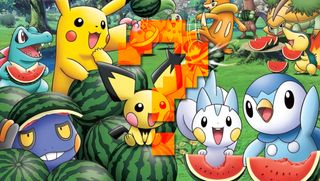 What's in your Pokdex?
That's all the trivia for now, though if you have any obscure Pokmon knowledge to share, we'd love to hear it. Let us know in the comments and we might just update this feature with your entries!
And if you need more Pokmon fun, check out the updated legendary Pokmon guide and our extensive recount of Pokmon history.